Fighting Asthma with Compost
The Baltimore Compost Collective wants Baltimore to adopt curbside composting, to address the city's air pollution problem.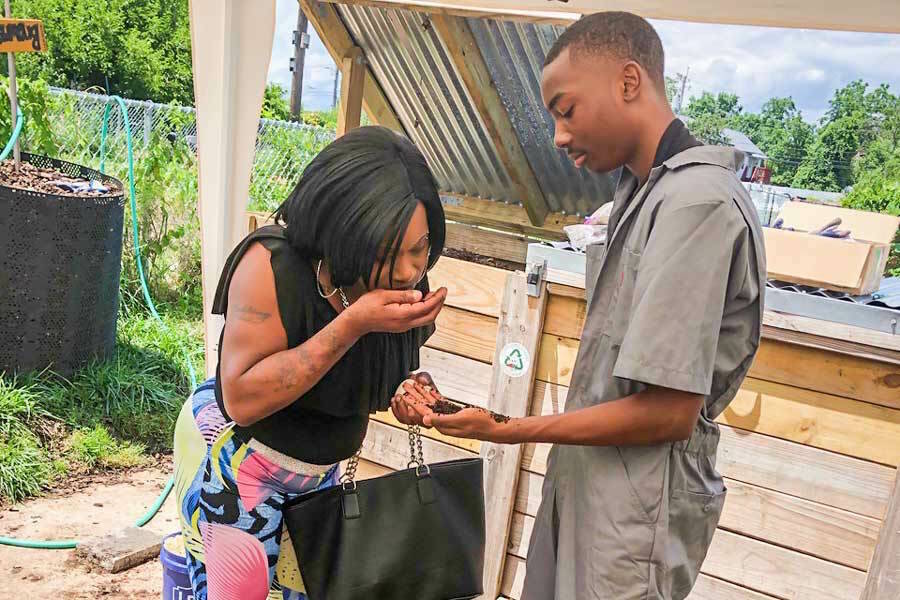 BAL­TI­MORE—In a sun­ny hill­top pas­ture just five blocks above the sprawl of the CSX rai­l­yard and the dusty black mounds of the Cur­tis Bay Coal Pier, 16-year-old Ken­ny Moss dips his hand into a wood-frame com­post bin.
"Feel how hot it is," he says, extend­ing a palm­ful of ​"black gold" toward fel­low urban gar­den­er Pre­cious Fral­ing, 41, who's here to learn about com­post­ing for her own com­mu­ni­ty gar­den in the Gov­ans neigh­bor­hood, 13 miles north.
Moss is a youth com­poster at Bal­ti­more Com­post Col­lec­tive, a non­prof­it found­ed in 2017 and based at the Fil­bert Street Com­mu­ni­ty Gar­den in indus­tri­al South Bal­ti­more. On this ver­dant acre with roam­ing ducks and chick­ens and dozens of veg­etable beds, neigh­bors grow their own food in what is oth­er­wise a food desert; there's no super­mar­ket with­in walk­ing dis­tance of the sur­round­ing Cur­tis Bay or Brook­lyn neigh­bor­hoods. They sell their sur­plus pro­duce through the Farm Alliance of Bal­ti­more City at a week­ly farm­ers market.
The Col­lec­tive gath­ers about 400 pounds of organ­ic mate­r­i­al a week from around 70 cus­tomers, who pay $5 for the week­ly pick-up. The com­post is then used to enhance Fil­bert Street's soil.
"We're divert­ing about eight tons of Bal­ti­more city food scraps every year," says Moss. ​"It was going to the BRESCO incin­er­a­tor or the landfill."
BRESCO, the Bal­ti­more Refuse Ener­gy Sys­tems Com­pa­ny— now rebrand­ed Whee­labra­tor Bal­ti­more — is the city's biggest sin­gle-source pol­luter, burn­ing around 700,000 tons of garbage each year.
"Every time we go and pick up [com­post mate­r­i­al], we see the incin­er­a­tor," says Moss, speak­ing of Wheelabrator's icon­ic white smoke­stack just across the Mid­dle Branch of the Pat­ap­sco Riv­er, near neigh­bor­hoods where many of the Collective's cus­tomers live. ​"A lot of peo­ple talk about how their fam­i­ly mem­bers have asth­ma or they have asth­ma, and how they're real­ly suf­fer­ing from it."
Bal­ti­more has some of the most poi­so­nous air in the Unit­ed States. A 2013 study found that out of over 5,000 U.S. cities, Bal­ti­more had the high­est emis­sions-relat­ed mor­tal­i­ty rate (130 out of every 100,000 res­i­dents). Baltimore's rate of asth­ma-relat­ed hos­pi­tal­iza­tions was almost three times the U.S. aver­age in 2010, and Cur­tis Bay's 21226 ZIP code cur­rent­ly leads the nation in point-source air emis­sions. East­side traf­fic on Inter­states 695 and 895 flanks Brook­lyn and Cur­tis Bay. These neigh­bor­hoods are also the near­est to coal-fired ener­gy plants, waste facil­i­ties and recy­cling yards in the river­front indus­tri­al zones Wagner's Point and Hawkins Point.
The Col­lec­tive aims to curb that pol­lu­tion by reduc­ing what's going to the incin­er­a­tor and land­fill. ​"Burn­ing trash caus­es peo­ple to have can­cer and asth­ma," says the Collective's pro­gram man­ag­er, Mar­vin Hayes, 46. Com­post­ing food waste (rather than bury­ing it under oth­er lay­ers of trash) expos­es it to oxy­gen, pre­vent­ing methane gen­er­a­tion and reduc­ing incin­er­a­tion par­ti­cles that affect breath­ing while replen­ish­ing soil. In oth­er words, com­post­ing can help keep the air cleaner.
Whee­labra­tor filed suit against Bal­ti­more in April over the Bal­ti­more Clean Air Act (passed by the City Coun­cil in Feb­ru­ary), which enact­ed strict emis­sions lim­its; over the past two decades, the indus­try saw at least 31 incin­er­a­tors close due to issues such as insuf­fi­cient rev­enue or the inabil­i­ty to afford required upgrades. The city's land­fill is 82% full and on track to reach capac­i­ty in 2026, and offi­cials are still devel­op­ing a plan for what to do with the trash if the incin­er­a­tor doesn't burn it.
Com­post­ing can't fix all of Baltimore's pol­lu­tion, but the Col­lec­tive is an incu­ba­tor for what's pos­si­ble. Ava Richard­son, a doc­tor­al can­di­date at Johns Hop­kins and Baltimore's Food Mat­ters tech­ni­cal advi­sor, calls it a ​"replic­a­ble mod­el" and a ​"vehi­cle for youth work­force development."
Hayes is train­ing Moss to take over as Fil­bert Street site man­ag­er so that Hayes can work on expand­ing the Collective's com­post­ing to oth­er neigh­bor­hoods and per­haps to more of Baltimore's rough­ly two dozen urban farms, as well as com­mu­ni­ty gar­dens. He also wants to add a third, larg­er com­post­ing sys­tem to the pair of three-bin sys­tems cur­rent­ly at Fil­bert Street.
What Hayes wants most is to pres­sure the city to adopt curb­side com­post­ing, like San Fran­cis­co, New York and Port­land, Ore., with a large-scale com­post­ing facil­i­ty that he and oth­ers could use.
"The city is get­ting com­post fever, and we are the virus that is spread­ing com­post fever through­out Bal­ti­more," Hayes says. ​"I'll con­tin­ue to fight until we're zero-waste. I'm hop­ing that will be my legacy."
Right now, only about 28% of Baltimore's waste is recy­cled (includ­ing com­post­ing), below the nation­al aver­age of 35%. Local advo­cates say Bal­ti­more could recy­cle 50% of its waste and com­post anoth­er 30% to divert more than 80% from land­fills and incin­er­a­tors overall.
Moss says the Col­lec­tive isn't just a job, but an ​"oppor­tu­ni­ty." In the mean­time, he's also work­ing on his own idea for an envi­ron­men­tal jus­tice-themed video game, ten­ta­tive­ly titled, Destroy the Incin­er­a­tor.
The Insti­tute for Jour­nal­ism and Nat­ur­al Resources sup­port­ed this sto­ry with an Envi­ron­men­tal Jus­tice Report­ing Award.