Pesticide Industry Joins New York's Pollinator Task Force—Bad News for Bees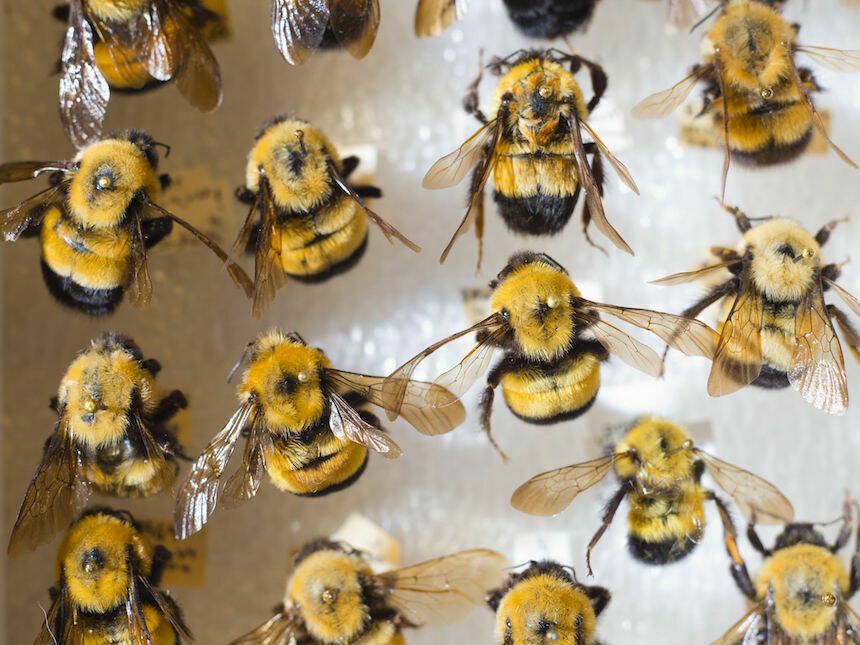 As in oth­er parts of North Amer­i­ca, bee­keep­ers in New York have been expe­ri­enc­ing unsus­tain­able loss­es of hon­ey­bee colonies. Accord­ing to the Bee Informed Part­ner­ship sur­vey, in 2014 and 2015, annu­al colony loss­es in the state reached 54 per­cent. And though loss­es were low­er in pre­ced­ing years, they con­sis­tent­ly exceed­ed the eco­nom­ic thresh­old of 15 per­cent loss. At great expense, New York bee­keep­ers have been able to recoup their win­ter and sum­mer loss­es, but for declin­ing native bee species the prospects are less rosy. For exam­ple, the rusty-patched bum­ble­bee (Bom­bus affi­nis), once com­mon in New York and the North­east, is now a can­di­date for the endan­gered species act.
A grow­ing world­wide body of sci­en­tif­ic evi­dence impli­cates neon­i­coti­noids as a major con­trib­u­tor to the decline of hon­ey­bee and wild bee pop­u­la­tions. As report­ed in the Inter­na­tion­al Union for Con­ser­va­tion of Nature's (IUCN) World­wide Inte­grat­ed Assess­ment of the Impacts of Sys­temic Pes­ti­cides on Bio­di­ver­si­ty and Ecosys­tems, 2015, this is due to a com­bi­na­tion of neonicotinoid's acute tox­i­c­i­ty, sub-lethal, inter­gen­er­a­tional, neu­ro­tox­ic and immune sys­tem effects; their sys­temic behav­ior in plants and their per­sis­tence in soil and water. This rel­a­tive­ly new fam­i­ly of insec­ti­cides is now believed to be the most com­mon­ly used glob­al pesticide.
Unlike Europe and Ontario, Cana­da, the Unit­ed States has not act­ed to restrict the use of neon­i­coti­noids. How­ev­er, the fed­er­al gov­ern­ment has specif­i­cal­ly urged states to cre­ate pol­li­na­tor pro­tec­tion plans. Some states are work­ing on such plans and a few have been imple­ment­ed. But on August 6, at the first meet­ing of the New York State's Pol­li­na­tor Task Force, com­mer­cial bee­keep­er Jim Doan was flab­ber­gast­ed to learn that state offi­cials had appoint­ed two rep­re­sen­ta­tives of the nation­al pes­ti­cide indus­try to the 12-mem­ber pan­el. ​"It's very dif­fi­cult for a bee­keep­er to think he can get a fair shake," says Doan.
Con­se­quent­ly, I decid­ed to see for myself and attend­ed the Task Force meet­ings on Sep­tem­ber 11 and Octo­ber 1, and lis­tened to the record­ing of the August 6 meeting.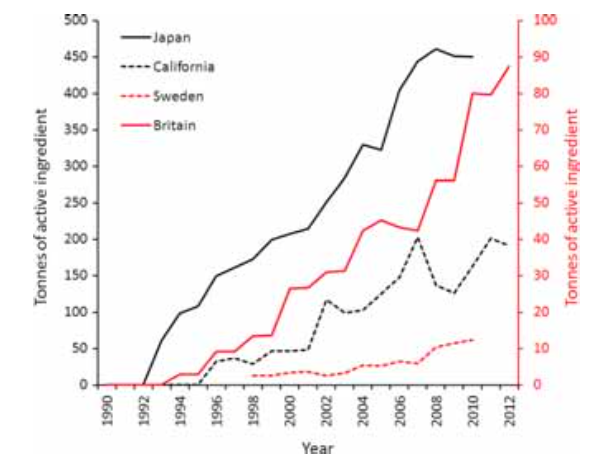 Mea­sured here in tons of active ingre­di­ent per year, the amount of neon­i­coti­noid insec­ti­cides shipped and used inter­na­tion­al­ly has been surg­ing since the ear­ly 1990s. (Graph: The Task Force on Sys­temic Pes­ti­cides)
The New York State Pol­li­na­tor Task Force
The New York state Task Force was set in motion by Gov. Andrew Cuo­mo (D), who said in an April 23 announce­ment, ​"Pol­li­na­tors are cru­cial to the health of New York's envi­ron­ment, as well as the strength of our agri­cul­tur­al econ­o­my." He added, ​"By devel­op­ing a statewide action plan, we are expand­ing our efforts to pro­tect these species and our unpar­al­leled nat­ur­al resources, and mak­ing an impor­tant step for­ward in our com­mit­ment to New York's eco­log­i­cal and eco­nom­ic future."
Cuo­mo direct­ed the state depart­ments of agri­cul­ture and mar­kets (NYS­DAM) and envi­ron­men­tal con­ser­va­tion (NYS­DEC) to devel­op a state pol­li­na­tor pro­tec­tion plan with the involve­ment of stake­hold­ers and research institutions.
By July, stake­hold­ers were receiv­ing invi­ta­tions to serve on the state Task Force, which was com­prised of 12 ​"advi­sors" from the pri­vate and NGO sec­tors with offi­cials from NYS­DAM and NYS­DEC serv­ing as co-chairs. In addi­tion, Cor­nell Inte­grat­ed Pest Man­age­ment pro­gram direc­tor Jen­nifer Grant sat with Task Force mem­bers and played an advi­so­ry role, though not as a member.
Task force membership
In terms of its per­son­nel, three groups rep­re­sent pes­ti­cide inter­ests on the Task Force: CropLife Amer­i­ca and Respon­si­ble Indus­try for a Sound Envi­ron­ment (RISE) are the pes­ti­cide industry's agri­cul­tur­al and non-agri­cul­tur­al trade groups respec­tive­ly. Both are head­quar­tered at the same Wash­ing­ton D.C. office. The NYS Agribusi­ness Asso­ci­a­tion is the third agro­chem­i­cal group. Dan Digia­co­man­drea, a tech­ni­cal sales spe­cial­ist at Bay­er Crop­Science, one of two mak­ers of neon­i­coti­noids, attend­ed one meet­ing as that group's alternate.
Agri­cul­ture also got three seats, with appointees from the state farm bureau, state veg­etable grow­ers asso­ci­a­tion and the fruit sec­tor. The state veg­etable grow­ers con­sis­tent­ly sent an alter­nate, Rick Zim­mer­man. His resume includes many years as a Farm Bureau lob­by­ist fol­lowed by a career as NYS­DAM deputy com­mis­sion­er. Today he heads up the North­east Agribusi­ness and Feed Alliance. The state turf and land­scape asso­ci­a­tion has a seat, too.
Three NGOs were appoint­ed to the Task Force: The Nature Con­ser­van­cy, Audubon New York and the Nat­ur­al Resources Defense Coun­cil (NRDC). Mem­ber Erin Crot­ty, who is exec­u­tive direc­tor at Audubon New York, pre­vi­ous­ly served as DEC com­mis­sion­er under Repub­li­can Gov­er­nor Pata­ki. NRDC, which has sued EPA on neon­i­coti­noids, was rep­re­sent­ed by one of two alter­nat­ing attor­neys at each meet­ing. Like the afore­men­tioned indus­try rep­re­sen­ta­tives, no one from these orga­ni­za­tions appeared to have any spe­cif­ic exper­tise on pol­li­na­tors. The rep­re­sen­ta­tives rom the Nature Con­ser­van­cy and Audubon New York pro­posed ways to increase pol­li­na­tor habi­tat but did not indi­cate con­cerns about pesticides.
Bee­keep­ers were appor­tioned two seats. With 12 hives, hob­by bee­keep­er Stephen Wil­son has chaired the Api­ary Indus­try Advi­so­ry Com­mit­tee for over 15 years. The oth­er rep­re­sen­ta­tive was Empire State Hon­ey Pro­duc­ers Asso­ci­a­tion pres­i­dent Mark Bern­ing­hausen, a small com­mer­cial migra­to­ry bee­keep­er from St. Lawrence Coun­ty. This group has about 100 mem­bers out of the 3,000 or 4,000 bee­keep­ers in the state.
The state has also been accept­ing pub­lic com­ments (though this was appar­ent­ly not pub­li­cized and no dead­line has been announced). These com­ments must be sub­mit­ted to the governor's office, not to the Task Force direct­ly (ini­tial­ly NYS­DAM was accept­ing them). As of this writ­ing, these com­ments have not been shared with task force members.
Giv­en the make-up of New York's Pol­li­na­tor Task Force — one-quar­ter pes­ti­cide indus­try, one-third agri­cul­ture and turf care indus­tries — and the polit­i­cal alle­giances of the two con­ven­ing agen­cies, the com­plex issue of pes­ti­cides was there­fore always like­ly to be han­dled with kid gloves.
The time­line and the content
At the kick­off meet­ing task force advi­sors had a chance to lay out their posi­tions on what the state should do to pro­tect bees. The sec­ond meet­ing focused on research needs and the third dealt with habi­tat enhance­ment and best man­age­ment prac­tices (BMPs).
Pre­sen­ta­tions took up much of the sec­ond and third meet­ings. For exam­ple, a series of man­agers from six state agen­cies described their land man­age­ment prac­tices and ini­tia­tives to pro­vide habi­tat in respect to bees.
A high­point was the talk by Cornell's new hon­ey­bee exten­sion ento­mol­o­gist, Emma Mullen. A Cana­di­an who just moved to the Unit­ed States, Mullen had been part of the team of sci­en­tists that worked on Ontario's Pol­li­na­tor Health Pro­tec­tion Plan. Par­tic­u­lar­ly illu­mi­nat­ing was her expla­na­tion of the province's new pro­gram to decrease the corn and soy­bean acreage plant­ed with neon­i­coti­noid-treat­ed seeds 80 per­cent by 2017. She also out­lined cur­rent Cor­nell research on bees.
NYS­DAM com­mis­sion­er Richard Ball, a veg­etable grow­er, chaired the meet­ings and NYS­DEC deputy com­mis­sion­er Eugene Leff played a sup­port­ing role. Leff, whose resume includes pes­ti­cide reg­u­la­tion, pre­vi­ous­ly presided over anoth­er stake­hold­er task force charged with deal­ing with an equal­ly polar­iz­ing issue: pre­vent­ing pes­ti­cide pol­lu­tion of Long Island's ground­wa­ter. As with the pol­li­na­tor task force, pes­ti­cide and agri­cul­tur­al inter­ests were well rep­re­sent­ed on Long Island. (The 126-page strat­e­gy doc­u­ment that came out of that task force's work indi­cates that these inter­est groups suc­ceed­ed in delay­ing any restric­tions on sus­pect pesticides.)
To frame the ini­tial Pol­li­na­tor Task Force dis­cus­sion, Com­mis­sion­er Ball reit­er­at­ed what has come to seem like the offi­cial nation­al dog­ma on bee decline — there is no sin­gle cause and we must con­sid­er mul­ti­ple areas of con­cern. While the list of pol­li­na­tor threats varies, the USDA, EPA and insti­tu­tions such as Cor­nell Uni­ver­si­ty cite fac­tors such as habi­tat loss, pests and pathogens, pes­ti­cides, genet­ics and/​or cli­mate change when they state that view.
Indeed, the most notable fea­ture of the meet­ings was the over­all reluc­tance to delve into the prob­lem of pes­ti­cides except in so far as they induce imme­di­ate bee kills. Only two mem­bers of the 12-mem­ber task force (bee­keep­er Stephen Wil­son and a Nat­ur­al Resources Defense Coun­cil attor­ney) urged any lim­i­ta­tions on the use of neonicotinoids.
Meet­ings with­out min­utes or structure
A num­ber of addi­tion­al aspects of these meet­ings sup­port the idea that the Task Force exists pri­mar­i­ly for appearance's sake. First, no one appeared to be tak­ing offi­cial notes and no min­utes were made avail­able, despite advi­sor Stephen Wilson's request for min­utes at the sec­ond meet­ing. (Record­ings are post­ed on NYSDAM's web­site.) Sec­ond, no one wrote down ideas on a white­board or easel to cap­ture them as they came up. Third, Task Force dis­cus­sions were free­wheel­ing, unstruc­tured and all over the map.
The state's short time­line, which called for the state to cir­cu­late the NYS Pol­li­na­tor Pro­tec­tion Action Plan Rec­om­men­da­tions to task force mem­bers on Octo­ber 19 fol­lowed by a 7‑day com­ment peri­od, also chal­lenges the notion of a delib­er­a­tive process informed by sci­ence. The whole process, from the first of three Task Force meet­ings to the sub­mis­sion of pri­or­i­ty rec­om­men­da­tions to the gov­er­nor, is sched­uled to take only three months. (As of Octo­ber 28, a bee­keep­er on the Task Force report­ed that he hadn't received any­thing from the state yet.)
Yet the meet­ing agen­das pre­sume that in an hour or two of meet­ings these advi­sors will con­tribute con­tent to the pol­li­na­tor plan, gen­er­ate a mean­ing­ful research agen­da and cob­ble togeth­er BMPs to pro­tect bees.
The idea that all this can hap­pen fails to pass the laugh test. Thus, in the final por­tion of the third meet­ing, Task Force advi­sors were asked to con­sid­er a series of BMPs list­ed on a hand­out pre­pared in advance (pre­sum­ably by NYS­DAM or DEC) but not dis­trib­uted until the actu­al meet­ing. Task Force mem­bers had not got­ten through the first item on the list when time ran out.
Dis­cus­sion of spe­cif­ic BMPs was over­shad­owed by the con­tentious issue of whether bee­keep­ers should be required to reg­is­ter all hon­ey­bee hives with the state and dis­close their loca­tions. BMPs list­ed on the hand­out per­tained to such things as bee­keep­ers' care for their colonies and con­trol of mites and oth­er parasites/​diseases, landown­ers and state agen­cies enhanc­ing pol­li­na­tor habi­tat and for­age, the cor­rect and judi­cious use of pes­ti­cides and of Inte­grat­ed Pest Man­age­ment, and the roles of bee­keep­ers, landown­ers and pes­ti­cide appli­ca­tors in pro­tect­ing hon­ey­bees from pesticides.
Per­haps there was no real need to care­ful­ly craft a plan because the con­clu­sions appeared to have been pre-ordained. In his clos­ing com­ments at the third meet­ing, DEC deputy com­mis­sion­er Leff referred back to the governor's blue­print for the state pol­li­na­tor plan. In par­tic­u­lar, Leff high­light­ed the BMPs designed to reduce pes­ti­cide expo­sure to man­aged pol­li­na­tors through bet­ter com­mu­ni­ca­tion among bee­keep­ers and farm­ers. Leff stressed the need for landown­ers and pes­ti­cide appli­ca­tors to know where hives are locat­ed and how to con­tact bee­keep­ers before they spray.
Of course, Bee­keep­ers would have to be ready to move their hives. Some bee­keep­ers fear that New York's plan will fol­low North Dakota's tem­plate — trans­fer­ring the bur­den of pro­tect­ing hon­ey­bee colonies from pes­ti­cides onto the bee­keep­ers. This is at odds with the his­tor­i­cal assign­ment of such respon­si­bil­i­ty to pes­ti­cide appli­ca­tors. In fact, pes­ti­cide labels car­ry legal weight in pro­hibit­ing pes­ti­cides con­sid­ered acute­ly tox­ic to bees from being applied when flow­ers are in bloom or bees are present.
Leff's pro­pos­al to shift respon­si­bil­i­ty is rad­i­cal, but it is not new; it's essen­tial ele­ments are con­tained in the guid­ance for State Man­aged Pol­li­na­tor Pro­tec­tion Plans, a June 2015 doc­u­ment pro­duced by the State The Fed­er­al Insec­ti­cide, Fungi­cide, and Roden­ti­cide Act (FIFRA) Issues Research and Eval­u­a­tion Group. (SFIREG is a com­mit­tee of the Asso­ci­a­tion of Amer­i­can Pes­ti­cide Con­trol Offi­cials. SFIREG used to have the doc­u­ment on its web­site, but has since removed it.) Among the six ​"crit­i­cal ele­ments" it iden­ti­fied for pol­li­na­tor plans are meth­ods for grow­ers to know if man­aged pol­li­na­tors are locat­ed near where pes­ti­cides are used and for con­tact­ing bee­keep­ers pri­or to apply­ing pesticides.
Thus it seems that pes­ti­cides are some­times acknowl­edged to be caus­ing at least part of the decline in pol­li­na­tors, but the approach pro­posed by Leff and SFIREG ignores much of what is known — that sys­temic insec­ti­cides like neon­i­coti­noids can harm bees months after appli­ca­tion, for exam­ple via the plant­i­ng of treat­ed seeds, and that insec­ti­cides are not the only agri­chem­i­cals that harm bees. For exam­ple, a new study has found that expo­sure to low lev­els of glyphosate impairs hon­ey­bee nav­i­ga­tion. And of course, warn­ing bee­keep­ers of impend­ing pes­ti­cide appli­ca­tions does noth­ing to pro­tect native pol­li­na­tors (though osten­si­bly these plans are intend­ed to pro­tect them too).
As the meet­ing was end­ing, I was able to pose a prac­ti­cal ques­tion: ​"How easy is it for bee­keep­ers to move their hives when they get a call that pes­ti­cides will be applied?" Rober­ta Glatz, an old­er woman who serves on the state Api­ary Indus­try Advi­so­ry Com­mit­tee, replied from the audience.
She said that bee­keep­ers aren't nec­es­sar­i­ly where their bees are. ​"They may be in North Car­oli­na rais­ing queens." She out­lined oth­er con­cerns as well. There are lim­it­ed places where you can put your bees, and it takes a lot of nego­ti­a­tion to put in a bee yard. Logis­tics also come into play. Mud can impede access. Hives are heavy and usu­al­ly have to be moved in the mid­dle of the night when the bees are home. (And bee­keep­ers often have day jobs, anoth­er bee­keep­er told me once the meet­ing ended.)
So while even the bee­keep­ers of New York are hav­ing a hard time get­ting a fair shake in a pro­tec­tion plan for their own bees, in terms of pes­ti­cides it seems that Bom­bus affi­nis and oth­er native bees should expect even less of one.
(A ver­sion of this arti­cle appeared on inde​pen​dentscience​news​.org.)
Tra­cy Frisch
is an inde­pen­dent jour­nal­ist based in upstate New York near the Ver­mont bor­der. In the
1990
s and ear­ly
2000
s, she worked as an advo­cate and orga­niz­er on pes­ti­cide and envi­ron­men­tal health issues. She lat­er pro­mot­ed eco­log­i­cal agri­cul­ture with farm­ers and the local food move­ment. She can be reached at tracy.​frisch@​gmail.​com.