Indus­try and gov­ern­ment offi­cials say per­flu­o­rooc­tanoic acid (PFOA), the tox­ic chem­i­cal blamed for con­t­a­m­i­nat­ing drink­ing water sup­plies in Hoosick Falls, N.Y., and sev­er­al oth­er area com­mu­ni­ties, is no longer used in man­u­fac­tur­ing in the Unit­ed States.
But if PFOA has been phased out, what are indus­tries using in its place?
Peo­ple like Sil­via Pot­ter would like to know the answer to that ques­tion for the two Saint-Gob­ain Per­for­mance Plas­tics plants that still oper­ate in Hoosick Falls. Pot­ter says peo­ple in her com­mu­ni­ty know ​"absolute­ly noth­ing" about the iden­ti­ty of the chem­i­cal or chem­i­cals the com­pa­ny is using as a replace­ment for PFOA.
The lack of infor­ma­tion has been frus­trat­ing for her and oth­er mem­bers of their local advo­ca­cy group, NY Water Project.
"We only know what the com­pa­ny vol­un­teers," she says.
Per­flu­o­rooc­tanoic acid (PFOA), wide­ly used for decades in the mak­ing of non­stick coat­ings like Teflon and a vari­ety of oth­er con­sumer prod­ucts, is con­sid­ered tox­ic even in tiny amounts. PFOA has been linked to can­cer, birth defects and immune sys­tem dysfunction.
In 2006, eight major chem­i­cal com­pa­nies, includ­ing 3M and DuPont, entered into a ​"vol­un­tary stew­ard­ship agree­ment" with the U.S. Envi­ron­men­tal Pro­tec­tion Agency (EPA) to phase out the pro­duc­tion and use of PFOA by 2015. In its place, the indus­try switched to oth­er chem­i­cals in the same fam­i­ly that were deemed less haz­ardous by the EPA. But late­ly a vari­ety of experts have begun to believe that these new chem­i­cals also pose grave threats to human health.
Remark­ably, it's not clear whether gov­ern­ment reg­u­la­tors — or even com­pa­nies like Saint-Gob­ain — know the spe­cif­ic chem­i­cal iden­ti­ties of the sub­stances being sub­sti­tut­ed for PFOA. In response to ques­tions for this sto­ry, Saint-Gob­ain issued a state­ment say­ing it has relied on its sup­pli­ers to pro­vide replace­ment chem­i­cals for PFOA and that the com­po­si­tion of these chem­i­cals ​"in the case of some sup­pli­ers may be proprietary."
At pub­lic meet­ings, Pot­ter says she and oth­er mem­bers of NY Water Project have asked ques­tions ​"at every appro­pri­ate moment" about what sub­stances have replaced PFOA. But the infor­ma­tion they have sought hasn't been forthcoming.
"We're just assured that every­thing is safe," she says. ​"This con­cerns us, because things went wrong once. We wouldn't even know about PFOA if it weren't for Michael Hick­ey and his deter­mi­na­tion to get to the bot­tom of these mys­te­ri­ous ill­ness­es. I believe the town owes Michael a debt of gratitude."
Hickey's father, who for many years worked at one of the local Saint-Gob­ain plants, died of kid­ney can­cer. It was Hick­ey who thought to test the vil­lage of Hoosick Falls' water for PFOA in 2014, reveal­ing the village's water con­t­a­m­i­na­tion prob­lem for the first time.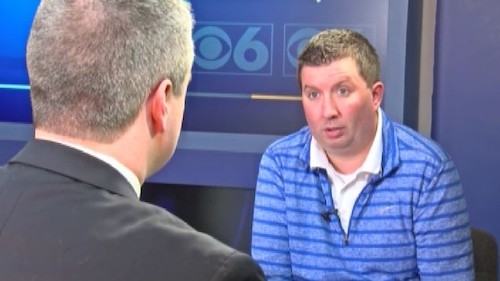 Whistle­blow­er Michael Hick­ey per­son­al­ly test­ed Hoosick Falls' water in 2014 after his father, John, died of kid­ney can­cer. (Image: cbs6al​bany​.com)
Change for the better?
PFOA is some­times called C‑8, for its chain of eight car­bon atoms, each bond­ed to flu­o­rine. The car­bon-flu­o­rine bond is extreme­ly strong, mak­ing PFOA vir­tu­al­ly inde­struc­tible. So it stays in the envi­ron­ment essen­tial­ly for­ev­er: It doesn't degrade in water or soil, and plants and ani­mals don't metab­o­lize it.
By 2014, long after PFOA's haz­ards to the envi­ron­ment and human health were first doc­u­ment­ed, the EPA clas­si­fied the chem­i­cal and its cousin PFOS, which was wide­ly used in fire­fight­ing foam, as ​"emer­gent con­t­a­m­i­nants." But to this day, the fed­er­al gov­ern­ment still doesn't reg­u­late them. And PFOA and PFOS, despite their noto­ri­ety, are only two of an esti­mat­ed 3,000 to 6,000 oth­er unique, high­ly flu­o­ri­nat­ed compounds.
The chem­i­cals fall with­in the EPA's purview under the fed­er­al Tox­ic Sub­stances Con­trol Act of 1976. But in the four decades since that law was enact­ed, the EPA has for­mal­ly assessed only a tiny frac­tion of the more than 80,000 man­made chem­i­cals on the market.
PFOA is part of a fam­i­ly of high­ly flu­o­ri­nat­ed chem­i­cals known as poly­flu­o­roalkyl sub­stances, or PFAS. The chem­i­cals are used to make con­sumer prod­ucts resis­tant to water, grease or stains, such as Gore-Tex rain gear, Teflon no-stick cook­ware and Scotch­gard stain-repel­lent for car­pets and fur­ni­ture fab­rics. The EPA agree­ment that phased out PFOA and PFOS by 2015 didn't stop the pro­duc­tion and use of oth­er high­ly flu­o­ri­nat­ed chem­i­cals. Instead, the chem­i­cal indus­try has shift­ed from PFAS com­pounds with long chains of car­bon and flu­o­rine atoms, like PFOA, to short­er-chain com­pounds in the same family.
The indus­try had per­suad­ed the EPA that short-chain PFAS chem­i­cals are less per­sis­tent in the envi­ron­ment and less harm­ful to human health than their longer-chain pre­de­ces­sors. But experts who gath­ered at a con­fer­ence this sum­mer in Boston said the sup­po­si­tion that short-chain com­pounds are inher­ent­ly safer is not war­rant­ed, even though the EPA has enshrined a dis­tinc­tion between short- and long-chain com­pounds in its policies.
"Every per­flu­o­ri­nat­ed com­pound stud­ied is caus­ing prob­lems," says Lin­da Birn­baum, a tox­i­col­o­gist who serves as the direc­tor of the Nation­al Insti­tute of Envi­ron­men­tal Health Sci­ences and the Nation­al Tox­i­col­o­gy Program.
A new gen­er­a­tion of toxins
Birn­baum out­lined the adverse effects of PFAS com­pounds in her keynote address at a June con­fer­ence focused on these chem­i­cals. The con­fer­ence at North­east­ern Uni­ver­si­ty brought togeth­er research sci­en­tists, gov­ern­ment offi­cials, lawyers, jour­nal­ists, envi­ron­men­tal­ists and peo­ple from com­mu­ni­ties affect­ed by PFAS con­t­a­m­i­na­tion. In her pre­sen­ta­tion, Birn­baum explained even minus­cule con­cen­tra­tions of per­flu­o­ri­nat­ed com­pounds can pose risks.
Accord­ing to con­ven­tion­al wis­dom and prin­ci­ples of tox­i­col­o­gy, Birn­baum said, poi­son is a func­tion of dosage. So if a sub­stance doesn't pose risks at high dos­es, it's con­sid­ered unlike­ly to do so at low expo­sure. But with this class of chem­i­cals, she said, low lev­els of expo­sure may induce bio­log­i­cal effects even if high lev­els of expo­sure do not. This same dynam­ic also occurs with oth­er endocrine-dis­rupt­ing substances.
Andrew Lind­strom, an EPA research sci­en­tist who stud­ies trace con­t­a­m­i­nants for the Nation­al Expo­sure Research Lab­o­ra­to­ry, told those attend­ing the con­fer­ence that indus­try is using short-chain sub­sti­tutes in place of long-chain com­pounds like PFOA and PFOS. But he said the replace­ment com­pounds present mul­ti­ple challenges.
First, he said, reg­u­la­tors and the pub­lic gen­er­al­ly don't know the spe­cif­ic iden­ti­ties of these chem­i­cals, the quan­ti­ties in which they're being pro­duced, their health effects or how long they're retained in the human body. There is some data, though, on one short-chain PFAS com­pound pro­duced under the prod­uct name GenX. DuPont intro­duced GenX in 2009 specif­i­cal­ly as a safer replace­ment for PFOA for use in mak­ing Teflon and the stain-resis­tant and water-repel­lant coat­ings found in many con­sumer products.
In her series ​"The Teflon Tox­in," inves­tiga­tive jour­nal­ist Sharon Lern­er of the online mag­a­zine The Inter­cept details the numer­ous health and envi­ron­men­tal haz­ards with this short-chain PFAS compound.
She writes that DuPont ​"sub­mit­ted 16 reports [to EPA] of adverse inci­dents relat­ed to GenX between 2006 and 2013, describ­ing exper­i­ments in which lab ani­mals exposed to the chem­i­cal devel­oped can­cers of the liv­er, pan­creas, and tes­ti­cles as well as benign tumors. The indus­try research also tied GenX to repro­duc­tive prob­lems, includ­ing low birth weight and short­ened preg­nan­cies in rats, and changes in immune responses."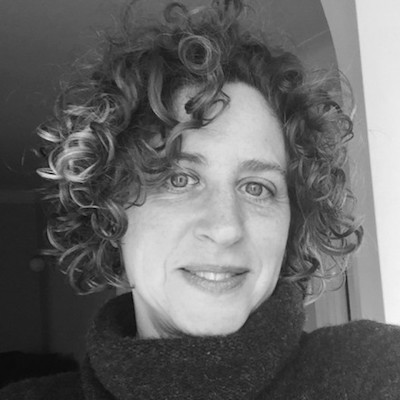 Sharon Lern­er's 13-part inves­tiga­tive series, The Teflon Tox­in, was a final­ist for the Amer­i­can Soci­ety of Mag­a­zine Edi­tors Ellie Award. (Image: The Intercept)
Local com­pa­nies stay mum
The ques­tion of what chem­i­cals have replaced PFOA is moot in North Ben­ning­ton, Vt., where a for­mer Saint-Gob­ain plant — now blamed for con­t­a­m­i­nat­ing the pri­vate wells of more than 200 homes — has been closed since 2002. But the issue remains a press­ing one for neigh­bors of the Saint-Gob­ain plants in Hoosick Falls and the Tacon­ic Plas­tics fac­to­ry in Peters­burgh, which has been blamed for PFOA con­t­a­m­i­na­tion dis­cov­ered last year that affect­ed about 70 local water users.
Nei­ther Saint-Gob­ain nor Tacon­ic have revealed what chem­i­cals they're using in place of PFOA.
A call to Saint-Gob­ain did not yield a direct answer. The response came via Pep­per­comm, a New York City pub­lic rela­tions firm. The firm pro­vid­ed a writ­ten state­ment attrib­uted to Dina Poked­off, Saint-Gobain's direc­tor of brand­ing and communication.
The state­ment said Saint-Gob­ain offi­cials ​"rea­son­ably rely on our sup­pli­ers" to pro­vide replace­ment chem­i­cal for PFOA.
"As part of the U.S. EPA's Stew­ard­ship Pro­gram that major raw mate­r­i­al pro­duc­ers par­tic­i­pat­ed in, a pri­ma­ry goal was to elim­i­nate PFOA from pro­duc­ers' pro­duc­tion process­es and to iden­ti­fy replace­ments for PFOA," the state­ment said.
But Saint-Gob­ain would not char­ac­ter­ize those replace­ment chem­i­cals more specif­i­cal­ly. Instead it sim­ply stat­ed, ​"It is our under­stand­ing that the com­pounds that even­tu­al­ly replaced PFOA are reviewed by the U.S. EPA and in the case of some sup­pli­ers may be pro­pri­etary." A query to Tacon­ic Plas­tics, which used PFOA for years at its Peters­burgh plant, brought a response from cor­po­rate coun­sel Lau­rie Mason. She declined to pro­vide any infor­ma­tion for this report, cit­ing a Super­fund inves­ti­ga­tion and pend­ing civ­il litigation.
Com­pa­ny records detail hazards
Rob Bilott, a lawyer who brought a class-action suit against DuPont on behalf of peo­ple exposed to PFOA near the company's plant in Park­ers­burg, W.Va., said the com­pa­ny has a his­to­ry of pro­fess­ing the safe­ty of high­ly flu­o­ri­nat­ed com­pounds to the pub­lic and gov­ern­ment reg­u­la­tors — despite its own research demon­strat­ing seri­ous haz­ards. DuPont set­tled the Park­ers­burg suit for $235 mil­lion in 2004. But Bilott told par­tic­i­pants in the June con­fer­ence how the law­suit opened a rare win­dow into the nor­mal­ly secret world of an indus­tri­al cor­po­ra­tion grap­pling with respon­si­bil­i­ty and lia­bil­i­ty for a night­mare chemical.
Through the legal process of dis­cov­ery, DuPont hand­ed over more than 100,000 pages of inter­nal doc­u­ments, which Bilott said he then sub­mit­ted to the EPA with the goal of putting them into the pub­lic record. In that trove of papers, Bilott said he dis­cov­ered that DuPont had been aware of PFOA's dan­gers for sev­er­al decades. The com­pa­ny stud­ied the chem­i­cal in its lab­o­ra­to­ry pro­gram and also col­lect­ed evi­dence by mon­i­tor­ing its work­ers. He said, as a result, DuPont had inter­nal­ly con­clud­ed in 1988 that PFOA was a human carcinogen.
Accord­ing to Bilott, by the 1970s, DuPont already knew that PFOA was bio-per­sis­tent. In 1984, the com­pa­ny sur­rep­ti­tious­ly col­lect­ed sam­ples to test pub­lic drink­ing water for con­t­a­m­i­na­tion and deter­mined that PFOA was get­ting into pub­lic water sup­plies. More than 35 years ago, 3M's rodent stud­ies had linked PFAS with birth defects. When DuPont repeat­ed the stud­ies, it dis­missed any asso­ci­a­tion. But then it mon­i­tored a small num­ber of preg­nant employ­ees exposed to PFOA. Two women out of a sam­ple of eight or ten gave birth to babies with the same type of unusu­al birth defects, he said.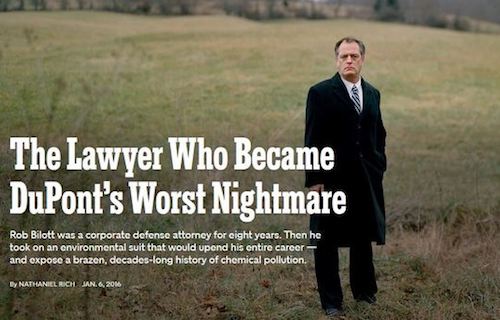 To read the The New York Times Mag­a­zine's 2016 pro­file on Rob Bilott, click here. (Image: The New York Times Mag­a­zine)
In the late 1980s DuPont estab­lished its own action lev­el of 500 parts per tril­lion for PFOA in drink­ing water. That's 100 times low­er than the thresh­old of 50 parts per bil­lion that New York was using as a fall­back when PFOA was first found in Hoosick Falls' drink­ing water in 2014, pri­or to EPA's inter­ven­tion in late 2015 to warn the pub­lic not to drink the vil­lage water.
The EPA first set a guid­ance lev­el of 400 ppt for short-term expo­sure to PFOA in drink­ing water in 2009. In 2016, the agency estab­lished 70 ppt as a guide­line upper lev­el for long-term expo­sure, and New York fol­lowed suit.
Last year, after PFOA was detect­ed in North Ben­ning­ton wells, Ver­mont estab­lished a drink­ing water enforce­ment stan­dard of 20 ppt.
Con­t­a­m­i­na­tion spread widely
Jason Gal­loway, an Ohio State Uni­ver­si­ty grad­u­ate stu­dent who grew up along the Ohio Riv­er, told con­fer­ence par­tic­i­pants he became inter­est­ed in deter­min­ing the geo­graph­ic extent of PFAS con­t­a­m­i­na­tion from DuPont's Park­ers­burg plant, now oper­at­ed by DuPont spin­off com­pa­ny Chemours. Gal­loway teamed up with Lind­strom, the EPA sci­en­tist, who has sen­si­tive ana­lyt­ic equip­ment for detect­ing PFAS, and went out in a kayak to col­lect water samples.
The plant's air emis­sions are only mon­i­tored with­in a 2‑mile radius, but some of Galloway's sam­ples tak­en much fur­ther away con­tained PFOA. In the direc­tion of pre­vail­ing wind, to the north­east, he found PFOA at 100 ppt 15 miles from the plant. At a dis­tance of more than 25 miles, PFOA was still detect­ed, though con­cen­tra­tions dropped to 10 ppt.
Twen­ty miles north of the plant, Gal­loway also found GenX, though the short-chain PFOA replace­ment had only been used for a short time. Lind­strom and his col­lab­o­ra­tors also detect­ed GenX at a con­cen­tra­tion of 661 ppt in the drink­ing water sup­ply of Wilm­ing­ton, N.C., where they col­lect­ed sam­ples down­stream of anoth­er DuPont-owned fac­to­ry oper­at­ed by Chemours.
The EPA has esti­mat­ed, based on its mon­i­tor­ing of large pub­lic water sys­tems, that PFOA and oth­er long-chain per­flu­o­ri­nat­ed com­pounds are in the drink­ing water of 6 mil­lion Amer­i­cans.
But Har­vard envi­ron­men­tal engi­neer­ing pro­fes­sor Elsie Sun­der­land told par­tic­i­pants in the Boston con­fer­ence that this num­ber seri­ous­ly under­es­ti­mates the mag­ni­tude of the prob­lem, because about 90 mil­lion peo­ple rely on pri­vate wells or small pub­lic water sys­tems that aren't sub­ject to EPA monitoring.
Sun­der­land also ques­tioned whether the test­ing method­olo­gies used by water sys­tems to com­ply with EPA's require­ments are sen­si­tive enough to find these chem­i­cals. PFAS com­pounds can cause health effects at lev­els as low as 1 ppt, she said.
Push­ing for a phase-out
Arlene Blum, an envi­ron­men­tal chemist who found­ed the Green Sci­ence Pol­i­cy Insti­tute, says a body of research now con­tra­dicts DuPont's claim that short-chain PFAS com­pounds are safe and envi­ron­men­tal­ly prefer­able to longer-chain com­pounds like PFOA. Using a sci­ence-based approach — con­ven­ing sci­en­tif­ic experts, moti­vat­ing need­ed stud­ies, and pub­lish­ing research find­ings in peer-reviewed jour­nals — the Green Sci­ence Pol­i­cy Insti­tute has embarked on a new cam­paign to elim­i­nate six class­es of harm­ful chem­i­cals. PFAS is the first class the group is targeting.
Arlene Blum of the Green Sci­ence Pol­i­cy Insti­tute explains the dan­gers of high­ly flu­o­ri­nat­ed chem­i­cal com­pounds.
(Video:
YouTube
)
The institute's approach builds on the Madrid State­ment, which calls for lim­it­ing PFAS as a class because the chem­i­cals pose numer­ous seri­ous haz­ards that make them unsuit­able for pro­duc­tion and use. In 2015, 230 sci­en­tists from 38 nations signed the Madrid State­ment, which was pub­lished with ref­er­ences in the peer-reviewed jour­nal Envi­ron­men­tal Health Per­spec­tives. Blum says this class-wide strat­e­gy would pre­vent ​"regret­table sub­sti­tu­tions" like those that sci­en­tists fear are occur­ring with the new short-chain PFAS compounds.
So far, at least 40 com­pa­nies have been per­suad­ed to stop using all PFAS com­pounds — both long- and short-chain — in cloth­ing and tex­tiles, says Blum. ​"Our big hope is that the mil­i­tary will do the same." Despite wide­spread water and soil con­t­a­m­i­na­tion on mil­i­tary bases from the use of PFOS-con­tain­ing fire­fight­ing foam, the Pen­ta­gon has con­tin­ued to pro­cure high­ly flu­o­ri­nat­ed prod­ucts for this pur­pose, she says.
Detail­ing health risks
The most defin­i­tive infor­ma­tion on how PFOA expo­sure can affect human health comes from stud­ies of 70,000 peo­ple liv­ing near a DuPont chem­i­cal plant in Park­ers­burg, W.Va. As part of the set­tle­ment in the large class-action law­suit brought by Bilott against DuPont, three epi­demi­ol­o­gists approved by both sides stud­ied this pop­u­la­tion, which also received free health mon­i­tor­ing. DuPont agreed not to fight per­son­al injury suits from area res­i­dents who expe­ri­enced these health problems.
The data indi­cat­ed a prob­a­ble asso­ci­a­tion between PFOA expo­sure and kid­ney can­cer, tes­tic­u­lar can­cer, ulcer­a­tive col­i­tis, thy­roid dis­ease, high cho­les­terol, and preg­nan­cy-induced hyper­ten­sion. Although oth­er effects may occur, they were not sta­tis­ti­cal­ly sig­nif­i­cant in this pop­u­la­tion. As endocrine dis­rup­tors, PFAS com­pounds affect hor­mon­al sys­tems. This can cause of a cas­cade of effects, because hor­mones act as sig­nals to start, stop and oth­er­wise reg­u­late many phys­i­o­log­i­cal processes.
Court­ney Carig­nan, a repro­duc­tive envi­ron­men­tal epi­demi­ol­o­gist at Har­vard, not­ed that PFAS com­pounds affect thy­roid func­tion. She says ade­quate thy­roid lev­els are crit­i­cal for brain devel­op­ment and mat­u­ra­tion in the devel­op­ing fetus and dur­ing childhood.
PFAS com­pounds also are asso­ci­at­ed with an autoim­mune hypothy­roid mark­er. PFOA also dis­rupts sex hor­mones, for exam­ple by depress­ing testos­terone lev­els. At the blood con­cen­tra­tions found in chil­dren in the Ohio Riv­er val­ley where DuPont's Parkersburg's plant con­t­a­m­i­nat­ed drink­ing water, PFOA expo­sure affects mam­ma­ry gland devel­op­ment in the devel­op­ing fetus. Lat­er in life, pre­na­tal expo­sure may impair a woman's capac­i­ty to breast feed and pre­dis­pose her to breast cancer.
Alan Ducat­man, a pro­fes­sor of med­i­cine and pub­lic health at West Vir­ginia Uni­ver­si­ty, sug­gests oth­er mech­a­nisms through which PFOA can cause devel­op­men­tal prob­lems. He says stud­ies show PFOA induces prob­lems with fat metab­o­lism in rodents and dis­rupts cho­les­terol metab­o­lism in humans. Accord­ing to Ducat­man, cho­les­terol is a sterol, and the dis­rup­tion of sterol metab­o­lism is asso­ci­at­ed with devel­op­men­tal abnormalities.
High­ly flu­o­ri­nat­ed com­pounds also affect the immune sys­tem in com­plex ways. Birn­baum cit­ed a long-term study of moth­er-child pairs in the Faroe Islands, which are part of Den­mark. In that study, chil­dren whose moth­ers were in the top 20 per­cent for expo­sure to PFAS com­pounds couldn't mount a nor­mal immune response to vaccination.
In preg­nant women, per­flu­o­ri­nat­ed com­pounds are car­ried from the pla­cen­ta to the fetus, and breast milk is a source of expo­sure for children.
Ongo­ing exposure
Cathy Daw­son, an oper­at­ing room nurse who's lived in Hoosick Falls for 30 years, brings a health ori­en­ta­tion to the NY Water Project. When she first ​"heard the rum­blings" about PFOA and saw a notice about it in her vil­lage water bill, she said she didn't pay much atten­tion. But then she mes­saged Michael Hick­ey. As a boy, he and his par­ents and sib­lings were her next-door neigh­bors when Daw­son first moved to Hoosick Falls. Hickey's response pro­pelled her into action.
"Michael filled me in on every­thing that was going on, and told me about his research," she recalls. Pick­ing up where he left off, she did her own research.
What she learned left her outraged.
"A lot of peo­ple are afraid of the can­cers" asso­ci­at­ed with PFOA, Daw­son says. ​"But some­thing like arthri­tis impacts peo­ple day to day with pain and dis­fig­ure­ment. PFOA is also known to cause cra­nial-facial abnor­mal­i­ties, and there are all the endocrine dis­or­ders. Stud­ies have also linked PFOA to seizures. From a health-care per­spec­tive, it's awful."
NY Water Project's big push now is to get the vil­lage a new water sup­ply. Although state offi­cials say a new fil­tra­tion sys­tem is now keep­ing PFOA out of tap water, the village's water comes from under­ground wells near the Saint-Gob­ain plant on McCaf­frey Street, and the wells remain heav­i­ly con­t­a­m­i­nat­ed. But water isn't the only part of Hoosick Falls' envi­ron­ment affect­ed by indus­tri­al pol­lu­tion. Por­tions of the vil­lage that were con­t­a­m­i­nat­ed by Saint-Gobain's plants are on track to be des­ig­nat­ed a Super­fund site — they made it onto EPA's Nation­al Pri­or­i­ties List in late July — and thus become eli­gi­ble for fed­er­al cleanup funds.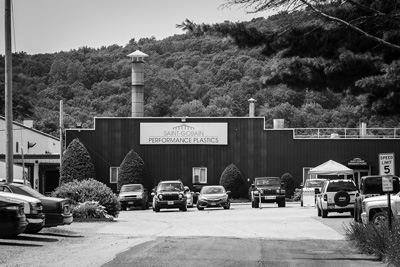 The Saint-Gob­ain Per­for­mance Plas­tics plant on McCaf­frey Street in Hoosick Falls, N.Y. (Image: Joan K. Lenti­ni / Hill Coun­try Observer)
For the peo­ple being affect­ed, local pol­lu­tion isn't just a lega­cy issue. Daw­son says she believes Saint-Gob­ain is still releas­ing indus­tri­al tox­ins into the air, and air depo­si­tion is one way that high­ly flu­o­ri­nat­ed com­pounds get into ground and sur­face water.
"The air still stinks, though it's not as bad as it used to be," she says, adding that odors from the plant are inter­mit­tent. ​"It smells like burn­ing plas­tic, like if you left a Teflon pan on the stove."
("Trad­ing old haz­ards for new? Mys­tery shrouds chem­i­cals that replaced PFOA​" was orig­i­nal­ly pub­lished by the Hill Coun­try Observ­er and is repost­ed on Rur­al Amer­i­ca In These Times with per­mis­sion from the author. For addi­tion­al back­ground on the PFOA con­t­a­m­i­na­tion of water sup­plies in com­mu­ni­ties in Upstate New York, Ver­mont and else­where see ​"Small Towns in New York and Ver­mont Share a Water Con­t­a­m­i­na­tion Cri­sis, But Not an Offi­cial Response" — also by Tra­cy Frisch and post­ed on this site in Sep­tem­ber.)