Monsanto's Toxic Legacy: An Investigative Reporter Talks Glyphosate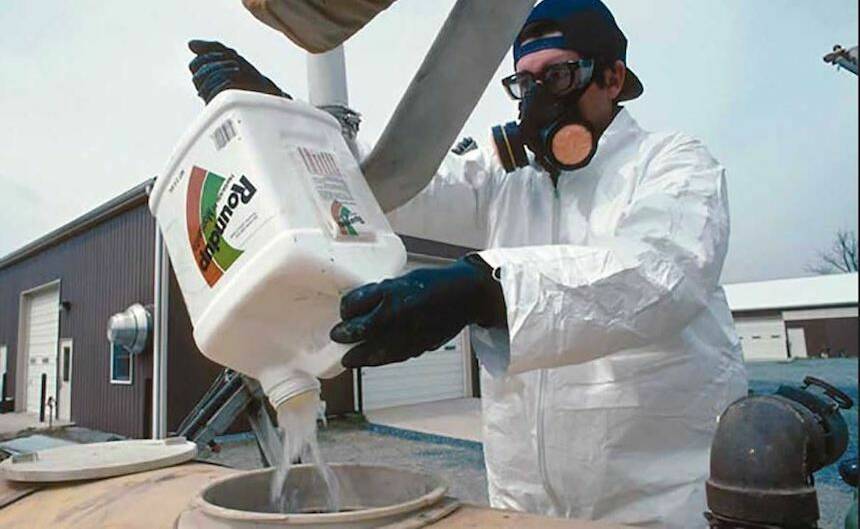 Editor's Note: In the fol­low­ing inter­view, for Acres U.S.A., Tra­cy Frisch inter­views Carey Gillam about her first book: White­wash: The Sto­ry of a Weed Killer, Can­cer, and the Cor­rup­tion of Sci­ence. Gillam, a ​"Kansas-based jour­nal­ist turned glyphosate geek" has been a reporter for over 25 years, 17 of which were spent with Reuters cov­er­ing, among oth­er top­ics, eco­nom­ic pol­i­cy, cor­po­rate earn­ings and com­modi­ties trad­ing. In that time, Gillam's report­ing spe­cial­ized on cor­po­rate agribusi­ness and the agri­chem­i­cal indus­try. The pub­lic health decep­tions she's since uncov­ered are numer­ous. Two years ago she became Research Direc­tor
 with U.S. Right to Know, a non­prof­it con­sumer group that ​"pur­sues truth and trans­paren­cy in America's food industry."
This inter­view has been edit­ed for length, but a link to the full (and more in-depth) con­ver­sa­tion can be found at the bot­tom of the post.
Tra­cy Frisch: What's the ori­gin of the chem­i­cal that became the world's most wide­ly-used weed killer?
Carey Gillam: In 1950, while look­ing for new phar­ma­ceu­ti­cals, the Swiss chemist Hen­ri Mar­tin syn­the­sized the chem­i­cal we call glyphosate. … But it took Mon­san­to and John Franz, a young Mon­san­to chemist, to unlock the weed-killing mag­ic with­in glyphosate and bring it to mar­ket as the high­ly prof­itable prod­uct Roundup. Franz dis­cov­ered that glyphosate killed plants in 1970 and went on to receive great acclaim for his find­ing. In 1974, Mon­san­to rolled out Roundup as a very safe and effec­tive weed killer, and it was quick­ly embraced for a num­ber of dif­fer­ent uses.
In your book, White­wash, you note that the glyphosate patent was going to expire around the time that the first Roundup Ready crop — soy­beans — entered the market.
This was cer­tain­ly no acci­dent. The com­pa­ny had very good sales over the years. But Mon­san­to dis­cussed with investors its expec­ta­tion that the glyphosate sales vol­umes would soar with the roll­out of its Roundup Ready crops in the 1990s. Roundup use did explode, and Mon­san­to had fab­u­lous sales. Sell­ing the seeds and the her­bi­cide that went along with the seeds was a real­ly smart busi­ness play. Farm­ers that I inter­viewed did love it. For many years after these genet­i­cal­ly engi­neered crops came out, Roundup was like gold.
When did Roundup start being wide­ly used right before harvest?
That sug­ges­tion for glyphosate use came up fair­ly ear­ly on. Okla­homa wheat farm­ers thought that this could be help­ful to them. The idea was to spray Roundup direct­ly on your crops short­ly before har­vest to help them dry out. The prob­lem, of course, is that this prac­tice leaves high­er residues of glyphosate in the fin­ished products.
Glyphosate went on the mar­ket in 1974. In the late 1970s and the 1980s, fraud­u­lent prac­tices were dis­cov­ered at IBT and Craven, two major test­ing lab­o­ra­to­ries that con­duct­ed many of the tox­i­co­log­i­cal stud­ies for Mon­san­to and oth­er pes­ti­cide companies.
Three IBT offi­cials were con­vict­ed of try­ing to defraud the gov­ern­ment by cov­er­ing up their research data. Though the com­pa­ny now claims it was a vic­tim of the IBT fraud, Mon­san­to cer­tain­ly had con­nec­tions to it. A Mon­san­to employ­ee had gone to work for IBT, was there dur­ing the scan­dal, and was charged in con­nec­tion with fal­si­fi­ca­tion of sci­en­tif­ic results. And Mon­san­to helped in his defense in the court case.
Even today, peo­ple still don't know in which cas­es the EPA accept­ed the data sets from test­ing con­duct­ed at those dis­cred­it­ed labs rather than insist­ing that the tests be redone.
There are still con­cerns that reg­u­la­tors may con­sid­er some tests done by these labs to be valid, though Mon­san­to will say that they had them all redone. But at this point we have a big­ger con­cern. We now know that for many of the stud­ies that the EPA relies on, Mon­san­to has worked very hard to manip­u­late the find­ings and the way they're assessed. For instance, the doc­u­ments we have show that the com­pa­ny has engaged in ghost­writ­ing research papers that appear to be authored by sci­en­tists work­ing inde­pen­dent­ly of Monsanto.
Can you give an exam­ple of how Mon­san­to has influ­enced the EPA's inter­pre­ta­tion of a glyphosate study?
The 1983 mouse study illus­trates a trou­bling dynam­ic. You can see in doc­u­ments how Mon­san­to talked about what they did with that study and oth­er stud­ies, as far as reg­u­la­tors were con­cerned. The study in ques­tion involved 400 mice. The EPA's tox­i­col­o­gy experts looked at the study and came to the obvi­ous con­clu­sion: ​"This stuff caus­es can­cer." In the study, the mice, oth­er than the con­trols, were dosed with glyphosate and some got these rare tumors. Monsanto's response was to say, ​"You're just not look­ing at it right. These tumors aren't real­ly due to glyphosate." At first the EPA tox­i­col­o­gists held firm and remained out­spo­ken. ​"Monsanto's argu­ment is unac­cept­able. Glyphosate is sus­pect. Our job is to pro­tect the pub­lic, not the reg­is­trant." They wrote words like these in memo after memo. Mon­san­to then hired a pathol­o­gist who, they said in their inter­nal email chain, would con­vince the EPA that they were wrong. Lo and behold, he told EPA that there was a tumor in the con­trol group that nobody had noticed before. The EPA tox­i­col­o­gists con­tin­ued to fight back. This went on and on. The EPA had a sep­a­rate out­side group look at it, which told the agency to have Mon­san­to redo the tests. Mon­san­to refused. A decade lat­er, in 1993, the EPA final­ly relent­ed. They accept­ed Monsanto's study and con­clu­sions and clas­si­fied glyphosate as hav­ing no evi­dence of car­cino­genic­i­ty. Some of the EPA sci­en­tists refused to sign off on that deter­mi­na­tion. This case shows how hard it has been for the EPA to stick with the find­ings of their own sci­en­tists. This has occurred repeat­ed­ly for Mon­san­to, with PCBs and diox­in. Com­pa­nies like Mon­san­to have a lot of clout, and they use that pow­er. Mon­san­to spends a lot of mon­ey on lob­by­ists and cam­paign con­tri­bu­tions, and polit­i­cal appointees hold the top posi­tions at the EPA.
We seem to be at a water­shed moment right now. From the out­side it looks like this start­ed when the Inter­na­tion­al Agency on Research on Can­cer clas­si­fied glyphosate as a prob­a­ble human car­cino­gen. What do we know about how sci­en­tists make such assess­ments for IARC?
The Inter­na­tion­al Agency on Research on Can­cer is a unit of the World Health Orga­ni­za­tion that looks at dif­fer­ent sub­stances to deter­mine their can­cer haz­ard. As with the work­ing group on glyphosate, the peo­ple that serve on IARC pan­els are inde­pen­dent sci­en­tists invit­ed to par­tic­i­pate. They work at aca­d­e­m­ic uni­ver­si­ties and gov­ern­ment agen­cies around the world and are not sup­posed to have any ties to indus­try or orga­ni­za­tions. The World Health Orga­ni­za­tion does not employ them and they are not paid.
How is IARC's work dif­fer­ent than what the EPA does?
IARC looks at the best, most author­i­ta­tive stud­ies — only pub­lished, peer-reviewed research — where­as the EPA relies pret­ty heav­i­ly on stud­ies and research pre­sent­ed by the com­pa­nies them­selves. A lot of those stud­ies have not been pub­lished or peer reviewed. That's a very big distinction.
I'm under the impres­sion that the stud­ies that chem­i­cal com­pa­nies sub­mit to the EPA are often con­fi­den­tial, so that inde­pen­dent sci­en­tists nev­er get a chance to see it.
Yes. I've got­ten copies of them myself, and every sin­gle page is stamped ​"Trade Secret. Con­fi­den­tial." That is a prob­lem. Over time, inde­pen­dent researchers and sci­en­tists have done a num­ber of stud­ies on glyphosate and Roundup, and they have found prob­lems. And some of that is what IARC looked at and how they came to their conclusion.
The rev­e­la­tions com­ing out of Monsanto's inter­nal doc­u­ments are breath­tak­ing. Why are they being released?
These doc­u­ments that I used for my book and that con­tin­ue to churn out come from sev­er­al sources. There are dis­cov­ery doc­u­ments com­ing out as a result of lit­i­ga­tion against Mon­san­to. In them you see Monsanto's inter­nal con­ver­sa­tions among them­selves or with oth­ers in the indus­try. We've got­ten doc­u­ments through Free­dom of Infor­ma­tion from the EPA, the FDA, and oth­er agen­cies. There are also state record requests, which we've got­ten from state uni­ver­si­ties, that show var­i­ous pro­fes­sors and oth­er aca­d­e­mics col­lab­o­rat­ing with Mon­san­to on cer­tain issues — like Mon­san­to assign­ing them pol­i­cy papers to write and draft­ing reports that would car­ry the names of these pro­fes­sors, though in real­i­ty Mon­san­to wrote them. Putting all these doc­u­ments togeth­er gives a fair­ly com­plete pic­ture of the decep­tion that's gone on for so long.
Do you think that IARC's clas­si­fi­ca­tion of glyphosate as a prob­a­ble human car­cino­gen is what opened the flood­gates to all the law­suits against Monsanto?
It real­ly is. The lawyers were aware of the research tying glyphosate and Roundup to non-Hodgkin's lym­phoma. But when IARC made its clas­si­fi­ca­tion, it real­ly did open the flood­gates, and the law­suits start­ed pil­ing on from peo­ple all over the Unit­ed States who either have non-Hodgkin's lym­phoma, or fam­i­ly mem­bers who have already died from it. These are farm­ers and farm work­ers and oth­ers who were rou­tine­ly exposed to glyphosate. Many of these farm­ers say they chose to use glyphosate because they had been led to believe it was so much safer than oth­er herbicides.
As you have allud­ed to, one of Monsanto's tac­tics to hide glyphosate's health prob­lems has been to work with aca­d­e­mics as their paid oper­a­tives. Could you describe the behav­ior of one or two such sci­en­tists and their rela­tion­ship to Monsanto?
There are aca­d­e­mics all over the Unit­ed States, Cana­da and Europe. Where Mon­san­to has forged col­lab­o­ra­tions or alliances to enlist these pro­fes­sors, they appear to be inde­pen­dent and neu­tral. Mon­san­to wants to lever­age that to their ben­e­fit, and they talk about it. They have dif­fer­ent ways of fund­ing these aca­d­e­mics, some­times through grants or dona­tions to their research pro­grams or to their uni­ver­si­ties, or they may pay them as con­sul­tants. Bruce Chas­sy, for instance, was at the Uni­ver­si­ty of Illi­nois. Mon­san­to gave quite a bit of mon­ey to his pro­gram, fun­neled through the foun­da­tion there. They talk with Bruce Chas­sy about send­ing the mon­ey and about how much mon­ey. At the same time they're com­mu­ni­cat­ing about things that Bruce Chas­sy can do that would be ben­e­fi­cial to their agen­da. They have him trav­el­ing around the world, mak­ing pre­sen­ta­tions to pol­i­cy­mak­ers in oth­er coun­tries about how won­der­ful and safe Monsanto's prod­ucts are.
Is he the one who was going to Chi­na with­out know­ing what he'd be doing there?
Exact­ly. He was telling Mon­san­to, ​"I'm ready to go, but you haven't told me what my mis­sion is yet." Mon­san­to was prepar­ing slides and pre­sen­ta­tions and edit­ing things for him. Their part in his appear­ances and arti­cles was not dis­closed, and that's not what peo­ple expect when they think that they're hear­ing from an esteemed, inde­pen­dent aca­d­e­m­ic. It real­ly made my jaw drop to read the emails where Mon­san­to want­ed to set up a non­prof­it orga­ni­za­tion to be used to pro­mote its prod­ucts and its agen­da while attack­ing and dis­cred­it­ing sci­en­tists, jour­nal­ists and oth­er indi­vid­u­als who chal­lenged the indus­try. They have set up a num­ber of web­sites and non­prof­its designed to look inde­pen­dent while they manip­u­late and influ­ence media, pub­lic opin­ion, and, of course, law­mak­ers and regulators.
One notable exam­ple is Aca­d­e­mics Review, a site that pub­lish­es pro-indus­try pro­pa­gan­da and attacks peo­ple who ques­tion the indus­try spin. In an email we've obtained that I talk about in my book, a Mon­san­to exec­u­tive says, ​"From my per­spec­tive, the prob­lem is one of expert engage­ment, and that could be solved by pay­ing experts to pro­vide respons­es. The key will be keep­ing Mon­san­to in the back­ground so as not to harm the cred­i­bil­i­ty of the infor­ma­tion." That's so decep­tive and unfair to peo­ple like farm­ers who just want the truth so they can make informed deci­sions. They deserve truth and trans­paren­cy. I find such a con­cert­ed effort to deceive the pub­lic egregious.
The Sérali­ni affair is anoth­er exam­ple of Mon­san­to tac­tics. What was unusu­al about the Sérali­ni study?
The Sérali­ni study was a two-year feed­ing study of rats that has become one of the most con­tro­ver­sial of all the stud­ies out there exam­in­ing impacts of glyphosate and Roundup. It was pub­lished in 2012 in Food and Chem­i­cal Tox­i­col­o­gy, but after a storm of protests engi­neered by Mon­san­to it was retract­ed and then repub­lished in anoth­er jour­nal. The study found health prob­lems in rats fed genet­i­cal­ly mod­i­fied corn or giv­en Roundup her­bi­cide. The study ran much longer than most, and Séralini's team said its work showed much deep­er inves­ti­ga­tion was need­ed into the safe­ty of GMO foods and of Roundup. Mon­san­to went after Sérali­ni pret­ty hard with a vari­ety of tac­tics. They got many dif­fer­ent indi­vid­u­als to write let­ters of com­plaint and demand the jour­nal retract the Sérali­ni study. The doc­u­ments show that Mon­san­to had a finan­cial rela­tion­ship both with the edi­tor of the jour­nal that ulti­mate­ly retract­ed the study and with a sci­en­tist on the edi­to­r­i­al board. The doc­u­ments show that even though the com­pa­ny orches­trat­ed the demand for a retrac­tion, they want­ed it to appear to be inde­pen­dent of the company's influence.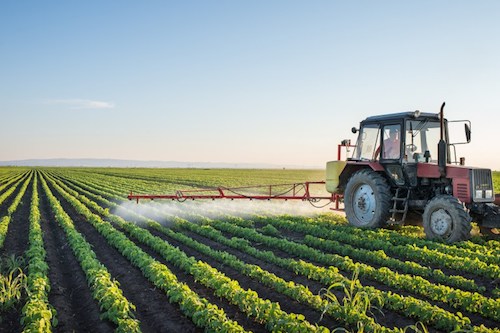 (Image: eco​farm​ing​dai​ly​.com)
Where do we find glyphosate in the environment?
It has been found in our rivers and streams, and in munic­i­pal drink­ing water sup­plies. These are the find­ings of gov­ern­ment sci­en­tists at the U.S. Geo­log­i­cal Sur­vey — not some ran­dom, crazy scientists!
What about in soil? In terms of grow­ing plants, isn't that of great significance?
The soil is some­thing that real­ly con­cerns me. The pres­ence of glyphosate affects the health and nutri­tion­al val­ue of our food. A num­ber of sci­en­tists have doc­u­ment­ed changes in the soil after mul­ti­ple years of glyphosate use. They've shown that heavy glyphosate use, which is so com­mon, affects soil prop­er­ties, plant growth, and soil microor­gan­isms. Over time, the health of soil micro­bial com­mu­ni­ty is erod­ed, and the soil becomes almost sterile.
Is it true that glyphosate has a patent as an antimi­cro­bial or antibiotic?
Sci­en­tists are see­ing that with repeat­ed appli­ca­tions of glyphosate the soil becomes bereft of its nat­ur­al micro­bial com­mu­ni­ty, which neg­a­tive­ly impacts the crops that farm­ers are using glyphosate to pro­tect. Plants lose access to the nutri­ents medi­at­ed by these soil organ­isms and become more vul­ner­a­ble to dis­ease. So then farm­ers use more fungi­cides and more fer­til­iz­er. Glyphosate is cre­at­ing an envi­ron­ment that encour­ages more pes­ti­cide use and we are eat­ing food with more pes­ti­cide residues. Our gov­ern­ment has even doc­u­ment­ed this. In its lat­est report, 85 per­cent of the foods that the USDA test­ed showed pes­ti­cide residues, the high­est lev­el in more than a decade.
In White­wash, you write about the fail­ure of gov­ern­ment agen­cies to test food for glyphosate residues, despite the exis­tence of mon­i­tor­ing pro­grams for many types of pes­ti­cides. How did they man­age to avoid test­ing for glyphosate?
A num­ber of years ago this became a pet peeve of mine. Every year the USDA and the FDA mon­i­tor food for pes­ti­cide residues. They're required to do this test­ing and keep track of it in a data­base. This allows gov­ern­ment agen­cies to deter­mine if food pro­duc­ers are vio­lat­ing the allow­able lev­els deter­mined by the EPA for par­tic­u­lar pes­ti­cides. The mon­i­tor­ing pro­gram also enables us to under­stand what we're tak­ing into our bod­ies. As I've stressed, glyphosate is the most wide­ly used her­bi­cide in his­to­ry, but it's the only pes­ti­cide that nei­ther the USDA nor the FDA have test­ed for. (The USDA did one spe­cial project in 2011 look­ing at glyphosate residues in soy­beans and found residues of the weed killer in more than 90 per­cent of the sam­ples.) For decades they have refused to test for it. Many years ago I start­ed ask­ing them why they didn't test for glyphosate. They told me that, first, it's so safe so it doesn't mat­ter if they test for it. Sec­ond, they would say that it's real­ly expen­sive to test for. The third rea­son was, ​"We know that if it's in the food, it's prob­a­bly not in very high amounts." I found that laughable.
Don't they require the pes­ti­cide man­u­fac­tur­er to pro­vide a lab­o­ra­to­ry method for test­ing as part of its registration?
Wouldn't that be a good idea? Actu­al­ly, I don't know. I think the com­pa­nies do give a method, but that doesn't mean the gov­ern­ment agen­cies have the equip­ment to test for it. What they've told me is that doing the test is very expen­sive, and the method­ol­o­gy is very com­pli­cat­ed. Inter­est­ing­ly, we know from inter­nal doc­u­ments that in 2017 the USDA was slat­ed to start test­ing for glyphosate. They laid out what they were going to test. I was writ­ing the sto­ry. Then ear­ly last year, short­ly before they were sup­posed to start this pro­gram, they decid­ed that they were going to con­tin­ue to not test for glyphosate. The FDA has an even more inter­est­ing lit­tle saga. In ear­ly 2016, they said they were going to start some lim­it­ed test­ing for glyphosate residues. I report­ed that in a big sto­ry that was picked up all over the place. The FDA was not hap­py that I report­ed that because they didn't want peo­ple to know. That sur­prised me. If you're a gov­ern­ment agency and part of your job is to test food for pes­ti­cide residues, why wouldn't you want to shout it from the rooftops when you're final­ly going to start test­ing for the most wide­ly used her­bi­cide? You'd think they would be proud of it, but they weren't.
Inter­nal doc­u­ments show that they did start test­ing and found residues that I sup­pose they didn't antic­i­pate, like glyphosate con­t­a­m­i­na­tion in hon­ey and oat­meal. One of the FDA chemists found pret­ty high lev­els of glyphosate in hon­ey, even in the organ­ic hon­ey, which cre­at­ed quite an uproar. Bees are get­ting it from their envi­ron­ment, which is doused with glyphosate. In addi­tion to farm fields, the her­bi­cide is used on golf cours­es, parks, yards, play­grounds, road­sides, and oth­er set­tings. Law­suits have been filed against hon­ey pro­duc­ers because of glyphosate being found. Yet EPA and FDA are remain­ing mum on this. After I report­ed on the oat­meal and the hon­ey issues, the FDA glyphosate test­ing pro­gram was sus­pend­ed. It was sup­posed to have resumed in 2017, but we haven't heard any­thing. I recent­ly received word that the FDA has explic­it­ly told its sci­en­tists not to test any hon­ey for glyphosate in 2018.
On top of that, didn't the fed­er­al gov­ern­ment bump the max­i­mum residue lev­el for glyphosate up many times high­er than it used to be?
Yes. Over the years, the legal lim­its for residues of glyphosate have been raised many times, for many dif­fer­ent foods and feed crops.
I loved that those mem­bers of the Euro­pean Par­lia­ment did a urine test. What a great way to pub­li­cize glyphosate's ubiquitousness!
When you have your own bod­i­ly flu­id test­ed and you find that you have this pes­ti­cide in you, it real­ly does res­onate more. I've had my urine test­ed, and though I was on the very low side of the aver­age among peo­ple test­ed at this par­tic­u­lar lab­o­ra­to­ry, it still impacts you. You also real­ize that this is not the only pes­ti­cide you're car­ry­ing around inside your body.
You report­ed that the aver­age Mem­ber of Par­lia­ment had a 17 times greater con­cen­tra­tion of glyphosate in their urine than the Euro­pean drink­ing water standard.
Yes. That woke some peo­ple up a bit. With the license for glyphosate expir­ing in Decem­ber, the Euro­pean Union has been caught up in hot debate over whether to renew it. Par­lia­ment vot­ed in Octo­ber to ban glyphosate, but the mem­ber states have been strug­gling to reach a qual­i­fied major­i­ty on the re-autho­riza­tion issue. It's a very deeply divid­ed sit­u­a­tion. At the same time, the EPA is due to issue a new risk assess­ment of glyphosate.
Is the glyphosate saga indica­tive of the fail­ure of main­stream chem­i­cal agriculture?
I say that Mon­san­to and glyphosate rep­re­sent a poster child for a much larg­er prob­lem — the pes­ti­cide tread­mill. We're stuck in a place of depen­den­cy, think­ing that we can only grow food, man­i­cure our lawns, and take care of our golf cours­es with an array of pes­ti­cides. It's not good for our health or the envi­ron­ment, or for our future or that of our children.
I'm glad you includ­ed dis­cus­sion of some front-line pop­u­la­tions in your book. Why is glyphosate so wide­ly used in Hawaii?
Hawaii has become a test­ing ground for Mon­san­to and oth­er large seed com­pa­nies. It offers an ide­al year-round grow­ing envi­ron­ment with its tem­per­ate cli­mate, good rains, and sun­shine. Some peo­ple call it a poi­son par­adise. Big agro­chem­i­cal and biotech com­pa­nies have leased or pur­chased land there to test and grow their genet­i­cal­ly engi­neered seeds. Glyphosate is one of the pes­ti­cides that they've been using, as well as a host of restrict­ed-use pes­ti­cides. Peo­ple there are very con­cerned that these pes­ti­cides are con­tribut­ing to health problems.
What kinds of things are the cit­i­zens push­ing for?
They're scared and are try­ing to fig­ure out what they can do to pro­tect them­selves. One of the main things they've asked for was trans­paren­cy. Tell us what you're spray­ing, how much you're spray­ing, and when you're spray­ing. The com­pa­nies have even fought back on pro­vid­ing that infor­ma­tion. Peo­ple have also demand­ed increased buffer zones so there's more dis­tance between them and the pes­ti­cide spray­ing. Stud­ies have found the pes­ti­cides in the water, soil, and dust, and the residue is in people's homes and schools. It's pervasive.
You wrote that weed sci­en­tists and oth­ers knew that the agri­cul­tur­al sys­tem Mon­san­to was pro­mot­ing would be a per­fect incu­ba­tor for resis­tance, but nei­ther Mon­san­to nor the EPA or USDA would lis­ten to them. Where are we now?
It's too late. I was remind­ed of how ear­ly peo­ple sound­ed the alarm bells on this prob­lem. The weed sci­en­tists, who were in the best posi­tion to know, warned every­body, short­ly after genet­i­cal­ly engi­neered crops were intro­duced. They pre­dict­ed that such exten­sive, repeat­ed use of one chem­i­cal would cre­ate pop­u­la­tions of resis­tant weeds and the her­bi­cide wouldn't be effec­tive any­more. Mon­san­to brushed them off and con­vinced the EPA to ignore them, too. I remem­ber talk­ing to Mon­san­to about weed resis­tance issues and them telling me it wasn't going to hap­pen. Only after facts on the ground shift­ed and the com­pa­ny and the reg­u­la­tors could no longer deny the epi­dem­ic of resis­tant weeds did they get engaged. By that time, 2011 or 2012, the horse was already out of the barn. Farm­ers were using two and three times more glyphosate to try to kill these weeds. A lot of cot­ton farm­ers had to hire peo­ple to pull weeds by hand. It's been extra­or­di­nar­i­ly cost­ly in labor and decreased production.
Sounds like the worst of all worlds.
The chem­i­cal industry's answer has been to pile on more chem­i­cals. They've cre­at­ed crops with tol­er­ance to both dicam­ba and glyphosate and to 2,4‑D and glyphosate. This pes­ti­cide tread­mill serves the chem­i­cal indus­try real­ly well, but doesn't ben­e­fit pub­lic or envi­ron­men­tal health. Dicam­ba and 2,4‑D have their own range of tox­ic prob­lems. Dicam­ba espe­cial­ly is noto­ri­ous for not stay­ing where you put it. It volatilizes and drifts. It's killing oth­er farm­ers' crops around the Mid­west and South. Farm­ers who don't have these spe­cial­ty dicam­ba-tol­er­ant seeds are find­ing their crops dam­aged or destroyed. It's extreme­ly cost­ly. Farm­ers are suing and there are reg­u­la­to­ry bat­tles. It didn't have to be this way at all.
Is there any­thing else you want to say about your book?
I hope that peo­ple under­stand that my book White­wash is not aimed at Mon­san­to or at one par­tic­u­lar chem­i­cal. I tried rather to use glyphosate and Mon­san­to as the sto­ry­telling vehi­cle to illu­mi­nate a much larg­er prob­lem — our com­pla­cen­cy with a pes­ti­cide-depen­dent sys­tem. It's cre­at­ing an unhealthy future for our chil­dren, which sets them up for a range of dis­eases, and it's destruc­tive to ecosys­tems. We're smarter than this. The infor­ma­tion is out there. We just need to pay atten­tion to it. The book aims to help wake peo­ple up to that.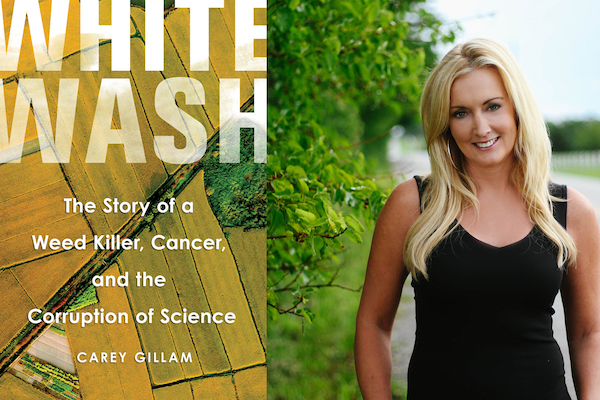 White­wash: The Sto­ry of a Weed Killer, Can­cer, and the Cor­rup­tion of Sci­ence, by Carey Gillam. (Image: @CivilEats)
(​"Glyphosate: A Tox­ic Lega­cy" was orig­i­nal­ly pub­lished in the Jan­u­ary 2018 issue of Acres U.S.A. and is repost­ed on Rur­al Amer­i­ca In These Times with per­mis­sion from Tra­cy Frisch. To view the inter­view in its entire­ty, please click here. For more infor­ma­tion about Carey Gillam and her book, vis­it her web­site.)
Tra­cy Frisch
is an inde­pen­dent jour­nal­ist based in upstate New York near the Ver­mont bor­der. In the
1990
s and ear­ly
2000
s, she worked as an advo­cate and orga­niz­er on pes­ti­cide and envi­ron­men­tal health issues. She lat­er pro­mot­ed eco­log­i­cal agri­cul­ture with farm­ers and the local food move­ment. She can be reached at tracy.​frisch@​gmail.​com.