Small Towns in New York and Vermont Share a Water Contamination Crisis, But Not an Official Response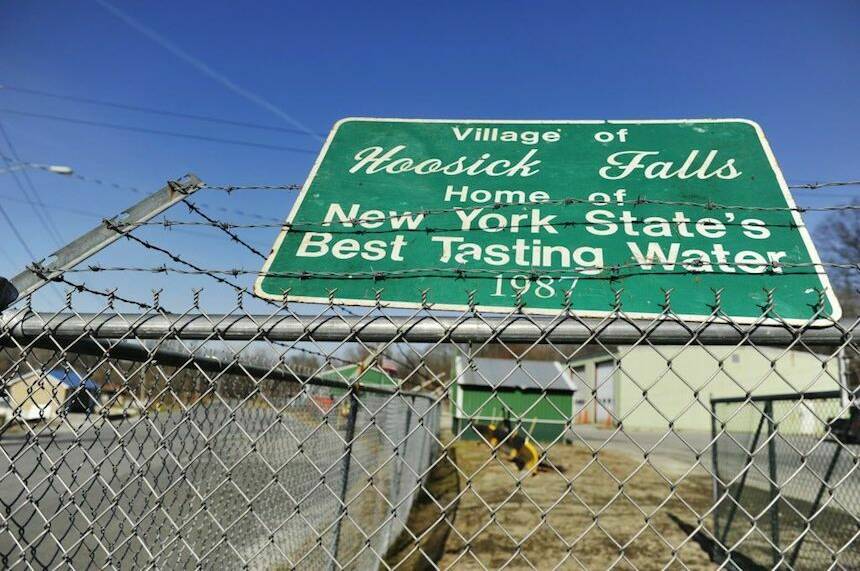 It was around Hal­loween in 2015 when Michelle O'Leary moved north from Colum­bia Coun­ty, N.Y., to a Hoosick Falls fix­er-upper with her hus­band and two children.
Before the fam­i­ly bought their first home here, O'Leary says, she inves­ti­gat­ed every­thing from the local school sys­tem to crime rates, the sex offend­er reg­istry and local weath­er sta­tis­tics. She even learned that Hoosick Falls' drink­ing water had been rat­ed as the best in Rens­se­laer Coun­ty in 1984.
But two weeks after the fam­i­ly set­tled into their new home, the U.S. Envi­ron­men­tal Pro­tec­tion Agency (EPA) declared that the Hoosick Falls tap water was unsafe to drink because of con­t­a­m­i­na­tion with per­flu­o­rooc­tanoic acid, or PFOA — an indus­tri­al chem­i­cal that has been impli­cat­ed in can­cer, devel­op­men­tal prob­lems and endocrine disruption.
"My hap­pi­ness was ripped out from under me," says O'Leary.
She and her hus­band had unknow­ing­ly cho­sen a house ​"smack dab" in the mid­dle of sev­er­al tox­ic sites, includ­ing two Saint-Gob­ain Per­for­mance Plas­tics fac­to­ries and a shut­tered Hon­ey­well plant, all of which used PFOA for decades before pro­duc­tion of the chem­i­cal was phased out a few years ago.
In late July, the EPA offi­cial­ly added the Hoosick Falls Saint-Gob­ain plant to the fed­er­al Super­fund list. The des­ig­na­tion allows fed­er­al resources to be direct­ed toward a cleanup effort, although the scope and timetable of that effort remain to be deter­mined. State offi­cials say a fil­ter sys­tem installed last year to remove PFOA has made the vil­lage water safe to drink again. But the ground­wa­ter that sup­plies the Hoosick Falls water sys­tem, which serves 4,000 cus­tomers, remains heav­i­ly con­t­a­m­i­nat­ed with PFOA as well as vinyl chlo­ride and dichloroeth­yl­ene. For now, many peo­ple in Hoosick Falls still choose to drink bot­tled water, though free sup­plies of it end­ed on Sep­tem­ber 1.
One idea under dis­cus­sion is con­nect­ing Hoosick Falls to the Tomhan­nock Reser­voir in Pittstown, which sup­plies drink­ing water to the near­by city of Troy. But there is no firm plan yet for how to finance or car­ry out such a project.
Mean­while, just across the state line in North Ben­ning­ton, VT., offi­cials announced last month that Saint-Gob­ain has agreed to fund a $20 mil­lion project to extend munic­i­pal water lines to about 200 homes where pri­vate wells were con­t­a­m­i­nat­ed with PFOA. The con­t­a­m­i­na­tion, from a fac­to­ry Saint-Gob­ain closed about 15 years ago, was dis­cov­ered a few months after PFOA first made head­lines in Hoosick Falls. In North Ben­ning­ton, Saint-Gob­ain has pro­vid­ed point-of-entry fil­ters for home­own­ers with taint­ed wells. But the fil­ters require peri­od­ic replace­ment and main­te­nance, and the state did not accept them as a long-term solution.
The dif­fer­ences in the way New York and Ver­mont have respond­ed to PFOA con­t­a­m­i­na­tion in the two neigh­bor­ing com­mu­ni­ties are numer­ous. And in Hoosick Falls, some have tak­en note that North Ben­ning­ton seems to be mov­ing more rapid­ly toward a long-term rem­e­dy for PFOA contamination.
"They found out after us — and then sur­passed us in every way," says O'Leary.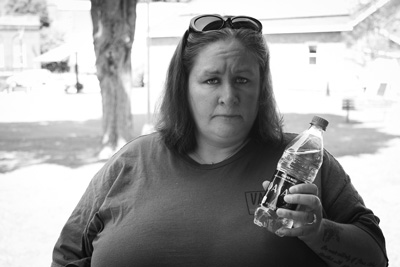 When Michelle O'Leary learned Hoosick Falls' tap water was con­t­a­m­i­nat­ed, she estab­lished a group of vol­un­teers to spread the word and dis­trib­ute bot­tled water. (Image: Joan K. Lenti­ni / Hill Coun­try Observer)
Sound­ing the alarm
The pres­ence of PFOA con­t­a­m­i­na­tion in Hoosick Falls' water was first revealed in the sum­mer of 2014, when a for­mer vil­lage trustee, Michael Hick­ey, com­mis­sioned his own tests of local tap water. Hick­ey had gone search­ing for answers after sev­er­al peo­ple he knew died from unusu­al types of can­cer, includ­ing his father, who had worked at one of the local Saint-Gob­ain plants.
PFOA was not among the con­t­a­m­i­nants for which the vil­lage was required to test, so no one had looked for it. In 2009, the EPA had set an advi­so­ry lim­it of 400 parts per tril­lion (ppt) for PFOA in drink­ing water. The test of Hickey's own tap water showed a con­cen­tra­tion of 540 ppt. Sub­se­quent state tests showed lev­els in excess of 600 ppt at sev­er­al col­lec­tion points. Hick­ey and a local doc­tor soon brought the test results to the atten­tion of local offi­cials. But for more than a year after that, the vil­lage and state con­tin­ued to insist that the water was safe to drink.
By the fall of 2015, the EPA was aware of the sit­u­a­tion, and offi­cials at the fed­er­al agency argued that Hoosick Falls res­i­dents need­ed to be told they were drink­ing water with dan­ger­ous con­cen­tra­tions of PFOA. But Politi­co lat­er report­ed, based on doc­u­ments obtained through a Free­dom of Infor­ma­tion Act request, that state health offi­cials ​"resist­ed sound­ing a pub­lic alarm" — and active­ly dis­put­ed the EPA's con­tention that the water was unsafe.
Even­tu­al­ly the EPA went for­ward on its own to announce that the water shouldn't be used — for drink­ing, cook­ing or even run­ning a humid­i­fi­er. Even after that, the state Health Depart­ment issued a ​"fact sheet" say­ing that ​"nor­mal use" of the water was safe, though the agency soon reversed itself and backed the EPA's stance.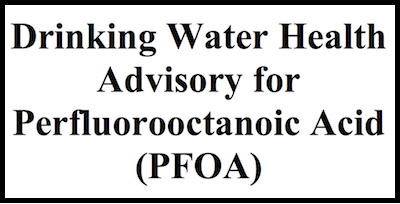 To read the EPA's full 2016 report on the adverse health affects of PFOAs, click here. (Image: epa​.gov)
'

Water angels' step up

To replace vil­lage water, Hoosick Falls res­i­dents were told they could pick up free bot­tled water at the local supermarket.

O'Leary, who in the past had received pub­lic assis­tance as a sin­gle mom car­ing for a son with spe­cial needs, says she wor­ried about the many peo­ple who wouldn't be able to lug home gal­lons of water — the elder­ly, dis­abled, sick and those with­out cars. Since no one else was offer­ing to do so, she decid­ed to take on the job of deliv­er­ing water to any­one who couldn't get it.

With the town abuzz via social media and peo­ple turn­ing out at com­mu­ni­ty meet­ings, O'Leary was able to enlist vol­un­teers for her project. The Water Angels, as they called them­selves, wore lit­tle badges with their names and began mak­ing water deliv­er­ies in Decem­ber 2015. Most­ly they were met with grat­i­tude, but they also had detrac­tors. Some peo­ple, O'Leary says, didn't want to be remind­ed of the pol­lu­tion in their com­mu­ni­ty and seemed sus­pi­cious or hos­tile to those push­ing for more infor­ma­tion and speed­i­er solu­tions. Her new­com­er sta­tus didn't help matters.

At least once, O'Leary says she deliv­ered 1,100 gal­lons of water in a sin­gle day. She field­ed calls from morn­ing till night. Many peo­ple had ques­tions, and the Water Angels car­ried around pam­phlets and oth­er lit­er­a­ture. O'Leary says peo­ple who didn't read the news and weren't on social media were often in the dark. In Feb­ru­ary 2016, three months after the EPA issued its water advi­so­ry, vol­un­teers in her group encoun­tered an 85-year-old man in a third-floor apart­ment who wasn't aware that he shouldn't be drink­ing the vil­lage tap water. She want­ed to spread infor­ma­tion about the water cri­sis by going door to door in the vil­lage and leav­ing fly­ers on car wind­shields, but says vil­lage author­i­ties strong­ly dis­cour­aged her from doing so.

Toward the end of March 2016, O'Leary says, David Borge, the vil­lage may­or at the time, sent an e‑mail to thank her for her ser­vice — and told her that he was putting her project under the village's juris­dic­tion and assign­ing it to some­one else. The Water Angels had been a pri­vate, vol­un­tary effort, and the vil­lage want­ed the group to pro­vide a list of those receiv­ing water deliveries.

O'Leary says some peo­ple dis­trust­ed the vil­lage gov­ern­ment so deeply that they opt­ed to stop get­ting deliv­er­ies of bot­tled water rather than share their infor­ma­tion with the vil­lage. A few months lat­er, the vil­lage began ask­ing peo­ple for proof that they were unable to pick up the water jugs them­selves. Class-action law­suits against Saint-Gob­ain were in the works, but the vil­lage and the com­pa­ny, which has about 200 local work­ers and remains Hoosick Falls' largest employ­er, were in close communication.

"A lot of peo­ple are afraid of reper­cus­sions," says O'Leary.
Proac­tive in Vermont
PFOA is some­times called C‑8, for its chain of eight car­bon atoms, each bond­ed to flu­o­rine. The car­bon-flu­o­rine bond is extreme­ly strong, mak­ing PFOA vir­tu­al­ly inde­struc­tible. So it stays in the envi­ron­ment essen­tial­ly for­ev­er: It doesn't degrade in water or soil, and plants and ani­mals don't metab­o­lize it.
First man­u­fac­tured in 1947, PFOA is best known for its role in mak­ing Teflon, but it's also been a main­stay in the indus­tri­al pro­duc­tion of many con­sumer prod­ucts, from water-repel­lent out­door cloth­ing and gear to stain-resis­tant car­pet and uphol­stery, as well as floor wax, car­pet-clean­ing liq­uids and some paints.
So when PFOA con­t­a­m­i­na­tion in Hoosick Falls became big news at the end of 2015, some peo­ple in North Ben­ning­ton began ask­ing ques­tions. Saint-Gob­ain had run a plant there that used PFOA.
At the for­mer Chem-Fab plant, which Saint-Gob­ain acquired in 2000, work­ers dipped fab­ric in vats con­tain­ing PFOA to weath­er­proof it for archi­tec­tur­al appli­ca­tions. Chem-Fab employed this process for end users like the Den­ver air­port and the Geor­gia Dome in Atlanta. Two years after it took over, Saint-Gob­ain shut the North Ben­ning­ton plant, shift­ing pro­duc­tion to a facil­i­ty in Mer­ri­mack, N.H. (Last year, PFOA con­t­a­m­i­na­tion was found in Merrimack's pub­lic water sup­ply, which serves 25,000 people.)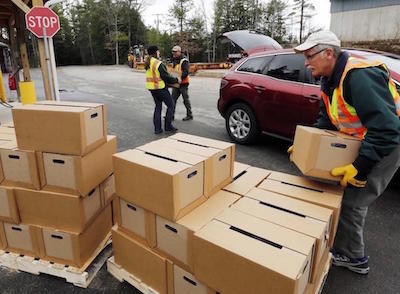 April 2016 — state offi­cials unload box­es of bot­tled water for res­i­dents liv­ing near Saint-Gob­ain's plant in Mer­ri­mack, N.H. (Image: Jim Cole / Ver­mont Pub­lic Radio)
But when some North Ben­ning­ton res­i­dents asked the state to look into the pos­si­bil­i­ty of PFOA con­t­a­m­i­na­tion near the defunct plant, the response was far dif­fer­ent from what Hoosick Falls res­i­dents had encoun­tered in their state.
Sylvia Broude, exec­u­tive direc­tor of the Tox­i­cs Action Cen­ter, a New Eng­land-wide envi­ron­men­tal orga­ni­za­tion that works with com­mu­ni­ties affect­ed by pol­lu­tion, says Ver­mont took a much more pro-active approach. ​"The state of Ver­mont test­ed the same day it heard about con­t­a­m­i­na­tion," she says.
The results showed the local munic­i­pal water sys­tem, which has its source miles away from the for­mer Chem-Fab plant, was fine. But the drink­ing water wells of at least 200 home­own­ers out­side the system's ser­vice area were con­t­a­m­i­nat­ed with PFOA. One ground­wa­ter sam­ple tak­en near the defunct plant turned up PFOA at a con­cen­tra­tion of 2,000 ppt.
Rapid response
Alyssa Schuren, who served as Vermont's envi­ron­men­tal con­ser­va­tion com­mis­sion­er under then-Gov. Peter Shum­lin (D), described at a con­fer­ence in Boston recent­ly how the state jumped into action after find­ing PFOA in North Bennington.
Schuren said a staffer burst into her office with the ini­tial test results from North Ben­ning­ton on a cold day in Feb­ru­ary. Five of the six water sam­ples col­lect­ed in an ini­tial round of test­ing had PFOA lev­els the state deemed unsafe. The next day, state offi­cials and the EPA addressed the grav­i­ty of the sit­u­a­tion at a packed com­mu­ni­ty meet­ing. Fif­teen media orga­ni­za­tions showed up to cov­er the ses­sion. The state imme­di­ate­ly offered free bot­tled water to home­own­ers. And with­in about a week, a state con­trac­tor was mak­ing door-to-door water deliv­er­ies to 500 households.
Richard Spiese, a haz­ardous site man­ag­er and envi­ron­men­tal ana­lyst at the Ver­mont Depart­ment of Envi­ron­men­tal Con­ser­va­tion, said in phone inter­view last month that by being proac­tive, the state was able to sam­ple near­ly 85 per­cent of the pri­vate wells in the tar­get­ed area dur­ing the first cou­ple weeks after the con­t­a­m­i­na­tion was discovered.
Rather than wait­ing for home­own­ers to come for­ward to have their water test­ed, teams of Ver­mont DEC staff sys­tem­at­i­cal­ly knocked on doors with­in a 1.5‑mile radius of the for­mer Chem-Fab plant. They made evening rounds to talk with peo­ple who weren't home dur­ing the day. And that wasn't the only occa­sion when they went door-to-door.
"When we got the first water results late on a Fri­day, we stuffed the envelopes and hand deliv­ered them on Sat­ur­day," says Spiese.
In the first two or three months after PFOA was detect­ed, Spiese says he spent three days a week in North Ben­ning­ton, stay­ing overnight at a motel.
Spiese's depth of involve­ment in the sit­u­a­tion made an impres­sion on Shaina Kasper, the state direc­tor for the Tox­i­cs Action Cen­ter. She described how once, when Spiese went out to eat in Ben­ning­ton, peo­ple in the restau­rant gave him a stand­ing ovation.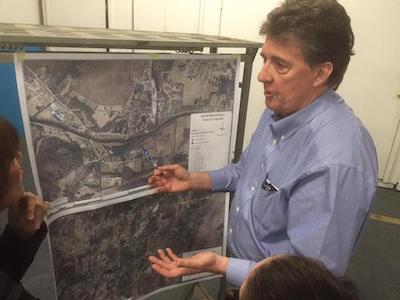 Richard Spiese, project man­ag­er for Ver­mon­t's Waste­water Man­age­ment Pro­gram, talks with North Ben­ning­ton res­i­dents about pol­lut­ed wells. (Image: Ver­mont Pub­lic Radio)
In search of answers
After they stopped deliv­er­ing water in Hoosick Falls, the Water Angels changed their focus and renamed them­selves NY Water Project. O'Leary and oth­er mem­bers of the group have con­tin­ued to demand answers and action about tox­i­cs and the local water situation.
Before her fam­i­ly moved to town and found them­selves in the mid­dle of an envi­ron­men­tal cri­sis, O'Leary says she had nev­er thought of her­self as an activist. ​"I kept to myself," she says. ​"I nev­er thought I'd be talk­ing to crowds or speak­ing on video or to reporters." Although it has often led to frus­tra­tion, she says she has no regrets about tak­ing on the chal­lenge. She says, ​"I think the only rea­son any­thing has been accom­plished is because of peo­ple speak­ing up." She and oth­ers have been dis­heart­ened, though, by how the New York gov­er­nor, state agen­cies and Leg­is­la­ture have respond­ed to the local water crisis.
"There have been numer­ous times that New York State has had an oppor­tu­ni­ty to do right by Hoosick Falls res­i­dents," says O'Leary. Instead, she main­tains, state offi­cials repeat­ed­ly with­held impor­tant infor­ma­tion, played down the prob­lem and failed to pro­vide answers to cit­i­zens' ques­tions. Through­out the first half of 2016, for exam­ple, local activists called for leg­isla­tive hear­ings into how state health and envi­ron­men­tal offi­cials respond­ed to the ini­tial dis­cov­ery of PFOA — and why it took more than a year to tell the pub­lic that the vil­lage water con­tained unsafe lev­els of the chem­i­cal. After a series of shift­ing expla­na­tions from state leg­is­la­tors as to why such a hear­ing couldn't be arranged, the state Sen­ate final­ly staged a day­long hear­ing in Hoosick Falls last August.
More recent­ly, Repub­li­can lead­ers in the state Sen­ate have balked at releas­ing a poten­tial source of infor­ma­tion about the extent of local con­t­a­m­i­na­tion with PFOA and oth­er com­pounds. Last Sep­tem­ber, the Sen­ate Health Com­mit­tee sub­poe­naed records from Saint-Gob­ain, Hon­ey­well and Tacon­ic Plas­tics, whose plant in the neigh­bor­ing town of Peters­burgh, N.Y., con­t­a­m­i­nat­ed water sup­plies there. The records pur­port­ed­ly detail the com­pa­nies' use and dis­pos­al of PFOA and oth­er per­flu­o­ri­nat­ed com­pounds — as well as the results of con­t­a­m­i­na­tion tests on the com­pa­nies' prop­er­ties. But the com­mit­tee chair­man, Long Island Repub­li­can Sen. Kemp Han­non, has stead­fast­ly refused to release the doc­u­ments to the public.
In an inter­view ear­li­er this year on Albany-area tele­vi­sion sta­tion WRGB-Chan­nel 6, Han­non respond­ed to the crit­i­cism this way: ​"The peo­ple who have legit­i­mate inter­est in those doc­u­ments have been offered them. Peri­od." But State Sen. Brad Hoyl­man (D), the rank­ing Demo­c­rat on the com­mit­tee, has repeat­ed­ly called for the release of the doc­u­ments, argu­ing that vil­lage res­i­dents whose life and health are at stake deserve to see them. He says the chair­man has respond­ed by say­ing the doc­u­ments are confidential.
In addi­tion to the con­t­a­m­i­na­tion already doc­u­ment­ed at cur­rent and for­mer man­u­fac­tur­ing sites in Hoosick Falls, PFOA also has turned up in high con­cen­tra­tions in a capped land­fill near the Hoosic Riv­er, which runs through the village.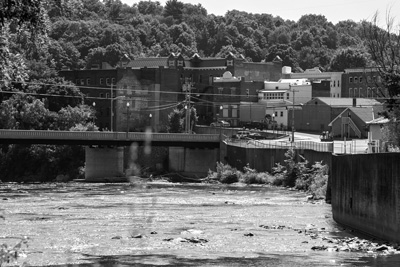 Down­town Hoosick Falls as seen from across the Hoosic Riv­er. (Image: Joan K. Lenti­ni / Hill Coun­try Observer)
Blam­ing the EPA
At last August's state Sen­ate hear­ing in Hoosick Falls, New York's health and envi­ron­men­tal con­ser­va­tion com­mis­sion­ers tes­ti­fied at length but expressed no regrets about how their agen­cies had han­dled the Hoosick Falls water sit­u­a­tion. Instead, they blamed their ini­tial mis­lead­ing mes­sages about the safe­ty of the village's water on what they claimed was con­fus­ing guid­ance from the EPA.
But the EPA's stance on PFOA hadn't changed dur­ing the peri­od in ques­tion. Begin­ning in 2009, the EPA set an advi­so­ry lim­it for short-term expo­sure of 400 ppt for PFOA in drink­ing water. The ini­tial tests of Hoosick Falls water clear­ly exceed­ed that level.
The EPA did sub­se­quent­ly low­er its advi­so­ry lim­it for short-term expo­sure to 100 ppt in drink­ing water, and in June 2016, the agency estab­lished a still low­er lim­it of 70 ppt for long-term expo­sure to PFOA. All of these lim­its are advi­so­ry; the agency still has no legal­ly enforce­able lim­it for PFOA in drink­ing water. In 2013, the EPA list­ed PFOA, PFOS and four relat­ed com­pounds under its Unreg­u­lat­ed Con­t­a­m­i­nant Mon­i­tor­ing Rule, which effec­tive­ly required large pub­lic water sys­tems to test for these chem­i­cals. Based on the results of this test­ing, EPA has esti­mat­ed that drink­ing water sup­plies serv­ing 6 mil­lion peo­ple nation­al­ly are con­t­a­m­i­nat­ed with one or more of these com­pounds. But small water sys­tems that serve few­er than 10,000 users, like the one in Hoosick Falls, have been exempt from the test­ing requirement.
The result is a big data gap. Crit­ics point out that 90 mil­lion peo­ple rely on small water sys­tems or pri­vate wells that are exempt from test­ing. Some also ques­tion the ade­qua­cy of test­ing meth­ods, giv­en that sci­en­tists have linked PFOA to health effects at con­cen­tra­tions as low as 1 ppt. That con­cen­tra­tion is equiv­a­lent to one tea­spoon in the water of 1,000 Olympic-sized swim­ming pools.
NY Water Project helped to push for pas­sage of a new state law cov­er­ing ​"emerg­ing con­t­a­m­i­nants" such as PFOA. The new law requires all pub­lic water sys­tems in New York, even small ones, to test for pre­vi­ous­ly unrec­og­nized con­t­a­m­i­nants that the state iden­ti­fies. That means small water sys­tems serv­ing 2.5 mil­lion New York­ers will now be sub­ject to test­ing, and the new law pro­vides some fund­ing to help small­er sys­tems pay for these tests.
The state's new test­ing require­ments were includ­ed in the Clean Water Infra­struc­ture Act of 2017. Cham­pi­oned by Gov. Andrew Cuo­mo (D), the leg­is­la­tion allo­cat­ed $2 bil­lion for upgrad­ing pub­lic drink­ing water sys­tems. Some of these funds the­o­ret­i­cal­ly could be tapped to help Hoosick Falls con­nect to an alter­na­tive water supply.
Strict stan­dard
After PFOA was detect­ed in North Ben­ning­ton, V.T. issued an emer­gency rule set­ting its ground­wa­ter lim­it for PFOA at 20 ppt. That's far low­er than the cur­rent fed­er­al lev­el of 70 ppt for drink­ing water — and unlike the fed­er­al guide­line, it's an enforce­ment stan­dard that's not just for drink­ing water.
State tox­i­col­o­gist Sarah Vose said last month that she could not answer ques­tions about the details behind Vermont's strict lim­it, because Saint-Gob­ain was con­test­ing the stan­dard in a pend­ing legal action. The com­pa­ny dropped that law­suit lat­er in July.
But Kasper, of the Tox­i­cs Action Cen­ter, says the Ver­mont PFOA lim­it is the result of a process the state applies to all tox­ic chem­i­cals. ​"The 20 ppt lim­it came about using the same com­pre­hen­sive for­mu­la the state uses across the board, tak­ing into account the research and the most vul­ner­a­ble pop­u­la­tions, such as chil­dren and infants," says Kasper. Because of ​"how quick­ly the state was respond­ing" in the North Ben­ning­ton PFOA cri­sis, she says her group didn't fill its cus­tom­ary role of com­mu­ni­ty orga­niz­ing, out­reach, tech­ni­cal assis­tance and media work. Instead, the group tried to do things the state was unable to do.
With­in weeks of PFOA being detect­ed, Kasper says pri­vate lawyers began aggres­sive­ly solic­it­ing North Ben­ning­ton res­i­dents, offer­ing to file legal claims on their behalf. In response, Kasper's group worked with the Ver­mont Law School to help local peo­ple weigh the legal issues and make good deci­sions about legal rep­re­sen­ta­tion. Togeth­er they devel­oped a list of ques­tions for peo­ple to use, for exam­ple, in inter­view­ing prospec­tive lawyers.
Kasper's orga­ni­za­tion also pushed for state leg­is­la­tion approved this year to allow the state to start con­struc­tion on extend­ing munic­i­pal water lines when pri­vate wells are con­t­a­m­i­nat­ed — rather than hav­ing to wait for the state to recoup costs from the par­ty deemed respon­si­ble for the pollution.
But the Tox­ic Action Center's biggest leg­isla­tive goal — to require indus­tries to dis­close all chem­i­cals they use, not just those reg­u­lat­ed as haz­ardous — remains unfulfilled.
Blood tests track exposure
Just about all Amer­i­cans have PFOA in their blood­streams. The nation­al aver­age load is 2 parts per bil­lion. Blood tests con­duct­ed by New York and Ver­mont for Hoosick Falls and North Ben­ning­ton, respec­tive­ly, found many peo­ple with far high­er con­cen­tra­tions in their bodies.
In Hoosick Falls, where 2,081 peo­ple were test­ed between Feb­ru­ary and April last year, the geo­met­ric mean for those test­ed was 23.5 ppb, 12 times high­er than the nation­al back­ground lev­el. Peo­ple with the high­est lev­els of PFOA had more than 400 ppb in their blood. In Ben­ning­ton Coun­ty, the 477 res­i­dents test­ed between April and June 2016 had an aver­age of 10 ppb of PFOA in their blood, with one res­i­dent test­ing at 1,100 ppb.
Although PFOA blood lev­els can­not pre­dict a person's exact health risks, they do sug­gest the mag­ni­tude of expo­sure. Ongo­ing expo­sure to PFOA in drink­ing water increas­es the con­cen­tra­tion of the chem­i­cal in the blood. If the source of expo­sure is removed, such as when an effec­tive water fil­tra­tion sys­tem is installed or a new clean water source goes online, blood lev­els will grad­u­al­ly drop over a mat­ter of years.
Humans and oth­er ani­mals are inca­pable of metab­o­liz­ing PFOA or oth­er­wise break­ing down the mol­e­cule, which is not found in nature. Although the chem­i­cal is slow­ly excret­ed through the diges­tive tract and kid­neys, much of it gets repeat­ed­ly reab­sorbed into the blood­stream. Indi­vid­ual rates of excre­tion vary wide­ly, per­haps due to dif­fer­ences in kid­ney func­tion and in the gut microbiome.
Track­ing contamination
Schuren, the for­mer Ver­mont envi­ron­men­tal con­ser­va­tion com­mis­sion­er, says address­ing the cri­sis in North Ben­ning­ton was only the first step in the state's efforts to deal with PFOA and relat­ed com­pounds. She dis­cussed the case in June at a con­fer­ence on high­ly flu­o­ri­nat­ed com­pounds. The con­fer­ence, held at North­east­ern Uni­ver­si­ty in Boston, fea­tured top research sci­en­tists as well as gov­ern­ment offi­cials, lawyers, jour­nal­ists, envi­ron­men­tal­ists and peo­ple from com­mu­ni­ties affect­ed by contamination.
Schuren described how, after deal­ing with the imme­di­ate issues in North Ben­ning­ton, the Ver­mont DEC tried to deter­mine where else high­ly flu­o­ri­nat­ed com­pounds had been used or dis­posed of. The agency sam­pled addi­tion­al sites around the state. She said PFOA and relat­ed chem­i­cals are used in such var­ied appli­ca­tions as wire coat­ing, semi-con­duc­tors, tan­ner­ies and fire­fight­ing foam against fuel fires, and they end up in land­fills and waste­water treat­ment plants.
Local­ly, the state's inves­ti­ga­tion revealed PFOA in the munic­i­pal water sup­ply in Pow­nal, which serves 400 cus­tomers. As a short-term rem­e­dy, the Pow­nal sys­tem has been pro­vid­ed with a gran­u­lat­ed acti­vat­ed char­coal fil­ter; the state says its long-term goal is to obtain clean replace­ment source for the town.
New York also has attempt­ed to find oth­er sites where pub­lic drink­ing water sup­plies had become con­t­a­m­i­nat­ed. A state water qual­i­ty ​"rapid response" team con­duct­ed tar­get­ed sam­pling of 38 reg­u­lat­ed pub­lic drink­ing water sup­plies with­in a half-mile of facil­i­ties that report­ed hav­ing used either PFOA or the relat­ed com­pound PFOS, a major ingre­di­ent in fire­fight­ing foam. The state said it didn't find either sub­stance in the major­i­ty of water sup­plies test­ed. And where these com­pounds were detect­ed, the state said lev­els were below the EPA's life­time guide­line of 70 ppt.
In March, the New York DEC announced that the CTI Agri-Cycle com­post­ing facil­i­ty in the rur­al Buskirk area of the town of Cam­bridge had test­ed pos­i­tive for six per­flu­o­ri­nat­ed com­pounds, includ­ing PFOA and PFOS, in paper mill sludge, fin­ished com­post, a mon­i­tor­ing well and a stormwa­ter col­lec­tion pond. Some res­i­den­tial wells near the facil­i­ty also test­ed pos­i­tive for PFOA and PFOS, though con­cen­tra­tions were below the EPA's 70 ppt advi­so­ry lim­it. After dis­cov­er­ing the con­t­a­m­i­na­tion at CTI, the state expand­ed its inves­ti­ga­tion to six recy­cled paper mills and six oth­er facil­i­ties that use recy­cled paper sludge in manufacturing.
For a num­ber of years, Agri-Cycle has received tip­ping fees from paper mills for accept­ing their sludge. A decade ago, the com­poster did not sell its com­post. Instead, it then spread it thick­ly on farm­land at the site of its com­post­ing facil­i­ty, some of which was in pas­ture grazed by a herd of cat­tle. Schuren says laws reg­u­lat­ing PFOA and relat­ed chem­i­cals aren't strong enough, but that bud­get con­straints make it hard for gov­ern­ment to ful­fill the promise of leg­is­la­tion that expands envi­ron­men­tal protection.
Although the EPA sets a floor for reg­u­la­tion, states should do more, she says. And when it comes to reg­u­lat­ing tox­ic chem­i­cals, Schuren favors tak­ing a pre­cau­tion­ary approach — rather than wait­ing for a find­ing of absolute cer­tain­ty that a sub­stance pos­es a sig­nif­i­cant hazard.
In the case of North Ben­ning­ton, says Schuren, ​"I feel great about our response, but I don't think it's enough."
("Two states, two paths: Bor­der makes for sharp con­trasts in han­dling of taint­ed-water cri­sis" was orig­i­nal­ly pub­lished by the Hill Coun­try Observ­er and is repost­ed on Rur­al Amer­i­ca In These Times with per­mis­sion from the author.)
Tra­cy Frisch
is an inde­pen­dent jour­nal­ist based in upstate New York near the Ver­mont bor­der. In the
1990
s and ear­ly
2000
s, she worked as an advo­cate and orga­niz­er on pes­ti­cide and envi­ron­men­tal health issues. She lat­er pro­mot­ed eco­log­i­cal agri­cul­ture with farm­ers and the local food move­ment. She can be reached at tracy.​frisch@​gmail.​com.