Before Sunset
A broad coalition is pushing Congress to rein in the Patriot Act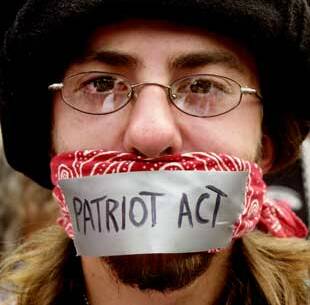 Last Octo­ber, agents from the FBI and Trea­sury Depart­ment, accom­pa­nied by a gag­gle of TV news crews, raid­ed the Colum­bia, Mo., offices of a small char­i­ty called the Islam­ic-Amer­i­can Relief Agency (IARA). Com­put­ers and records were seized, and sev­er­al hun­dred thou­sand dol­lars in donat­ed funds des­tined for relief work in Kenya were frozen. There were no arrests or charges, though fed­er­al agents vis­it­ed the homes of many of the charity's local donors. IARA, accord­ing to its attor­ney, Shereef Akeel, was effec­tive­ly shut down under a lit­tle-known pro­vi­sion of the USA PATRI­OT Act, which expand­ed the Inter­na­tion­al Emer­gency Eco­nom­ic Pow­ers Act to allow the gov­ern­ment to freeze the assets of orga­ni­za­tions while it inves­ti­gates for links to terrorism.
"The gov­ern­ment has not pre­sent­ed one shred of evi­dence link­ing IARA to fund­ing for ter­ror, but by seiz­ing their funds and inter­view­ing their donors, they have effec­tive­ly destroyed the char­i­ty and cre­at­ed a chill­ing effect in the Mus­lim com­mu­ni­ty in Colum­bia," Akeel says. He sug­gests the gov­ern­ment may have con­fused IARA, found­ed two decades ago as the Islam­ic African Relief Agency (the name changed dur­ing the Bosnia con­flict when demands for aid moved beyond an African focus), with a Sudan-based char­i­ty called the Islam­ic African Relief Agency, which the gov­ern­ment claims has links to terrorists.
The USA PATRI­OT (Unit­ing and Strength­en­ing Amer­i­ca by Pro­vid­ing Appro­pri­ate Tools Required to Inter­cept and Obstruct Ter­ror­ism) Act, signed into law six weeks after the 9⁄11 attacks with no con­gres­sion­al debate, faces review in Con­gress, as 16 of its pro­vi­sions ​"sun­set" at the end of the year.
Patri­ots to Restore Checks and Bal­ances (PRCB), an unusu­al right/​left coali­tion that includes the ACLU, the Amer­i­can Con­ser­v­a­tive Union and the Free Con­gress Foun­da­tion, is press­ing to end some of the act's par­tic­u­lar­ly egre­gious civ­il lib­er­ties abus­es – specif­i­cal­ly, the sneak-and-peek pro­vi­sion, which allows the gov­ern­ment to spy on peo­ple with­out noti­fy­ing them or obtain­ing a court order, and the library pro­vi­sion, which grants fed­er­al author­i­ties the pow­er to inspect library, video, and book­store user records with­out a war­rant, and which bars librar­i­ans and store own­ers from alert­ing customers.
ACLU nation­al secu­ri­ty lob­by­ist Lisa Graves says the coali­tion is opti­mistic about win­ning some improve­ments. ​"Judi­cia­ry Com­mit­tee Chair Arlen Specter (R‑Pa.) held a ​'crit­ics' hear­ing last week," says Graves, ​"which the last chair, Orrin Hatch, (R‑Utah) would nev­er have done, and in the House, Judi­cia­ry Chair James Sensen­bren­ner (R‑Wisc.) has expressed some ​'con­cerns' about the act." The nation­wide grass­roots move­ment, which has seen 383 com­mu­ni­ties, includ­ing sev­en states, pass anti-Patri­ot Act res­o­lu­tions, has also put pres­sure on Con­gress to amend the law.
"I'm guess­ing the reforms we want in the act could gain some trac­tion," says Steve Lilien­thal, direc­tor of the Cen­ter for Pri­va­cy and Tech­nol­o­gy Pol­i­cy at the Free Con­gress Foun­da­tion, a con­ser­v­a­tive mem­ber of the coali­tion. ​"It will be an uphill bat­tle, but I think we may win."
Not every­one, how­ev­er, is hap­py with the notion of reform­ing the law.
"There's a dan­ger in try­ing to fix it," argues Michael Rat­ner, pres­i­dent of the Cen­ter for Con­sti­tu­tion­al Rights, which has not joined the coali­tion. ​"I'm afraid by work­ing to fix prob­lems with a few pro­vi­sions that have got­ten atten­tion – the library pro­vi­sion and sneak-and-peek – the focus is tak­en off of the real­ly seri­ous threats to free­dom, both in the Patri­ot Act and out­side it.
"Things like the broad­ened def­i­n­i­tion of ter­ror, which can include block­ing a high­way dur­ing a demon­stra­tion, or the enhance­ment of the For­eign Intel­li­gence Sur­veil­lance Act, which now allows the gov­ern­ment to spy on ordi­nary crim­i­nal sus­pects with­out show­ing prob­a­ble cause or obtain­ing a war­rant, are hor­ri­ble," says Rat­ner. ​"Whole Islam­ic com­mu­ni­ties in the U.S. now live in ter­ror and fear. It's much worse than the spy­ing on CIS­PES [Com­mit­tee in Sol­i­dar­i­ty with the Peo­ple of El Sal­vador] in the ​'80s.
"Just because 9⁄11 hap­pened, doesn't mean you need new laws, " Rat­ner says. ​"The gov­ern­ment should have to prove why cur­rent laws and pow­ers don't work. It should have to jus­ti­fy each new pow­er giv­en to law enforce­ment and intel­li­gence agen­cies. On some things, you have to stand on prin­ci­ple and not compromise."
Graves con­cedes that Rat­ner may have a point. ​"The 9⁄11 Com­mis­sion had a sim­i­lar per­spec­tive," she says. ​"One of their rec­om­men­da­tions was that the admin­is­tra­tion should have the bur­den of proof for any change in the laws that affect civ­il lib­er­ties." But Graves says that the coalition's – and ACLU's – view is that by join­ing right and left, they can win at least some improve­ments, while repeal­ing the PATRI­OT Act is not polit­i­cal­ly pos­si­ble – at least for now.
Mean­while, Akeel and the IARA, tak­ing mat­ters in their own hands, have sued in fed­er­al court in Wash­ing­ton, D.C., to unblock the charity's funds. ​"I've been get­ting let­ters from lit­tle kids in Kenya beg­ging for me to restore the mon­ey that was being sent to sup­port them," says Akeel.
Dave Lin­dorff
, an
In These Times
con­tribut­ing edi­tor, is the author of
This Can't Be Hap­pen­ing: Resist­ing the Dis­in­te­gra­tion of Amer­i­can Democ­ra­cy
. His work can be found at
This Can't Be Hap­pen­ing
.