GMs Healthcare Double Standard
Bad ideology trumps good business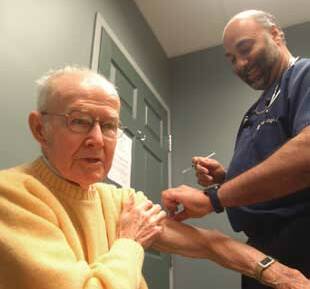 What a dif­fer­ence a bor­der makes. Gen­er­al Motors exec­u­tives say soar­ing health costs in their U.S. plants are forc­ing them to seek health ben­e­fits give-backs from union­ized work­ers, yet they insist nation­al health­care is not an appro­pri­ate solu­tion for Amer­i­ca. As com­pa­ny spokes­woman Sher­ri Woodruff puts it, ​"GM thinks there has to be clos­er coop­er­a­tion between the gov­ern­ment and the pri­vate sec­tor, but we don't advo­cate a sin­gle-pay­er sys­tem for the U.S."
Yet just across the Detroit Riv­er in Ontario, the company's sub­sidiary — like the sub­sidiaries of Ford, Daim­ler­Chrysler and oth­er U.S. firms —  —  —  — strong­ly endors­es Canada's nation­al health system.
"The Cana­di­an plan has been a sig­nif­i­cant advan­tage for invest­ing in Cana­da," says GM Cana­da spokesman David Pat­ter­son, not­ing that in the Unit­ed States, GM spends $1,400 per car on health ben­e­fits. Indeed, with the provinces shar­ing 75 per­cent of the cost of Cana­di­an health­care, it's no sur­prise that GM, Ford and Chrysler have all been shift­ing car pro­duc­tion across the bor­der at such a rate that the name ​"Motor City" should belong to Wind­sor, not Detroit.
Just two years ago, GM Canada's CEO Michael Grimal­di sent a let­ter co-signed by Cana­di­an Autowork­ers Union pres­i­dent Buzz Har­grave to a Crown Com­mis­sion con­sid­er­ing reforms of Canada's 35-year-old nation­al health pro­gram that said, ​"The pub­lic health­care sys­tem sig­nif­i­cant­ly reduces total labour costs for auto­mo­bile man­u­fac­tur­ing firms, com­pared to their cost of equiv­a­lent pri­vate insur­ance ser­vices pur­chased by U.S.-based automak­ers." That let­ter also said it was ​"vital­ly impor­tant that the pub­licly fund­ed health­care sys­tem be pre­served and renewed, on the exist­ing prin­ci­ples of uni­ver­sal­i­ty, acces­si­bil­i­ty, porta­bil­i­ty, com­pre­hen­sive­ness and pub­lic admin­is­tra­tion," and went on to call not just for preser­va­tion but for an ​"updat­ed range of ser­vices." CEOs of the Cana­di­an units of Ford and Daim­ler­Chrysler wrote sim­i­lar encomi­ums endors­ing the nation­al health system.
How can the same cor­po­ra­tions that in Cana­da rec­og­nize the bot­tom-line log­ic of a nation­al health sys­tem be so opposed to the idea here?
One answer is ide­ol­o­gy. The notion of hav­ing the gov­ern­ment take over an indus­try that rep­re­sents about 15 per­cent of the U.S. econ­o­my gives U.S. exec­u­tives the willies. But in back­ing insur­ance com­pa­ny inter­ests, GM runs counter to both its own busi­ness inter­ests and the sen­ti­ments of many customers.
Polls have long shown a major­i­ty of Amer­i­cans favor some kind of nation­al health­care sys­tem. Now, with stud­ies sug­gest­ing that the aver­age cost of pro­vid­ing health ben­e­fits has reached $6,800 per employ­ee, cor­po­rate exec­u­tives may join the broad­er pub­lic in final­ly tak­ing a look at the Cana­di­an mod­el. ​"Is there a pri­vate sec­tor solu­tion to the rapid­ly increas­ing cost of health­care? Prob­a­bly not," says Deloitte Consulting's Jon Erb. ​"There would be huge resis­tance to a whole­sale nation­al solu­tion because the ten­ta­cles of the health­care indus­try reach into all sec­tors of the econ­o­my, but I sus­pect you'll see busi­ness' strat­e­gy will be to sneak a sin­gle-pay­er sys­tem in a lit­tle bit at a time."
Back in 1970, a year before Cana­da switched from an employ­er-based, insur­ance com­pa­ny-admin­is­tered health sys­tem like that in the Unit­ed States to a nation­al sin­gle-pay­er mod­el, both coun­tries were devot­ing about 7 per­cent of GDP to health­care. Today, Cana­da devotes 9.1 per­cent of GDP to health­care, while the Unit­ed States devotes a whop­ping 15.1. Mean­while, Cana­da boasts bet­ter health sta­tis­tics and all of its cit­i­zens are ful­ly cov­ered, even for cat­a­stroph­ic ill­ness­es like can­cer or AIDS. In the Unit­ed States, some 15 per­cent of peo­ple have no insur­ance cov­er­age at all and med­ical costs are the lead­ing cause of bankruptcy.
U.S. con­ser­v­a­tives rou­tine­ly attack the Cana­di­an sys­tem for its reput­ed long waits and for dri­ving many Cana­di­ans across the bor­der for treat­ment. In fact, how­ev­er, Cana­di­ans love their health­care sys­tem, and keep elect­ing can­di­dates who back it. More­over, Cana­di­ans say U.S. crit­i­cisms are gross exag­ger­a­tions. A study by Steven Katz et al. in Health Affairs found that in fact the only real Cana­di­ans using U.S. health­care were ​"snow­birds" and res­i­dent aliens.
Accord­ing to GM Cana­da spokesman Stew Low, the charge that Cana­di­ans endure ter­ri­ble delays in get­ting treat­ment is also overblown. ​"It comes from peo­ple with an axe to grind," he says. ​"In gen­er­al, peo­ple here have ready access to healthcare."
Mean­while, in the Unit­ed States, health insur­ance cov­er­age is wors­en­ing. The New York Times report­ed recent­ly that the per­cent­age of com­pa­nies pay­ing 100 per­cent of employ­ee insur­ance pre­mi­ums had ​"plum­met­ed" over the last four years, from 29 per­cent to only 17 per­cent. Worse yet, many employ­ers are sim­ply drop­ping health ben­e­fits. Before long, health­care ben­e­fits in the Unit­ed States will be the excep­tion, not the rule.
Maybe Con­gress should invite GM Canada's Grimal­di down to talk about how Cana­da deals with the problem.
Dave Lin­dorff
, an
In These Times
con­tribut­ing edi­tor, is the author of
This Can't Be Hap­pen­ing: Resist­ing the Dis­in­te­gra­tion of Amer­i­can Democ­ra­cy
. His work can be found at
This Can't Be Hap­pen­ing
.