Radioactive Wounds of War
Tests on returning troops suggest serious health consequences of depleted uranium use in Iraq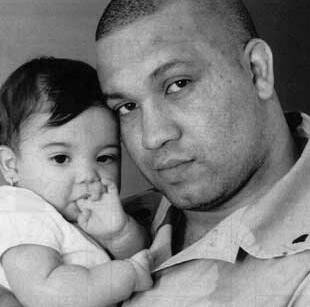 Ger­ard Matthew thought he was lucky. He returned from his Iraq tour a year and a half ago alive and in one piece. But after the New York State Nation­al Guards­man got home, he learned that a bunk­mate, Sgt. Ray Ramos, and a group of N.Y. Guard mem­bers from anoth­er unit had accept­ed an offer by the New York Dai­ly News and reporter Juan Gon­za­lez to be test­ed for deplet­ed ura­ni­um (DU) con­t­a­m­i­na­tion, and had test­ed positive.
Matthew, 31, decid­ed that since he'd spent much of his time in Iraq lug­ging around DU-dam­aged equip­ment, he'd bet­ter get test­ed too. It turned out he was the most con­t­a­m­i­nat­ed of them all.
Matthew imme­di­ate­ly urged his wife to get an ultra­sound check of their unborn baby. They dis­cov­ered the fetus had a con­di­tion com­mon to those with radioac­tive expo­sure: atyp­i­cal syn­dacty­ly. The right hand had only two digits.
So far Vic­to­ria Claudette, now 13 months old, shows no oth­er genet­ic dis­or­ders and is healthy, but Matthew feels guilty for caus­ing her defor­mi­ty and angry at a gov­ern­ment that nev­er warned him about DU's dangers.
U.S. forces first used DU in the 1991 Gulf War, when some 300 tons of deplet­ed ura­ni­um – the waste prod­uct of nuclear pow­er plants and weapons facil­i­ties – were used in tank shells and shells fired by A‑10 jets. A less­er amount was deployed by U.S. and NATO forces dur­ing the Balka­ns con­flict. But in the cur­rent wars in Afghanistan and, espe­cial­ly, Iraq, DU has become the weapon of choice, with more than 1,000 tons used in Afghanistan and more than 3,000 tons used in Iraq. And while DU was fired most­ly in the desert dur­ing the Gulf War, in the cur­rent war in Iraq, most of DU muni­tions are explod­ing in pop­u­lat­ed urban areas.
The Pen­ta­gon has expand­ed DU beyond tank and A‑10 shells, for use in bunker-bust­ing bombs, which can spew out more than half a ton of DU in one explo­sion, in anti-per­son­nel bomblets, and even in M‑16 and pis­tol shells. The mil­i­tary loves DU for its unique pen­e­tra­tion capa­bil­i­ty – it cuts through steel or con­crete like they're butter.
The prob­lem is that when DU hits its tar­get, it burns at a high tem­per­a­ture, throw­ing off clouds of micro­scop­ic par­ti­cles that poi­son a wide area and remain radioac­tive for bil­lions of years. If inhaled, these par­ti­cles can lodge in lungs, oth­er organs or bones, irra­di­at­ing tis­sue and caus­ing cancers.
Worse yet, ura­ni­um is also a high­ly tox­ic heavy met­al. Indeed, while there is some debate over the risk posed by the element's radioac­tive emis­sions, there is no debate regard­ing its chem­i­cal tox­i­c­i­ty. Accord­ing to Mt. Sinai pathol­o­gist Thomas Fasey, who par­tic­i­pat­ed in the New York Guard unit test­ing, the ele­ment has an affin­i­ty for bond­ing with DNA, where even trace amounts can cause can­cers and fetal abnormalities.
Dr. Doug Rokke, a health physi­cist at the Uni­ver­si­ty of Illi­nois who head­ed up a Pen­ta­gon study of deplet­ed ura­ni­um weapons in the mid ​'90s after con­cerns were raised dur­ing the Gulf War, con­clud­ed there was no safe way to use the weapons. Rokke says the Pen­ta­gon respond­ed by denounc­ing him, after ear­li­er com­mend­ing his work.
No one knows how many U.S. sol­diers have been con­t­a­m­i­nat­ed by DU residue. Despite reg­u­la­tions autho­riz­ing tests for any mil­i­tary per­son­nel who sus­pects expo­sure, the U.S. mil­i­tary is avoid­ing doing those tests – or delay­ing them until they are meaningless.
"When we asked to be test­ed at Ft. Dix, they wrong­ly told us we didn't have to wor­ry unless we had DU frag­ments in our body," says Matthew. His bud­dy, Sgt. Ramos, who exhibits symp­toms resem­bling radi­a­tion sick­ness and heavy met­al poi­son­ing, adds that at Wal­ter Reed Med­ical Cen­ter he was grilled for hours about why he want­ed to be test­ed and was then brand­ed a trou­ble­mak­er by his own unit. Matthew says Wal­ter Reed ​"lost" his sample.
At the war's start, the Unit­ed States refused to allow U.N. or oth­er envi­ron­men­tal inspec­tors to test DU lev­els with­in Iraq. Now the Unit­ed Nations won't even go near Iraq because of secu­ri­ty concerns.
"It doesn't seem right that we are poi­son­ing the places we are sup­posed to be lib­er­at­ing," Ramos says.
The Pen­ta­gon con­tin­ues to insist, on the basis of no field evi­dence, that DU is safe. To date, only some 270 returned troops have been test­ed for DU con­t­a­m­i­na­tion by the mil­i­tary and Vet­er­ans Affairs. But even those tests, most­ly urine sam­ples, are use­less 30 days after expo­sure, because by that time most of the DU has left the body or migrat­ed into bones or organs.
Gon­za­lez and the Dai­ly News paid for cost­lier tests for nine Guards­men – tests that could pin­point ura­ni­um inside the body and iden­ti­fy the spe­cial iso­tope sig­na­ture of man-made DU. Four of the nine test­ed pos­i­tive for DU; all had symp­toms of ura­ni­um poisoning.
Even hard­er evi­dence may soon arrive. Con­necti­cut State Rep­re­sen­ta­tive Pat Dil­lon (D‑New Haven), a Yale-trained epi­demi­ol­o­gist, has craft­ed state-lev­el leg­is­la­tion that Con­necti­cut and Louisiana have unan­i­mous­ly passed, autho­riz­ing returned Nation­al Guard troops to request and receive spe­cial­ized DU con­t­a­m­i­na­tion tests at the Pentagon's expense. This approach bypass­es the Pentagon's feet-drag­ging because Nation­al Guard troops fall under state, rather than fed­er­al, jurisdiction.
"This was not a Demo­c­ra­t­ic or a Repub­li­can issue," Dil­lon says. ​"These are our kids and some­one needs to pro­tect them." She says that since pas­sage of her bill, which takes effect this Octo­ber, mil­i­tary groups and fam­i­ly orga­ni­za­tions, state leg­is­la­tors, and even Nation­al Guard unit com­man­ders have con­tact­ed her for copies of her bill to pro­mote in their states. Bob Smith, a vet­er­an in Louisiana who got hold of Dillon's bill and spear­head­ed a suc­cess­ful effort to pass sim­i­lar leg­is­la­tion in Louisiana, claims that 14 to 20 oth­er states are con­sid­er­ing sim­i­lar measures.
If enough Guard troops avail them­selves of the test­ing – and start test­ing pos­i­tive for con­t­a­m­i­na­tion – it seems like­ly that reservists and active duty troops and vet­er­ans will demand sim­i­lar access to rig­or­ous tests, which can cost upwards of $1000 per person.
One way or anoth­er, the Pen­ta­gon will pay a price. ​"DU is a war crime. It's that sim­ple," Rokke says. ​"Once you've scat­tered all this stuff around, and then refuse to clean it up, you've com­mit­ted a war crime."
Dave Lin­dorff
, an
In These Times
con­tribut­ing edi­tor, is the author of
This Can't Be Hap­pen­ing: Resist­ing the Dis­in­te­gra­tion of Amer­i­can Democ­ra­cy
. His work can be found at
This Can't Be Hap­pen­ing
.