Bernie Sanders' Moment of Truth
Bernie's political revolution reaches a decisive moment in the Iowa caucus.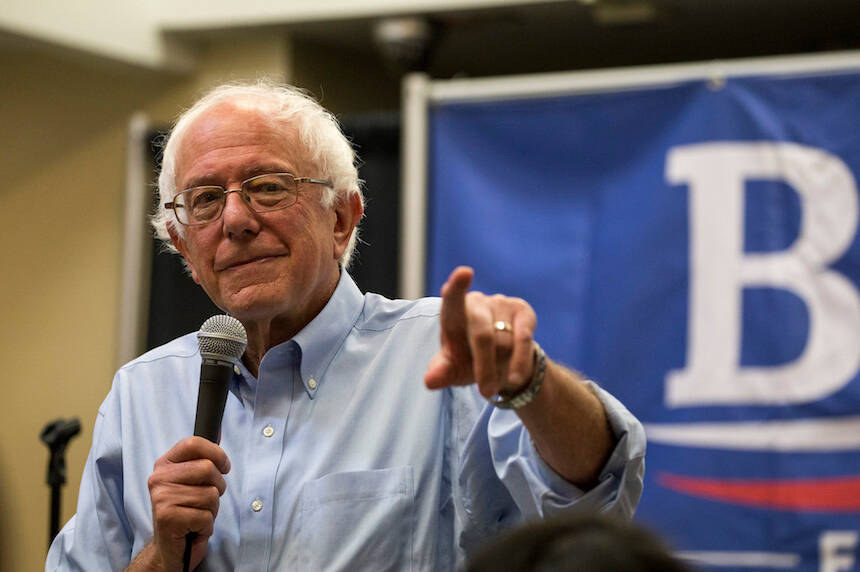 Very few peo­ple would have pre­dict­ed that the 2016 Demo­c­ra­t­ic pres­i­den­tial nom­i­na­tion would come down to a com­pet­i­tive two-way race between the most for­mi­da­ble Demo­c­ra­t­ic estab­lish­ment can­di­date in recent mem­o­ry and a white-haired, 74-year-old demo­c­ra­t­ic social­ist from Ver­mont promis­ing a ​"polit­i­cal rev­o­lu­tion." Yet here we are. Since enter­ing the race last April, Bernie Sanders has drawn huge crowds and seen ear­ly leads in both Iowa and New Hamp­shire. He's raised huge sums of mon­ey, almost entire­ly through small-dol­lar dona­tions (more than 3.25 mil­lion of them). And he's done all this while main­tain­ing a laser-like focus on one issue: ris­ing income inequality.
More than any state, Iowa is often won by the campaign with the most passionate supporters, and Sanders' backers have shown nothing if not passion.
Though Hillary Clin­ton has led con­tin­u­ous­ly in nation­al polls, the pri­ma­ry isn't decid­ed by nation­wide vote. It's decid­ed by a long slog of hard-fought, state-by-state bat­tles for del­e­gates — and they are about to begin. In These Times' reporters Theo Ander­son and David Moberg vis­it­ed Iowa and South Car­oli­na, ear­ly-vot­ing states seen as cru­cial con­tests, to talk with the vot­ers who will decide the outcome.
More than any state, Iowa is often won by the cam­paign with the most pas­sion­ate sup­port­ers, and Sanders' back­ers have shown noth­ing if not pas­sion. South Car­oli­na, with an elec­torate that is major­i­ty black, will be the first big test of Sanders' abil­i­ty to reach vot­ers of col­or. Both con­tests will test his abil­i­ty to bring jad­ed cit­i­zens off the side­lines and into the polit­i­cal process.
Barack Oba­ma built a win­ning coali­tion of young peo­ple, African Amer­i­cans and Lati­nos. Thus far, Sanders lacks the same pull with vot­ers of col­or. But he has shown signs of engag­ing a crit­i­cal miss­ing piece of Obama's coali­tion: white, work­ing-class vot­ers. The cohort Sanders shares with Oba­ma is youth. His largest mar­gin of sup­port has been among vot­ers under 40, at a time when young peo­ple are more open than ever to con­sid­er­ing social demo­c­ra­t­ic poli­cies — and even social­ism — as an alter­na­tive to the cap­i­tal­ism that is fast fail­ing them.
In 2008, Oba­ma cam­paign work­ers referred to the Car­oli­nas as ​"the buzz saw," where the Clin­ton campaign's unre­al­is­tic expec­ta­tions met the real­i­ty of the elec­torate. Now, the Clin­ton cam­paign is count­ing on the Car­oli­nas as part of a ​"fire­wall" Sanders can't breach. His chal­lenge is to break through that bar­ri­er by both chang­ing the make­up of the elec­torate and chang­ing minds.
After nine months of cam­paign­ing, the Left is set to see its biggest test in decades of just how far Demo­c­ra­t­ic vot­ers are ready to go to break out of the old modes of polit­i­cal think­ing. The move­ment that has coa­lesced around Sanders is about to meet its moment of truth.