Bernie Sanders Just Sidestepped Corporate Media to Promote Medicare for All to 1 Million Viewers
The democratic socialist senator's town hall on universal healthcare marks a new phase in the political revolution.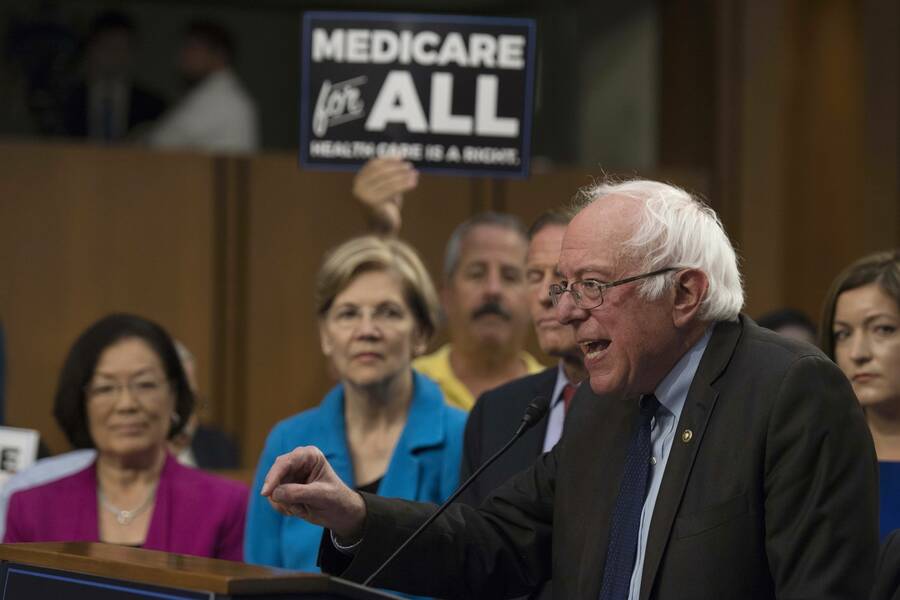 The rev­o­lu­tion will not be tele­vised, but it might be live-streamed.
Sanders' town hall showed the senator freed from the confines of traditional mainstream media and able to dig in to issues ranging from healthcare to campaign financing to the corruption of our political system.
"It ain't gonna be on CBS, it ain't gonna be on NBC," Sen. Bernie Sanders said on Tues­day evening, near the end of a ​"Medicare for All Town Hall" that was streamed to an esti­mat­ed audi­ence of more than a mil­lion peo­ple over three social media out­lets — Now This, Attn: and The Young Turks Net­work (YTN). Sanders was refer­ring specif­i­cal­ly to seri­ous debate about our health­care sys­tem, but his words spoke to more than that.
Sanders' town hall showed the sen­a­tor — cur­rent­ly the most pop­u­lar politi­cian in the Unit­ed States — freed from the con­fines of tra­di­tion­al main­stream media and able to dig in to issues rang­ing from health­care to cam­paign financ­ing to the cor­rup­tion of our polit­i­cal system.
Ear­li­er on Tues­day, CNN released a poll show­ing Sanders with a 57 per­cent favor­a­bil­i­ty rat­ing. Among Democ­rats that num­ber was 82 per­cent. It also showed that Sanders would defeat Don­ald Trump in a hypo­thet­i­cal pres­i­den­tial race, win­ning 55 per­cent of the vote.
The demo­c­ra­t­ic social­ist sen­a­tor took advan­tage of this pop­u­lar­i­ty to spread his mes­sage direct­ly to view­ers with­out, as Sanders' point­ed out, the inter­rup­tion of ads from phar­ma­ceu­ti­cal and insur­ance com­pa­nies. And in the process, he plant­ed four dis­tinct flags.
One flag was in the media land­scape. Sanders' cry for ​"polit­i­cal rev­o­lu­tion" has always been more about process than spe­cif­ic pol­i­cy — mul­ti­ply­ing and open­ing up the chan­nels of infor­ma­tion and fos­ter­ing robust demo­c­ra­t­ic engagement.
On Tues­day, Sanders not­ed that the event was the first nation­al­ly broad­cast town hall tak­ing place out­side the cor­po­rate media. ​"This is, I think, kind of rev­o­lu­tion­ary, is it not?" he said to YTN host Ana Kas­par­i­an in a pre-town hall inter­view. ​"This could be the very first step in bring­ing mil­lions of peo­ple into seri­ous dis­cus­sion about the seri­ous issues fac­ing our country."
It's a com­mon lament that the Right has been bril­liant at cre­at­ing an alter­na­tive media ecosys­tem — through Fox News, Bre­it­bart, con­ser­v­a­tive radio shows and Don­ald Trump's Twit­ter account — while the Left has strug­gled to get its mes­sage into the main­stream media or to devel­op alter­na­tive outlets.
The Medicare for All town hall may have been but a small step, yet it con­firmed that Sanders — who has about 7.5 mil­lion Face­book fol­low­ers, hosts a pod­cast, and reg­u­lar­ly cre­ates pol­ished and share­able video con­tent — rec­og­nizes the promise of the bur­geon­ing new media infra­struc­ture and is mov­ing quick­ly to take advan­tage of it. Which is a wise move if you say you want a rev­o­lu­tion. YTN has near­ly 3.6 mil­lion YouTube sub­scribers. Attn: has near­ly 5.6 mil­lion Face­book fol­low­ers. Now This has about 13 mil­lion Face­book followers.
By engag­ing these audi­ences direct­ly, Sanders is reach­ing a large pool of poten­tial vot­ers who seek their news out­side of tra­di­tion­al outlets.
Sanders' sec­ond flag was plant­ed in the sin­gle-pay­er debate.
Uni­ver­sal health­care was Sanders' trade­mark issue dur­ing the 2016 pres­i­den­tial pri­maries, and for good rea­son. By demand­ing an end to the pri­vate insur­ance indus­try, Sanders has been able to speak out against both ram­pant inequal­i­ty and the cor­rup­tion of our pol­i­tics. On Tues­day, he con­tin­ued his offen­sive. ​"These guys," Sanders said at one point, refer­ring to phar­ma­ceu­ti­cal and insur­ance com­pa­nies, ​"have unlim­it­ed sums of mon­ey to spend in the polit­i­cal process in order to ensure that they make bil­lions and bil­lions of dol­lars every sin­gle year in profit."
The major­i­ty of the 90-minute town hall focused on lay­ing out the prag­mat­ic case for sin­gle pay­er: It costs less and it works bet­ter. The Unit­ed States spends about 17 per­cent of GDP on health­care, ver­sus rough­ly 9 to 11 per­cent in oth­er G7 indus­tri­al­ized democ­ra­cies. But for all its spend­ing, the Unit­ed States lags far behind in outcomes.
The Medicare for All bill that Sanders intro­duced in the Sen­ate last year, which now has 16 Demo­c­ra­t­ic cospon­sors, would phase in an expan­sion of Medicare over four years, reduc­ing the age of eli­gi­bil­i­ty each year by a decade. Polls have shown that rough­ly 60 per­cent of Amer­i­cans sup­port such a system.
Of course, the oppo­si­tion to sin­gle-pay­er remains intense, not just among the GOP and the insur­ance indus­try but among a seg­ment of cor­po­rate-friend­ly Democ­rats as well.
But Tues­day night's town hall showed Sanders mak­ing the case for uni­ver­sal health­care not only in moral terms, but as an eco­nom­ic imper­a­tive as well. He argued that health­care should be a right and not a priv­i­lege, but also that by invest­ing in the work­force up front — through high­er tax­es — indi­vid­u­als and busi­ness­es will pay far less over the long run. As a result, work­ers will be health­i­er and more pro­duc­tive, and there will be far less bureau­cra­cy to navigate.
Sanders plant­ed a third flag as the rad­i­cal anti-Trump: Inter­est­ed in noth­ing but policy.
Eccen­tric­i­ty has always been a key part of Sanders' appeal, but it used to be his style and appear­ance — the way he shouts his speech­es, his Brook­lyn accent, the droopy suits and fly­away hair — that caught people's atten­tion. Under Pres­i­dent Trump, who sucks every last ounce of oxy­gen out of the room on the per­son­al­i­ty front, it's Sanders' devo­tion to ideas and pol­i­cy that dis­tin­guish­es him.
Tuesday's event was divid­ed into three half-hour seg­ments, with three dif­fer­ent guests appear­ing in each. The first group talked about the depth of the prob­lems with the cur­rent sys­tem, the sec­ond group dis­cussed how Medicare for All would be a colos­sal improve­ment and the final group pro­vid­ed some inter­na­tion­al per­spec­tive. Sanders alter­nate­ly grilled them, shuf­fled and arranged papers on his desk, prod­ded speak­ers to hold the micro­phone clos­er to their mouths, and inter­ject­ed clar­i­fi­ca­tions, com­ments and rants, in the man­ner of a host on the set of a late-night, low bud­get talk show.
"Most Amer­i­cans do not know that in vir­tu­al­ly every oth­er coun­try on earth, not only is health care con­sid­ered a right, with lim­it­ed out of pock­et or no out of pock­et expens­es, but the same thing in many cas­es applies to high­er edu­ca­tion or to child care," he said at one point, plant­i­ng the fourth flag of the evening — the flag of hope.
Sanders is well known for decry­ing the bil­lion­aire class and the sad state of Amer­i­can democ­ra­cy. But what's made him so pop­u­lar isn't anger or cyn­i­cism. It's the fact that he seems to have a stub­born faith in peo­ple, gen­uine­ly believ­ing that core val­ues of equal­i­ty and fair­ness are what dri­ve most Amer­i­cans, rather than sim­ply the pur­suit of pow­er and profits.
To address the deep prob­lems in our coun­try and soci­ety, he has pro­posed bold solu­tions that chal­lenge entrenched pow­er while pro­vid­ing a high­er stan­dard of liv­ing for the major­i­ty of peo­ple, whether through Medicare for All, a $15 min­i­mum wage, free pub­lic col­lege or reform of our bro­ken crim­i­nal jus­tice system.
In order to achieve these rad­i­cal pol­i­cy changes, Sanders has made it a pri­or­i­ty to edu­cate Amer­i­cans on both the pro­found chal­lenges we face and how we can take them on. He has shown a stub­born belief that the peo­ple, sup­plied with the true facts of the sit­u­a­tion, will choose to build a bet­ter democ­ra­cy. And, con­se­quent­ly, detailed dis­cus­sion of pol­i­cy actu­al­ly mat­ters. In spite of every­thing we have learned about the state of the nation recent­ly, a live-streamed town hall on health­care pol­i­cy is ​"a lit­tle bit rev­o­lu­tion­ary." And a cause for hope.
In the face of the ongo­ing trau­ma of the Trump show, the coun­try — if not the net­works — might be ready for such a pres­i­dent. Stay tuned.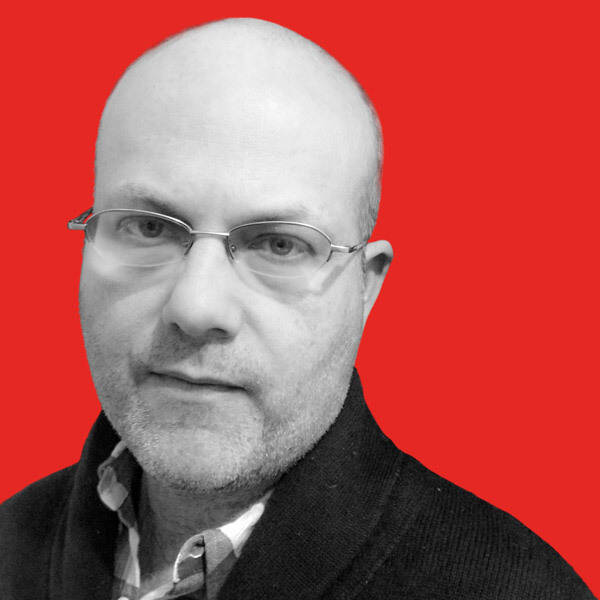 Theo Ander­son
is an In These Times con­tribut­ing writer. He has a Ph.D. in mod­ern U.S. his­to­ry from Yale and writes on the intel­lec­tu­al and reli­gious his­to­ry of con­ser­vatism and pro­gres­sivism in the Unit­ed States. Fol­low him on Twit­ter @Theoanderson
7
.