Bernie Sanders Schools Ted Cruz on Why We Need "Medicare for All"
CNN's Obamacare debate opened up fundamental questions that Republicans would rather avoid--like how to make healthcare access universal.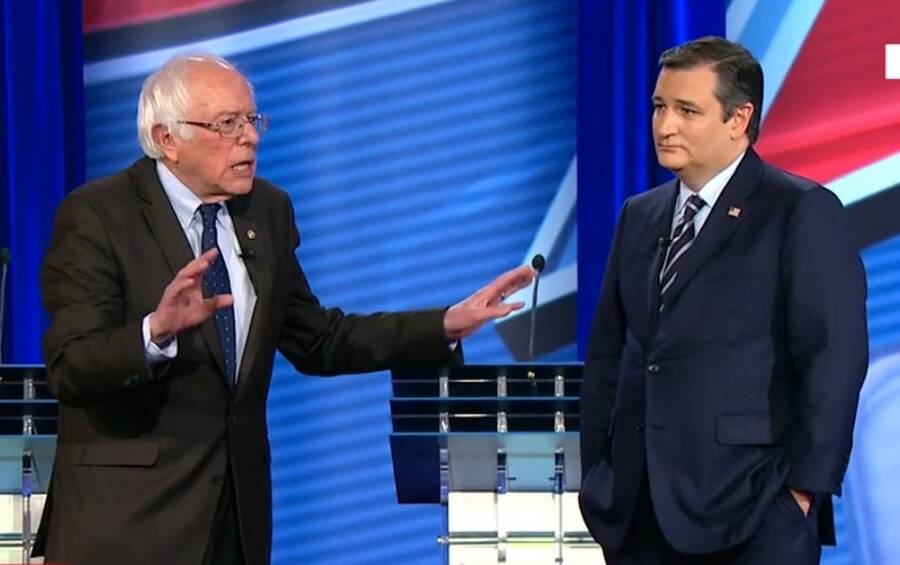 About halfway through CNN's Tues­day evening debate between Sen­a­tors Bernie Sanders and Ted Cruz, Sanders tried to pin Cruz down on a fun­da­men­tal ques­tion: Is health­care a right?
Republicans have all the power, but no plan. The Sanders wing of the Democratic Party has a plan but no power.
Cruz cir­cled around the ques­tion, talk­ing about rights as pro­tec­tions from gov­ern­ment over­reach. The right to guns came up, nat­u­ral­ly, and he got near­ly misty eyed talk­ing about the right to pur­sue life, lib­er­ty, and hap­pi­ness. What he believed in, Cruz said, was the right to access to health­care. Sanders pounced. If you can't afford health­care, he said, ​"Access doesn't mean a damn thing." It was the most clar­i­fy­ing exchange of the dif­fer­ences between two men at the far poles of U.S. politics.
CNN billed the top­ic of the debate at the future of the Afford­able Care Act, but it wasn't real­ly that. Sanders was cast in the role of defend­ing the ACA, which he did duti­ful­ly but half-heart­ed­ly, when he wasn't pulling the dis­cus­sion to what he real­ly want­ed to talk about: the need for a a ​"sim­ple," Medicare-for-all sys­tem, which was a major part of his plat­form as a can­di­date, and which he asked the audi­ence to ​"please join me and fight for."
"What we are look­ing at is a dys­func­tion­al sys­tem," he said at one point, while acknowl­edg­ing that Oba­macare had increased access to health­care for about 20 mil­lion peo­ple. But there was no escap­ing the fun­da­men­tal ques­tion of those — 28 mil­lion or so — who remain unin­sured. ​"Every sin­gle year," he said, ​"tens of thou­sands of our fel­low Amer­i­cans die because they [lack insur­ance and] don't go to the doc­tor when they should."
For the GOP, the debate rep­re­sent­ed a last hur­rah of sorts: the chance to offer a cri­tique of all the ways that Oba­macare has come up short, with­out any respon­si­bil­i­ty for cre­at­ing viable alter­na­tives. It summed up, in oth­er words, eight years of mag­i­cal think­ing about how Oba­macare had ruined ​"the best health­care sys­tem" in the world.
The mag­i­cal think­ing is about to crash about against some cold, hard realities.
One is that there is actu­al­ly very lit­tle appetite for an imme­di­ate repeal of the law with­out a replace­ment. A Kaiser Fam­i­ly Foun­da­tion sur­vey in Jan­u­ary found that only 20 per­cent favored that option, while 75 per­cent want­ed no repeal, or want­ed the GOP to have a plan in place first. Anoth­er is that there is no plan. Recent­ly leaked audio of a Repub­li­can retreat found that, for all their blus­ter, Repub­li­can lead­ers are divid­ed and con­fused on how to pro­ceed with Oba­macare repeal. In Tuesday's debate, Cruz rehashed some GOP favorites, like allow­ing insur­ance com­pa­nies to sell across state lines and pro­mot­ing health sav­ings accounts. And he seemed to think that sim­ply repeat­ing the word ​"empow­er" would make it mean some­thing. Even Repub­li­cans, appar­ent­ly, aren't per­suad­ed that any of it amounts to much of a plan.
If they lack a path for­ward, though, Repub­li­cans did get some word­smithing from the GOP strate­gist Frank Luntz, who sug­gest­ed that they call what­ev­er they come up with ​"repair." That smoke and mir­rors will like­ly be lit­tle com­fort to their vot­ers, who stand to lose the most from Oba­macare repeal. Kaiser found that, of the 11.5 mil­lion peo­ple who bought insur­ance through the Afford­able Care Act, well over half — 6.3 mil­lion — live in GOP-con­trolled House dis­tricts. Repeal and ​"repair" is also most like­ly to hurt rur­al, elder­ly peo­ple — in oth­er words, Don­ald Trump's base.
In his ear­ly remarks, Cruz not­ed that ​"there's an urgency to hon­or the promis­es we've made." That's not exact­ly true, since the only promise the GOP has made is to repeal Oba­macare, and only 20 per­cent of the pop­u­la­tion seems to feel there's any urgency about it.
Nonethe­less, this debate promis­es to be — as it has so often been in U.S. pol­i­tics — a defin­ing theme of the com­ing months, con­sum­ing much of the first year, or more, of the Trump admin­is­tra­tion, as it did for Bill Clin­ton and Barack Oba­ma. Repub­li­cans have all the pow­er, but no plan. The Sanders wing of the Demo­c­ra­t­ic Par­ty has a plan but no pow­er. And yet: There is hope in the fact that this debate tends to force fun­da­men­tal ques­tions, like whether health­care is a basic right.
If Repub­li­cans found their path back to pow­er in part by stand­ing fierce­ly in oppo­si­tion to Oba­macare, Democ­rats might find a path back by, as Sanders did on Tues­day, defend­ing what it has accom­plished and simul­ta­ne­ous­ly mak­ing the case for mov­ing beyond it. Trump has insist­ed that the GOP's replace­ment plan will ​"have insur­ance for every­body." As with every­thing Trump says, there's no way to know what that means to him, if it means any­thing at all. Even so, it's on the record, and it's at least an implic­it acknowl­edge­ment that health­care is a human right. Democ­rats must insist on that stan­dard and must hold him to it.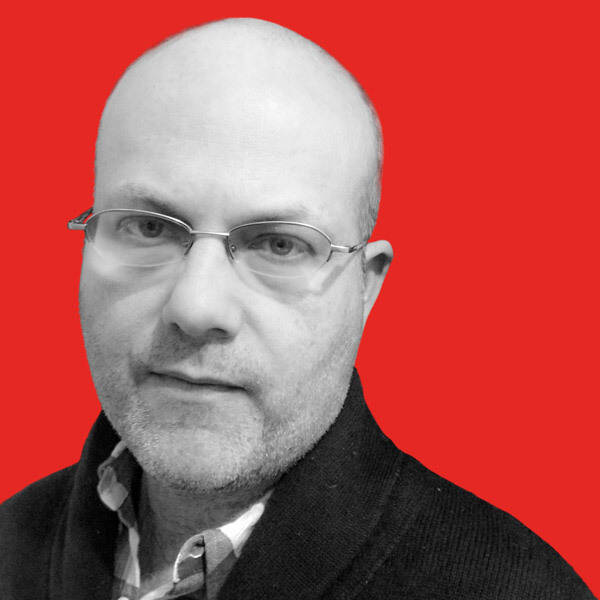 Theo Ander­son
is an In These Times con­tribut­ing writer. He has a Ph.D. in mod­ern U.S. his­to­ry from Yale and writes on the intel­lec­tu­al and reli­gious his­to­ry of con­ser­vatism and pro­gres­sivism in the Unit­ed States. Fol­low him on Twit­ter @Theoanderson
7
.