How Bernie Sanders Bridged a Generational Divide
The 74-year old Sanders has proved to be the anti-greedy geezer.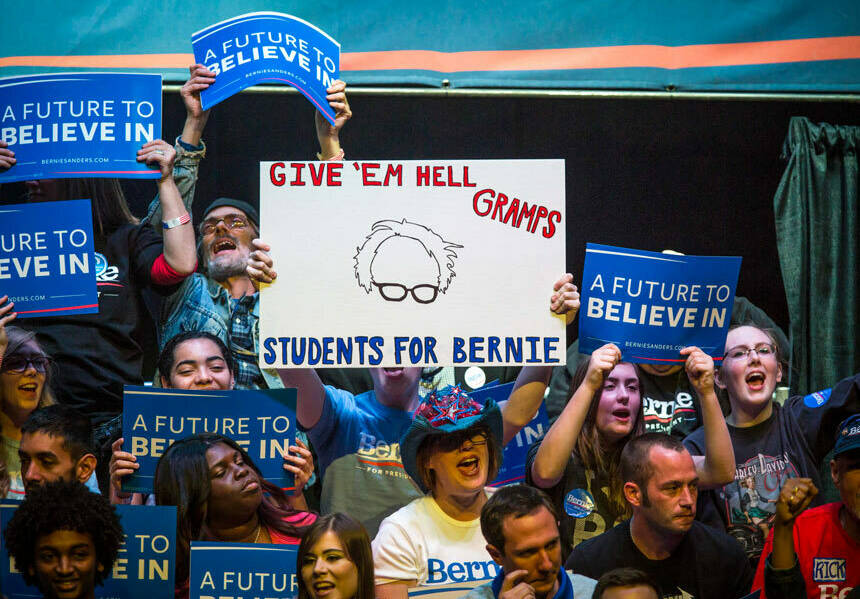 How is it that a 74-year-old man has inspired the loy­al­ty and devo­tion of thou­sands of twen­tysome­things? Aren't mil­len­ni­als sup­posed to resent old­er peo­ple, see­ing them as demand­ing ​"seniors" who have greed­i­ly attached them­selves to the auri­cles and ven­tri­cles of every gov­ern­ment-pro­vid­ed social ser­vice avail­able and thus are glee­ful­ly and self­ish­ly suck­ing their chil­dren and grand­chil­dren dry? In 2012, for­mer Repub­li­can Sen. Alan Simp­son (then 81) infa­mous­ly called old­er peo­ple ​"greedy geezers," and numer­ous pun­dits have flogged this notion of gen­er­a­tional war­fare, with old­er peo­ple cast as the clear vil­lains. Wash­ing­ton Post colum­nist Cather­ine Ram­pell, bemoan­ing col­lege stu­dents' ​"mis­di­rect­ed" activism around the need for more cul­tur­al sen­si­tiv­i­ty on cam­pus­es, sug­gest­ed that young peo­ple focus on ​"one of the great­est injus­tices they face: the huge and grow­ing inter­gen­er­a­tional wealth trans­fers away from them and toward their par­ents and grand­par­ents." Insist­ing that ​"young peo­ple have been done wrong by their elders," she deplored the ​"gen­er­ous ben­e­fits that those old­er peo­ple have not paid for and nev­er will." Who will pick up the tab? Her answer: Millennials.
So when Sanders says that "it's time to make college tuition-free and debt-free," that the big banks should be broken up, that health insurance is a human right, and that the minimum wage should be increased to $15 an hour, no wonder young people cheer for him, pack his rallies and donate to his cause.
Anoth­er typ­i­cal ​"war­fare" sto­ry, in the con­ser­v­a­tive blog Hot Air, said old­er Amer­i­cans are ​"con­tent" to use their grand­chil­dren as ​"ATMs." So what gives with these same young peo­ple flock­ing in droves to the Sanders campaign?
Sanders has tapped into the over­whelm­ing sense of injury, frus­tra­tion and anger at the toll that mar­ket fun­da­men­tal­ism has exact­ed on Amer­i­cans, espe­cial­ly the young. And in defi­ance of the ​"greedy geezer" stereo­type, Sanders per­son­i­fies the fact that old­er peo­ple — the par­ents and grand­par­ents of mil­len­ni­als — actu­al­ly care deeply about the finan­cial strug­gles of young peo­ple and know some­thing about the rav­ages of mar­ket fun­da­men­tal­ism them­selves. Dur­ing the Great Depres­sion and the post-WWII peri­od, there was a gen­er­al accep­tance that the state has a respon­si­bil­i­ty to mit­i­gate inequal­i­ty, pro­vide basic ser­vices and even out capitalism's boom-bust cycle.
Old­er Amer­i­cans saw the dis­man­tling of that accep­tance and the rise of free-mar­ket fun­da­men­tal­ism. What fol­lowed was an era of ​"trick­le down" eco­nom­ics, efforts to lim­it or elim­i­nate the government's role in redis­trib­ut­ing wealth, tax cuts for the wealthy, dereg­u­la­tion of cor­po­ra­tions and of finance, and wide­spread pri­va­ti­za­tion of things the gov­ern­ment used to run, such as schools, pris­ons and hospitals.
To jus­ti­fy this, the mantra of mar­ket fun­da­men­tal­ism glo­ri­fies indi­vid­ual respon­si­bil­i­ty as if it were a sacra­ment. We alleged­ly cre­ate our own cir­cum­stances by the choic­es we make. There are no struc­tur­al, insti­tu­tion­al obsta­cles that might thwart such choic­es, and thus, no need for any notion of col­lec­tive respon­si­bil­i­ty or the com­mon good.
Mil­len­ni­als have been hit espe­cial­ly hard by this ide­o­log­i­cal shift. The mas­sive defund­ing of pub­lic uni­ver­si­ties and fed­er­al grants and loans has led to the tripling of stu­dent loan debt since the 1990s. More than three-quar­ters of renters between the ages of 18 and 24 spend more than they earn every month, and they are rack­ing up cred­it card debt at a faster rate than oth­er age groups. One in five twen­tysome­things have more cred­it card debt than sav­ings, and the usu­ri­ous inter­est rates and late fees are more bur­den­some when you're just start­ing out. At least 8 mil­lion didn't have health insur­ance as of 2014.
So when Sanders says that ​"it's time to make col­lege tuition-free and debt-free," that the big banks should be bro­ken up, that health insur­ance is a human right, and that the min­i­mum wage should be increased to $15 an hour, no won­der young peo­ple cheer for him, pack his ral­lies and donate to his cause. He may have lost Super Tues­day, but he won the youth vote. His relent­less focus on income inequal­i­ty has con­struct­ed an inter­gen­er­a­tional bridge around a whole­sale rejec­tion of a gov­ern­ment by elites, for elites. One of his many great con­tri­bu­tions dur­ing the cam­paign has been to show that such a bridge can be built.
As Hillary Clin­ton moves clos­er to the nom­i­na­tion, she ignores this les­son at her per­il. At stake is the over­throw of this bank­rupt ide­ol­o­gy, and the need to cel­e­brate Sanders' vision of a social sol­i­dar­i­ty that puts the lie to media-pro­mot­ed gen­er­a­tional ​"wars" and unites the young and the old around an emphat­ic repu­di­a­tion of mar­ket fundamentalism.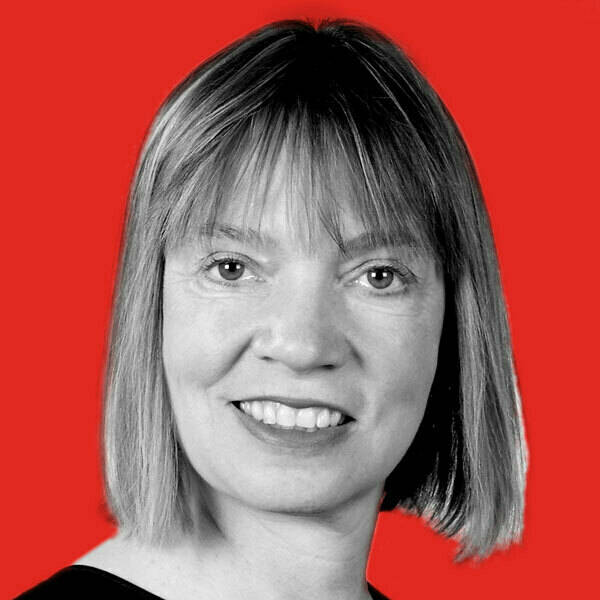 Susan J. Dou­glas
is a pro­fes­sor of com­mu­ni­ca­tions at the Uni­ver­si­ty of Michi­gan and a senior edi­tor at
In These Times
. Her forth­com­ing book is
In Our Prime: How Old­er Women Are Rein­vent­ing the Road Ahead.
.