Bernie Sanders Just Won TIME's Person of the Year Reader's Poll—And It Wasn't Even Close
The democratic socialist came out far, far ahead of both Clinton and Trump.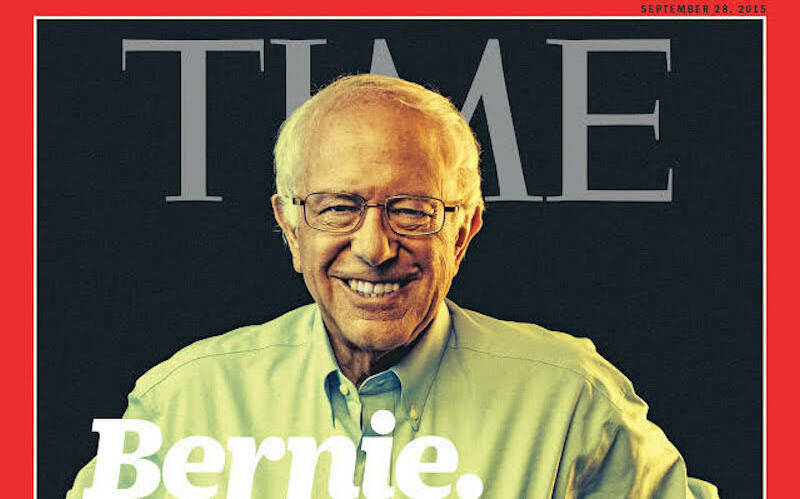 Demo­c­ra­t­ic pres­i­den­tial can­di­date Bernie Sanders won the online reader's poll for TIME magazine's 2015 Per­son of the Year — receiv­ing just above 10 per­cent of the vote when polling con­clud­ed Sun­day night. Sanders came out far ahead of oth­er pres­i­den­tial can­di­dates, trump­ing Don­ald Trump (1.8 per­cent) and van­quish­ing his main con­tender, Hillary Clin­ton (1.4 per­cent), who stills car­ries a strong lead in nation­al polls.
Sanders' campaign has been a gravitational force, pushing Clinton to embrace positions and rhetoric far to the left of where she has previously stood on major issues.
Since the start of the 2016 pres­i­den­tial race, Sanders' cam­paign has been a grav­i­ta­tion­al force, push­ing Clin­ton to embrace posi­tions and rhetoric far to the left of where she has pre­vi­ous­ly stood on major issues. Though pun­dits do not cur­rent­ly project that Sanders will tri­umph in the Demo­c­ra­t­ic pri­ma­ry, he has received unprece­dent­ed press cov­er­age for a pro­gres­sive can­di­date, gal­va­niz­ing mass audi­ences in his call for a ​"polit­i­cal rev­o­lu­tion" that will help dis­man­tle ram­pant class inequal­i­ty in the Unit­ed States.
Com­ing in sec­ond and third places were Pak­istani girls' edu­ca­tion activist Malala Yousafzai with 5.2 per­cent and Pope Fran­cis with 3.7 per­cent. Sanders also beat oth­er notable polit­i­cal and cul­tur­al fig­ures includ­ing Pres­i­dent Barack Oba­ma (3.5 per­cent), Stephen Col­bert (3.1 per­cent), Ger­man Prime Min­is­ter Angela Merkel (2.4 per­cent) and pop singer Adele (2.3 percent).
The read­er's poll award does not secure Sanders TIME's Per­son of the Year title. If Sanders wins, he will be the first pres­i­den­tial can­di­date to receive the award since it was first giv­en out in 1927. TIME editors will reveal their deci­sion for Per­son of the Year dur­ing NBC's Today Show on Wednes­day morning.
Lau­ren Kaori Gur­ley
is a staff writer at VICE's Moth­er­board on the labor beat. She is a for­mer con­tribut­ing writer to Rur­al Amer­i­ca In These Times and In These Times intern. You can fol­low her on Twit­ter @laurenkgurley.