Treated Like Meat: Women in Meatpacking Say #MeToo
At the world's largest pork processing company, Smithfield Foods, workers say as long as lines are moving fast, supervisors who sexually harass them get a free pass.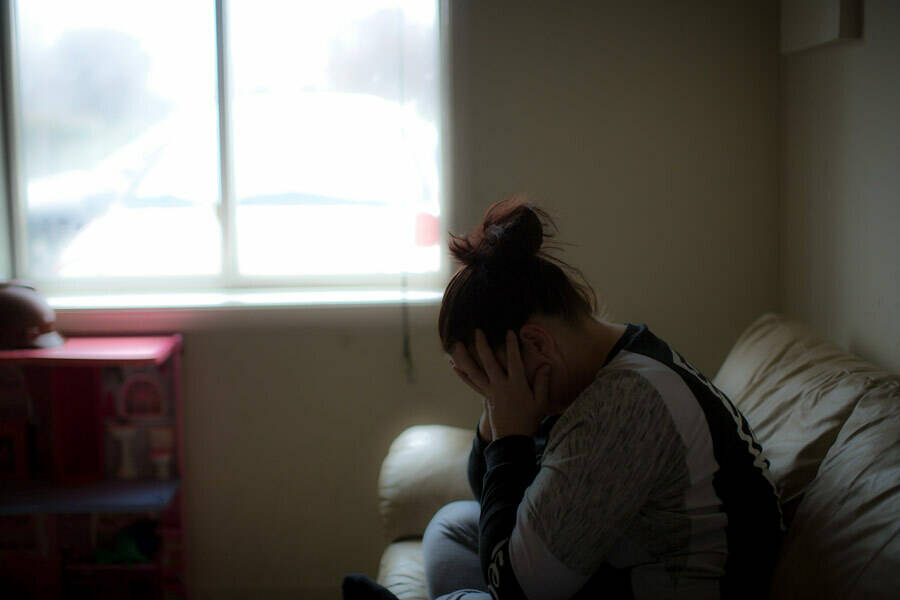 Smith­field Foods' 2,000-employee bacon and sausage pack­ag­ing plant in Smith­field, Va., sits a mile down the road from the company's state­ly cor­po­rate head­quar­ters and flag­ship restau­rant, Taste of Smith­field, a tourist-friend­ly estab­lish­ment known for its smoked pork brioche sand­wich, Vir­ginia craft beer and ​"piglets" menu for kids under 12.
The supervisor harasses new hires, especially young women, asking them for their numbers and to go on dates, and telling them if they report it to upper management, he will deny it.
Near the meat­pack­ing plant on Church Street, the stench of bacon and hog excre­ment hangs in the air. Jen­ny (not her real name), a 37-year-old sin­gle moth­er with two young daugh­ters, is light­ing up a Marl­boro before a 10-hour shift. ​"Every­body here is mis­er­able as shit, unless you're one of the high­er-ups," she tells me lat­er over the phone.
Jen­ny describes the plant floor as hav­ing a ​"male-dom­i­nat­ed atmos­phere." Her male cowork­ers joke that she needs ​"to get laid." And behind closed doors, super­vi­sors reg­u­lar­ly make crude sex­u­al jokes about her cowork­ers, says Jen­ny, who was a crew leader. Despite her urge to ​"raise hell," she rarely reports the mis­treat­ment she sees from supervisors.
"I'm not will­ing to put myself in a posi­tion to lose my job," she says. Like many low-wage work­ers, Jen­ny lives pay­check to pay­check. She had to take out a per­son­al loan to replace her car bat­tery just so she could get to work. (Jen­ny quit her job at Smith­field in May, after we spoke, because her pay dropped from $17 to $15.20 an hour.)
"No one ever feels com­fort­able report­ing stuff because it usu­al­ly back­fires," Jen­ny wrote to In These Times. Work­ers are fre­quent­ly dis­ci­plined and fired by super­vi­sors who hold ​"grudges," she says.
In late May 2018, nine oth­er women at the plant where Jen­ny works sued Smith­field Foods, the largest pork proces­sor in the world. Sev­er­al of the law­suits charged that plant super­vi­sors had engaged in ​"the most extreme acts of sex­u­al harassment."
The women worked in the retail bacon divi­sion, the microwave bacon depart­ment and the kill floor. They alleged that, for years, super­vi­sors brushed their gen­i­tals against them and grabbed their breasts and but­tocks; promised a pro­mo­tion and even a ​"cheap car" in exchange for sex­u­al liaisons; and prod­ded the women for sex­u­al favors such as fel­la­tio and a lap dance.
One work­er, Mar­quess­es Fore­man, alleged she was harassed on a week­ly basis for more than a year, between 2014 and 2016, and that her super­vi­sor showed her a pho­to of his penis, hit her with rolled-up paper and touched her breasts. He alleged­ly told Fore­man, who is black, that he should fire all of the black work­ers and replace them with Mex­i­cans who ​"could get the job done for less pay." Because of her super­vi­sor, Fore­man suf­fered ​"sig­nif­i­cant men­tal anguish, pain, suf­fer­ing, emo­tion­al dis­tress, loss of sleep [and] humil­i­a­tion," accord­ing to lawsuits.
Anoth­er work­er, Tami­ka Day, alleged that her super­vi­sor called her a ​"whore," ​"bitch" and ​"slut," and told her ​"you slept your way to where you are," and ​"you fucked in order to get your pro­mo­tion." Day said that after she com­plained to Smithfield's human resources depart­ment in 2015, the slurs and insults mul­ti­plied, and human resources cut her hours.
In fact, four of the women claimed HR reduced their hours after they report­ed harass­ment. Fore­man alleged­ly lost 20 per­cent of her income from the reduced schedule.
Three of the women were alleged­ly fired after report­ing harass­ment. In four of the com­plaints, HR alleged­ly took no action to address the harass­ment, while in one case, it took months.
Like most oth­er sex­u­al harass­ment law­suits filed under Title VII of the 1964 Civ­il Rights Act, these law­suits nev­er came before a jury. Five months after fil­ing, in late Octo­ber, the nine women resolved their com­plaints with Smith­field out­side of court — a route often pur­sued by large cor­po­ra­tions to avoid neg­a­tive pub­lic­i­ty. No set­tle­ment amount was disclosed.
The women and their lawyers did not respond to In These Times' inter­view requests, but 12 cur­rent and for­mer Smith­field work­ers from two of the largest plants in the South­east agreed to talk. The work­ers — women and men — ranged in age from 25 to 67. All but one request­ed pseu­do­nyms for fear of retal­i­a­tion by Smith­field or future employers.
A few of the work­ers at the Vir­ginia plant said Smith­field ini­ti­at­ed manda­to­ry train­ing about sex­u­al harass­ment in the wake of the law­suits. Jen­ny said her class was about 15 min­utes and includ­ed a slideshow on how to report harass­ment. ​"It was real­ly just so gener­ic," she said. ​"It was hon­est­ly so we could just get in there and sign a paper ver­i­fy­ing we were at the training."
Ten of the 12 said they had either expe­ri­enced, wit­nessed or were aware of line super­vi­sors per­pet­u­at­ing a tox­ic cul­ture of harass­ment, includ­ing sex­u­al com­ments, unwant­ed touch­ing, coer­cion, retal­i­a­tion or favoritism. Many work­ers inter­viewed believed com­plain­ing to the com­pa­ny would be use­less. Man­age­ment, they said, val­ued super­vi­sors who could meet high pro­duc­tion quo­tas, regard­less of how they treat­ed workers.
The Smith­field plant in Vir­ginia is not the only one that has faced sex­u­al harass­ment com­plaints. In the past decade, work­ers have filed at least 11 law­suits against Smith­field alleg­ing sex­u­al harass­ment in both union and nonunion work sites in Vir­ginia, Cal­i­for­nia, Ken­tucky, North Car­oli­na, South Dako­ta and Texas. Four of the cas­es were dis­missed, six were set­tled and one is ongoing.
At Smithfield's 4,400-worker plant in Tar Heel, N.C., the sin­gle largest pork plant in the world, a super­vi­sor named Lisa Coop­er alleged in a 2013 law­suit that her boss sex­u­al­ly harassed her for four years and ​"threat­ened to kill" her if ​"she con­tin­ued to report him to upper management."
Coop­er nonethe­less report­ed him to HR, then quit short­ly after in fear of more harass­ment. In 2018, a fed­er­al appeals court dis­missed her suit on the grounds that, in quit­ting, she failed to give Smith­field time to respond.
Sala Naamb­we, a 46-year-old Con­golese refugee work­ing at a Smith­field sub­sidiary in Sioux Falls, S.D., alleged in a 2017 suit that man­age­ment mocked her, iso­lat­ed her and increased her work­load after she told them that her cowork­ers called her a ​"mon­key" and a ​"bitch," and sex­u­al­ly harassed her. The case is ongoing.
THE MOST VUL­NER­A­BLE WORKERS
Asked about alle­ga­tions of sex­u­al harass­ment at its plants, Smithfield's exec­u­tive vice pres­i­dent of cor­po­rate affairs and com­pli­ance, Keira Lom­bar­do, point­ed to Smithfield's code of busi­ness ethics, which promis­es ​"the right to work free from harass­ment" includ­ing sex­u­al advances and slurs.
"Each and every employ­ee has pledged to uphold these stan­dards upon join­ing the com­pa­ny, and vio­la­tions of these stan­dards are unac­cept­able and imme­di­ate­ly dealt with," wrote Lom­bar­do. ​"We also pro­vide employ­ees with meth­ods to report ethics con­cerns or vio­la­tions, which are reviewed, inves­ti­gat­ed and respond­ed to accord­ing­ly." Lom­bar­do described train­ings on ​"legal­ly pro­tect­ed rights" as ​"reg­u­lar" and ​"sub­stan­tive," last­ing longer than 15 minutes.
Of the law­suits, she said, ​"Com­pa­nies of our size do get sued. None of the lit­i­ga­tion that you list has been deter­mined to have mer­it. … We took the [May 2018] alle­ga­tions very seri­ous­ly and care­ful­ly inves­ti­gat­ed each of them. We did not find any of the alle­ga­tions to be substantiated."
It's true that Smith­field Foods is not alone in fac­ing sex­u­al harass­ment suits. A sur­vey of pub­lic records shows a num­ber of suits against oth­er indus­try giants like Tyson Foods, Nation­al Beef and Cargill Meat Solu­tions. The Koch Foods poul­try plants in Mor­ton, Miss., where about 680 work­ers were detained by Immi­gra­tion and Cus­toms Enforce­ment (ICE) in ear­ly August, set­tled a $3.75 mil­lion sex­u­al and racial harass­ment law­suit in 2018. The com­plaint alleged that super­vi­sors ​"touched and/​or made sex­u­al­ly sug­ges­tive com­ments to female His­pan­ic employ­ees, hit His­pan­ic employ­ees," and then fired work­ers who complained.
But experts say that sex­u­al harass­ment is typ­i­cal­ly under­re­port­ed, not over­re­port­ed. Across all indus­tries, work­ers tend to stay silent because the risks of report­ing often out­weigh the ben­e­fits. The Equal Employ­ment Oppor­tu­ni­ty Com­mis­sion (EEOC) esti­mates that three out of four women who speak out about sex­u­al harass­ment at work face pun­ish­ment. Accord­ing to Ber­nice Yeung, author of In a Day's Work: The Fight to End Sex­u­al Vio­lence Against America's Most Vul­ner­a­ble Work­ers, work­ers like those in the meat­pack­ing indus­try, who are dis­pro­por­tion­ate­ly immi­grants and tend to work for sub­sis­tence wages, are espe­cial­ly unlike­ly to report.
Undoc­u­ment­ed work­ers are also espe­cial­ly like­ly to be harassed, Yeung says, and stud­ies have found that work­places with a high ratio of men to women have high­er rates of harass­ment. Four in 10 U.S. meat­pack­ing work­ers are women.
To date, there has been only one study of sex­u­al harass­ment in the U.S. meat­pack­ing indus­try, which employs 180,000 work­ers. In an infor­mal 2009 sur­vey of women in Iowa's meat­pack­ing plants by ASISTA Immi­gra­tion Assis­tance and Iowa Coali­tion Against Sex­u­al Assault, 85 per­cent said they had expe­ri­enced or wit­nessed sex­u­al vio­lence at work.
GOB­BLING UP THE PORK INDUSTRY
If you've ever pur­chased pork from a major super mar­ket, chances are good that it came from Smith­field. Smith­field owns 12 brands of bacon, ham, sausage, sala­mi, chori­zo, bologna, pro­sciut­to, ribs, pep­per­oni and meat­balls, which come labeled or white­la­beled (over­laid with the supermarket's brand) at gro­cery stores in all 50 states, includ­ing Wal­mart, Sam's Club and Tar­get. Smith­field also sup­plies the pork for the McDonald's McRib sand­wich and Nathan's hot dogs. With 40,000 work­ers in the Unit­ed States, and more than 40 pork-pack­ing plants across 20 states, Smith­field con­trols 26 per­cent of the U.S. porkpro­cess­ing market.
Found­ed in Vir­ginia in 1936, Smith­field came to dom­i­nate the pork indus­try in the 1990s by mim­ic­k­ing what Tyson Foods did to the chick­en indus­try in the 1980s. Smith­field bought up com­peti­tors and stream­lined its pro­duc­tion lines, dri­ving small hog farm­ers out of busi­ness, writes jour­nal­ist Christo­pher Leonard in The Meat Rack­et: The Secret Takeover of America's Food Busi­ness. Smith­field sim­i­lar­ly dev­as­tat­ed small hog farms in Mex­i­co, accord­ing to Chad Broughton's Boom, Bust, Exo­dus: The Rust Belt, the Maquilas and a Tale of Two Cities. Between 1990 and 2005, Smith­field grew by 1,200 percent.
By the 1990s, the face of pork-pack­ing in the Unit­ed States had already shift­ed from the north­ern union strong­holds of Mil­wau­kee and Chica­go (famous­ly depict­ed in Upton Sinclair's The Jun­gle) to the South­east, where wages remained low and anti-union sen­ti­ment ran deep among con­ser­v­a­tive law­mak­ers. (North Car­oli­na and South Car­oli­na are tied for the low­est union­iza­tion rate in the coun­try, at 2.7 per­cent.) In the mid-1990s, meat­pack­ing com­pa­nies active­ly recruit­ed peas­ants in Ver­acruz, Mex­i­co, dri­ven off their land fol­low­ing the pas­sage of NAF­TA, to work with­out visas in North Car­oli­na. Hun­dreds of migrants from Ver­acruz found work in Smithfield's Tar Heel plant, accord­ing to a 2012 report in The Nation.
In 1993, Tar Heel work­ers launched a union cam­paign often described as one of the bit­ter­est in mod­ern U.S. his­to­ry. Police in riot gear lined the entrance of the plant dur­ing a failed 1997 union elec­tion. Smith­field made ​"con­scious efforts to pit African-Amer­i­can work­ers against Lati­nos and undoc­u­ment­ed work­ers against those with legal sta­tus" to derail the dri­ve, accord­ing to a Tufts Uni­ver­si­ty pol­i­cy brief. (Smithfield's Lom­bar­do says that the com­pa­ny does not know­ing­ly employ undoc­u­ment­ed work­ers and ​"would nev­er ​'pit' any of our work­ers against one anoth­er.") In 2008 — after 15 years and two failed attempts — Smith­field work­ers in Tar Heel vot­ed to union­ize with the Unit­ed Food and Com­mer­cial Work­ers (UFCW).
By 2005, one in four meat-pro­cess­ing work­ers were undoc­u­ment­ed, accord­ing to the Pew His­pan­ic Cen­ter, and the Tar Heel plant was no longer major­i­ty African Amer­i­can and Native Amer­i­can, but pre­dom­i­nant­ly Lat­inx. Fol­low­ing a series of ICE raids in the late 2000s, African Amer­i­cans came to out­num­ber Lat­inxs once again in Tar Heel. Despite the industry's rep­u­ta­tion for gru­el­ing, male-dom­i­nat­ed work, women make up near­ly half the work­ers in depart­ments at cer­tain Smith­field plants, includ­ing bacon slice, cut floor and loin boning.
"

TIME IS MONEY"

If Smith­field has failed to pro­tect women from sex­u­al harass­ment on its meat­pack­ing lines, the rea­sons are close­ly linked to the demands of mass pro­duc­tion. Plants that slaugh­ter and process up to 35,000 hogs a day, like the Tar Heel plant, require a sophis­ti­cat­ed lev­el of coor­di­na­tion and work­er con­trol. Smith­field super­vi­sors — typ­i­cal­ly men — face intense pres­sure and scruti­ny from plant man­agers and super­in­ten­dents (high­er-lev­el super­vi­sors) to meet pro­duc­tion quo­tas. One work­er, Anna (who is a union stew­ard and was com­fort­able using her real first name), says she is expect­ed to cut a sir­loin about every sev­en sec­onds on the loin-bon­ing line.

Kei­th Lud­lum, the for­mer union pres­i­dent of the Smith­field plant in Tar Heel, tells me at his father's chick­en farm sev­er­al miles down the high­way that, ​"If a super­vi­sor doesn't meet their quo­ta or they're hav­ing issues, the super­in­ten­dent takes them behind closed doors and reams them."

Giv­en the mediocre pay — rough­ly $56,000 a year, accord­ing to Glass­door — and high pres­sure of super­vi­sor jobs, Lud­lum says, it's dif­fi­cult to retain peo­ple will­ing and capa­ble of super­vis­ing pro­duc­tion at Smith­field plants. (A col­lege degree is pre­ferred but not required for super­vi­sors.) Because of this, he says, Smithfield's human resources depart­ment often looks the oth­er way when super­vi­sors and super­in­ten­dents harass or abuse work­ers on their lines. ​"The man­age­ment is all about pro­duc­tion — num­bers," he says. ​"They under­stand that they can't have super­vi­sors doing cer­tain things, but if it's some­thing they can over­look because it's a good super­in­ten­dent who gets every­thing done, then they will do it."

Mon­i­ca (a pseu­do­nym) is 47 and has worked at Smith­field since the late 1990s. Talk­ing to HR ​"is like talk­ing to that door," she says, ges­tur­ing at the front door of an Arby's and shak­ing her head as she sips a straw­ber­ry milkshake.

Mon­i­ca mea­sures out 12- and 16-ounce stacks of bacon mov­ing down the assem­bly line for $16 an hour, and takes a dai­ly cock­tail of med­ica­tions to ease the phys­i­cal and emo­tion­al toll.

Mon­i­ca says HR has repeat­ed­ly ignored com­plaints from her and her cowork­ers about their super­vi­sor in the retail bacon depart­ment — one of the depart­ments named in the 2018 law­suits against the Vir­ginia plant. The super­vi­sor harass­es new hires, espe­cial­ly young women, she says, ask­ing them for their num­bers and to go on dates, and telling them if they report it to upper man­age­ment, he will deny it. He also gives ​"women he wants to sleep with" spe­cial perks like more approved absences, Mon­i­ca says. Since our ini­tial inter­view, Mon­i­ca says this super­vi­sor has been moved out of her depart­ment. Things have got­ten bet­ter, she says.

Bath­room breaks are a point of ten­sion between work­ers and super­vi­sors. In Octo­ber 2018, a video of a Smith­field work­er unzip­ping his pants and pee­ing on the pro­duc­tion line in Vir­ginia went viral, send­ing the inter­net into brief out­rage over Smithfield's health stan­dards. Anna, the shop stew­ard, says Smith­field asks line work­ers at the Tar Heel plant to request bath­room breaks 30 min­utes in advance. ​"Since we're in pro­duc­tion, time is mon­ey," she says. ​"It's ridicu­lous. How am I sup­posed to know if I need to go to the bath­room in 30 minutes?"

As for absences, meat­pack­ers at the Vir­ginia plant are only allowed six each year. Work­ers are fired for miss­ing work due to unavoid­able cir­cum­stances such as extreme weath­er con­di­tions or ill­ness, even if doc­u­ment­ed with a doctor's note, accord­ing to tes­ti­mo­ny from sev­er­al workers.

"I'm so sick of that place; I don't know what to do," says Mon­i­ca. Her friend, who also works at Smith­field, nods along. Smith­field denies all of the work­ers' alle­ga­tions of harass­ment and unfair bath­room break and leave poli­cies, say­ing the com­pa­ny com­plies with OSHA and FMLA regulations.

A few work­ers said they are hap­py with their jobs at Smith­field. For those who were not, such as Mon­i­ca, the thing keep­ing them there was, of course, mon­ey. The union plants pay line work­ers between $14 and $18 an hour with ben­e­fits, an improve­ment from the $7.25 min­i­mum wage offered at many of the fast-food restau­rants and dol­lar stores preva­lent in the rur­al South­east that hire work­ers out of high school.
"

BLOOD, SWEAT AND TEARS"

Beyond sex­u­al harass­ment and strict break and leave poli­cies, the demands of meet­ing pro­duc­tion quo­tas and keep­ing up the line speed have phys­i­cal implications.

Sev­er­al of the women inter­viewed by In These Times had under­gone hand surg­eries. Anna began work­ing at a Smith­field plant two-and-a-half years ago, after divorc­ing her hus­band on the West Coast, where she worked on an Army base. Anna cuts pork sir­loins on the loin-bon­ing line and has had her hands oper­at­ed on twice for carpal tun­nel and once for trig­ger fin­ger, surg­eries that were cov­ered by work­ers' com­pen­sa­tion. She soaked her hands in Epsom salts at night to ease the pain. Before the surg­eries, ​"my pain was excru­ci­at­ing," she told me, run­ning her fin­gers over a long scar on the palm of her hand at her apart­ment on the edge of a sprawl­ing city in North Carolina.

Some Smith­field injuries have been fatal.

On Oct. 9, 2018, Michael Jes­sup, a 55-year-old mechan­ic at the Tar Heel plant, was repair­ing a con­vey­or belt when he died from ​"a punc­ture wound to the ster­num area," accord­ing to a report from the local sheriff's office. Smithfield's Lom­bar­do called this descrip­tion ​"inac­cu­rate" (but was unable to pro­vide fur­ther detail) and stressed that Smith­field has ​"con­sis­tent­ly out­per­formed our indus­try peers" on safety.

"One thing I have learned in deal­ing with all of this is no one actu­al­ly gives a fuck, and no mat­ter how hard we work, no mat­ter the blood, sweat and tears, no one cares," Jen­ny wrote to In These Times. ​"The buck will always be passed and the poor per­son will always lose."

Car­ol Adams, author of The Sex­u­al Pol­i­tics of Meat: A Fem­i­nist-Veg­e­tar­i­an Crit­i­cal The­o­ry and a fem­i­nist schol­ar who has writ­ten exten­sive­ly on the meat indus­try, sees the deval­u­a­tion of lives at Smith­field — both those of hogs and those of work­ers — as close­ly linked forms of cap­i­tal­ist exploita­tion. ​"There's a numb­ing effect in meat­pack­ing work that ben­e­fits the pro­duc­er," Adams says. ​"The entire plant is about not car­ing. It's the indus­tri­al mod­el of alien­ation from your­self and your cowork­ers, so you can do that work."

Lud­lum, the for­mer union pres­i­dent at the Tar Heel plant, agrees: ​"When you're used to see­ing dead ani­mals, ani­mals killed, ani­mals com­ing in muti­lat­ed, crip­pled, blood, guts, meat — when you see this every day, you become some­what numb, even to your cowork­ers. It amazes me what the human mind will accept."
A KAFKAESQUE COM­PLAINT SYSTEM
To get around unre­spon­sive HR depart­ments, work­ers can file com­plaints with the EEOC, the fed­er­al agency tasked with enforc­ing sex­u­al harass­ment laws in the work­place, as the nine women at the Smith­field, Va., plant did.
But work­ers in low-wage indus­tries often decide that the emo­tion­al and logis­ti­cal costs of fil­ing a com­plaint with the EEOC out­weigh the poten­tial gains.
"It's a big com­mit­ment of time," says Anna Park, the lead EEOC lawyer in the Los Ange­les area who rep­re­sents low-wage work­ers in sex­u­al harass­ment cas­es. ​"If you're wor­ried about your next pay­check and feed­ing your fam­i­ly, this is not your pri­or­i­ty. Low-skilled work­ers are less like­ly to come for­ward. They feel like they won't be believed, or that they'll be retal­i­at­ed against."
"Bureau­cra­cy is the key word with the EEOC," says Ber­nice Yeung. ​"The EEOC is real­ly ded­i­cat­ed to work­ing with low-wage work­ers. They've done lots of train­ing with employ­ers who hire low-wage work­ers, but attor­neys and work­ers have been frus­trat­ed with how long the legal process takes."
Since 2016, sex­u­al harass­ment com­plaints filed with the EEOC have increased by 12 per­cent, large­ly in response to the #MeToo move­ment. But more than half of these cas­es are dis­missed by the EEOC for lack­ing ​"rea­son­able cause" — suf­fi­cient evi­dence for the agency to take on a case. That deter­mi­na­tion can take months. The EEOC requires evi­dence that harass­ment occurred, which can include for­mal com­plaints or tes­ti­mo­ny from wit­ness­es. The agency also assess­es the cred­i­bil­i­ty of the accuser and the wit­ness­es. At the same time, it inves­ti­gates whether an employ­er prop­er­ly han­dled a case— whether it kept records and inter­viewed the alleged abuser and oth­er wit­ness­es. Of cas­es the EEOC does take, most set­tle with­out going to trial.
Crit­ics com­plain that the EEOC deters vic­tims of sex­u­al harass­ment from fil­ing law­suits and puts pres­sure on work­ers to set­tle out of court — which near­ly always involves nondis­clo­sure agree­ments that some argue pro­tect employ­ers and silence victims.
Yeung says that some women in low-wage indus­tries ini­tial­ly felt left out of the #MeToo move­ment despite their own decades of strug­gle against sex­u­al harass­ment. ​"When #MeToo start­ed, it was women in glam­orous pro­fes­sions, and there was a sense of frus­tra­tion espe­cial­ly among [lowwage work­ers]," she says.
Over time, #MeToo has become more inclu­sive and picked up trac­tion among unions and work­er cen­ters rep­re­sent­ing low-wage work­ers, Yeung says. ​"We're see­ing an expan­sion of the con­ver­sa­tion. We're see­ing hotel work­ers, domes­tic work­ers, jan­i­tors and the Coali­tion of Immokalee Work­ers tak­ing the ini­tia­tive to demand change."
POW­ER IN A UNION
Unions can pro­vide an impor­tant mech­a­nism for defend­ing work­ers who are sex­u­al­ly harassed by their super­vi­sors. Con­tracts can include lan­guage pro­tect­ing work­ers from sex­u­al harass­ment, allow work­ers to file griev­ances, man­date sex­u­al harass­ment train­ing for super­vi­sors and require that employ­ers cre­ate anti­ha­rass­ment poli­cies. Union stew­ards can then be select­ed and trained to han­dle sex­u­al harass­ment griev­ances and encour­age work­ers to speak out.
But whether sex­u­al harass­ment poli­cies and pro­tec­tions are effec­tive in pro­tect­ing work­ers varies by union local and is large­ly deter­mined by the local's culture.
"The biggest chal­lenge is in tra­di­tion­al­ly male indus­tries," says KC Wag­n­er, direc­tor of work­place issues at Cor­nell University's labor school, who leads sex­u­al harass­ment train­ings around the coun­try. ​"Unions are just a micro­cosm of our cul­ture, and even if women are in lead­er­ship posi­tions, the cul­tur­al norm is such that these tra­di­tions of harass­ment are not being tak­en seriously."
Lud­lum says that, when he was pres­i­dent of his local in Tar Heel, he would receive com­plaints about super­vi­sors inap­pro­pri­ate­ly touch­ing women and bring them before man­age­ment, at least once result­ing in a super­vi­sor being moved out of the depart­ment. (Lud­lum, a leader of the ini­tial union dri­ve, was removed from the pres­i­den­cy in 2015 after a UFCW audit found that he had embez­zled $216,344 from the union. Lud­lum dis­putes the charges and has sued UFCW for defamation.)
Lead­er­ship at the UFCW and Team­sters locals rep­re­sent­ing Smith­field work­ers in North Car­oli­na and Vir­ginia, respec­tive­ly, did not return calls to speak about sex­u­al harass­ment at their plants. A press spokesper­son for the Inter­na­tion­al Broth­er­hood of the Team­sters said only that the Smith­field local ​"works close­ly with our mem­bers … to ensure a safe, harass­ment-free work envi­ron­ment." The cur­rent UFCW con­tract at the Tar Heel plant does not have a clause about sex­u­al harass­ment; In These Times was unable to obtain a copy of the Team­sters contract.
But Anna, the UFCW stew­ard at the Tar Heel plant, did tell In These Times that women stew­ards at the plant have begun month­ly meet­ings to dis­cuss sex­u­al harass­ment pre­ven­tion. She also says she recent­ly assist­ed in a sex­u­al harass­ment com­plaint. Smith­field Foods' Lom­bar­do says that it has received no ​"recent or pend­ing" sex­u­al harass­ment griev­ances from unions at any of its plants.
Some of the Tar Heel work­ers inter­viewed were grate­ful for UFCW's work fight­ing for fired work­ers. Thanks to the union, one work­er said, she was rehired with 3.5 months back pay after a wrong­ful termination.
Sev­er­al work­ers inter­viewed at the Vir­ginia plant, how­ev­er, com­plained that their Team­sters union only served to drain their pay­checks. Mon­i­ca doubts the union leadership's will­ing­ness to fight for work­ers on sex­u­al harass­ment issues, or any oth­er con­cerns. ​"They don't pick up the phone, and half the time they don't call you back," she says. Mon­i­ca and anoth­er work­er inter­viewed had opt­ed out of the union entire­ly, which was pos­si­ble because of Virginia's right-to-work law.
The union ​"don't do too much of noth­ing," says Michelle (a pseu­do­nym), a 47-year-old with chron­ic health issues. She says she was fired from the Vir­ginia plant in Novem­ber 2018 after leav­ing ear­ly dur­ing a ver­ti­go spell. She cites her frus­tra­tion over the six-day absence pol­i­cy, say­ing she had been writ­ten up for arriv­ing late to work after her nephew's funer­al. She says the union did not help her get her job back. Get­ting writ­ten up for an absence is ​"at the dis­cre­tion of the super­vi­sor," she says. ​"If you're not chum­my with the super­vi­sor, you real­ly don't have a job. … But life hap­pens. … Peo­ple get sick."
KC Wag­n­er says that many unions across the coun­try are mak­ing enor­mous strides to edu­cate work­ers about sex­u­al harass­ment, begin­ning to treat it as a ​"breadand-but­ter issue" along­side wages, ben­e­fits and job secu­ri­ty. In the wake of #MeToo, the AFL-CIO led the way with a wealth of resources, work­shops and cam­paigns for mem­bers to imple­ment at the local level.
"In an anti-union cli­mate, it's incred­i­bly impor­tant for unions to seize this [#MeToo] moment," Wag­n­er says.
Esther Lopez, a for­mer sec­re­tary trea­sur­er of UFCW Inter­na­tion­al, says the union offers sex­u­al harass­ment train­ings to locals across the coun­try, includ­ing work­shops for union stew­ards on how to han­dle sex­u­al harass­ment griev­ances. But they remain option­al for locals, which have auton­o­my over their mem­ber­ship poli­cies. Lopez says that bring­ing women into lead­er­ship roles is crit­i­cal to shift­ing union cul­ture around sex­u­al harass­ment. She also stress­es that mak­ing work­ers aware of their rights and writ­ing stronger sex­u­al harass­ment claus­es into con­tracts can pro­tect workers.
"There's no ques­tion some local unions do it bet­ter than oth­ers," says Lopez. ​"But frankly, we applaud expos­ing sex­u­al harass­ment in the work­place. We are very clear that the con­tract should be used to the fullest extent to pre­vent against sex­u­al harassment."
Michelle, who worked on a bacon slicer, check­ing for stray pieces of bone, says, ​"The union gets your mon­ey and they don't help you out. It's a load of hogwash."
She says that, due to health issues, she hasn't been able to find a job since she was fired. ​"It's a ​'good old boys' sys­tem in there," she says of Smith­field. ​"If you're not young and cute and shape­ly and you don't grin in their face, then they don't like you.
"You got Har­vey Wein­stein up there, but you also got Smith­field, and that's a bil­lion-dol­lar indus­try," she said dur­ing a con­ver­sa­tion with In These Times in ear­ly 2019. ​"They kept a super­vi­sor there who's a harass­er because he was turn­ing out the num­bers. Come on now. That's a shame."
Lau­ren Kaori Gur­ley
is a staff writer at VICE's Moth­er­board on the labor beat. She is a for­mer con­tribut­ing writer to Rur­al Amer­i­ca In These Times and In These Times intern. You can fol­low her on Twit­ter @laurenkgurley.