What We Don't Talk About When We Talk About Rural Poverty
Unemployment, depopulation and the legacy of slavery in Jefferson County, Miss.
JEF­FER­SON COUN­TY, MISS. — In 2001, Michael Muham­mad, a 45-year-old bak­er from Detroit, moved 1,000 miles south to rur­al Fayette, Miss. Muham­mad saw oppor­tu­ni­ty in the town's cheap land, low prop­er­ty tax­es and small but tight-knit African-Amer­i­can Mus­lim com­mu­ni­ty. He and sev­er­al oth­er fol­low­ers of the New Nation of Islam pooled their resources for what would be the town's only bak­ery — and in 2004, Fayette Bak­ery and Cof­fee Shop opened for business.
Like many former slave plantation counties, Jefferson County is divided into two distinct classes: a land-owning elite that is both Black and white, and a large, impoverished majority that is almost entirely African-American.
But busi­ness was slow, and Muham­mad soon began pick­ing up night shifts at a motel in a neigh­bor­ing coun­ty. To increase sales, his employ­ees took turns dri­ving a food truck from Jack­son to Baton Rouge, sell­ing frit­ters, donuts and bean pies. Muham­mad real­izes today that local spend­ing will prob­a­bly nev­er be enough to sup­port the bak­ery. In 2012, retail spend­ing for the year in Jef­fer­son Coun­ty, pop­u­la­tion 7,507, amount­ed to less than $2,900 per person.
Fayette is the only incor­po­rat­ed town in Jef­fer­son Coun­ty, Miss., the third least pop­u­lous coun­ty in Mis­sis­sip­pi and the six­teenth poor­est in the coun­try. Its unem­ploy­ment rate is the sec­ond high­est in the state. But it defies the stereo­type of rur­al pover­ty in at least one impor­tant way: Of the 3,143 coun­ties in the Unit­ed States, Jef­fer­son Coun­ty has the high­est per­cent­age of cit­i­zens who are African Amer­i­cans (85 per­cent of the county's pop­u­la­tion in 2013).
Media rep­re­sen­ta­tions of Black pover­ty typ­i­cal­ly spot­light the seg­re­gat­ed inner cities of the Mid­west and Mid-Atlantic, like Chica­go, Detroit and Bal­ti­more. But less than half of the African-Amer­i­can pop­u­la­tion in the Unit­ed States resides in cities. Sub­urbs and exurbs are home to 43 per­cent of black Amer­i­cans, while 14 per­cent live in rur­al areas. That 14 per­cent has a pover­ty rate of approx­i­mate­ly 34 per­cent — twice as high as that of rur­al whites. Nation­wide, African Amer­i­cans have a 24 per­cent pover­ty rate, while whites have a 12 per­cent pover­ty rate. Sim­i­lar­ly, met­ro­pol­i­tan blacks have a 25 per­cent pover­ty rate and metro whites 12 percent.
Like­wise, recent pub­lic­i­ty giv­en to rur­al pover­ty in the Unit­ed States has been lim­it­ed to a dis­cus­sion of white Trump sup­port­ers. Judg­ing from these accounts, one might imag­ine rur­al Amer­i­ca as a sea of unbro­ken white. In fact, Black peo­ple (who over­whelm­ing­ly vote Demo­c­ra­t­ic) make up near­ly 20 per­cent of the rur­al poor.
In Octo­ber, In These Times trav­eled to Jef­fer­son Coun­ty, and spoke with both coun­ty res­i­dents and nation­al experts on the con­di­tions of rur­al Black pover­ty. Mil Dun­can, a rur­al soci­ol­o­gist at the Uni­ver­si­ty of New Hamp­shire who has done exten­sive pover­ty field­work in the Mis­sis­sip­pi Delta, Appalachia and New Eng­land, says that white pover­ty and Black pover­ty in the South are more alike than dif­fer­ent. ​"Nonethe­less," she adds, Black peo­ple in the South face ​"the addi­tion­al bur­den of real, inescapable racism. … Poor rur­al Blacks in the South were always exclud­ed from decent schools and good jobs, and the lega­cy of that dis­crim­i­na­tion endures today."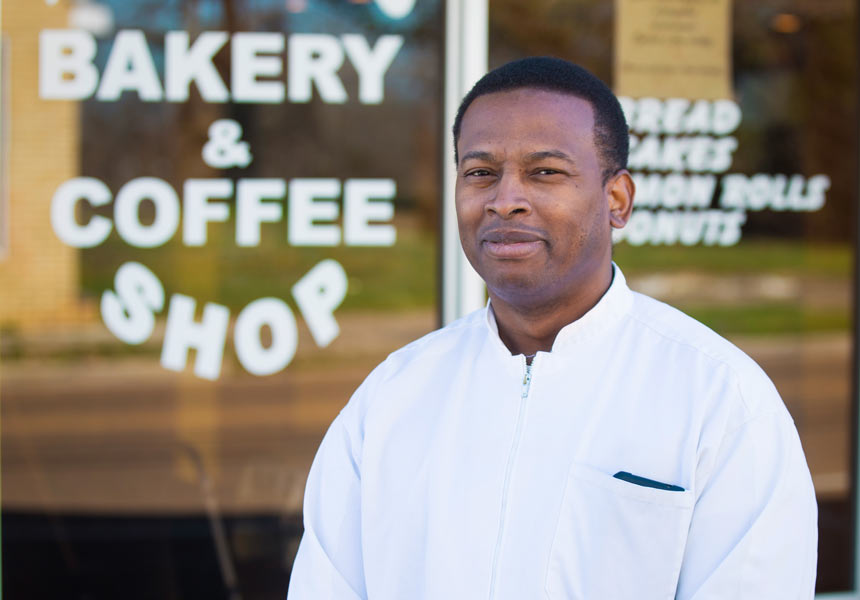 Michael Muham­mad out­side of his bak­ery and cof­fee shop. (Imani Khayyam)
Scrap­ing and scrapping
Dur­ing the 20th cen­tu­ry, Jef­fer­son Coun­ty lost more than two-thirds of its pop­u­la­tion, which peaked at 21,000 in 1900. Apart from Fayette, the coun­ty is made up of sev­en unin­cor­po­rat­ed com­mu­ni­ties and a hand­ful of ghost towns. A Google search of ​"Jef­fer­son Coun­ty, Mis­sis­sip­pi" returns few hits, aside from a few web­sites about South­ern his­to­ry and geneal­o­gy and the home­page of the coun­ty government.
For L.C. Whis­tle, 60, who was born and raised in Jef­fer­son Coun­ty, it's clear what caused the exo­dus. ​"There ain't been no jobs," he says. These days he col­lects and sells old car parts and machin­ery to recy­cling plants. In the 1960s, res­i­dents remem­ber, one of the county's largest employ­ers, an auto deal­er­ship, moved away. More than 40 years lat­er, the coun­ty has yet to attract new indus­try. This leaves most res­i­dents with three options: Leave, take a min­i­mum wage job or (like Whis­tle) find infor­mal work. ​"You might make enough to live," says Whis­tle, ​"but you ain't gonna get rich."
Sher­iff Peter E. Walk­er, who is Black and has served Jef­fer­son Coun­ty for six con­sec­u­tive four-year terms, argues that chron­ic pover­ty in Jef­fer­son Coun­ty is a symp­tom of the community's low work eth­ic and depen­dence on wel­fare. ​"Those who real­ly want to work — they do work, even if they have to go out of town to work," Walk­er tells In These Times. ​"But then we have those who real­ly don't desire to work, they just hang out on gov­ern­ment assis­tance, do what­ev­er they can to make a dol­lar. Drug deal­ing is some of it."
In 2011, 31 per­cent of Jef­fer­son Coun­ty res­i­dents received food stamps, com­pared to 14 per­cent nation­al­ly. The jail incar­cer­a­tion rate in Jef­fer­son Coun­ty is more than 19 times the nation­al aver­age, accord­ing to the Vera Insti­tute of Justice.
Walk­er says that the solu­tion lies in shift­ing the community's val­ues towards self-reliance and action. ​"I'm hop­ing that one day the trend of fam­i­lies … instill­ing in our chil­dren to be depen­dent on the gov­ern­ment for sup­port, that that will change," he says.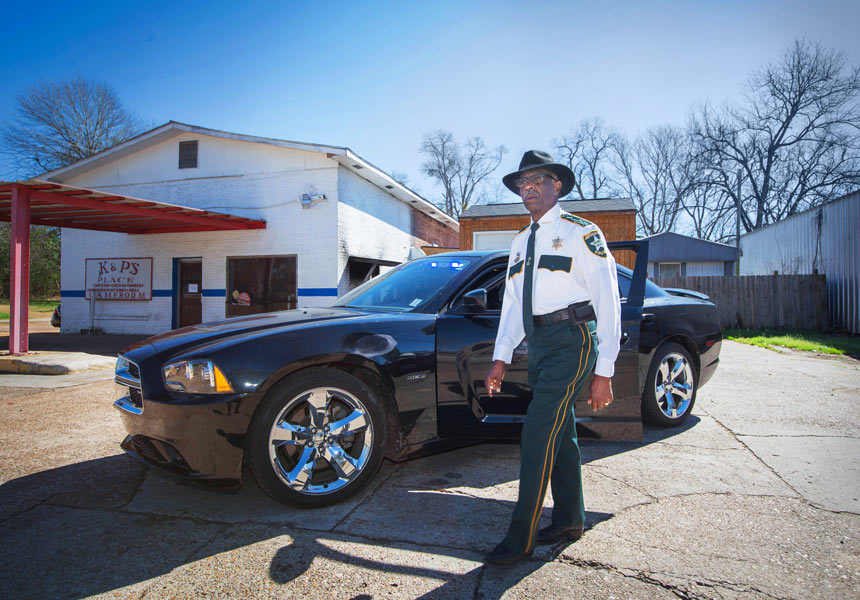 Sher­iff Peter E. Walk­er has served Jef­fer­son Coun­ty for six con­sec­u­tive four-year terms. (Imani Khayyam)
Walker's argu­ment is referred to in the social sci­ences as the ​"cul­ture of pover­ty" the­o­ry — that the poor are steeped in a cul­ture of hope­less­ness, depen­den­cy and igno­rance, passed down through the gen­er­a­tions. Through­out the 1980s and 90s, the the­o­ry trick­led into the main­stream polit­i­cal debate, gain­ing trac­tion in the anti-wel­fare plat­forms of both Demo­c­ra­t­ic and Repub­li­can politi­cians. The degrad­ing label of ​"wel­fare queen," first coined by a Chica­go Tri­bune reporter, became a favorite of Pres­i­dent Ronald Rea­gan in his cru­sade to dis­man­tle New Deal pro­gram­ming, a move that would impact both poor whites and poor Blacks. Many social sci­en­tists and activists crit­i­cized the ​"cul­ture of pover­ty" the­o­ry for demo­niz­ing the poor as lazy and free­load­ing, and for over­look­ing the role of insti­tu­tion­al and struc­tur­al forces in the per­pet­u­a­tion of poverty.
Those insti­tu­tion­al forces are read­i­ly appar­ent in the rur­al South, where the lega­cy of slav­ery con­tin­ues to vis­i­bly shape the econ­o­my. Like many for­mer slave plan­ta­tion coun­ties along the Mis­sis­sip­pi Riv­er, Jef­fer­son Coun­ty is divid­ed into two dis­tinct class­es: a land-own­ing elite that is both Black and white, and a large, impov­er­ished major­i­ty that is almost entire­ly African-Amer­i­can. In 2015, few­er than 1 per­cent of Jef­fer­son County's white res­i­dents lived below the pover­ty line, com­pared to 56.1 per­cent of Black residents.
White descen­dants of plan­ta­tion own­ers make up most of the landown­ing elite in Mis­sis­sip­pi, accord­ing to Mar­vin King, a pro­fes­sor of polit­i­cal sci­ence at the Uni­ver­si­ty of Mis­sis­sip­pi in Oxford. But he notes that the 20th cen­tu­ry saw the rise of a small Black mid­dle class, some of whom acquired large estates in Jef­fer­son County.
Oui­da Pittman is one of these excep­tions. Her father — an African-Amer­i­can school­teacher — inher­it­ed an estate from his father, a clever busi­ness­man, that includ­ed sev­er­al lakes and hun­dreds of rolling acres of corn, cot­ton, but­ter­beans, sweet pota­to and okra. The Pittmans raised and butchered hogs for pork-chops, bacon and smoked sausage. ​"The town always thought my fam­i­ly was rich," says Pittman, who today makes a mod­est liv­ing as a child­care provider. Her fam­i­ly no longer farms, instead hold­ing their land for per­son­al use. Still, they remain rel­a­tive haves in a com­mu­ni­ty of have-nots.
The con­cen­tra­tion of land own­er­ship shaped Jef­fer­son Coun­ty, con­tribut­ing to a vicious cycle of lim­it­ed job oppor­tu­ni­ties, low edu­ca­tion lev­els and low pop­u­la­tion den­si­ty that can be found in much of the rur­al South. Wes­ley Whit­tak­er, a pro­fes­sor of agri­cul­ture at Alcorn State Uni­ver­si­ty, a his­tor­i­cal­ly black land-grant insti­tu­tion in Lor­man, Miss., says that land­hold­ing elites have long pre­vent­ed eco­nom­ic devel­op­ment in the region by restrict­ing the land to forestry and per­son­al use instead of pro­vid­ing oppor­tu­ni­ties for devel­op­ment and farm­ing that could bring jobs to the area.
"You have very large landown­ers in this par­tic­u­lar area," Whit­tak­er says. ​"Some­body who grows forestry will keep the land [restrict­ed] for years, reap­ing the tim­ber. And after they reap it, it takes a long time until they can con­vert it into crop­land, so there's not a lot of rur­al crops."
This small group of landown­ers also retained a stran­gle­hold over local polit­i­cal pow­er. ​"The [plan­ta­tion own­ers] were wor­ried about unions and about civ­il rights orga­niz­ing, and so they delib­er­ate­ly kept many peo­ple from get­ting an edu­ca­tion or from par­tic­i­pat­ing in civic life," says Dun­can, the pro­fes­sor of soci­ol­o­gy at the Uni­ver­si­ty of New Hamp­shire. ​"In the ear­ly 1990s, there was still very real exclu­sion of African Amer­i­cans from civic life [in rur­al Mis­sis­sip­pi]. If they worked for change, they would be punished."
Exo­dus begins
In the 1930s, Blacks fled Mis­sis­sip­pi in large num­bers, hop­ing to escape the insti­tu­tion­al­ized racism of Jim Crow and find union­ized man­u­fac­tur­ing jobs in north­ern indus­tri­al cities. By the 1940 cen­sus, the state had become major­i­ty white for the first time. Between the 1960s and 1990s, fed­er­al civ­il rights leg­is­la­tion and fears of forced inte­gra­tion accel­er­at­ed white flight from major­i­ty-Black coun­ties like Jef­fer­son Coun­ty. As a result, the state's rur­al Black pop­u­la­tion grew small­er but more con­cen­trat­ed, leav­ing Black com­mu­ni­ties vul­ner­a­ble to neglect and dis­in­vest­ment from the state.
In today's deeply seg­re­gat­ed rur­al South, where Blacks often do not come into direct dai­ly con­tact with whites, racism oper­ates in the dis­crim­i­na­to­ry allo­ca­tion of state and fed­er­al fund­ing. Since 1999, Black com­mu­ni­ties in the state have received bil­lions of dol­lars in set­tle­ments for cas­es involv­ing dis­crim­i­na­tion in the state's high­er edu­ca­tion sys­tem and in the allo­ca­tion of farm sub­si­dies. In 2015, a white state rep­re­sen­ta­tive in Mis­sis­sip­pi made a state­ment imply­ing that schools in African-Amer­i­can com­mu­ni­ties didn't deserve addi­tion­al fund­ing because ​"all the blacks are get­ting food stamps and what I call ​'wel­fare crazy checks.' " Because many white fam­i­lies opt out of the pub­lic school sys­tem, Blacks make up a dis­pro­por­tion­ate per­cent­age of the stu­dents in Mis­sis­sip­pi pub­lic schools — which rank fifth low­est nation­al­ly in annu­al spend­ing per stu­dent, at $8,263. And in a March 2016 report, the U.S. Com­mis­sion on Civ­il Rights found that Mis­sis­sip­pi was lim­it­ing Black com­mu­ni­ties' access to fed­er­al­ly sub­si­dized child­care services.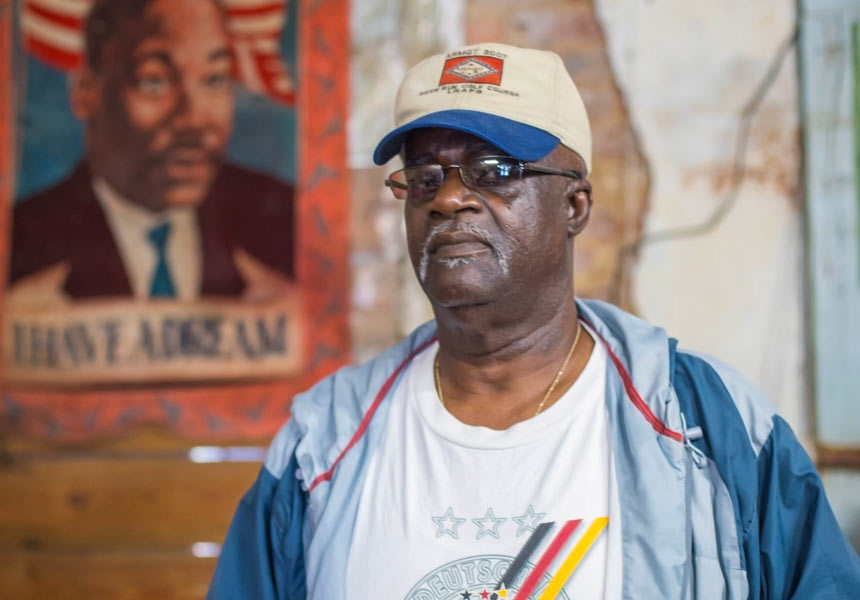 Clarence Hill, 65, stands in Fayette Help­ing Hands, the com­mu­ni­ty orga­ni­za­tion and cloth­ing shop he runs. (Imani Khayyam)
Choos­ing to stay
The decades-long north­ward migra­tion of Blacks was spurred in large part by the brazen— and vio­lent — racism of the South. Clarence Hill, 65, remem­bers those days. ​"It used to be you see a white per­son com­ing down [the side­walk], and you bet­ter get out on that road," says Hill.
Hill is a retired truck dri­ver who now runs a sec­ond­hand cloth­ing shop in Fayette. His moth­er — a share­crop­per — sin­gle­hand­ed­ly raised him and his sev­en sib­lings while his father served a 10-year prison sen­tence for rob­bing and assault­ing a white man.
Hill recalls lynch­ings in the coun­ty as recent­ly as the 1960s. ​"A lot of peo­ple got hung in that cour­t­house," Hill says, ges­tur­ing down Main Street in Fayette. In Hill's shop hangs a dark, fad­ed poster of Mar­tin Luther King Jr., look­ing out in front of an Amer­i­can flag.
Things are dif­fer­ent now, he says. "[The racism here] isn't as bad as it used to be. They got it more cov­ered up now."
The exo­dus from Jef­fer­son Coun­ty con­tin­ues, but these days, the pri­ma­ry rea­sons are eco­nom­ic. Priscil­la Hous­ton, a 23-year-old Jef­fer­son Coun­ty native, says that grow­ing up, she and her friends dreamed of mov­ing to cities like Atlanta and Mem­phis. "[My friends] say, ​'I can't wait to leave Fayette.' I've said that sev­er­al times." As they got old­er, both of her broth­ers moved to more pop­u­lous parts of the South. Those who leave for col­lege often nev­er return.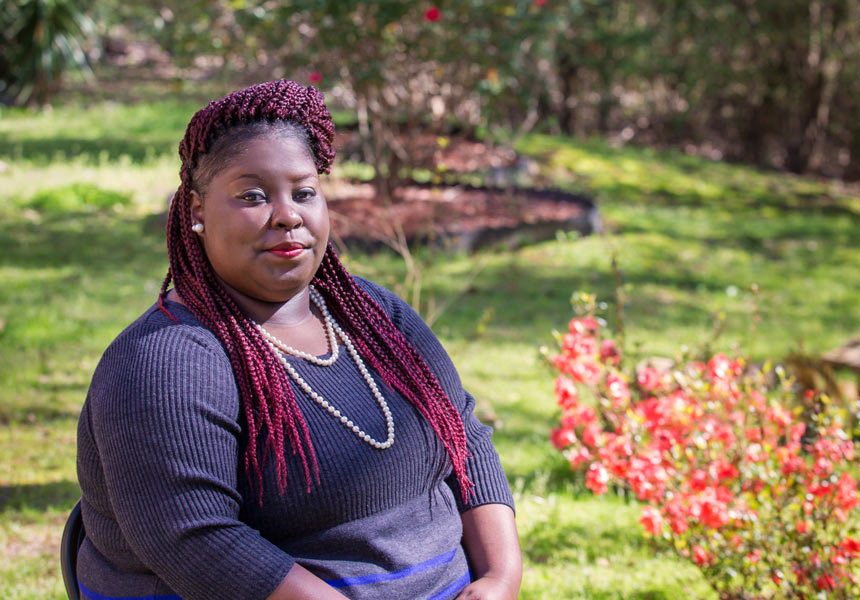 Priscil­la Hous­ton sits in Fayette, Miss. (Imani Khayyam)
Hous­ton is an excep­tion. After grad­u­at­ing from the Uni­ver­si­ty of South­ern Mis­sis­sip­pi in 2015, she decid­ed to move back in with her par­ents in Fayette, where she began work­ing a min­i­mum wage job at a local day­care cen­ter. She missed the hos­pi­tal­i­ty of Fayette, she says.
Clarence Hill says he has con­sid­ered leav­ing. ​"It ain't that I love it here," he says. ​"But I got every­thing here; there ain't no sense in start­ing over."
The pub­li­ca­tion of this sto­ry was sup­port­ed by a grant from the Mar­guerite Casey Foundation's Equal Voice Jour­nal­ism Fel­low­ship Award.
Lau­ren Kaori Gur­ley
is a staff writer at VICE's Moth­er­board on the labor beat. She is a for­mer con­tribut­ing writer to Rur­al Amer­i­ca In These Times and In These Times intern. You can fol­low her on Twit­ter @laurenkgurley.