New­ly­weds Jason Roach and Jes­si­ca Cantrell are dri­ving on Inter­state 33 towards their home in Lan­cast­er, Ohio when they notice a police car flash­ing its lights behind them. Their three young chil­dren sit in the back­seat, and a five-ounce ball of hero­in that the cou­ple picked up in Colum­bus lies in a dia­per bag in plain sight. Jason, 37, has two felonies on his record for cred­it card theft and assault, and Jes­si­ca, 25, has served time for deal­ing hero­in. After their arrests, sit­ting in the back of the police car, Jason begins to cry as he pleads with the police offi­cer, ​"I'm tryin' to take care of my fam­i­ly, man! I'm fuckin' strug­glin' in life just like every­body else, man!" The police offi­cer does not offer his con­do­lences to Jason. Lat­er, in a Lan­cast­er court, a judge will rep­ri­mand Jason: ​"You are part of a much larg­er prob­lem, and it's disgusting."
Dis­gust and shame have come to define the atti­tudes of Lancaster's cit­i­zens towards ris­ing drug addic­tion and pover­ty in their once pros­per­ous town on the west­ern foothills of the Appalachi­an Moun­tains. But Bri­an Alexan­der in his new book Glass House: The 1% Econ­o­my and the Shat­ter­ing of the All-Amer­i­can Town makes the case that Lancaster's decline is not the result of indi­vid­ual ​"bad" deci­sions, like not using birth con­trol, drop­ping out of high school and get­ting addict­ed to opi­oids. Instead, it's the con­se­quence of dereg­u­la­to­ry eco­nom­ics on Wall Street that evis­cer­at­ed work­ing-class com­mu­ni­ties in small towns across the Unit­ed States.
In 1947, Forbes mag­a­zine ran a fea­ture arti­cle on Lan­cast­er, Ohio — argu­ing that the town was ​"the epit­o­me and apogee of the Amer­i­can free-enter­prise sys­tem." In its hey­day, Lan­cast­er, sit­u­at­ed ​"atop a sea of nat­ur­al glass," was home to the world's largest glass­ware man­u­fac­tur­er, the Anchor Hock­ing Glass Com­pa­ny. For decades, young Mid­west­ern cou­ples flocked to Lan­cast­er for good-pay­ing indus­tri­al jobs that required no more than a high school diplo­ma. ​"You couldn't spend more than a few days, even a few hours, in Lan­cast­er with­out some­body try­ing to indoc­tri­nate you as to why Lan­cast­er was an excep­tion­al town, and why liv­ing there was the same kind of lucky break as being born in Amer­i­ca." Even long after the hol­low­ing out of much of the country's man­u­fac­tur­ing indus­try in the 1970s and 1980s, Lan­cast­er con­tin­ued to thrive, pump­ing out 600,000 pieces of glass­ware a day.
Alexan­der, a Cal­i­for­nia-based human sex­u­al­i­ty reporter and author of Amer­i­ca Unzipped, seems an unlike­ly author­i­ty on Lan­cast­er, Ohio. (In Glass House, he car­ries over the obnox­ious habit of eval­u­at­ing the phys­i­cal attrac­tive­ness of each of his female sub­jects.) But his knowl­edge of the town stems from his upbring­ing in the boom­ing Lan­cast­er of the 1960s and 1970s, when can­dy shops, movie the­aters and even a depart­ment store lined Main Street. Alexan­der spent his teenage years scoop­ing ice cream at the local Baskin Rob­bins and hang­ing out pool­side at the Lan­cast­er Coun­try Club, at the time, a mid­dle-class com­mu­ni­ty cen­ter where the chil­dren of Anchor Hock­ing work­ers and boss­es played together.
But the Lan­cast­er that Alexan­der returns to in the 21st cen­tu­ry stands in sharp con­trast to its mid-cen­tu­ry coun­ter­part. ​"Vape shops, tat­too stu­dios, mat­tress stores, car title-loan offices, Dol­lar Gen­er­al, [and] Fam­i­ly Dollar…pepper the town." Lan­cast­er has earned a rep­u­ta­tion in the south­ern Ohio as ​"hero­in heav­en." Six­ty per­cent of preg­nant women test pos­i­tive for cocaine, opi­ates, meth and Xanax dur­ing pre­na­tal check­ups, yet one woman's pro­pos­al to build a drug rehab cen­ter is met with death threats. Eighty per­cent of sin­gle moth­ers with chil­dren under five live in pover­ty, and one in two stu­dents in the Lan­cast­er City School Dis­trict qual­i­fies for free or reduced lunch — though many do not accept it out of pride. As Bri­an Gos­sett, a 26-year old fourth-gen­er­a­tion Anchor Hock­ing fac­to­ry work­er tells Alexan­der, and many of Alexander's sub­jects who jug­gle two or three min­i­mum wage jobs reit­er­ate, ​"I'm as poor as shit."
Mir­ror­ing the decline of unions in the Unit­ed States, Anchor Hock­ing, for decades Lancaster's largest employ­er, has lost 80 per­cent of its jobs since its peak in the 1960s — today pro­vid­ing less than 1,200 jobs to Lancaster's 39,000 residents.
Lancaster's unwind­ing began in the late 1970s, when the cor­po­rate lead­er­ship of Anchor Hock­ing began to pri­or­i­tize stock val­ues over man­u­fac­tur­ing pro­duc­tiv­i­ty. In 1978, Anchor Hock­ing went pub­lic. The company's cor­po­rate exec­u­tives, who for the first time weren't based in Lan­cast­er, began pan­der­ing to the inter­ests of share­hold­ers and exec­u­tives. A series of Wall Street-run cor­po­ra­tions and pri­vate equi­ty firms increased prof­its and low­ered costs by fir­ing hun­dreds of Anchor Hock­ing work­ers, and slash­ing away at the wages and retire­ment funds, health­care ben­e­fits, and vaca­tion days for the remain­ing employ­ees — all while pay­ing them­selves mul­ti-mil­lion dol­lar salaries. Between 2011 and 2012, Anchor Hock­ing paid $54 mil­lion to the pri­vate equi­ty firm Monomoy Cap­i­tal Part­ners in div­i­dends and advi­so­ry fees, send­ing Anchor Hock­ing to bank­rupt­cy court. CEO John Shep­pard alone received $2,281,966 in 2012.
Anchor Hocking's cor­po­rate man­age­ment fre­quent­ly cor­nered union boss­es into agree­ing to low­er wages and reduced pay by threat­en­ing to shut­ter oper­a­tions entire­ly and find cheap­er labor else­where — an all-too-famil­iar ulti­ma­tum among the for­mer union strong­holds of the Rust Belt. In 2008, the com­pa­ny began bus­ing in undoc­u­ment­ed Mex­i­can work­ers to Lan­cast­er, and putting them up in high­way motels in a ploy to cir­cum­vent union wages. In 1985, the aver­age union employ­ee made $9.33 per hour, or $16 per hour in 2016 dol­lars with health ben­e­fits and robust retire­ment funds. By 2015, new hires earned $12 per hour. Many of those who bought health insur­ance took home less than $10,000 a year after union dues, so most just went with­out it.
As Sam Solo­man, one of the more can­did of Anchor Hocking's suc­ces­sion of CEOs, described the company's busi­ness mod­el, ​"It's not about mak­ing the prod­uct, it's about mak­ing the mon­ey appear and the 99 per­cent doesn't under­stand that."
At times, Glass House reads as if it were two books, one about the decline of a small Rust Belt town and the oth­er about cor­po­rate greed on Wall Street. This is a flaw to the extent that it makes for a jar­ring read. In the for­mer sec­tions, Alexan­der attempts to mim­ic the local dialect and mind­set, often resort­ing to cheap sen­ti­men­tal­i­ty, while reduc­ing his char­ac­ters to stereo­types. Mean­while, the sto­ry behind the Wall Street-led rav­aging of Anchor Hock­ing is writ­ten in the high­ly tech­ni­cal lan­guage of cor­po­rate finance.
Yet, this dis­con­nect between Lan­cast­er and Wall Street helps illu­mi­nate the absur­di­ty and injus­tice of hav­ing a few bankers earn mil­lions while thou­sands of work­ers lose their jobs and fall into pover­ty. Most of the Lan­cas­t­e­ri­ans who Alexan­der inter­views do not rec­og­nize the names of the CEOs and firms that have impov­er­ished their town when he men­tions them.
In fact, when Alexander's sub­jects con­tem­plate why Lan­cast­er has become so poor, rarely do peo­ple point fin­gers at cor­po­rate lead­er­ship. Instead they look clos­er to home. A munic­i­pal judge tells Alexan­der, ​"We've seen the wrong part of our soci­ety grow dra­mat­i­cal­ly in pop­u­la­tion, while the oth­er side is hav­ing to pay for that." When an unem­ployed work­er turns down a $30 offer from a local doc­tor to mow his lawn, the doc­tor uses it as proof that the ​"under­class just want to lie around col­lect­ing welfare."
Pres­i­dent Don­ald Trump's lat­est bud­get pro­pos­al for the com­ing fis­cal year sug­gests a sim­i­lar atti­tude towards the nation's poor. The Trump admin­is­tra­tion is push­ing for $800 bil­lion in cuts to Med­ic­aid, $192 bil­lion in roll­backs to the Sup­ple­men­tal Nutri­tion­al Assis­tance Pro­gram, or food stamps, and $272 bil­lion in reduc­tions to all wel­fare pro­grams over the next decade. If passed, each of these cuts would undoubt­ed­ly increase suf­fer­ing in Lan­cast­er, where the pop­u­la­tion is 94 per­cent white. Yet, in Novem­ber 2016, 61 per­cent of the county's res­i­dents vot­ed for Trump, putting Fair­field Coun­ty among Ohio's 82 coun­ties that went to Trump (out of a total of 88) in this tra­di­tion­al swing-state that was once flush with work­ing-class Democrats.
In Glass House, Alexan­der strug­gles to find a sat­is­fac­to­ry expla­na­tion for Lancaster's sup­port for gov­ern­ment aus­ter­i­ty, self-reliance and Right-wing pol­i­tics under expand­ing con­di­tions of pover­ty. Per­haps this is because he bare­ly touch­es on the Demo­c­ra­t­ic Party's strong ties to Wall Street and its cor­re­spond­ing fail­ure to pro­tect unions and unite the work­ing-class across racial lines. Instead, Alexan­der resorts to vague plat­i­tudes about nation­wide decline: ​"If you didn't adopt [this line of think­ing], you might be forced to con­sid­er the idea that some­thing had gone rot­ten in the heart of the all-Amer­i­can town — and, just maybe, in Amer­i­ca itself."
Read­ing between the lines, how­ev­er, it is clear the ori­gins of that rot lie elsewhere.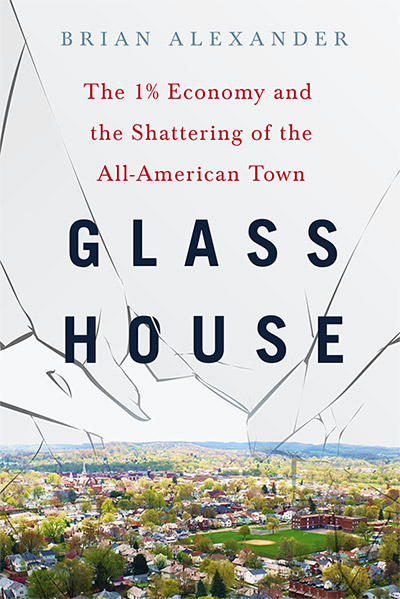 (Cov­er: Macmil­lan Pub­lish­ers Ltd.)