Beto O'Rourke Swings and Misses with Working-Class Michigan Voters
O'Rourke's tabletop tour can't hide his problematic record on workers' rights.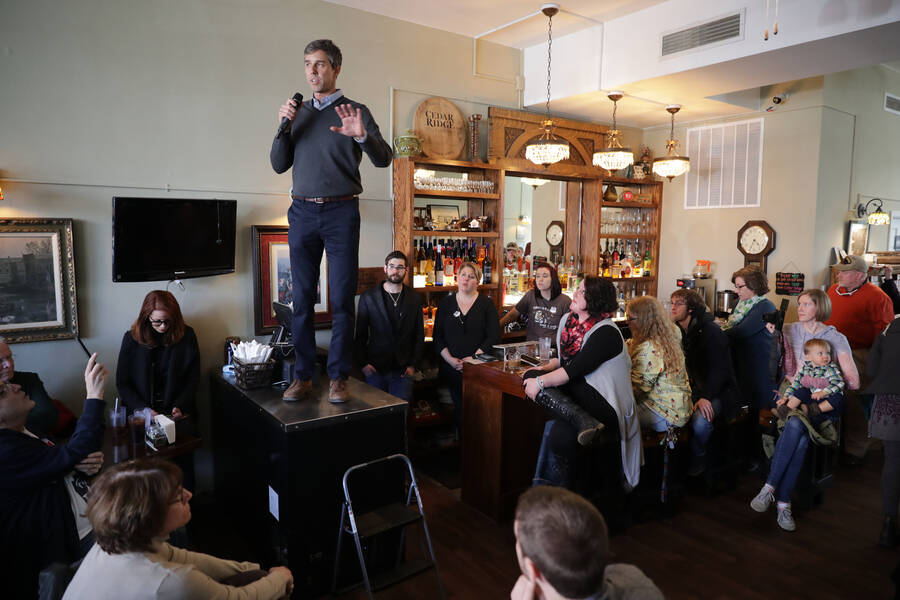 Demo­c­ra­t­ic pres­i­den­tial hope­ful Beto O'Rourke vis­it­ed Michi­gan last week. Shirt­sleeves care­ful­ly rolled up, he stood on table­tops across metro Detroit and deliv­ered his stump speech.
"He's real­ly good at his stump speech," says local union activist Diana Hus­sein, who seemed unim­pressed. ​"If Trump is the Twit­ter pres­i­dent, Beto is the Pin­ter­est candidate."
Indeed, many of the rum­blings from O'Rourke's Michi­gan vis­it show vot­ers skep­ti­cal of a pres­i­den­tial can­di­date who is on the cov­er of Van­i­ty Fair, yet couldn't beat Ted Cruz in his home state. These vot­ers, large­ly work­ing-class, aren't the type to pick up Van­i­ty Fair at their local Mei­jer store, and appear more inter­est­ed in find­ing out whether a can­di­date will be a strong cham­pi­on for poli­cies that actu­al­ly ben­e­fit work­ing people.
When O'Rourke showed up at the Detroit Car­pen­ters Appren­tice­ship School (a trade school in near­by Fer­n­dale), many union work­ers didn't know who he was, despite being told about his vis­it in advance. When he walked in, entourage in tow, the gen­er­al response was, ​"Who's that?"
"They didn't rec­og­nize him," says Steve McCool, a floor lay­er instruc­tor at the trade school and mem­ber of the Michi­gan Region­al Coun­cil of Car­pen­ters and Mill­wrights Local 1045.
McCool, how­ev­er, did say that union mem­bers want to see a pres­i­den­tial can­di­date who will sup­port them, and who will boost trade schools. ​"I was told to go to col­lege or go to the mil­i­tary," says McCool. ​"And I'm not that per­son. It just wasn't for me. I'm glad there's anoth­er option. I found this at 24. I wish I would've found it earlier."
Lisa Cana­da, Polit­i­cal and Leg­isla­tive Direc­tor at Michi­gan Region­al Coun­cil of Car­pen­ters and Mill­wrights, agrees that stand­ing unequiv­o­cal­ly on the side of work­ers' rights is a crit­i­cal task of secur­ing union mem­bers' sup­port. ​"We sup­port can­di­dates who sup­port our val­ues and our issues, includ­ing strong appren­tice­ship pro­grams, safe job sites, pre­vail­ing wage, and repeal­ing so-called Right-to-Work laws," Cana­da says in a state­ment to In These Times. ​"Work­ing fam­i­lies deserve an econ­o­my and a gov­ern­ment that sup­port their abil­i­ty to earn a good wage for a hard days' work, return home safe­ly to their fam­i­lies and retire with dig­ni­ty. We wel­come any can­di­date to our train­ing cen­ters who wants to learn about what is impor­tant to our mem­bers and their families."
For her part, Hus­sein ques­tions whether O'Rourke has shown the sub­stance of some­one who will be that work­ing-class cham­pi­on. ​"Union mem­bers, like most Amer­i­cans, want a can­di­date that is gen­uine, some­one who is seri­ous about com­mit­ting to advanc­ing the inter­ests of all work­ing peo­ple," Hus­sein says. ​"How has [O'Rourke] proven to be a reli­able ally we can trust to car­ry the torch of the labor move­ment? What's his plan to strength­en col­lec­tive bar­gain­ing rights?"
While O'Rourke has not released a com­pre­hen­sive plan around labor issues, his record shows some red flags. In 2015, he co-spon­sored a bill that would have lim­it­ed the author­i­ty of the Con­sumer Finan­cial Pro­tec­tion Bureau (CFPB). Put in place in the after­math of the 2008 crash, the CFPB is meant to pro­tect con­sumers and work­ers from preda­to­ry finan­cial insti­tu­tions. O'Rourke also vot­ed for bills that would have lift­ed reg­u­la­tions on Wall Street and under­cut the Afford­able Care Act. In the past he also backed rolling back enti­tle­ments such as Social Secu­ri­ty. And as many out­lets, both Detroit-based and nation­al, have report­ed, O'Rourke's vot­ing record on the whole is far more con­ser­v­a­tive than the aver­age Demo­c­rat, includ­ing on issues impact­ing work­ers' rights.
These aren't the only caus­es for con­cern about O'Rourke's record. As a city coun­cil mem­ber in El Paso, he called for ​"bet­ter checks on col­lec­tive bar­gain­ing in the pub­lic sec­tor." And in 2018, while the Texas AFL-CIO ulti­mate­ly endorsed O'Rourke in his Sen­ate race against Cruz, they ini­tial­ly refused, claim­ing mem­bers ​"had sig­nif­i­cant con­cerns about the con­gress­man­'s com­mit­ment to fight­ing for work­ing peo­ple, and unfor­tu­nate­ly, he was­n't at the con­ven­tion to address any of those con­cerns." Dur­ing his time in the House, O'Rourke did not intro­duce or co-spon­sor any sweep­ing labor legislation.
Per­haps the most telling aspect of O'Rourke's table­top tour in Michi­gan is the media cov­er­age he gar­nered. The con­ser­v­a­tive Detroit News gave O'Rourke glow­ing cov­er­age, claim­ing he ​"wooed" work­ers. Mean­while, the local alt-week­ly Metro Times pub­lished a brief sum­ma­ry of O'Rourke's prob­lem­at­ic vot­ing record, ques­tion­ing his com­mit­ment to pro­gres­sive caus­es. Metro Times edi­tor in chief Lee Devi­to tells In These Times, sim­ply, O'Rourke ​"looks like a jack­ass stand­ing on those tables."
"I under­stand the fever and enthu­si­asm around the Demo­c­ra­t­ic pri­ma­ry, and that every can­di­date has to make a way to stand out," says Aaron Foley, chief sto­ry­teller for the city of Detroit and ardent union sup­port­er. ​"But time and time again, can­di­dates have shown that they don't under­stand Detroit is dif­fer­ent. You have to under­stand us before you try to cam­paign to us."
Like Devi­to, Foley was also trou­bled by O'Rourke's table­top act. ​"I actu­al­ly thought it was dis­re­spect­ful… Detroit isn't a place where you stand on tables to make a point, because our busi­ness­es are like our homes and our com­mu­ni­ty spaces — espe­cial­ly in the case of Nar­row Way [a Detroit café O'Rourke stopped at], which is fam­i­ly-owned and has its roots in the church. You would­n't come in my house or my church and stand on the tables there. Busi­ness­es here in Detroit are no dif­fer­ent. We might be the Mid­west in terms of geog­ra­phy, but we're not that easy­go­ing and com­fort­able with some­one's feet all on the fur­ni­ture like some oth­er places. Don't dis­re­spect the busi­ness­es like this."
As any work­ing-class per­son — or par­ent — will real­ize, ​"Some­one has to clean up after those foot­prints now," Foley adds.
Table­top speech­es notwith­stand­ing, it appears clear that O'Rourke has a long way to go to win over the work­ing-class vot­ers who will be key if the Democ­rats want to win Michi­gan in 2020.
Valerie Vande Panne
is an inves­tiga­tive fel­low with
In These Times
' Leonard C. Good­man Insti­tute for Inves­tiga­tive Reporting.