Pho­tog­ra­phy by Erik Paul Howard and Rosa Maria Zamarron
"My family, and every Jew I know in her district, are proud to be her constituents. We are grateful to have someone in Washington fighting for us and our neighbors on health, environment and economy."
On May 15, Pales­tin­ian Amer­i­can Rep. Rashi­da Tlaib (D‑Mich.) became the first Mus­lim woman to pre­side over the House floor. Three days ear­li­er, House Rep. Lee Zeldin (R‑N.Y.) egre­gious­ly mis­char­ac­ter­ized Tlaib as say­ing she gets ​"a calm­ing feel­ing" from think­ing about the Holo­caust; the GOP and the pres­i­dent soon piled on. In fact, Tlaib had expressed a com­plete­ly dif­fer­ent sen­ti­ment: that she finds some solace in the fact her Pales­tin­ian ances­tors were dis­placed ​"in the name of try­ing to cre­ate a safe haven for Jews, post-the Holo­caust, post-the tragedy and the hor­rif­ic per­se­cu­tion of Jews across the world at that time."
Tlaib stood firm, tweet­ing, ​"Polic­ing my words, twist­ing & turn­ing them to ignite vile attacks on me will not work. All of you who are try­ing to silence me will fail mis­er­ably. I will nev­er allow you to take my words out of con­text to push your racist and hate­ful agen­da. The truth will always win."
"It's annoy­ing — they took it out of con­text," says Gabriela San­ti­a­go-Romero, 27, a 13th Con­gres­sion­al Dis­trict con­stituent who lives in South­west Detroit. ​"It's twist­ing it around. Her rep­re­sen­ta­tion is spot on. If she makes a mis­take, she admits it. I love Rashida."
"This is what we've been call­ing ​'the weaponiza­tion of anti-Semi­tism,'" says Rab­bi Alana Alpert of Con­gre­ga­tion T'chiyah and Detroit Jews for Jus­tice, anoth­er con­stituent. ​"The GOP does­n't care about Jews — if they did they would fight the real threat we are fac­ing: the rise of white nation­al­ism which their Pres­i­dent is cer­tain­ly enabling. It's an incred­i­bly cyn­i­cal move, twist­ing the Con­gress­wom­an's words. My fam­i­ly, and every Jew I know in her dis­trict, are proud to be her con­stituents. We are grate­ful to have some­one in Wash­ing­ton fight­ing for us and our neigh­bors on health, envi­ron­ment and economy."
Tlaib's his­to­ry as a rab­ble-rouser starts in metro Detroit, where she was known for dri­ving around with a bull­horn and park­ing in front of the region's worst pol­luters, such as the Marathon Oil Cor­po­ra­tion, to call out their records of envi­ron­men­tal harm. Now, she's bet­ter known for yelling ​"Impeach the moth­er­fuck­er!" after her con­gres­sion­al swear­ing-in in January.
Tlaib's lan­guage — tweets, no-non­sense straight talk, curse words and all — is reflec­tive of her con­stituents in her metro Detroit dis­trict. Michigan's 13th Dis­trict is work­ing-class, with a medi­an income of $35,000, and diverse: 54% black, 38% white, 8% Lati­no and 2% Asian. This mul­ti-eth­nic group has worked togeth­er on fac­to­ry lines and orga­nized togeth­er in var­i­ous unions for gen­er­a­tions. Tlaib is one of them, raised in the shad­ow of auto fac­to­ries and heavy indus­try by work­ing-class, Pales­tin­ian immi­grants. Tlaib was the first in her fam­i­ly to grad­u­ate high school and college.
But Tlaib's out­spo­ken­ness on sub­jects from work­ing class and labor issues to immi­gra­tion, which helped get her elect­ed in this cor­ner of Michi­gan, has sent a cer­tain seg­ment of Amer­i­ca into a tizzy. As of April, Tlaib's office had report­ed over 100 cred­i­ble threats to her life. On aver­age Tlaib's office receives 40 to 50 neg­a­tive calls a day from out­side the dis­trict. The calls from around the coun­try are ​"often not based in real­i­ty," but spurred by ​"base­less attacks on rightwing blogs," says com­mu­ni­ca­tion direc­tor Den­zel McCamp­bell. Some days the num­bers sky­rock­et, and the main office calls the comms teams to find out what hap­pened — the answer inevitably being that Tlaib had been fea­tured in a new right-wing blog post or on FOX News.
While the Right has done its best for months to soil her name on the nation­al stage, in her dis­trict, she is just Rashi­da — every­one knows her, and she knows them. That's what In These Times saw dur­ing a day of shad­ow­ing Tlaib on a dis­trict vis­it on April 27.
When we meet up on a Sat­ur­day morn­ing in late April, Demo­c­ra­t­ic Rep. Rashi­da Tlaib is just off a red-eye flight with only two hours of sleep. She sits on a curb in front of Aval­on Bak­ery in Detroit's old Cass Cor­ri­dor neigh­bor­hood, wait­ing to read The Lorax, Dr. Seuss's fable about cor­po­rate greed and the envi­ron­ment, to a small group of fam­i­lies — white, African Amer­i­can, Arab Amer­i­can. Some of the chil­dren rec­og­nize Tlaib from her vis­its to their class­rooms. ​"Do you know what impeach­ment is?" she asks them. The par­ents laugh, and Tlaib explains she likes to include kids in the dialogue.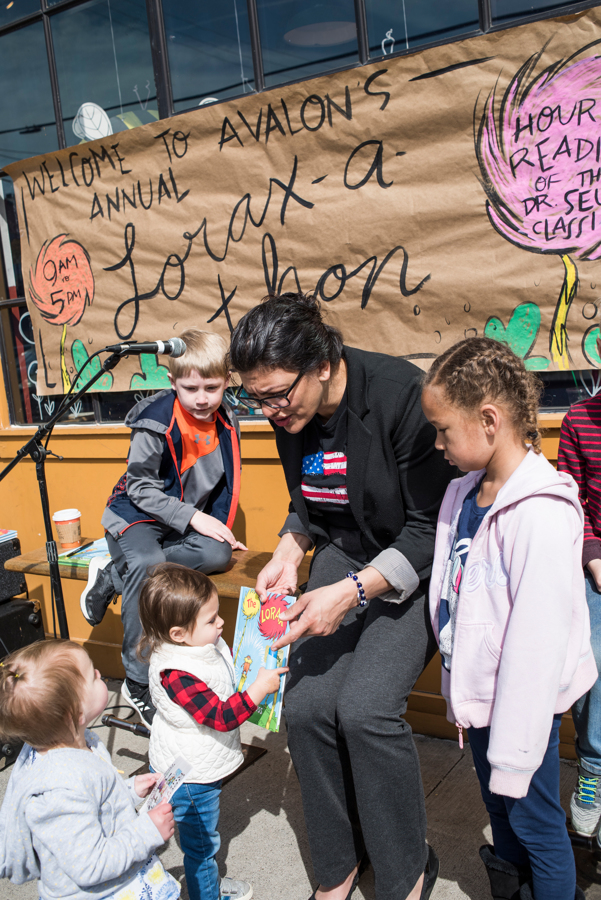 Tlaib's read­ing of The Lorax is pep­pered with com­men­tary. ​"Sir, you are crazy with greed!" she reads, then adds, ​"I know a lot of peo­ple like that," to know­ing laughs from the par­ents — con­stituents famil­iar with the greed of the region's big cor­po­ra­tions, from the auto indus­try to the oil indus­try to bil­lion­aire bridge own­er Manuel ​"Mat­ty" Moroun (who received free give­aways of pub­lic land in sev­er­al devel­op­ment deals). Heavy indus­tri­al pol­lu­tion in Detroit has caused the high­est asth­ma rate in Michigan.
"Greed," Tlaib tells the crowd, ​"is dangerous."
"My job is to help you," Tlaib says to the chil­dren at the end of read­ing. ​"Your job is to call my office and tell me what you need." All con­stituents should be call­ing their reps, she says, and don't do so enough. She also asks the chil­dren, if they had her job, what laws would they pass? One says that it should be ille­gal to buy auto and semi-auto­mat­ic weapons in Michi­gan, and that police should only be able to use them in emergencies.
This, Tlaib tells In These Times, is ​"ther­a­py" — how she deals with the hate com­ing at her and stays ground­ed. She comes back to her dis­trict every week­end to spend time with the peo­ple here. She also gives enor­mous cred­it to her team, many of them Detroi­ters she's known for years, who shield her from incom­ing com­ments and mes­sages from out­side her dis­trict, and use humor to light­en up what would oth­er­wise be a crush­ing weight of hate. She is far from insu­lat­ed, though: She man­ages her own Twit­ter account. The week before, at East­er, she was bar­raged with mes­sages includ­ing crude ref­er­ences to pigs, ham and pork.
Over the course of the day, none of her con­stituents bring up her faith. In this part of Michi­gan, Mus­lims have been part of the blue-col­lar work­force for mul­ti­ple generations.
After the read­ing, inside the bak­ery, an elder­ly African Amer­i­can and white woman approach her to brag that they made their own ​"Impeach the moth­er­fuck­er" pins. They ask Tlaib how she's doing, with a slight note of con­cern. ​"I'm blessed," she responds. ​"Very, very blessed."
From Aval­on Bak­ery, Tlaib runs errands for her fam­i­ly, pick­ing up food for a par­ty and gifts for a fam­i­ly mem­ber, before meet­ing In These Times just 45 min­utes lat­er at a park in South­west Detroit for the Día de los Niños (Children's Day) event. The neigh­bor­hood is pre­dom­i­nant­ly Mex­i­can Amer­i­can, and the event is filled with Mex­i­can fam­i­lies, chil­dren in tra­di­tion­al cos­tumes, food, music and danc­ing. A lit­tle girl stops Tlaib to say that her teacher didn't believe she knew the con­gress­woman per­son­al­ly. Tlaib says, ​"Then we need to take a self­ie to show her." This, it seems, hap­pens often.
Between stop­ping to talk to con­stituents, many of whom she knows by name, she picks up trash and toss­es it into waste­bas­kets. Just across the street sit burned out homes, and the smell of heavy indus­try hangs heav­i­ly in the air; South­west Detroit is near 29 indus­tri­al polluters.
At the Día de los Niños, Tlaib reads aloud Grace for Pres­i­dent, a children's book about a young girl who learns the Unit­ed States has nev­er had a woman pres­i­dent and is inspired to run. One of Tlaib's team trans­lates into Span­ish. After­ward, more con­stituents come to her, now with problems.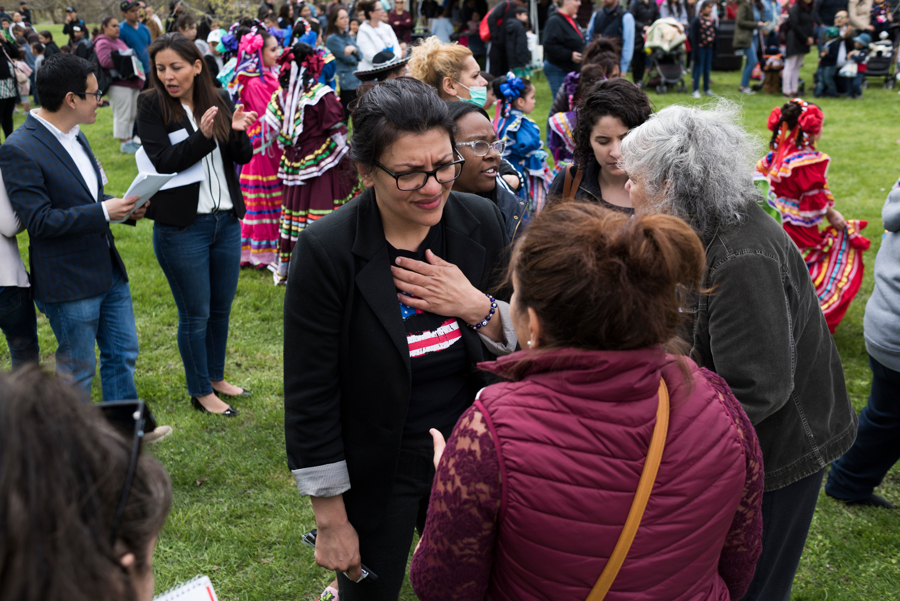 One lit­tle girl says her father was deport­ed. ​"Please bring him back," she pleads, bring­ing Tlaib to tears. Tlaib's assis­tant gen­tly tells her the team had been work­ing on the issue, and Tlaib stays with the fam­i­ly, sit­ting in the grief with them. After­ward, she takes a moment to explain ICE and immi­gra­tion pol­i­cy to her young sons, ages 8 and 13.
Then it's off to a fam­i­ly par­ty for her nephew, before attend­ing the Ecorse Firefighter's Riv­er of Fire Wall­eye Tour­na­ment in Ecorse, a town in her dis­trict ​"down riv­er." There was 104 boats with two or three fish­er­men per boat, catch­ing wall­eye in a com­pe­ti­tion to raise mon­ey to sup­port res­i­dents of the town. The funds will feed fam­i­lies on the hol­i­days and pur­chase every child in Ecorse back­packs for back-to-school.
The crowd, most­ly white men, appear more like stereo­typ­i­cal sup­port­ers of Trump than of Tlaib. But many come up to snap pic­tures with her as they drink beer and she eats the fresh fried fish. Some say their wives heard Tlaib was there and texted, demand­ing pictures.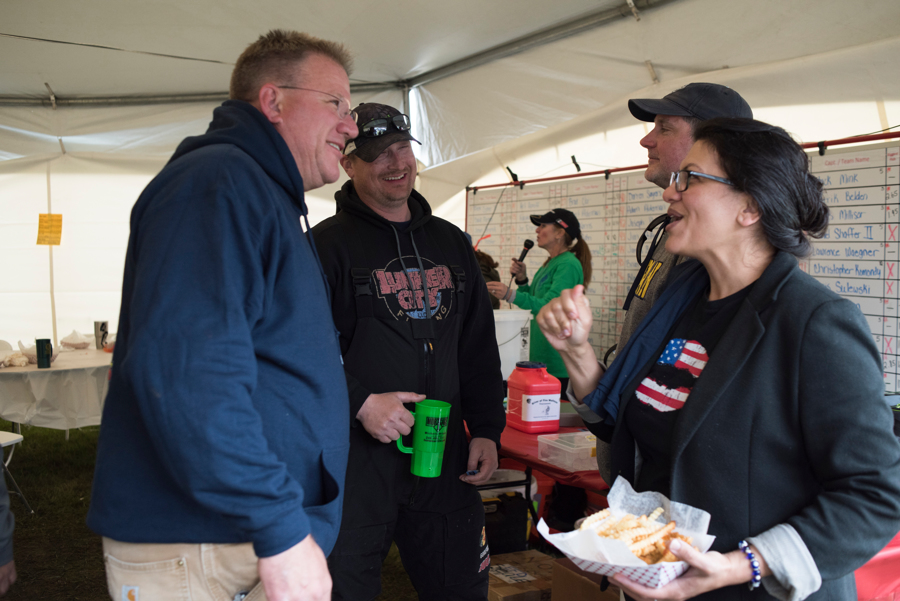 A few run in the oth­er direc­tion. ​"A pic­ture with Rashi­da means you're a Demo­c­rat," one man teas­es. A young white man walks up to hit on Tlaib, not aware of who she is. When he real­izes mak­ing moves prob­a­bly isn't social­ly appro­pri­ate, he walks away, say­ing, ​"Her dim­ples are cute."
Anoth­er man tells her he opposed social­ism and wants low­er tax­es and small­er gov­ern­ment. Tlaib smiles and says to In These Times, ​"I like how they lob­by me."
While that con­ver­sa­tion was good-natured, anoth­er is more chal­leng­ing, when employ­ees of a local heavy man­u­fac­tur­ing plant come up to tell Tlaib how great their employ­er is, how clean and effi­cient and by-the-book. Tlaib runs through a litany of the plant's well-doc­u­ment­ed envi­ron­men­tal vio­la­tions. Yet the more Rashi­da talks, the more they dou­ble down. Her pas­sion is appar­ent, how­ev­er, and the men lis­ten with evi­dent respect. One admits he's nev­er heard about the vio­la­tions she's citing.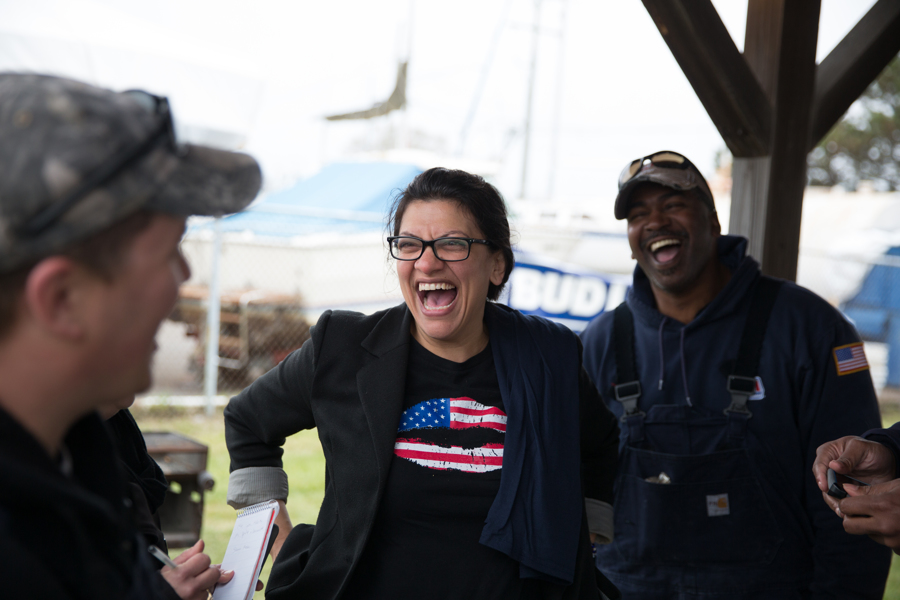 Mark Wil­son, orga­niz­er of the fundrais­er, is glad Tlaib could come, and says of her polit­i­cal work, ​"So far so good." He polite­ly declines to com­ment fur­ther because, he says earnest­ly, ​"I'm not here to dis­like or like any­body. We're here to do what we do." Rais­ing mon­ey to sup­port kids and fam­i­lies, in Wilson's view, super­sedes any kind of politics.
Next up is a dri­ve to an orphan relief ben­e­fit gala and mas­quer­ade ball in the Arab Amer­i­can com­mu­ni­ty of Dear­born. Tlaib learns on the way about the recent Poway, Calif., syn­a­gogue shoot­ing, and is vis­i­bly shak­en when she arrives at the ball. Amid the hub-bub of peo­ple who want her atten­tion, she takes a moment to sit down and col­lect her thoughts on the shoot­ing, and share in a tweet: ​"I want to cry, but too angry to let my raw emo­tions con­sume me. It's anoth­er sacred place of wor­ship, which shakes me, like it should our coun­try. This is a remark­able time in our coun­try where we must be coura­geous and choose to act to stop this madness."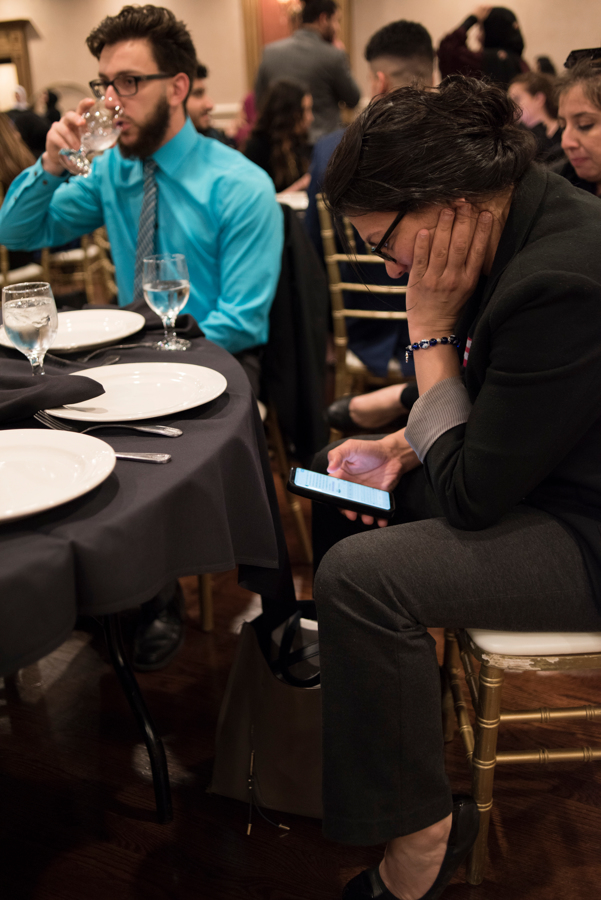 The wait­staff, who are African Amer­i­can and white, are hap­py to see her, remind­ing her of times they've met her in the past. Tlaib asks one serv­er, ​"How are you?" and lis­tens patient­ly to the answer, even as a line of peo­ple form to greet her.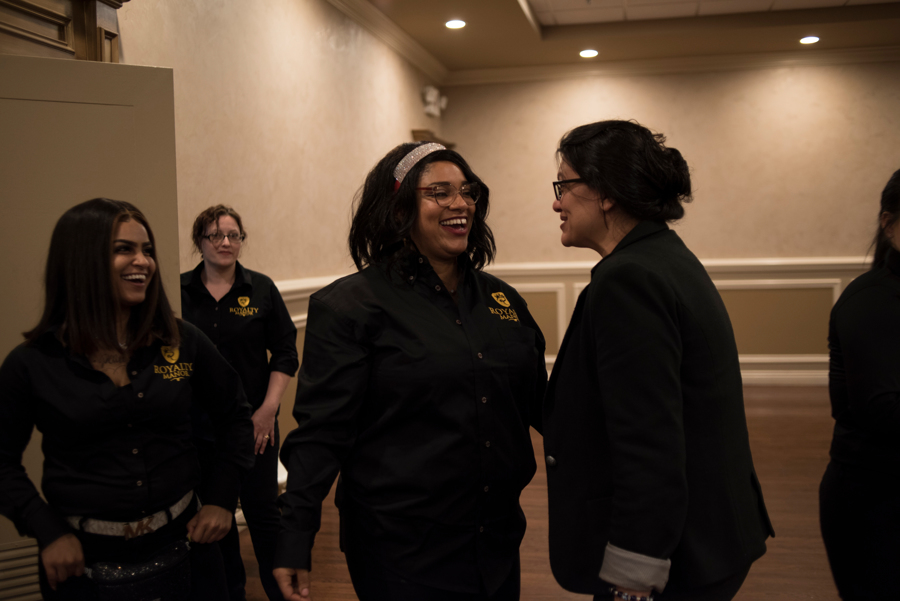 As the sun sets, Tlaib dri­ves out­side her dis­trict to neigh­bor­ing Livo­nia for a pre­sen­ta­tion on the Armen­ian geno­cide. Geno­cide denial ​"is a con game, a dis­trac­tion," says pre­sen­ter Dr. Hen­ry C. The­ri­ault. Tlaib has co-spon­sored a bill to rec­og­nize the geno­cide — some­thing the Unit­ed States, after over a cen­tu­ry, has refused to do. Out­side, a lone pro­test­er holds a big poster that reads: ​"You're not Armen­ian you're Arabs mixed with Turk."
She walks back to her car around 9 p.m. A light rain starts to fall, and Tlaib, gid­dy with the ener­gy of a long day, pre­pares to dri­ve her­self home, for anoth­er day with her fam­i­ly and her constituents.