We Can Reclaim Christmas from Capitalism
The case for getting rid of Santa and ending the commodification of the holiday season.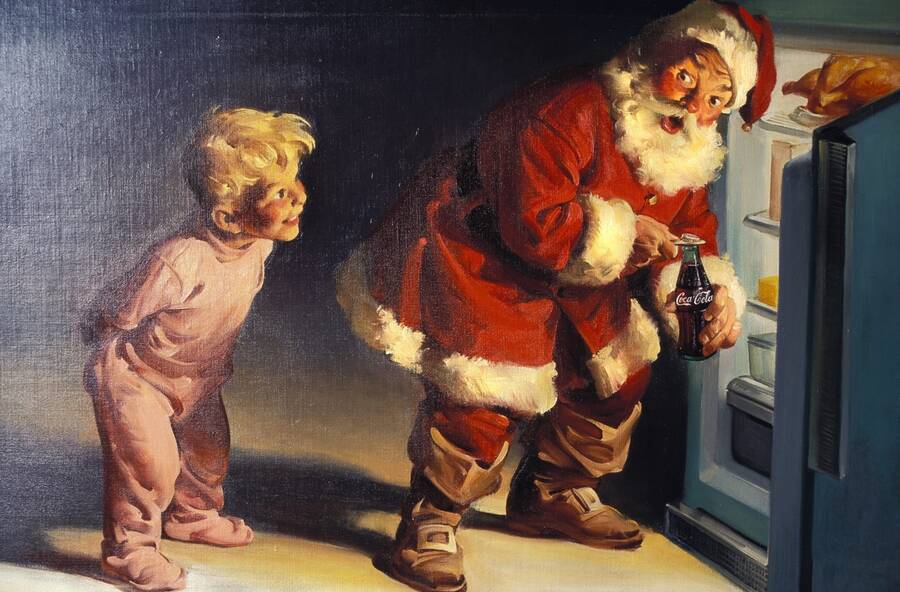 The way Amer­i­cans cel­e­brate Christ­mas today is not the way peo­ple cel­e­brat­ed this sea­son just a few gen­er­a­tions ago.
You don't need to let Coca-Cola or Amazon define and exploit a holiday that is your right to treasure.
In fact, for thou­sands of years, humans cel­e­brat­ed the win­ter sol­stice and the Christ­mas hol­i­day with mean­ing­ful tra­di­tions that includ­ed prayer, and rit­u­als from spe­cial fires to hon­or­ing plants for fer­til­i­ty.
Hys­ter­i­cal shop­ping was not a part of any of these cel­e­bra­tions — until recently.
Worse, the mar­ket­ing for the hys­ter­i­cal shop­ping has twist­ed San­ta Claus into the sin­gu­lar sec­u­lar god we cul­tur­al­ly hon­or in the Unit­ed States: His image is splashed every­where, sup­pos­ed­ly not as a sym­bol or god to wor­ship, but as a dec­o­ra­tive mar­ket­ing tool. Yet fam­i­lies in the Unit­ed States place stat­ues of him in their homes and leave milk and cook­ies out for him and car­rots for his rein­deer on the night before Christmas.
Seems quite pagan, doesn't it? What are we real­ly doing when we car­ry on this tradition?
Peo­ple will val­i­date the tra­di­tion by point­ing to San­ta Claus's pagan ori­gin as a bringer of gifts in the heart of win­ter, from the Ger­man­ic pagan Yule fes­ti­val and their god Wodan (strik­ing­ly sim­i­lar to the Norse god Odin) to the Dutch Sin­terk­laas and the Eng­lish Father Christmas.
Or, for those uncom­fort­able with pagan rites, San­ta Claus can be traced back to the leg­end of the 4th cen­tu­ry Saint Nicholas as a Greek-Chris­t­ian bish­op known for giv­ing gifts. This belief quench­es both the need to hon­or the Saint and absolves fol­low­ers of heathenism.
But when you see San­ta today, all fat and white and rosy-cheeked, you're see­ing an image cre­at­ed, pro­mot­ed and mar­ket­ed by the Coca-Cola Com­pa­ny. Michi­gan artist Had­don Sund­blom cre­at­ed the San­ta Claus we all know so well in 1931, for Coke's ​"Thirst Knows No Sea­son" campaign.
Sund­blom mod­eled his San­ta on A Vis­it from St. Nicholas, the 1822 poem by Clement C. Moore. While peo­ple often point to that poem as the defin­ing ele­ment of San­ta Claus's style, or to Thomas Nast's ver­sions of San­ta Claus for Harper's, it wasn't until Sund­blom and Coke cod­i­fied the Claus in mass adver­tis­ing that the world adopt­ed and accept­ed the image. Pri­or to 1931, San­ta Claus was depict­ed in all sorts of ways in mass media — from an old Dio­genes-type man to a bish­op to a sprite-like troll.
That makes Coke's San­ta quite pos­si­bly the first time a cor­po­ra­tion con­jured a deity to sell a product.
Coca-Cola prob­a­bly didn't real­ize they were defin­ing a new god for the age of capitalism's mighty reign, or that their image would be one that would define and guide gen­er­a­tions of Christ­mas shop­ping trips. But that is, in fact, what they did.
Do we real­ly want to keep cel­e­brat­ing Christ­mas with a Claus cre­at­ed as a mar­ket­ing tool?
It's as if we've been stuck in this hol­low Christ­mas rut since the first half of the 20th cen­tu­ry. We replay the same hol­i­day music and movies. We even replay the same TV shows that came in the 1960s: ​"A Char­lie Brown Christ­mas" aired in 1965, com­mis­sioned and spon­sored by Coca-Cola.
We as a cul­ture might be wise to pause and ask if we wish to con­tin­ue to annu­al­ly replay a past man­u­fac­tured to sell us stuff we don't real­ly need. That's much deep­er than the debate over the gen­der pol­i­tics of ​"Baby, It's Cold Out­side."
Sure, nos­tal­gia feels great this time of year, but so do any num­ber of oth­er intox­i­cants. It doesn't mean it's healthy for you. In fact, nos­tal­gia was once con­sid­ered a men­tal ill­ness.
It might be help­ful to recall that tra­di­tion­al sol­stice fes­ti­vals around the globe were filled with tra­di­tions to facil­i­tate sex, fer­til­i­ty and cou­pling. That would feel pret­ty good too, right?
If we don't wish to con­tin­ue our society's Ama­zon-fueled com­mod­i­fi­ca­tion under the shad­ow of a Coca-Cola-inspired San­ta Claus, how do we rein­vent this hol­i­day sea­son to have a deep­er mean­ing than what appears to be a cel­e­bra­tion hon­or­ing the god of capitalism?
First, we must decide what we want to keep in our annu­al tra­di­tions and what we want to release to the past.
Sec­ond, we must deter­mine how we want to cel­e­brate the hol­i­day. What do we tru­ly want to hon­or? How do we want to dec­o­rate? What do we want to believe in, and teach our chil­dren to believe?
Do we want to recall the more pagan, fer­til­i­ty-root­ed tra­di­tions of the sol­stice? Or invent some­thing new entirely?
Many athe­ists, agnos­tics, Chris­tians, Jews and Mus­lims have already done this in their own lives, eschew­ing the San­ta and gift-giv­ing aspects of the hol­i­day while ful­ly embrac­ing that which they do believe in — almost uni­ver­sal­ly the time spent shar­ing food and drinks with loved ones. Chi­nese or Mid­dle East­ern food and a movie with friends and fam­i­ly can be just as mean­ing­ful as a vis­it from San­ta. So are cook­ing, exchang­ing hand-made gifts, and serv­ing local fam­i­lies in need. Cel­e­brat­ing the birth of Christ also doesn't require a stat­ue of or vis­it from San­ta. There's sim­ply no need for San­ta to be a part of any of that — unless, of course, you want him to be.
But that's where it starts, with your val­ues, and what you want the hol­i­day to be. You don't need to let Coca-Cola or Ama­zon define and exploit a hol­i­day that is your right to trea­sure. Your choic­es — your inter­net clicks, your dec­o­ra­tions, your shop­ping habits, you—have the pow­er to change how we cel­e­brate this holiday.
San­ta has become the embod­i­ment of our culture's cap­i­tal­is­tic fer­vor. At the very least, use your pow­er to change San­ta, and his sig­nif­i­cance, into some­thing that reflects your val­ues or at least your sense of humor (as so many sec­u­lar Amer­i­cans already do): pro­mote the Blan­ta (black San­ta), dan­gle San­ta from your gut­ter, make him skin­ny or make him a woman or gen­der neu­tral or get rid of him all togeth­er — the pos­si­bil­i­ties are only lim­it­ed by your imagination.
The hol­i­day sea­son is yours to make as you wish. Take it back from the cap­i­tal­ist marketers.
Valerie Vande Panne
is an inves­tiga­tive fel­low with
In These Times
' Leonard C. Good­man Insti­tute for Inves­tiga­tive Reporting.