The Cooperative Acupuncture Clinics Popping Up in Middle America
With skyrocketing healthcare costs, residents of Middle America are turning to acupuncture.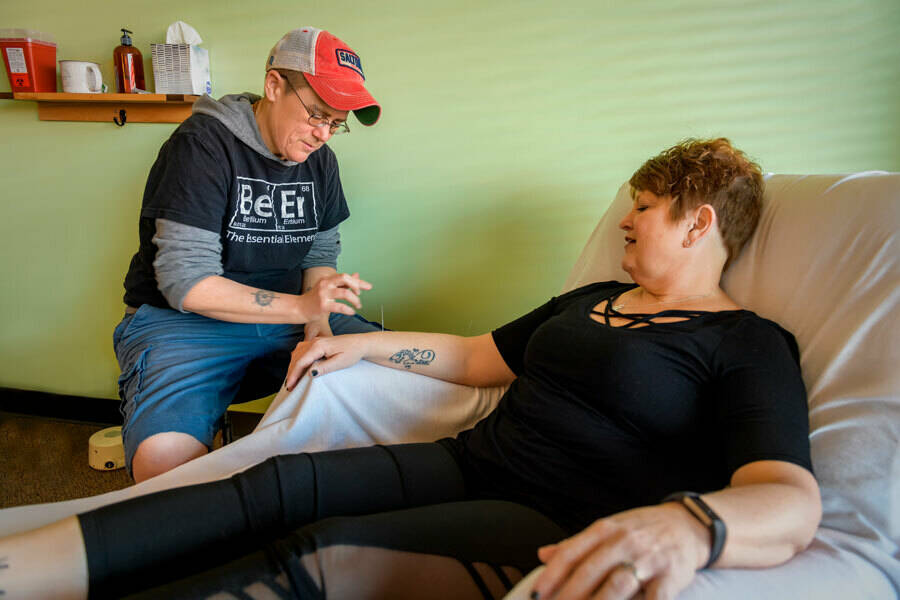 In a non­de­script strip mall that could be just about any­where in Amer­i­ca, Cait Cain has set up nine sec­ond­hand reclin­ers. White noise plays sooth­ing­ly as a few women lie back, receiv­ing acupuncture.
Once considered a boutique option in the United States, acupuncture is becoming more accessible thanks to the community acupuncture model.
What they prob­a­bly don't real­ize is that they are tak­ing part in one of the qui­etest rev­o­lu­tions grow­ing across the coun­try: coop­er­a­tive com­mu­ni­ty acupuncture.
Acupunc­ture has been used for mil­len­nia, and stud­ies show it is effec­tive in alle­vi­at­ing chron­ic pain from a wide range of ail­ments, includ­ing joint pain, migraines, opi­oid addic­tion and menopause-relat­ed symp­toms. It was once con­sid­ered a bou­tique option in the Unit­ed States but is now becom­ing more acces­si­ble thanks to the com­mu­ni­ty acupunc­ture mod­el cham­pi­oned by Cain and oth­ers. Mul­ti­ple peo­ple are treat­ed in a group envi­ron­ment for a slid­ing-scale fee that can be as low as $10 per session.
The cost is entic­ing for peo­ple with oth­er­wise high med­ical bills. As health­care costs have steadi­ly risen, over half of insured Amer­i­cans strug­gle to pay their med­ical bills. Accord­ing to Adam Gaffney, pres­i­dent of Physi­cians for a Nation­al Health Pro­gram and an instruc­tor at Har­vard Med­ical School, the ​"finan­cial bar­ri­ers" cre­at­ed by the cur­rent U.S. health­care sys­tem may lead some to ​"seek out unortho­dox care because it's more affordable."
The unortho­dox care of acupunc­ture is becom­ing increas­ing­ly avail­able thanks to the coop­er­a­tive, peo­ple-first mod­el. Cain opened Lin­coln Acupunc­ture Project (LAP) in March 2018 with the help of a micro-loan from the People's Orga­ni­za­tion of Com­mu­ni­ty Acupunc­ture (POCA), a coop­er­a­tive formed in 2011 by clin­ics, prac­ti­tion­ers and patients. Today there are more than 150 mem­ber clin­ics, with a grow­ing pres­ence in Mid­dle Amer­i­ca. (The author is an indi­vid­ual POCA mem­ber and has attend­ed POCA clin­ics for the past 10 years.) Cain explains that acupunc­ture doesn't replace oth­er med­ical pro­ce­dures, but it can be used along­side con­ven­tion­al med­ical treat­ment. Her patients include peo­ple being treat­ed for MS, Parkinson's, can­cer and oth­er ailments.
Amy Wiebe-Ewoldt, 55, lives in the small town of Mullen, Neb. She dri­ves near­ly 300 miles to Cain's clin­ic to receive acupunc­ture, which has eased both her anx­i­ety and jaw pain, she says, for an out-of-pock­et cost of between $15 and $35 per treat­ment. Mar­la McCabe, 88, has seen Cain twice a week for a cou­ple of months and views acupunc­ture as ​"health main­te­nance." McCabe goes to her reg­u­lar doc­tor for a phys­i­cal once a year and when­ev­er seri­ous med­ical issues come up, but she's frus­trat­ed with how long it takes to get an appoint­ment. ​"Some­times it can take two to three weeks, maybe four," she says. With LAP, you don't need an appoint­ment. ​"Cain has cer­tain hours, and you go when she's there. It's just so easy. And she's competent."
The low slid­ing-scale cost of com­mu­ni­ty acupunc­ture ses­sions is intend­ed to make treat­ment more acces­si­ble for patients who strug­gle to pay their med­ical bills. ​"If you want a sys­tem accord­ing to needs and not means, you need a sys­tem of uni­ver­sal cov­er­age and no copays or deductibles," says Gaffney. As Con­gress turned away from uni­ver­sal health­care and embraced a hybrid, mar­ket-based approach, the ​"inter­ests of cor­po­rate Amer­i­ca took prece­dence over inter­est of patients," he says. ​"Mon­ey gets siphoned off into pri­vate share­hold­ers' and exec­u­tives' pock­ets," so patients end up pay­ing the price, out of their own pock­ets and with their own health.
But cost is not the only bar­ri­er to health­care. Patients also face chal­lenges nav­i­gat­ing a labyrinth of net­works and restric­tive cov­er­age para­me­ters. For Matthew Smith, 39, see­ing Cain for acupunc­ture is eas­i­er than fight­ing with his med­ical insur­ance provider to cov­er treat­ment for his ten­donitis and oth­er health issues. When Smith's insur­ance com­pa­ny insist­ed he pay for an MRI out-of-pock­et, he spent hours on the phone with them. This went on for months, until the insur­ance com­pa­ny agreed to pay.
Smith says the process of work­ing with his insur­ance com­pa­ny, get­ting claims paid and also recov­er­ing from the phys­i­cal toll of surgery was ​"tor­ture" com­pared with the straight­for­ward process of see­ing Cain for acupunc­ture. After his ini­tial meet­ing with Cain, he knew exact­ly what to expect in terms of pay­ment. ​"Even the paper­work is more gen­tle," he says.
Not all patients have the time, edu­ca­tion or tenac­i­ty to demand a med­ical insur­ance com­pa­ny pay for the care they need. Part of com­mu­ni­ty acupuncture's suc­cess is that it is often eas­i­er to access than tra­di­tion­al med­ical treat­ment, says Jade Fang, 36, own­er of Jade Com­mu­ni­ty Acupunc­ture Clin­ic in Winona, Minn. ​"If you have a migraine, I'm not gonna make you wait a month to get treat­ment," she says.
Lisa Rohled­er, a licensed acupunc­tur­ist in Port­land, Ore., and co-founder of POCA, has seen the effects that for-prof­it med­ical care and insur­ance have had on her patients: ​"You see peo­ple get acupunc­ture because they can't afford their inhalers. Then you see peo­ple who've had med­ical care, but clear­ly they weren't helped."
Rohled­er is tak­ing action to help under­served com­mu­ni­ties by cre­at­ing more clin­ics in rur­al Amer­i­ca. Acupunc­tur­ists typ­i­cal­ly come out of school about $100,000 in debt, she explains. That debt makes it hard to open a com­mu­ni­ty clin­ic, so Rohled­er helped launch POCA Tech, a com­mu­ni­ty acupunc­ture school with a tuition of less than $6,000. The first class grad­u­at­ed in 2017, with a com­mit­ment to open com­mu­ni­ty clin­ics in under­served areas, includ­ing ten­ta­tive plans for clin­ics in both Kansas and Montana.
"The need is gigan­tic," Cain says.
Valerie Vande Panne
is an inves­tiga­tive fel­low with
In These Times
' Leonard C. Good­man Insti­tute for Inves­tiga­tive Reporting.