Cannibal Economics: Why the Black Snake Will Eventually Eat Itself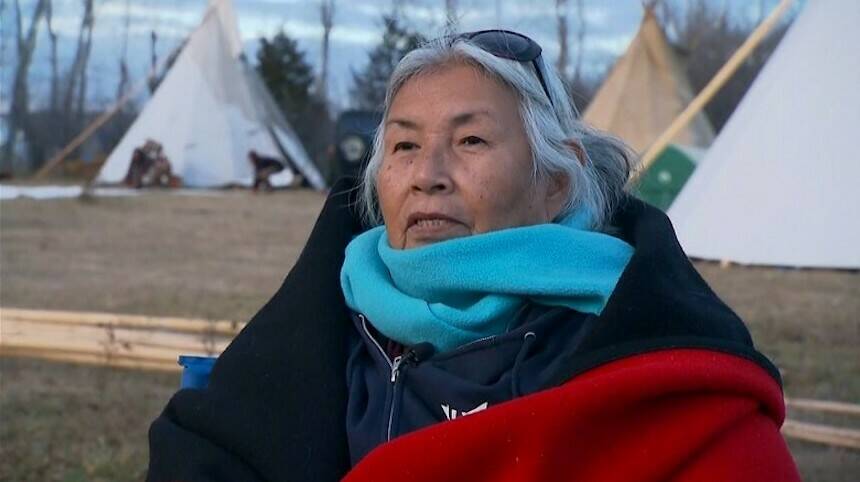 As the plagued Key­stone Pipeline spilled 200,000 gal­lons of oil near the Sis­se­ton Dako­ta reser­va­tion, on Novem­ber 20, the Nebras­ka Pub­lic Ser­vice Com­mis­sion issued a con­vo­lut­ed per­mit approval, allow­ing Tran­sCana­da to route the line through part of the state. In the mean­time, the Dako­ta, Lako­ta and their allies stand strong.
That same day hun­dreds gath­ered for the Gath­er­ing to Pro­tect the Sacred — a reaf­fir­ma­tion of the inter­na­tion­al agree­ment among sov­er­eign indige­nous nations to pro­tect the envi­ron­ment from tar-sands projects. The Treaty to Pro­tect the Sacred, first signed in 2013, was signed again. ​"Noth­ing has changed at all in our defense of land, air and water of the Oceti Sakowin," Faith Spot­ted Eagle told the crowd. ​"If any­thing, it has become more focused, stronger and more adamant after Stand­ing Rock."
The assem­bly — spon­sored by the Brave­heart Soci­ety of Women, Wiconi Un Tipi, Ihank­ton­wan Treaty Com­mit­tee and Dako­ta Rur­al Action — brought togeth­er 200 water pro­tec­tors. Oyate Win Brush­break­er, a 97-year-old elder remind­ed those present, ​"Reaf­firm the bound­aries of that treaty. Keep out that black snake you have been talk­ing about."
The Key­stone and its spill​(s)
This is a sto­ry about Wiindi­goo Eco­nom­ics — Can­ni­bal or Wasichu eco­nom­ics, if you like — an eco­nom­ic sys­tem that destroys the source of its wealth, Moth­er Earth.
We can say that it begins in the Unit­ed States, where a fos­sil-fuel econ­o­my rules, or we can say that it begins in Cana­da, where 90 per­cent of the val­ue of the Cana­di­an dol­lar, the loonie, is based on tar sands. Regard­less, an undi­ver­si­fied econ­o­my is a stu­pid idea. Even with all its oil com­pa­ny allies, Cana­da has a prob­lem. Alber­ta is a land locked province and there's no sane way to get all that oil to mar­ket. Things are unlike­ly to work out for Cana­di­an tar sands inter­ests, because at every turn they are being stopped by cit­i­zen opposition.
The Key­stone Pipeline, which is not even ful­ly oper­a­tional, just showed us that it can­not oper­ate safe­ly. The mid-Novem­ber spill in South Dako­ta was not sup­posed to hap­pen — nei­ther were the last five oil spills. After all, they tell us, it's brand new pipe and Tran­sCanada's June 2006 pipeline risk assess­ment found no rea­son for alarm:
[T]he esti­mat­ed occur­rence inter­vals for a spill of 50 bar­rels or less occur­ring any­where along the entire pipeline sys­tem is once every 65 years. … Apply­ing these sta­tis­tics to a 1‑mile sec­tion, the chances of a larg­er spill (greater than 10,000 bar­rels) would be less than once every 67,000 years.
To be clear, Key­stone has now had at least a dozen spills. They keep mov­ing down the line. One jour­nal­ist spec­u­lat­ed the pipeline was pass­ing a kid­ney stone. In a 2011 analy­sis, Uni­ver­si­ty of Nebras­ka engi­neer­ing pro­fes­sor John Stans­bury esti­mat­ed there would be at least two major spills per year, some poten­tial­ly releas­ing as much as 180,000 bar­rels. (Told you so.)
One could argue that the nor­mal­iz­ing of pipeline spills and an impos­si­ble reg­u­la­to­ry frame­work (espe­cial­ly in Nebras­ka, South Dako­ta and Min­neso­ta) are to blame. But this is, in fact, the new norm. In 2016, there were 220 sig­nif­i­cant inci­dents, or pipeline spills in the Unit­ed States, with 3,032 since 2006—those pro­vide a stark reminder of the envi­ron­men­tal haz­ards of an aging pipeline infra­struc­ture car­ry­ing fos­sil fuels. But new pipes have cat­a­stroph­ic leaks too. The total cost of these acci­dents since 2006 is $4.7 billion.
As for the watch­dogs? Inspec­tors for leaks are few and far between and they have unclear reg­u­la­to­ry juris­dic­tion. The Unit­ed States cur­rent­ly has 553 pipeline inspec­tors (208 fed­er­al and 345 state) and each is respon­si­ble for near­ly 5,000 miles of line. These inspec­tors work for the Pipeline and Haz­ardous Mate­ri­als Safe­ty Admin­is­tra­tion (PHM­SA). As the num­ber of pipelines increas­es, and their age increas­es, we are play­ing high-risk pipeline roulette.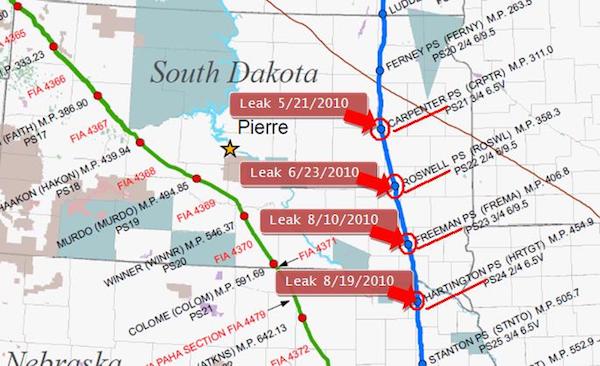 A map of Key­stone XL pump sta­tion leaks between May and August in

2010

.
(Image:
Madville Times
)
Wiindi­goo eco­nom­ics and Mni Wiconi
While Don­ald Trump is busy approv­ing these projects, anoth­er real­i­ty con­tin­ues. Water Pro­tec­tors chal­lenge pipeline via­bil­i­ty, as does oil economics.
A few months ago, four mas­sive pipelines were being planned to bring Canada's tar sands out of Alber­ta. On Octo­ber 5, the longest of these pro­pos­als — the $15.7 bil­lion Ener­gy East — was scrapped by Tran­sCana­da. Cana­di­an oil econ­o­mists point­ed to the decline of oil prices and the cor­re­spond­ing drop in tar-sands extrac­tion as the dri­ving force for project can­cel­la­tion, aug­ment­ed by Cana­di­an Prime Min­is­ter Trudeau's more strin­gent review of pipeline projects to include green­house gas emis­sions and down­stream impacts.
One down, three to go.
While Tran­sCana­da received approval this past month for the Key­stone pipeline, it still does not have a route. The Nebras­ka Pub­lic Ser­vice Com­mis­sion vot­ed 3 – 2 to give the project the go ahead, but reject­ed the company's pre­ferred route. Tran­sCana­da must now sub­mit an appli­ca­tion for an alter­na­tive route or appeal the deci­sion — a process that could take up to two years. That is cat­a­stroph­ic in itself for a pipeline com­pa­ny. One thing is also for sure: any new route will face fresh opposition.
Wiindi­goo Eco­nom­ics march­es on, but tar-sands divest­ment is climb­ing, elec­tric cars are com­ing online and even Fox News report­ed in June, ​"Key­stone XL is fac­ing a basic chal­lenge. The oil pro­duc­ers and refin­ers the pipeline was orig­i­nal­ly meant to serve aren't inter­est­ed in it any­more." In oth­er words, the com­pa­ny has no cus­tomers for the pipeline, and a pipeline with­out ship­pers is unlike­ly to be built.
The com­pa­nies are hedg­ing bets, as is the Cana­di­an government.
In mid-Novem­ber, the Min­neso­ta Pub­lic Util­i­ties Com­mis­sion held evi­den­tiary hear­ings on Enbridge Line 3 (the 915,000-barrel-a-day tar-sands pipeline). In the back of the room, a Cana­di­an offi­cial sat qui­et­ly in the audi­ence, wor­ried and watch­ing. At the end of the day, he approached one of the trib­al attor­neys and asked if the tribes were like­ly to sue and stop the pipeline. It turns out Tran­sCana­da had asked the Alber­ta gov­ern­ment to buy some oil ship­ping space on the pro­posed KXL Line because there were no ship­pers. The Wiindi­goo Eco­nom­ics wiz­ards of Alber­ta seem to be hedg­ing their bets.
It's an uncer­tain time.
"If I was South Dako­ta…"
If I was South Dako­ta, I would be mak­ing sure that this cat­a­stroph­ic spill was com­plete­ly cleaned up before any­thing else moves ahead, and maybe before Tran­sCana­da goes bank­rupt. Indeed, the South Dako­ta Pub­lic Util­i­ties Com­mis­sion issued the Key­stone per­mit in 2007 with 57 con­di­tions, rang­ing from con­struc­tion stan­dards to envi­ron­men­tal requirements.
The Com­mis­sion may revoke or sus­pend that per­mit if the com­pa­ny is found to have made mis­state­ments in its appli­ca­tion or does not com­ply with the con­di­tions. ​"If it was know­ing­ly oper­at­ing in a fash­ion not allowed under the per­mit or if con­struc­tion was done in a fash­ion that was not accept­able, that should cause the clo­sure of the pipe for at least a peri­od of time until those chal­lenges are rec­ti­fied," said Gary Han­son, one South Dako­ta PUC commissioner.
In the mean­time, the Dako­ta and their allies remain com­mit­ted to Mni Wiconi — water is life.
"The com­ing bat­tles are going to be new, not like the ones in the past, and will demand all our strength," Lako­ta orga­niz­er Judith LeBlanc writes on Our​Future​.org. ​"The tra­di­tion­al indige­nous prac­tice is that you must respond to adver­si­ty with courage, humil­i­ty, com­pas­sion and love of com­mu­ni­ty as we always have. The NO KXL move­ment is being built from a spir­i­tu­al start­ing point that's root­ed in the tra­di­tion­al Lako­ta, Dako­ta cul­ture and ori­gin sto­ries, in the grass­roots and in sov­er­eign treaty rights. … Native peo­ples have a legal, moral, spir­i­tu­al and inher­ent right to be care­tak­ers of the planet."
At the Gath­er­ing to Pro­tect the Sacred, Arvol Look­ing Horse tells the crowd, ​"We have been here before. Time and time again we have faced this inva­sion in our camps and our com­mu­ni­ties. But we always prevail."
Julian Brave Noise­cat was there as well: ​"After the Treaty to Pro­tect the Sacred was signed, we came togeth­er to dance in vic­to­ry. As the drum­mers hit the hon­or beats, we raise defi­ant hands. Women clutch red scarves sym­bol­iz­ing scalps and emblem­at­ic of the vic­to­ry our peo­ple and plan­et so des­per­ate­ly need right now."
The path for­ward for Key­stone XL remains full of per­il. Landown­ers, tribes and oppo­nents of the pipeline have time to orga­nize an appeal, and more than 5,000 peo­ple have signed up to join indige­nous peo­ple in acts of civ­il dis­obe­di­ence when and if con­struc­tion begins.
This Black Snake faces some very strong, com­mit­ted opponents.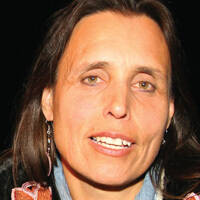 Winona LaDuke
is Anishi­naabe, a writer, an econ­o­mist and a hemp farmer, work­ing on a book about the Eighth Fire and the Green New Deal. She is ready for the Green Path, and would pre­fer not to spend her gold­en years clean­ing up the mess­es of enti­tled white men.LaDuke lives and works on the White Earth reser­va­tion in north­ern Min­neso­ta, where she found­ed the White Earth Land Recov­ery Project. She is pro­gram direc­tor of Hon­or the Earth and a two-time vice pres­i­den­tial can­di­date with Ralph Nad­er on the Green Par­ty ticket.