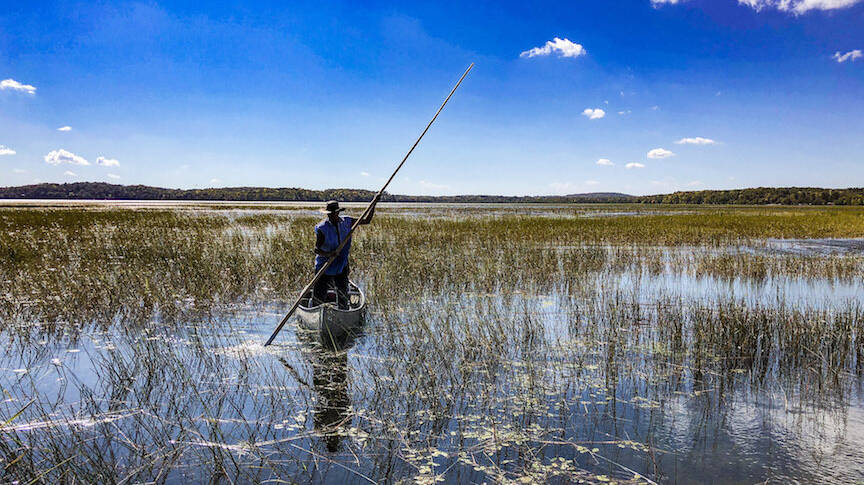 Manoomin (wild rice) now has legal rights. At the close of 2018, the White Earth band of Ojib­we rec­og­nized the ​"Rights of Manoomin" as a part of trib­al reg­u­la­to­ry author­i­ty. The res­o­lu­tion states, ​"It has become nec­es­sary to pro­vide a legal basis to pro­tect wild rice and fresh water resources as part of our pri­ma­ry treaty foods for future gen­er­a­tions." White Earth, the largest Ojib­we tribe in Min­neso­ta, relies on wild rice for sus­te­nance, not only mon­e­tar­i­ly, but as ​"food for the spir­its." This new White Earth law is sim­i­lar to one adopt­ed by the 1855 Treaty Alliance, and reflects tra­di­tion­al laws of Anishi­naabe people.
The law begins: ​"Manoomin, or wild rice, with­in all the Chippe­wa ced­ed ter­ri­to­ries, pos­sess­es inher­ent rights to exist, flour­ish, regen­er­ate, and evolve, as well as inher­ent rights to restora­tion, recov­ery and preservation."
The Rights of Manoomin include ​"the right to clean water and fresh­wa­ter habi­tat, the right to a nat­ur­al envi­ron­ment free from indus­tri­al pol­lu­tion, the right to a healthy, sta­ble cli­mate free from human-caused cli­mate change impacts, the right to be free from patent­ing, the right to be free from con­t­a­m­i­na­tion by genet­i­cal­ly engi­neered organ­isms." manoomin
The Rights of Manoomin are mod­eled after the Rights of Nature, rec­og­nized in courts and adopt­ed inter­na­tion­al­ly for the last decade. In 2008, Ecuador became the first coun­try in the world to adopt Rights of Nature arti­cles into its nation­al con­sti­tu­tion. Soon after, Bolivia passed the 2010 ​"Law of Moth­er Earth." This phe­nom­e­non is not exclu­sive to Latin Amer­i­ca; in 2016, the Ho Chunk Nation in Wis­con­sin became the first U.S. tribe to adopt the Rights of Nature, and in 2017 the Pon­ca Nation in Okla­homa became the sec­ond.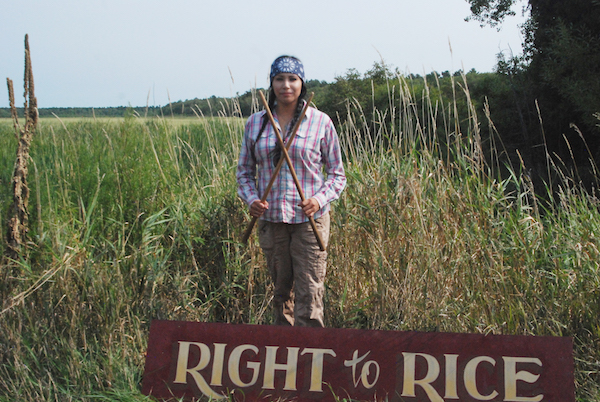 Ricer Veron­i­ca Ski­n­away of the Sandy Lake Ojibwe
Rights of Nature arti­cles have con­tin­ued to spread. In 2017, New Zealand (known as ​"Aotearoa" in the Maori lan­guage) grant­ed the Whanganui Riv­er, the third largest riv­er in the coun­try, the full legal rights of a per­son as part of its set­tle­ment with the Whanganui Iwi, the Maori peo­ple. India also recent­ly grant­ed full legal rights to the Ganges and Yamu­na rivers, and rec­og­nized that the Himalayan Glac­i­ers have a right to exist. This inter­na­tion­al work is intend­ed to bring jurispru­dence into accor­dance with eco­log­i­cal laws of the nat­ur­al world by address­ing the inad­e­quate pro­tec­tion of nat­ur­al ecosys­tems under cur­rent legal sys­tems. As the Glob­al Alliance for the Rights of Nature explains, ​"Under the cur­rent sys­tem of law in almost every coun­try, nature is con­sid­ered to be prop­er­ty, a treat­ment which con­fers upon the prop­er­ty own­er the right to destroy ecosys­tems and nature on that prop­er­ty. When we talk about the ​'rights of nature,' it means rec­og­niz­ing that ecosys­tems and nat­ur­al com­mu­ni­ties are not mere­ly prop­er­ty that can be owned, but are enti­ties that have an inde­pen­dent right to exist and flour­ish. Laws rec­og­niz­ing the rights of nature thus change the sta­tus of nat­ur­al com­mu­ni­ties and ecosys­tems to being rec­og­nized as rights-bear­ing enti­ties with rights that can be enforced by peo­ple, gov­ern­ments, and communities."
The Rights of Manoomin, which reaf­firm the Anishi­naabe rela­tion­ship and respon­si­bil­i­ty to the plant, are ground­break­ing. ​"This is a very impor­tant step for­ward in the Rights of Nature move­ment. This would be the first law to rec­og­nize legal rights of plant species," says Mari Margil, asso­ciate direc­tor of the Com­mu­ni­ty Envi­ron­men­tal Legal Defense Fund (CELDF). White Earth and the 1855 Treaty Author­i­ty worked with CELDF and its Inter­na­tion­al Cen­ter for the Rights of Nature to devel­op the law.
The Rights of Wild Rice reaf­firm the Anishi­naabe rela­tion­ship and respon­si­bil­i­ty to the plant, and the sacred land­scape of wild rice and tra­di­tion­al laws. Wild rice is also the only grain explic­it­ly list­ed in a treaty as a guarantee.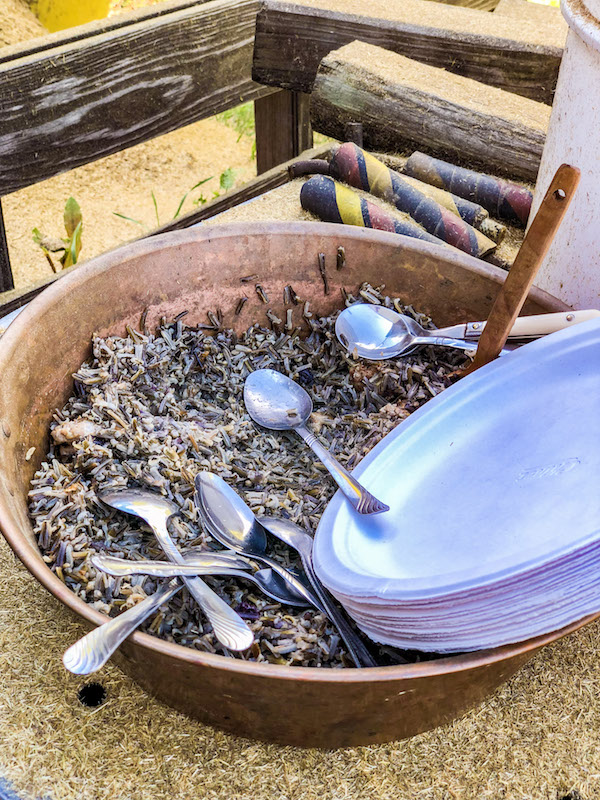 "Treaties are the supreme law of the land and we Chippe­wa have (U.S.) con­sti­tu­tion­al­ly pro­tect­ed, usufruc­tu­ary prop­er­ty rights to hunt, fish, trap and gath­er wild rice," says Frank Bibeau, exec­u­tive direc­tor of the 1855 Treaty Author­i­ty. ​"We under­stand that it is the indi­vid­ual trib­al mem­bers' usufruc­tu­ary rights to gath­er food and earn a mod­est liv­ing that are essen­tial to our lives and impor­tant for the suc­cess of future gen­er­a­tions' abil­i­ty to main­tain our cul­ture and tra­di­tions, essen­tial­ly to be Anishi­naabe." He adds, ​"We under­stand that water is life for all liv­ing crea­tures and pro­tect­ing abun­dant, clean, fresh water is essen­tial for our ecosys­tems and wildlife habi­tats to sus­tain all of us and the Manoomin."
The Rights of Manoomin also pro­vide for enforce­ment. The law declares it ille­gal for any busi­ness or gov­ern­ment to vio­late the Rights of Manoomin, and inval­i­dates any per­mit, autho­riza­tion, or activ­i­ty that would allow those rights to be vio­lat­ed. Offend­ers will be pun­ish­able under trib­al law and held finan­cial­ly liable for any dam­ages to the Manoomin or its habi­tat. The law grants pow­ers of enforce­ment to the White Earth Nation and to the 1855 Treaty Author­i­ty, and it pro­hibits law enforce­ment per­son­nel from arrest­ing or detain­ing those direct­ly enforc­ing these rights. The 1855 Treaty Author­i­ty ordi­nance explic­it­ly grants indi­vid­ual trib­al mem­bers the right to take non-vio­lent direct action to pro­tect the rights of Manoomin in the event that the trib­al author­i­ties fail to do so.
Since the 1855 treaty was signed 165 years ago, state and fed­er­al mis­man­age­ment has caused sig­nif­i­cant dam­age to Anishi­naabe wild rice, waters, maple trees, and prairies. Over 70% of the orig­i­nal wild rice ter­ri­to­ry is now dam­aged, with more cur­rent­ly being threat­ened by recent pro­pos­als to change sul­fate stan­dards to accom­mo­date new min­ing and pipeline projects. Ulti­mate­ly, these actions threat­en the very exis­tence of wild rice. At the turn of this past cen­tu­ry, the Anishi­naabe suc­cess­ful­ly bat­tled against Uni­ver­si­ty pro­pos­als to genet­i­cal­ly engi­neer wild rice, argu­ing that not only did the treaties pro­vide for wild rice – not rice deliv­ered in a sack by the gov­ern­ment, as then Min­neso­ta Chippe­wa Trib­al Pres­i­dent Nor­man Descampe would argue – but also for wild rice har­vest­ed from lakes of the Anishi­naabe. In U.S. case law, cor­po­ra­tions are pro­tect­ed legal­ly because they are con­sid­ered nat­ur­al per­sons by law. In the mean­time, much of the ​"com­mons" or nat­ur­al world includ­ing water, sacred places, and sacred land­scapes have not been pro­tect­ed. The Rights of Manoon­im begin to address this inequal­i­ty, and chal­lenge the inad­e­qua­cy of U.S. and Cana­di­an legal sys­tems. ​"Remem­ber, at one time, nei­ther an Indi­an nor a Black per­son was con­sid­ered a human under the law", Bibeau reminds us. ​"Legal sys­tems can and will change," and in the mean­time, the Ojib­we move forward.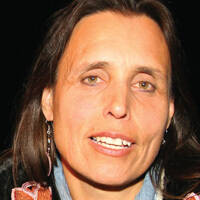 Winona LaDuke
is Anishi­naabe, a writer, an econ­o­mist and a hemp farmer, work­ing on a book about the Eighth Fire and the Green New Deal. She is ready for the Green Path, and would pre­fer not to spend her gold­en years clean­ing up the mess­es of enti­tled white men.LaDuke lives and works on the White Earth reser­va­tion in north­ern Min­neso­ta, where she found­ed the White Earth Land Recov­ery Project. She is pro­gram direc­tor of Hon­or the Earth and a two-time vice pres­i­den­tial can­di­date with Ralph Nad­er on the Green Par­ty ticket.