How To Build the Zero-Carbon Economy
The Green New Deal sets an ambitious goal. Here's how to get there.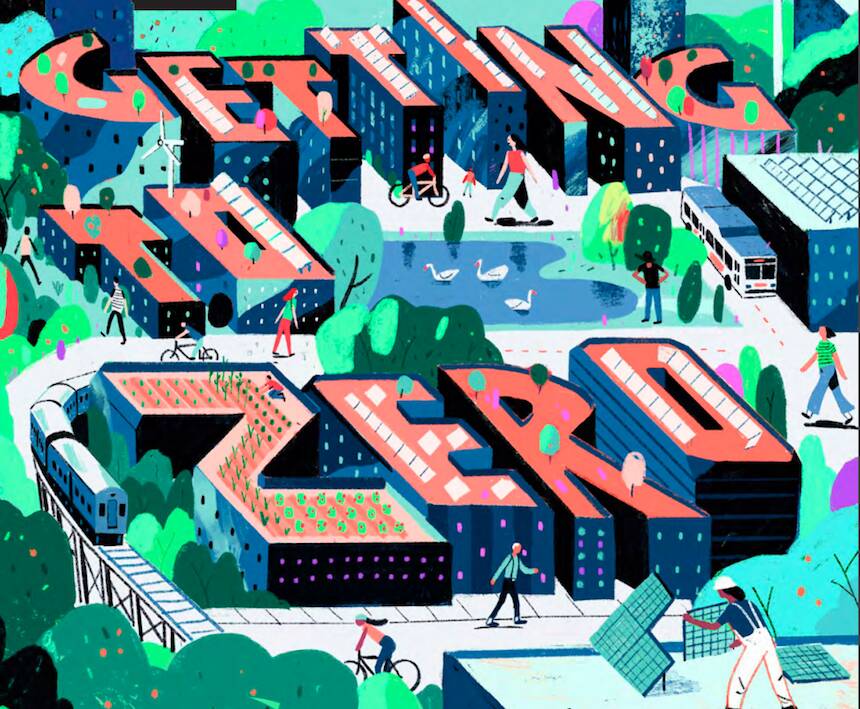 The Anishi­naabe peo­ple have a prophe­cy that a time will come when we have to choose between two paths: one scorched, one green. For those who choose the green path, a more peace­ful era will fol­low — known as the Eighth Fire — in which the Anishi­naabeg will return to our teach­ing of Mino Bimaatisi­i­win, the Good Life. Mino Bimaatisi­i­win is based on reci­procity, affir­ma­tion and rev­er­ence for the laws of Nature — quite a dif­fer­ent val­ue sys­tem from that of the Gross Nation­al Product.
Zero net global emissions by 2050 is the goal of the Green New Deal.
How to ensure we make the right choice is the art of now. As Dako­ta philoso­pher and poet John Trudell often says, first you have to ​"keep the beast out of the gar­den." I refer to the beast that's destroy­ing our col­lec­tive gar­den as Wiindi­go (can­ni­bal) eco­nom­ics — the prac­tice of extract­ing every last bit of oil just because you've got the tech­nol­o­gy to do it, ecosys­tems be damned.
Killing Wiindi­go eco­nom­ics is doable, but it will be a big job. We must work with the deter­mi­na­tion of peo­ple who actu­al­ly intend to sur­vive, and we must find the Achilles' heels of the cur­rent sys­tem. For inspi­ra­tion, look to the rough­ly $8 tril­lion mov­ing out of the fos­sil fuel indus­try thanks to glob­al divest­ment cam­paigns. Look to the social move­ments emerg­ing as water pro­tec­tors block ​"Black Snakes" — that is, oil pipelines. Enbridge's Line 3 pipeline is anoth­er year behind sched­ule while renew­able ener­gy moves ahead.
So, what's next?
We need a Green New Deal — or as I pre­fer to call it, a Sit­ting Bull Plan. As Sit­ting Bull once said, ​"Let us put our minds togeth­er to see what kind of future we can make for our chil­dren." That's what's we need — to put our minds together.
The plan pro­posed by Rep. Alexan­dria Oca­sio-Cortez (D‑N.Y.) and Sen. Ed Markey (D‑Mass.) offers the begin­ning of a new green path. In the pages that fol­low, writ­ers from the move­ment put their minds togeth­er to chart that path.
In ​"How To Bury an Indus­try" [link to piece], jour­nal­ist Kate Aronoff tells us how to kill the Black Snakes. Cur­rent­ly, the ener­gy sec­tor makes up around 6 per­cent of U.S. GDP. Enbridge's Line 3 is just one $2.9 bil­lion hem­or­rhage, all for a Cana­di­an cor­po­ra­tion to get some filthy tar sands oil to bake the plan­et. Time to get some con­trol over that sec­tor — being an oil addict is a drag.
In ​"Elec­tric Pow­er to the Peo­ple" [link to piece], Johan­na Bozuwa and Gar Alper­ovitz tell us to get local on ener­gy. A study in New Jer­sey sug­gests that each megawatt of com­mu­ni­ty solar installed gen­er­ates around $1.8 mil­lion of total eco­nom­ic impact dur­ing con­struc­tion, oper­a­tion and main­te­nance. Com­mu­ni­ty solar projects allow fam­i­lies, trib­al gov­ern­ments and munic­i­pal­i­ties to com­bine their efforts to go solar, which allows peo­ple who may not have suit­able rooftops, or who face finan­cial or reg­u­la­to­ry bar­ri­ers, to access renew­able ener­gy. That's real ener­gy security.
In ​"The Solu­tion Is Agroe­col­o­gy" [link to piece], Eric Holt-Giménez of Food First reminds us that we have a food over­pro­duc­tion prob­lem. How baf­fling is it that we waste rough­ly 40 per­cent of our food in the Unit­ed States? A study once found that Chicagoans' fruits and veg­eta­bles trav­el an aver­age of 1,500 miles from farm to table; we also slather them with fos­sil fuel-based chem­i­cals, from every­thing end­ing with ‑cide to the plas­tic pack­ag­ing. In the mean­time, Indige­nous nations world­wide are adapt­ing to the times. Through the agroe­co­log­i­cal tech­niques Holt-Giménez pro­pos­es, we could grow less food, near­er to home, and grow it bet­ter. Organ­ic agri­cul­ture sequesters car­bon and rebuilds top soil — might want to stick with ancient, time-test­ed wis­dom. The car­bon needs to be in the soil, not the air.
In ​"Mak­ing It a Good Deal for Work­ers" [link to piece], Jere­my Brech­er of the Labor Net­work for Sus­tain­abil­i­ty points out that clean­ing up this mess will mean jobs. Lots of them. Amer­i­ca has a D+ in infra­struc­ture. For every $1 mil­lion invest­ed in ener­gy effi­cien­cy alone, any­where from 12 to 20 jobs are cre­at­ed. Restora­tive economies are full of employ­ment, and a Green New Deal can require fos­sil fuel com­pa­nies to invest in them. It's about mak­ing the spoiled chil­dren known as Amer­i­can cor­po­ra­tions clean up their own mess­es before they go bankrupt.
In ​"From Extrac­tion to Regen­er­a­tion" [link to piece], Kali Akuno of Coop­er­a­tion Jack­son says it's time to tame your inner Wiindi­go. So much of the stuff we pro­duce ends up in a land­fill. No time like the present to change that. We need to move from a pro­duc­tion chain to a pro­duc­tion cycle based on reuse, and start ban­ning plas­tic straws, bags and all that stuff. And then we fig­ure out how to do this all, bet­ter. No way should we be try­ing to fill our gul­lets with so much excess; what we need is to be effi­cient and elegant.
Final­ly, in ​"We Broke It, Let's Fix It" [link to piece], Basav Sen of the Insti­tute for Pol­i­cy Stud­ies shows we need to look beyond the invis­i­ble bor­ders cre­at­ed by colo­nial pow­ers. I think of this land as Aki­ing, the land to which the peo­ple belong. Those bor­ders make no sense to a storm, a flood or the wind. Cli­mate change is inter­na­tion­al. We must be, too.
The Anishi­naabeg are instruct­ed that in each delib­er­a­tion, we must con­sid­er the impact upon the sev­enth gen­er­a­tion from now. This teach­ing can guide a life, a social move­ment and ulti­mate­ly an economy.
The essen­tial ele­ments of inter­gen­er­a­tional equi­ty involve rene­go­ti­at­ing and restor­ing a rela­tion­ship to eco­log­i­cal sys­tems, to Moth­er Earth. It's not just mak­ing sure that you can buy a solar cell-phone charg­er from Ama­zon. It means a restora­tive and regen­er­a­tive econ­o­my. It also means jus­tice — from a just tran­si­tion for work­ers, to an inter­species, inter­gen­er­a­tional and inter­na­tion­al justice.
The time you kill a Wiindi­go is in the sum­mer. When the warmth of the sun returns to the north coun­try. There's a proverb, ​"They tried to bury us, but they didn't know we were seeds." It's time to plant the seeds.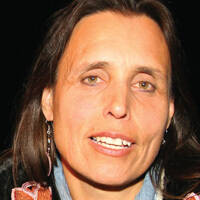 Winona LaDuke
is Anishi­naabe, a writer, an econ­o­mist and a hemp farmer, work­ing on a book about the Eighth Fire and the Green New Deal. She is ready for the Green Path, and would pre­fer not to spend her gold­en years clean­ing up the mess­es of enti­tled white men.LaDuke lives and works on the White Earth reser­va­tion in north­ern Min­neso­ta, where she found­ed the White Earth Land Recov­ery Project. She is pro­gram direc­tor of Hon­or the Earth and a two-time vice pres­i­den­tial can­di­date with Ralph Nad­er on the Green Par­ty ticket.