This spring, after gath­er­ing on the White Earth Indi­an Reser­va­tion in north­west­ern Min­neso­ta and then in Col­orado, trib­al ​"hemp­sters" are work­ing toward a renais­sance of the plant that once clothed much of Europe and North Amer­i­ca. Trib­al hemp grow­ers from the Meskwa­ki, Lako­ta, Menom­i­nee, Man­dan, Hidat­sa, Colville and oth­er Native nations are plant­i­ng the seeds of a new econ­o­my — respond­ing with an inno­v­a­tive and holis­tic approach to the many chal­lenges Native and non-Native com­mu­ni­ties face.
These new, young trib­al lead­ers are tak­ing a place at the table of the $700 mil­lion U.S. hemp indus­try — an indus­try that can lit­er­al­ly trans­form much of the mate­r­i­al, food and ener­gy world. As hemp returns as a viable part of food, cloth­ing, hous­ing, med­i­cine and fuel sys­tems, trib­al hemp lead­ers are keen to not only be a part of the indus­try, but to trans­form their communities.
In ear­ly April, at the NoCo Hemp Expo in Love­land, Colo., the near lim­it­less poten­tial of hemp was on dis­play. An esti­mat­ed crowd of 10,000 curi­ous enthu­si­asts, among them Native peo­ple, crowd­ed into the con­ven­tion cen­ter to view hemp in forms you can fuel your car with, eat in choco­late or pesto sauce, slather on as sham­poo, and wear. The trade show was not about ​"bongs" and tie-dye — rather, it fea­tured the lat­est har­vest­ing and pro­cess­ing equip­ment, inno­va­tions in hemp farm­ing and up-to-date reg­u­la­to­ry analysis.
The indus­try has cer­tain­ly arrived in good time.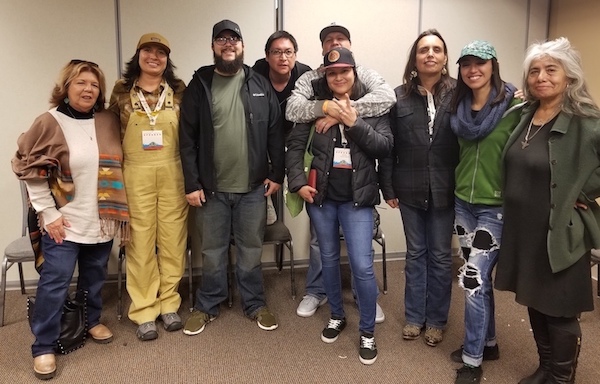 April

7

,

2018

 — Winona LaDuke (third from the left) and Muriel Young­Bear (cen­ter) gath­er with oth­er indige­nous hemp lead­ers for a pic­ture at the NoCo Hemp Expo in Love­land, Colo.
(Image: Sarah LittleRedfeather)
Muriel Young­Bear, a mem­ber of the Meskwa­ki Nation in Tama, Iowa, is a sec­ond year attendee of the expo. Cur­rent­ly a Uni­ver­si­ty of Kansas grad­u­ate stu­dent study­ing busi­ness, she's been attend­ing hemp-relat­ed con­fer­ences, net­work­ing with indus­try lead­ers, vis­it­ing Col­orado grow­ing oper­a­tions and work­ing with­in trib­al eco­nom­ic devel­op­ment cir­cles to become an edu­ca­tion­al resource for native nations. While look­ing for alter­na­tives to fos­sil fuels, tim­ber, plas­tics and cot­ton prod­ucts, Young­Bear became inspired by hemp.
"Ini­tial­ly, I start­ed this jour­ney after see­ing the unsus­tain­able busi­ness prac­tices our trib­al com­mu­ni­ties are deal­ing with and I am deter­mined to find an alter­na­tive. Hemp is the way to do that," says Young­Bear. She adds, ​"I want our com­mu­ni­ties to be a place peo­ple run to, not from."
Under­stand­ing that edu­ca­tion about the plant's poten­tial was ​"the one piece miss­ing in Indi­an Coun­try," Young­Bear began a social media cam­paign to pub­li­cize speak­ing ses­sions with her tribe, water pro­tec­tor camps and Iowa senators.
Out West, Dustin Fin­ley has been work­ing with the Con­fed­er­at­ed Tribes of the Colville Reser­va­tion in north-cen­tral Wash­ing­ton to estab­lish an indus­tri­al hemp project. This past year, the tribe grew 60 acres of hemp in the state — the largest grow by any tribe. ​"I want to make our com­mu­ni­ties one again," says Finley.
Like Young­Bear, Fin­ley sees hemp as a way to rebuild a local trib­al econ­o­my and bring peo­ple back. ​"I want a place for peo­ple to come home — to bring your knowl­edge back to your peo­ple rather than just leave it," he says, refer­ring to the ​"brain drain" and dias­po­ra many reser­va­tions face. ​"I have two young sons… and I'm scared of what's out there," says Fin­ley. ​"Hemp can change the world."
Along with Young­Bear and Fin­ley, Rose­bud White Plume, Mar­cus Grignon and Way­lon Pre­tends Eagle have launched the Inter­trib­al Hemp Asso­ci­a­tion—a new orga­ni­za­tion intend­ed to edu­cate Native com­mu­ni­ties about hemp and work to cre­ate col­lab­o­ra­tions for the future of the trib­al hemp indus­try. For them, hemp is about heal­ing and social change, not money.
YoungBear's inter­est in hemp was piqued three years ago. Then an under­grad­u­ate stu­dent at Haskell Uni­ver­si­ty in Kansas, she began study­ing with the college's indige­nous schol­ars. She read books with Michael Yel­low­bird and took food sov­er­eign­ty intern­ships that focused on decol­o­niz­ing food sys­tems with Dan Wild­cat. Among the plant's 10,000 known uses, hemp, it turns out, is an excel­lent source of nutri­tion and amino acids. ​"I want to feed the war­riors," says YoungBear.
Way­lon Pre­tends Eagle is from Man­da­ree, N.D., pop­u­la­tion 596, near the Ft. Berthold reser­va­tion — also known as the Man­dan, Hidat­sa and Arikara (MHA) Nation. The reser­va­tion is in the midst of a frack­ing boom: Oil roy­al­ties are paid out to some fam­i­lies on the reser­va­tion and trib­al cof­fers are filled with oil mon­ey. At the same time, ground water, plants and ani­mals are suf­fer­ing from the frack­ing process. ​"My fam­i­ly actu­al­ly ben­e­fits finan­cial­ly from frack­ing," says Pre­tends Eagle, ​"but I'd like to push us all forward."
Pre­tends Eagle sees hemp as part of his own heal­ing as well. ​"I want to heal myself by grow­ing good med­i­cine. I have some trau­ma from my child­hood and this is what I need," he says.
The med­ical ben­e­fits of hemp come from, in part, the cannabi­noids con­tained with­in the plant. Over the cen­turies, these heal­ing prop­er­ties have been doc­u­ment­ed as treat­ing a wide vari­ety of human health con­di­tions. Can­nibid­i­ol, or CBD as it's com­mon­ly known, is one of over 100 Cannabi­noids found in Cannabis sati­va L.—the bino­mi­al name of the hemp plant. Although CBD is a major med­i­c­i­nal con­stituent found in hemp's many vari­eties, it should not be con­fused with tetrahy­dro­cannabi­nol (THC) — the one that gets you ​"stoned." Hemp and mar­i­jua­na come from the same cannabis species, but they are genet­i­cal­ly dis­tinct and the cul­ti­va­tion meth­ods are different.
Com­pared with THC, Cannabid­i­ol is not psy­choac­tive in healthy indi­vid­u­als and is con­sid­ered to have a wider scope of med­ical appli­ca­tions. These appli­ca­tions include, but are not lim­it­ed to, the treat­ment of epilep­sy, mul­ti­ple scle­ro­sis spasms, anx­i­ety dis­or­ders, bipo­lar dis­or­der, schiz­o­phre­nia, nau­sea, con­vul­sion and inflam­ma­tion, and inhibit­ing the growth of can­cer cells.
Hemp is also known to have prop­er­ties that biore­me­di­ate tox­ins in the soil and air (i.e. help clean up) and sequester car­bon — both of which could help address the envi­ron­men­tal chal­lenges tak­ing place on the Ft. Berthold Indi­an Reser­va­tion and else­where. As such, hemp is viewed by Pre­tends Eagle and oth­er trib­al lead­ers as a key in heal­ing not only peo­ple, but Moth­er Earth.
An inter­gen­er­a­tional commitment
Mar­cus Grignon, from the Menom­i­nee Tribe in Wis­con­sin, is the cam­paign man­ag­er for Hemp­stead Project Heart. Found­ed by the leg­endary philoso­pher and writer John Trudell (San­tee) and song­writer Willie Nel­son in 2012, the col­lab­o­ra­tion seeks to raise aware­ness regard­ing the ben­e­fits of hemp for both peo­ple and plan­et. Fol­low­ing Trudell's death in 2015, Grignon pledged to car­ry on the organization's work and con­tin­ues to advo­cate for the Menominee's cul­ti­va­tion of hemp.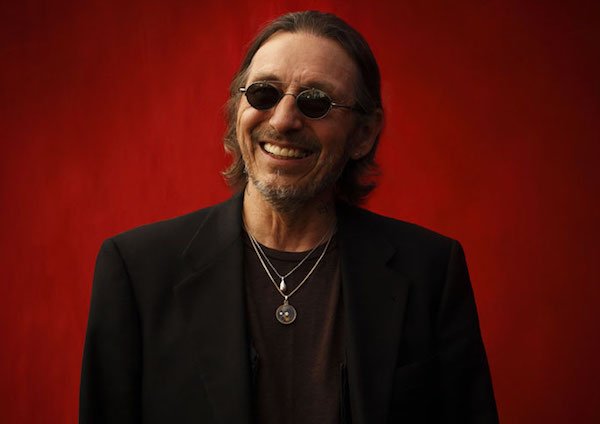 Native Amer­i­can author, poet, actor, musi­cian and polit­i­cal activist, John Trudell. (Image: john​trudell​.com)
This work has not been easy. As recent­ly as 2015, the Menom­i­nee hemp crop was seized by the Drug Enforce­ment Agency (DEA). The right to grow hemp has been mired in bureau­crat­ic con­tro­ver­sy for decades but, thanks large­ly to the tire­less work of its advo­cates, atti­tudes in states across the coun­try are changing.
Anoth­er leader of trib­al hemp's ​"Old Guard" is Rose­bud White Plume's father, Alex, from Man­der­son and Wound­ed Knee Creek in South Dako­ta. For 16 years, from 2000 to 2016, he and oth­er trib­al mem­bers in the state fought to push the hemp indus­try for­ward. (His bat­tle to grow hemp on South Dakota's Pine Ridge Indi­an Reser­va­tion is an epic sto­ry in its own right.) In short, although Pine Ridge and the Nava­jo Nation had passed ordi­nances to grow indus­tri­al hemp, trib­al crops con­tin­ued to be seized and the fed­er­al court barred the White Plume fam­i­ly from plant­i­ng hemp.
In March 2016, how­ev­er, the U.S. Dis­trict Judge of South Dako­ta, Jef­frey L. Viken, lift­ed the injunc­tion that stopped White Plume from grow­ing hemp on his land by Wound­ed Knee Creek. He pro­duced his first crop again in 2017. Now, Rose­bud White Plume, Alex's daugh­ter, has tak­en up much of the hemp work for the fam­i­ly. Like the oth­er young peo­ple in the sec­ond gen­er­a­tion of this renais­sance, she looks for­ward to a brighter future thanks to the hemp rev­o­lu­tion­ar­ies of the last decades.
Though Trudell did not live to see the full renais­sance, his lega­cy is flour­ish­ing. In late 2017, the state of Wis­con­sin also legal­ized indus­tri­al hemp. And now that spring is com­ing to the North Coun­try, the Menom­i­nee, Onei­da and the St. Croix Band of Ojib­we all plan to grow this year.
Unlike trib­al gam­bling, the eco­nom­ic boon hemp offers indige­nous com­mu­ni­ties includes health and envi­ron­men­tal ben­e­fits. Wealth, after all, is more than mon­ey — it is well­be­ing. At a Native gath­er­ing at the NoCo Hemp Expo, Lavonne Peck, a for­mer trib­al chair­woman of the La Jol­la Band of Luiseño Indi­ans, spoke of the promis­ing role CBD is play­ing in assist­ing those suf­fer­ing from opi­oid addic­tion. ​"It's the future," she says. ​"Hemp is what the world needs. Hemp is the way."
Indeed, more men­tal health coun­selors are look­ing toward hemp as a part of a holis­tic treat­ment for addic­tions and trau­ma. Wear­ing an out­fit made entire­ly of hemp, Dionne Holmquist, the founder of Hemp Quest Ven­tures of Col­orado, also attend­ed the gath­er­ing. With a long career as a coun­selor, she says, ​"I want­ed to do holis­tic heal­ing, not treat­ment. That's what I learned as an addic­tion coun­selor. We were just treat­ing peo­ple and not heal­ing them." Inspired by Alex White Plume, Holmquist's expe­ri­ence moti­vat­ed her to do more and even­tu­al­ly led to her cur­rent role lead­ing mul­ti­ple hemp ini­tia­tives. She and her com­pa­ny will work with tribes to move their efforts forward.
Hemp eco­nom­ics and big pharma
Trib­al and oth­er hemp grow­ers are (and must con­tin­ue) doing all they can to ensure that ​"Big Phar­ma" does not con­trol the future of hemp. This is, after all, a med­i­cine you can grow in your yard. But there is undoubt­ed­ly mon­ey to be made.
Hemp Busi­ness Jour­nal esti­mates the total retail val­ue of all hemp prod­ucts sold in the Unit­ed States to be at least $688 mil­lion for 2016. The data demon­strates the hemp indus­try is grow­ing quick­ly and accord­ing to Sean Mur­phy, the Jour­nal​'s founder and pub­lish­er, sales are pro­ject­ed to be near­ly $2 bil­lion by 2020. The surge is expect­ed to be led by hemp food, body care and CBD-based products.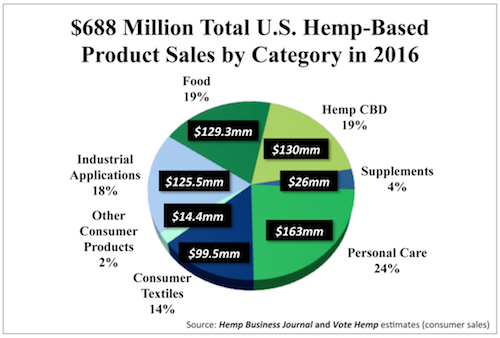 (Source: Hemp Busi­ness Jour­nal)
One exam­ple of the pend­ing boom is the fact that phar­ma­ceu­ti­cal com­pa­nies are con­tin­u­ing to devel­op inno­v­a­tive cannabi­noid based drugs. In the Unit­ed States, GW Phar­ma­ceu­ti­cals (NAS­DAQ:GWPH) has received Orphan Drug Des­ig­na­tion from the FDA for its CBD-based drug Epid­i­olex. The drug will be used to treat a vari­ety of degen­er­a­tive and oth­er ill­ness­es includ­ing tuber­ous scle­ro­sis com­plex and infan­tile spasms — both severe infan­tile-onset, drug-resis­tant epilep­sy syndromes.
Big phar­ma stands to prof­it well: Sales of Epid­i­olex are slat­ed to begin in 2018 or 2019, and are pro­ject­ed by Hemp Busi­ness Jour­nal to reach $120 mil­lion by 2020. If these fore­casts for Epid­i­olex prove accu­rate, sales of the drug will rep­re­sent near­ly 7 per­cent of total hemp indus­try sales by 2020 — an esti­mat­ed $1.8 bil­lion market.
For those con­cerned about any new reg­u­la­tions that would lim­it trib­al and oth­er nation­al hemp mar­kets, most indus­try and legal ana­lysts are not wor­ried. ​"That train has left the sta­tion," says long­time envi­ron­men­tal and Native Amer­i­can advo­cate Don Wedll. Now in his third year of grow­ing hemp in Min­neso­ta, Wedll says, ​"You can buy CBD's at Wal­mart." To fur­ther cement this sen­ti­ment, the Hemp Farm­ing Act of 2018 was intro­duced on April 12 by Sen. Mitch McConnell (R‑Ky). The leg­is­la­tion, which would amend the Agri­cul­tur­al Mar­ket­ing Act of 1946 to once again allow hemp pro­duc­tion, was quick­ly giv­en a sec­ond read­ing by the Sen­ate and is expect­ed to pass.
With tribes like the Anishi­naabe, Crow, Onei­da, Odawa, Menom­i­nee, Nava­jo and Oma­ha inter­est­ed in indus­tri­al hemp, it is clear that the renais­sance of hemp is now. This spring, a plant­i­ng in Native com­mu­ni­ties brings promise. With it, a new col­lab­o­ra­tion is grow­ing in indige­nous nations. Some tribes will grow, oth­ers will enact reg­u­la­to­ry author­i­ty, and more tribes will come to the table in what promis­es to be an econ­o­my that can change many facets of our lives.
The plant is here to stay.