West Virginia, "Identity Decline" and Why Democrats Must Not Look Away From the Rural Poor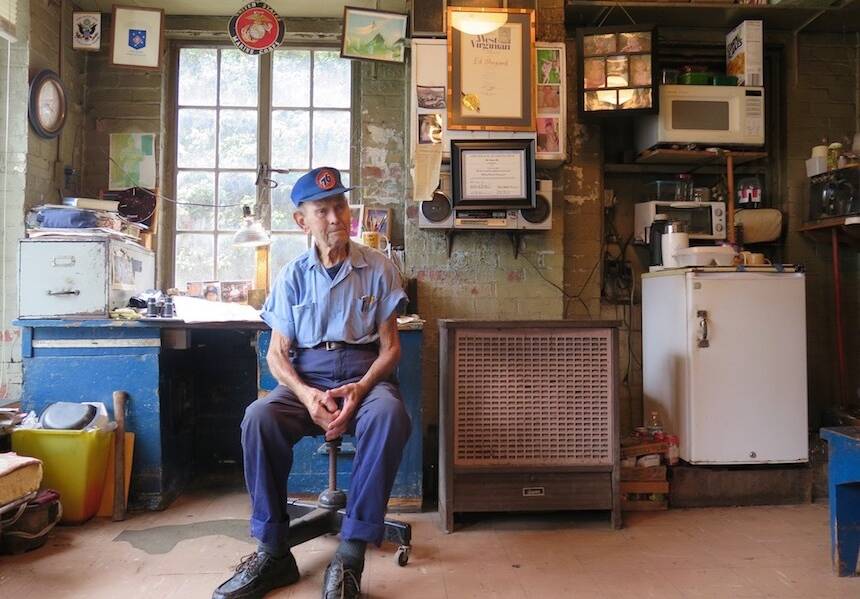 When the Eco­nom­ic Devel­op­ment Author­i­ty of McDow­ell Coun­ty in West Vir­ginia announced the open­ing of a pri­vate­ly-owned prison in 2006, hun­dreds of laid-off coal min­ers expect­ed jobs would flood into this rur­al coun­ty, where only one in three peo­ple is employed. In the fol­low­ing months, those jobs did come but a sig­nif­i­cant por­tion went to com­muters from more pros­per­ous coun­ties in West Vir­ginia and neigh­bor­ing Vir­ginia. The rea­son? Many McDow­ell appli­cants test­ed pos­i­tive for opi­oids in ini­tial drug screen­ings and had been marked inel­i­gi­ble for hire.
In late Sep­tem­ber, I made the four-hour dri­ve from Char­lotte, N.C. to McDow­ell Coun­ty, W.V., (pop. 19,835) — the 6th low­est income coun­ty in the Unit­ed States and the poor­est in West Vir­ginia. Over the past year, I had writ­ten sev­er­al arti­cles about pover­ty in rur­al Amer­i­ca, and knew full well the effect of dein­dus­tri­al­iza­tion on rur­al com­mu­ni­ties. Still, enter­ing into McDow­ell Coun­ty from the sleepy microp­oli­tan towns of south­west­ern Vir­ginia felt a bit like cross­ing a nation­al border.
Hun­dreds of aban­doned hous­es, schools, banks, restau­rants and motels line U.S. High­way 52, McDow­ell County's wind­ing two-lane artery known as Coal Her­itage Road. At mid­day, the unem­ployed sit out on their front porch­es over­look­ing the high­way, smok­ing cig­a­rettes and wav­ing to pass­ing cars. The polit­i­cal cam­paign ads run­ning along the hol­lows — ​"Make West Vir­ginia Great," ​"Bring Back Coal," ​"Trump Digs Coal"— paint­ed a pic­ture of the county's polit­i­cal tra­jec­to­ry. On Novem­ber 9, 75 per­cent of McDow­ell Coun­ty vot­ers turned out for Don­ald Trump.
"There's noth­ing left in this town. There's no busi­ness left," Ed Shep­ard, 93, told me when I spoke to him at his Union 76 sta­tion in Welch, the McDow­ell Coun­ty seat. ​"I'm just whiling away my time now… [I have] two or three clients a week."
The decline and fall of a sin­gle indus­try town
McDow­ell Coun­ty sits at the top of many nation­al pover­ty rank­ings. Of the fam­i­lies in McDow­ell who have chil­dren, 40 per­cent live in pover­ty, com­pared with 10 per­cent nation­al­ly. (In 2016 the U.S. gov­ern­ment defined pover­ty as an anu­al income of $24,300 or less for a fam­i­ly of four.) Opi­oid addic­tion is ram­pant, as are chron­ic con­di­tions such as dia­betes, hyper­ten­sion and Black Lung — a res­pi­ra­to­ry dis­ease of min­ers caused by expo­sure to coal dust. The aver­age man in McDow­ell Coun­ty does not live to be 64 — 13 years below the U.S. average.
In the spring of 1959 — 57 years ago — Sen. John F. Kennedy (D‑Mass.) made a pres­i­den­tial cam­paign stop in McDow­ell, dur­ing which he touched on many of the same issues that the coun­ty faces today. He said Amer­i­ca had been ​"caught in the back­wash of eco­nom­ic cycles, shift­ing mar­kets, and automa­tion." Shep­ard, 36 at the time, remem­bers Kennedy's vis­it to Welch, but recalls that the decline of the coal indus­try had only begun to take shape. ​"I shook hands with him. The motor­cade was going around, and it stopped right there," Shep­ard says, point­ing out of his shop win­dow at the emp­ty street.
May 9, 1959 — John F. Kennedy and Sen. Jen­nings Ran­dolph (D‑W.V.) talk with Har­ry Switch, John Buc­cia­rel­li and an uniden­ti­fied min­er at the U. S. Steel Clean­ing Plant in McDow­ell Coun­ty, W.V. (Pho­to: Jen­nings Ran­dolph Col­lec­tion / West Vir­ginia State Archives)
Every fam­i­ly in McDow­ell, the south­ern­most coun­ty in West Vir­ginia, has been impact­ed by the decline of the coal indus­try. The after­math of Gen­er­al Motors' down­fall in Detroit is com­pa­ra­ble to loss of the coal indus­try in McDow­ell. In 1950, McDow­ell was the lead­ing pro­duc­er of coal in the state, and the pop­u­la­tion was near­ly 100,000. But the coun­ty under­went a rapid out­ward migra­tion begin­ning in the late 1950s, fol­low­ing the mech­a­niza­tion of the coal­fields. Today McDowell's pop­u­la­tion sits at just over 19,000 — near­ly the same as it was in 1900.
"You put one machine in there and you replace 200 men," Shep­ard says. Though Shep­ard nev­er want­ed to work in the mines — his father was killed in a min­ing acci­dent — he says the sharp decline in coal min­ing jobs affect­ed his busi­ness. ​"The econ­o­my went down, down, down," Shep­ard says. ​"Much of your pop­u­la­tion here now is on wel­fare. We've still got coalmines, but they're being run with machines, so they don't need all the peo­ple they once did."
Many West Vir­gini­ans blame more recent pay cuts and lay­offs in the coal indus­try on the Demo­c­ra­t­ic Party's efforts to reg­u­late coal emis­sions. Once a strong­hold of union­ized Democ­rats, West Vir­ginia flipped polit­i­cal affil­i­a­tions dur­ing the 2000 elec­tion, and has con­tin­ued to pre­fer Repub­li­cans like George W. Bush and Mitt Rom­ney whose poli­cies focused on recov­er­ing rather than erad­i­cat­ing the coal indus­try. For West Vir­gini­ans, Trump held a mes­sian­ic appeal. Every sin­gle West Vir­ginia coun­ty went to Trump, who cam­paigned heav­i­ly through­out the state, promis­ing to repeal Pres­i­dent Barack Obama's fos­sil fuel emis­sion standards.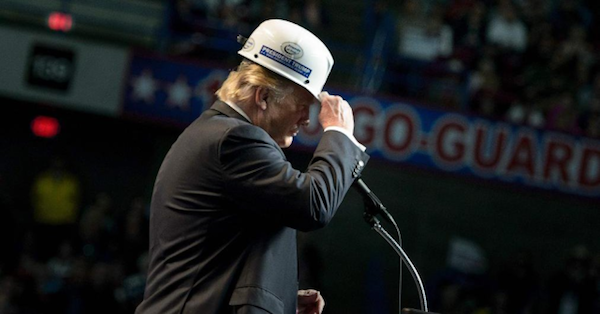 Don­ald Trump cam­paigns in West Vir­ginia wear­ing a hard hat. (Pho­to: The Last Refuge)
Roy Williams Brown, 23, began min­ing for Alpha Nat­ur­al Resources two weeks after he grad­u­at­ed from Riv­er View High School in 2011. But he says the pos­si­bil­i­ty of los­ing his job is ever-present and one of the rea­sons unions are not as strong as they used to be. In Feb­ru­ary 2016, West Vir­ginia passed ​"right-to-work" laws that severe­ly weak­ened unions by allow­ing work­ers to opt of out of pay­ing union dues.
"The pay and ben­e­fits have dropped tremen­dous­ly. Peo­ple are get­ting laid off," Brown tells me while wait­ing in line at BW's Bar­ber­shop in Welch. ​"My pay went from $31.50 an hour to $26.50 an hour in three years." Between 1981 and 2015, union mem­ber­ship in West Vir­ginia took a dive from 38 per­cent to 12 per­cent of work­ers. The scarci­ty of min­ing jobs in West Vir­ginia has allowed coal com­pa­nies to hire non-union min­ers who will work for low­er wages.
(Source: Hirch, MacPher­son and Vro­man (2001) and Union​stats​.org)
For gen­er­a­tions, the men in Brown's fam­i­ly have worked in the McDow­ell Coun­ty coalmines. But, after being laid off last year, Brown's father moved to Flori­da. ​"You nev­er know what's going to hap­pen. Mines are shut­ting down. The ones who have been laid off are just unem­ployed," Brown says. He got mar­ried after high school, but he and his wife, a nurse, are wait­ing for greater job secu­ri­ty before they have children.
Unlike high­ly diver­si­fied met­ro­pol­i­tan economies, rur­al economies are typ­i­cal­ly dom­i­nat­ed by a sin­gle indus­try — oil in east Texas, corn in cen­tral Illi­nois, pota­toes in east­ern Ida­ho. ​"The lack of eco­nom­ic diver­si­fi­ca­tion is a com­mon theme with rur­al economies," says Lisa Pruitt, a pro­fes­sor of law at Uni­ver­si­ty of Cal­i­for­nia Davis, whose work focus­es on rur­al liveli­hoods. ​"In Appalachia, that lack of eco­nom­ic diver­si­fi­ca­tion is wrapped up with the dom­i­nance of coal, and so when­ev­er any­thing threat­ens the coal indus­try, then that threat­ens fur­ther eco­nom­ic collapse."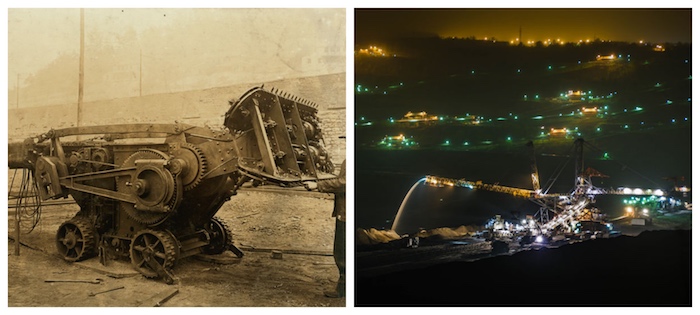 Built in 1908, to dig and load coal onto trains in Gary, W.V., the machine on the left required three men to do the work of 50. On the right, com­plet­ed in 1978, the Bag­ger 288 is used to remove ​"over­bur­den" when strip min­ing. Until the 1990s, it was the heav­i­est land vehi­cle in the world weigh­ing in at 13,500 tons. (Pho­to: Lewis Wick­es Hine / Kamil Porembinski)
Life after coal
For decades, pover­ty rates in the Unit­ed States have been high­er in rur­al areas than in urban ones. In 2011, 85 per­cent of per­sis­tent­ly poor coun­ties in the Unit­ed States were non-met­ro­pol­i­tan — the major­i­ty of these coun­ties are clus­tered around Appalachia, the Mis­sis­sip­pi Delta and the New Mexico/​Arizona bor­der. The Unit­ed States Depart­ment of Agri­cul­ture defines ​"per­sis­tent pover­ty coun­ties" as those in which more than 20 per­cent of the pop­u­la­tion hads been lliv­ing below the pover­ty line for over three decades.
The loss of coal min­ing jobs in McDow­ell led to the dete­ri­o­ra­tion of the hous­ing stock, roads and oth­er infra­struc­ture that coal com­pa­nies built and main­tained through­out the first half of the 20th cen­tu­ry. ​"Orig­i­nal­ly, in McDow­ell Coun­ty, [coal com­pa­nies] put in the hous­ing for the min­ers and they put in the water and sew­er sys­tems. These have great­ly dete­ri­o­rat­ed," says Jeff John­son, com­mu­ni­ty devel­op­ment direc­tor at West Virginia's Region One Plan­ning and Devel­op­ment Coun­cil. ​"I have a num­ber of com­mu­ni­ties that, unfor­tu­nate­ly, [still] straight pipe their raw sewage into creeks and waterways."
John­son has worked for 17 years to attract indus­tries such as tourism, farm-to-table farm­ing and pris­ons to West Virginia's six south­ern­most coun­ties. ​"There's a big thrust to diver­si­fy the econ­o­my," he says. Efforts to expand the tourism and four-wheel­ing indus­tries have been seen as the most promis­ing, but the region's rugged topog­ra­phy and decay­ing infra­struc­ture turn many busi­ness­es away.
Out-of-state coal com­pa­nies own mil­lions of acres in West Vir­ginia, mak­ing it dif­fi­cult for new indus­tries to devel­op the land. In McDow­ell Coun­ty, ten land­hold­ers own over 60 per­cent of pri­vate land. Nor­folk South­ern, a Vir­ginia-based rail­way com­pa­ny that also man­ages coal, nat­ur­al gas, and tim­ber resources, owns near­ly a quar­ter of all pri­vate land in McDowell.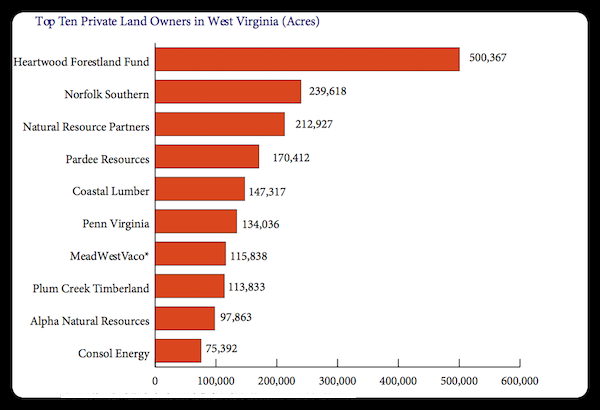 (Source: wvpol​i​cy​.org)
Those who are unfa­mil­iar with rur­al economies might won­der why the peo­ple of McDow­ell do not give up on coal. Why do they con­tin­ue to see coal's revival as the panacea to hard times — despite all the evi­dence that coal jobs are not com­ing back. ​"Every­one asso­ciates good times with coal. It's just the way peo­ple think, because it's just what they've known," says Paul Rakes, a pro­fes­sor at West Vir­ginia Uni­ver­si­ty's Insti­tute of Technology.
Since topo­graph­i­cal engi­neers from the Civ­il War first began to exploit Appalachia's coal reserves in the 1870s and 1880s, the coal-min­ing indus­try — much like agri­cul­ture and oth­er extrac­tive indus­tries dom­i­nant in rur­al economies — has fol­lowed a boom-to-bust cycle. Min­ers have a say­ing: ​"Coal min­ing is feast or famine." When the demand for fos­sil fuels is high, coal-min­ing jobs with sol­id mid­dle-class incomes flow into the com­mu­ni­ty. ​"As an extrac­tive indus­try," Rakes says, ​"it's the first to be affect­ed by an eco­nom­ic down­ward trend, because you're sup­ply­ing the nat­ur­al resource. When oth­er areas of the econ­o­my begin to slow, it's going to slow coal first, because they don't need those raw mate­ri­als as much anymore."
Despite the over­all down­ward tra­jec­to­ry of the indus­try over the past 60 years, coal expe­ri­enced upswings as recent­ly as George W. Bush's pres­i­den­cy. This is one rea­son McDow­ell clings to the hope for a come­back. Com­pared with coal min­ing, jobs in tourism and agri­cul­ture are less attrac­tive as they are sea­son­al and mark ​"some­thing of a down­ward mobil­i­ty" in terms of income for for­mer min­ers, says Rakes. In 2015, coal min­ers in the Unit­ed States made an aver­age annu­al salary of $55,550.
"[In the past], school, for a lot of stu­dents, wasn't as impor­tant because you could get a job in the coal mines," says Fra­zier McGuire, prin­ci­pal of Riv­er View High School in west­ern McDow­ell Coun­ty. ​"You didn't have to have a high school diplo­ma, and you still made a pret­ty good salary. But over the last 15 to 20 years, it has grad­u­al­ly got­ten to the point where you can't do that any­more. McDon­alds and fast-food are about it." In McDow­ell, 5 per­cent of adults have col­lege degrees and 65 per­cent have high school diplo­mas. Like prison jobs, many teach­ing posi­tions in the McDow­ell Coun­ty School Dis­trict are filled by peo­ple from out­side of the county.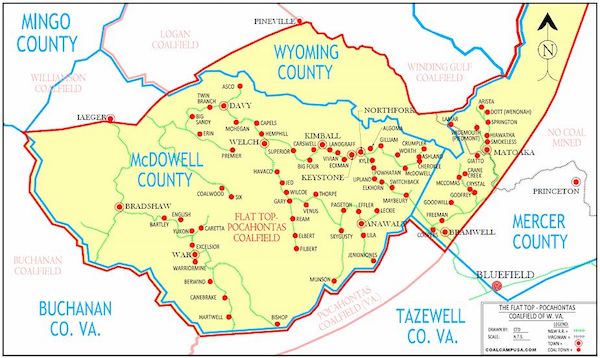 A coal­field map of McDow­ell and sur­round­ing coun­ties. (Image: coal​cam​pusa​.com)
"We don't have peo­ple who can pass the drug tests or you have a pop­u­la­tion that's not pre­pared to take the jobs," says Nel­son Spencer, the super­in­ten­dent of McDow­ell Coun­ty Schools. Dur­ing some years Nel­son is forced to leave teach­ing posi­tions unfilled or hire teach­ers cer­ti­fied in oth­er sub­jects. ​"I would much rather have a math cer­ti­fied teacher teach­ing math than a social stud­ies teacher teach­ing math," he says.
Does West Vir­ginia matter?
The steady loss of coal min­ing jobs in Appalachia marks a larg­er shift in the Amer­i­can socioe­co­nom­ic land­scape. Blue-col­lar jobs that do not require col­lege degrees are no longer easy to come by. Since 2000, 5 mil­lion man­u­fac­tur­ing jobs have been lost nation­wide, and in Oba­ma's first term alone, 50,000 coal-extrac­tion jobs. The long-evolv­ing tran­si­tion from an econ­o­my that pro­duces goods to an econ­o­my that pro­duces ser­vices has trig­gered what Arlie Hochschild, author of Strangers in Their Own Land, calls ​"iden­ti­ty decline" for white work­ing-class rur­al Amer­i­cans, and an intractable nos­tal­gia for a bygone America.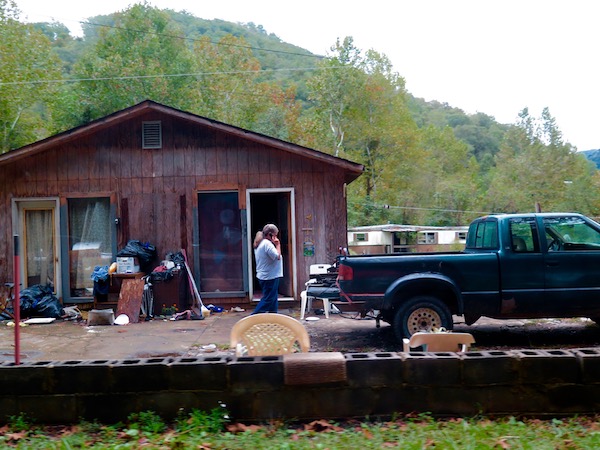 A McDow­ell Coun­ty res­i­dent talks on her phone out­side her house on High­way 52, also known as Coal Her­itage Road. (Pho­to: Lau­ren Gurley)
Often pushed into the shad­ows of the nation­al pover­ty debate, poor rur­al Amer­i­cans took the spot­light through­out the 2016 pres­i­den­tial elec­tions, as jour­nal­ists scram­bled to explain the advent of Don­ald Trump. ​"The rur­al poor and rur­al work­ing class kind of come back into the nation­al con­scious­ness dur­ing the elec­tion sea­son," says Pruitt, the Uni­ver­si­ty of Cal­i­for­nia — Davis pro­fes­sor. Yet, many estab­lish­ment Democ­rats and Repub­li­cans alike blame a ​"cul­ture of igno­rance" and a ​"cul­ture of fear" for the ​"back­ward­ness" of rur­al Amer­i­cans, and in doing so they ski­mover the eco­nom­ic roots of rur­al pover­ty. Despite the Demo­c­ra­t­ic Party's com­mit­ment to fight­ing inequal­i­ty, its stance towards work­ing-class whites in rur­al Amer­i­ca is often defined by dis­avow­al and con­tempt. "[Poor rur­al whites] have become sort of a scape­goat," Pruitt says.
Near­ly every­one I con­tact­ed and inter­viewed in McDow­ell expressed con­cern about speak­ing on the record about their com­mu­ni­ty. Many declined to be inter­viewed, not­ing that reporters often come into the coun­ty seek­ing to cap­i­tal­ize on its pover­ty through neg­a­tive por­tray­als of the local peo­ple and culture.
"I don't care what peo­ple say. I don't care what peo­ple put in the books. You will nev­er meet a bet­ter bunch of peo­ple than the peo­ple of McDow­ell," says Monique Rash, 41, a nurse at the Tug Riv­er Health Clin­ic in Welch.
Rash, who is African-Amer­i­can and a native of McDow­ell Coun­ty, left home in the ear­ly 1990s to study nurs­ing, but her ties to the com­mu­ni­ty were too strong for her to stay away — a sen­ti­ment felt by many among the county's small pro­fes­sion­al class. ​"I could go else­where, and make more mon­ey or do what­ev­er, but it feels good to me to be here," says Rash.
Like many oth­er McDow­ell res­i­dents I spoke to, Rash ques­tions the inten­tions of politi­cians and busi­ness­es that come into McDow­ell promis­ing to bring change. ​"I try to stay out of the whole pol­i­tics thing, but a lot of coalmines were shut down because of this ​'clean coal.' You got to have all these guide­lines," Rash says.
Many pro­gres­sive Democ­rats have dif­fi­cul­ty stom­ach­ing the rur­al poor. Their val­ues are seen as dia­met­ri­cal­ly opposed to the Left's com­mit­ment to the envi­ron­ment, racial and gen­der equal­i­ty, immi­gra­tion and prison reform. This ide­o­log­i­cal dis­con­nect has, with the recent excep­tion of Sen­a­tor Bernie Sanders's cam­paign for pres­i­dent, blind­ed the pro­gres­sive move­ment to the pos­si­bil­i­ties of what can be gained by unit­ing the urban and rur­al poor. If the polar­iza­tion of America's rur­al and urban work­ing class­es is the great­est les­son for Democ­rats in the 2016 elec­tion — as many pro­gres­sives have argued in the after­math of Trump's pres­i­den­tial vic­to­ry — then mend­ing this rift should be the movement's fore­most assign­ment over the next four years.
The pub­li­ca­tion of this sto­ry was sup­port­ed by a grant from the Mar­guerite Casey Foun­da­tion's Equal Voice Jour­nal­ism Fel­low­ship Award.
[If you like what you've read, help us spread the word. ​

"

Like" Rur­al Amer­i­ca In These Times on Face­book. Click on the ​

"

Like Page" but­ton below the bear on the upper right of your screen. Also, fol­low RAITT on Twit­ter @RuralAmericaITT]
Lau­ren Kaori Gur­ley
is a staff writer at VICE's Moth­er­board on the labor beat. She is a for­mer con­tribut­ing writer to Rur­al Amer­i­ca In These Times and In These Times intern. You can fol­low her on Twit­ter @laurenkgurley.