How to Solve Budget Crises? Tax the Rich and Make Banks Pay
The alternative to austerity is bold progressive economic policy.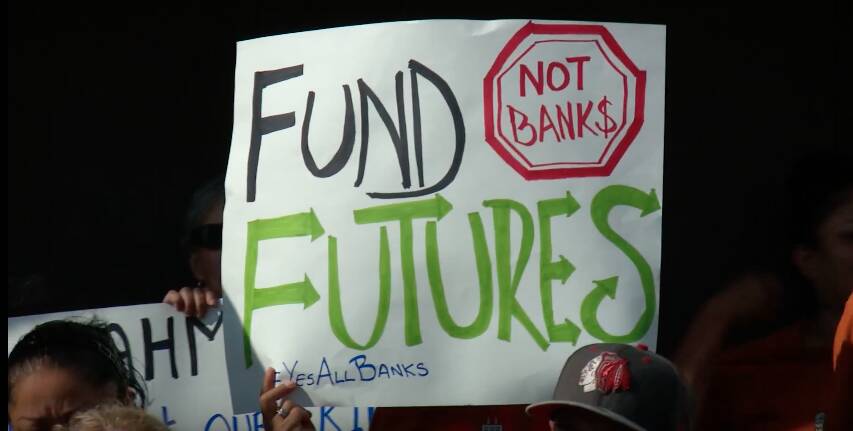 Tonight is the dead­line for Illi­nois law­mak­ers to pass a bud­get this ses­sion. If they fail to do so, the state will con­tin­ue it's near­ly two-year impasse, which has slashed social pro­grams and desta­bi­lized communities.
"Toxic swaps" contribute to widespread austerity policies, such as cuts to the CeaseFire violence prevention program in Chicago.
This episode of Strand­ed by the State looks at the role big banks have played in accel­er­at­ing bud­get crises across the coun­try. The same banks that were respon­si­ble for the fore­clo­sure cri­sis in 2008 are now mak­ing huge sums of mon­ey from preda­to­ry loans made to state and city governments.
These ​"tox­ic swaps" con­tribute to wide­spread aus­ter­i­ty poli­cies, such as cuts to the Cease­Fire vio­lence pre­ven­tion pro­gram in Chica­go. The episode also points toward alter­na­tive solu­tions to the cri­sis in Illi­nois: recov­er­ing mon­ey from the banks and enact­ing a pro­gres­sive income tax.
Illi­nois has not passed a real bud­get in near­ly two years, the first state to go that long with­out a bud­get since the Great Depres­sion. Repub­li­can Gov. Bruce Rauner has refused to sign off on any bud­get that doesn't also cur­tail col­lec­tive bar­gain­ing rights, lead­ing to a show­down with the state's Democrats.
Strand­ed by the State—an 8‑part video series pro­duced in part­ner­ship with Kartemquin Films — fol­lows the fam­i­lies, work­ers and stu­dents liv­ing through these de fac­to bud­get cuts, show­ing the ways they dete­ri­o­rate the fab­ric of Illi­nois com­mu­ni­ties. The series incor­po­rates data con­nect­ing the sit­u­a­tion in Illi­nois to long-term trends of aus­ter­i­ty nation­wide, includ­ing the stag­ger­ing cuts pro­posed in Pres­i­dent Don­ald Trump's first budget.