Daycare Centers Are the Latest Casualty in the War on the Poor
The budget crisis in Illinois has taken an outsized toll on kids in low-income families.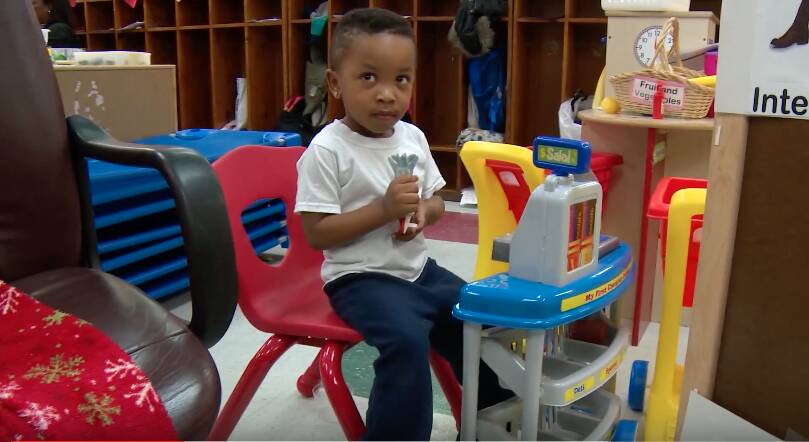 The Illinois budget crisis has decimated child care services across the state. In July 2015, after a budget failed to pass, Republican Governor Bruce Rauner made an emergency rule limiting eligibility for the Child Care Assistance Program. Income guidelines for working families changed from 185 percent of the poverty level to 50 percent, eliminating access to 90 percent of families.
"We have so many people in our past who fought to make sure we live better than they did. And yet, in so many ways we're nowhere."
While public outcry helped raise eligibility guidelines, at least 10,000 previously eligible children remain shut out of the program. This episode of Stranded by the State follows a child care center in East St. Louis to tell the story.
"We have so many people in our past who fought to make sure we live better than they did," says Brenda Crisp, executive director of Uni-Pres Kindercottage. ​"And yet, in so many ways we're nowhere."
Illinois has not passed a real budget in nearly two years, the first state to go that long without a budget since the Great Depression. Republican Gov. Bruce Rauner has refused to sign off on any budget that doesn't also curtail collective bargaining rights, leading to a showdown with the state's Democrats.
Stranded by the State—an 8‑part video series produced in partnership with Kartemquin Films — follows the families, workers and students living through these de facto budget cuts, showing the ways they deteriorate the fabric of Illinois communities. The series incorporates data connecting the situation in Illinois to long-term trends of austerity nationwide, including the staggering cuts proposed in President Donald Trump's first budget.
Deadline: Midnight
We're down to the final hours of our summer fundraising drive. If you've already chipped in, thank you so much. If you haven't yet, there's still time.
Every story you see on inthesetimes.com or in the monthly magazine is funded entirely through fundraising drives like this. That's why they're so important, and that's why we're asking you to give.

Even as little as $5 helps, and it only takes a minute to donate. Will you chip in before the deadline?
Help In These Times get back on track
As a nonprofit, reader-supported publication, In These Times is funded entirely by readers like you—but through the first half of 2021, reader donations are down nearly 20%. Today is the deadline for our summer fundraising drive. Will you chip in to help get us back on track?