The Historic Budget Crisis That's Threatening the Future of Public Colleges and Universities
Illinois' budget standoff poses an existential threat to public higher education in the state.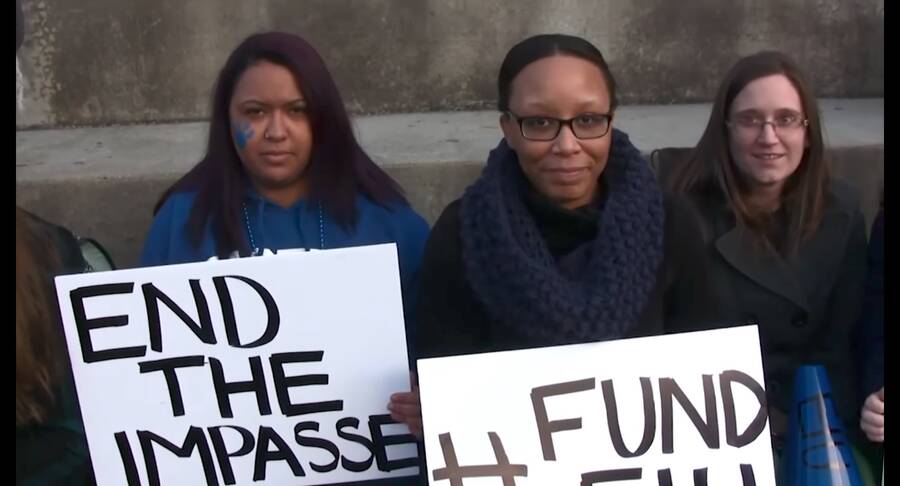 Illinois has not passed a real budget in nearly two years, the first state to go that long without a budget since the Great Depression. Republican Gov. Bruce Rauner has refused to sign off any budget that doesn't also curtail collective bargaining rights, leading to a showdown with the state's Democrats.
Much attention has been paid to the politics of this fight, but what do the effects of the lingering crisis look like in people's day-to-day lives? Stranded by the State—an 8‑part video series produced in partnership with Kartemquin Films — follows the families, workers and students living through these de facto budget cuts, showing the ways they deteriorate the fabric of Illinois communities.
The series incorporates data connecting the situation in Illinois to long-term trends of austerity nationwide — including the staggering cuts proposed in President Trump's first budget.
This episode spotlights the effects of the Illinois budget crisis on public higher education. In the face of increasing cuts to funding, total enrollment has plummeted across Illinois state universities in recent years. At the same time, tuition has increased for students by nearly 25 percent.
This situation has led to skyrocketing student debt and public colleges and universities that are struggling to keep their doors open. But as this episode shows, students, professors and state residents are fighting back to save public higher ed.