Budgetary Power to the People
An experiment with direct democracy on Chicago's South Side.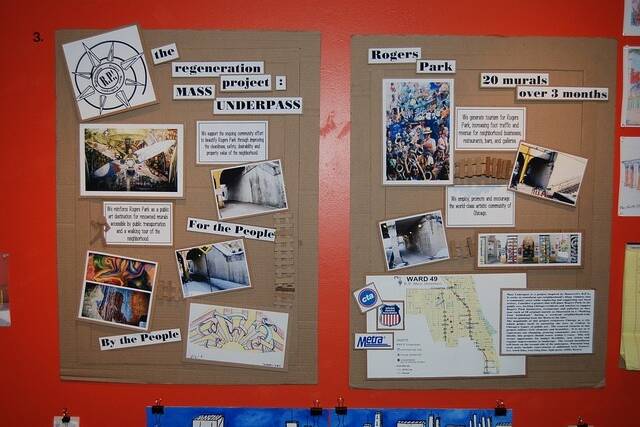 It's a Jan­u­ary night in the 5th Ward of Chica­go, and a small group of ward res­i­dents have gath­ered at Alder­man Leslie Hairston's office in the South Shore neigh­bor­hood to eval­u­ate a long list of ideas on how to improve the ward's trans­porta­tion sys­tem. All can agree that some­thing needs to be done about the dan­ger­ous inter­sec­tion near a neigh­bor­hood club on 55th street, where dri­vers can't see pedes­tri­ans in the walk­way until after they've accel­er­at­ed around a curve. As they dis­cuss the dif­fer­ent options — pedes­tri­an cross­ing signs? a stop sign? a round­about? — they esti­mate how much each would cost, and con­sid­er com­pli­cat­ing fac­tors, like the fact that the east­ern edge of the inter­sec­tion is locat­ed in the neigh­bor­ing ward.
If the process is seen as a failure, it could further alienate Chicago citizens, many of whom are already wary of local politics. But if it's successful, it could encourage further political engagement and a greater sense of what's possible.
The meet­ing is part of the 5th Ward's attempt at imple­ment­ing par­tic­i­pa­to­ry bud­get­ing, a process that allows cit­i­zens to choose how munic­i­pal funds could be best spent in their com­mu­ni­ties. In this case, the funds are the ward's so-called ​"menu mon­ey" — the $1.3 mil­lion allot­ted annu­al­ly to every ward to spend on small infra­struc­ture projects, like fix­ing pot holes or installing pedes­tri­an walk­ways. In the past, alder­men and ward staff have had full dis­cre­tion in decid­ing what projects to fund. But this May, for the first time, 5th Ward res­i­dents will have the oppor­tu­ni­ty to vote direct­ly on how the mon­ey should be spent.
The vote in May will be the cul­mi­na­tion of a near year­long process dur­ing which com­mu­ni­ty mem­bers brain­storm poten­tial uses of the mon­ey, nar­row down the options and devel­op detailed project pro­pos­als. The ward is cur­rent­ly in the sec­ond stage: par­ing down over 170 ideas to cre­ate 32 pro­pos­als that ward res­i­dents will ulti­mate­ly vote on.
The three com­mu­ni­ty rep­re­sen­ta­tives gath­ered in Alder­man Hairston's office are mem­bers of the trans­porta­tion com­mit­tee, one of six com­mit­tees tasked with eval­u­at­ing ideas and devel­op­ing pro­pos­als. (The oth­er five com­mit­tees are arts and cul­ture, parks and recre­ation, cen­ters and spaces, pub­lic safe­ty and streets.) A total of 40 ward res­i­dents have vol­un­teered to serve as com­mu­ni­ty rep­re­sen­ta­tives, choos­ing which com­mit­tee to join based on their indi­vid­ual expe­ri­ence — for exam­ple, Robert Daniels says he joined the trans­porta­tion com­mit­tee because he takes pub­lic tran­sit every­where he goes. But as the trans­porta­tion com­mit­tee dis­cuss­es the project ideas res­i­dents have sub­mit­ted — more bench­es at bus stops, side­walk repairs, dis­abil­i­ty access ramps on walk­ways — they're find­ing that many may fall under the juris­dic­tion of city agen­cies like the Chica­go Tran­sit Author­i­ty, a con­di­tion that Alder­man Hair­ston says makes them inel­i­gi­ble for ward menu mon­ey. By the end of the meet­ing, the trans­porta­tion com­mit­tee has nar­rowed the list of ideas down to three: replac­ing bro­ken reflec­tive poles at a bike path, con­nect­ing two inde­pen­dent bike paths and installing a stop sign at a noto­ri­ous­ly dan­ger­ous pedes­tri­an crossing.
A Brazil­ian import
When the con­cept of par­tic­i­pa­to­ry bud­get­ing was cre­at­ed in 1989 in Por­to Ale­gre, Brazil, by the Brazil­ian Work­ers' Par­ty, it rep­re­sent­ed a rad­i­cal step for­ward for democ­ra­cy in a city, and coun­try, long-oppressed by the mil­i­tary gov­ern­ment that had ruled by force for two decades. Every year, fifty thou­sand Por­to Ale­gre cit­i­zens col­lec­tive­ly deter­mine the bud­get for many of the city's ser­vices and infra­struc­ture projects. Once plagued by severe income inequal­i­ty and ubiq­ui­tous slums, Por­to Ale­gre has ben­e­fit­ted sig­nif­i­cant­ly from par­tic­i­pa­to­ry bud­get­ing. As David Lewit wrote in YES! mag­a­zine in 2002, ​"In sev­en years, hous­ing assis­tance jumped from 1,700 fam­i­lies to 29,000. In 12 years, the num­ber of pub­lic schools increased from 29 to 86, and lit­er­a­cy has reached 98 percent."
By 2007, the con­cept had spread to over 1,200 cities across the world, but in the U.S. it has only been attempt­ed in spe­cif­ic neigh­bor­hoods in New York City and Chica­go. Until last year, par­tic­i­pa­to­ry bud­get­ing in Chica­go had been lim­it­ed to a sin­gle ward, the 49th, where Alder­man Joe Moore intro­duced the process in 2009. Since then, his con­stituents have vot­ed for projects that range from the mun­dane but nec­es­sary — like street resur­fac­ing — to more col­or­ful pro­pos­als like murals and a dog park. Mean­while, Moore has been pros­e­ly­tiz­ing to oth­er city coun­cil mem­bers, and this year, three oth­er wards — the 5th, 45th and 46th — are jump­ing in.
Alder­man Hair­ston and 5th Ward res­i­dents became inter­est­ed in par­tic­i­pa­to­ry bud­get­ing after Alder­man Moore vis­it­ed a 5th Ward meet­ing in 2011 to share how it worked in his Rogers Park neigh­bor­hood. Hair­ston says, " I have a very active com­mu­ni­ty, peo­ple employed in all walks of life — in the park dis­trict, in com­mu­ni­ty issues — so I want­ed to share the deci­sion-mak­ing with them."
Dif­fer­ent strokes
Still, $1.3 mil­lion can only go so far, and the 5th Ward — the only South Side ward to try par­tic­i­pa­to­ry bud­get­ing — faces unique chal­lenges. The ward, which includes parts of the Hyde Park, Wood­lawn, Greater Grand Cross­ing, and South Shore neigh­bor­hoods, is home to the Uni­ver­si­ty of Chica­go and lake­front con­do­mini­ums, but also includes blight­ed, impov­er­ished inland blocks. The hous­ing cri­sis may be slow­ing in oth­er areas in Chica­go, but the 5th Ward con­tin­ues to strug­gle with fore­clo­sures. (Accord­ing to a Feb­ru­ary report by the Wood­stock Insti­tute, in 2012, fore­clo­sure auc­tions in the 5th Ward jumped 62.7 per­cent from the pre­vi­ous year.) The range of project ideas that com­mu­ni­ty mem­bers have come up with so far speaks to the diverse pri­or­i­ties of ward res­i­dents — some want lux­u­ries like a heat­ed dri­ving golf range, oth­ers sim­ply want more street lights so they can walk more safe­ly at night.
The ward is also con­fronting an edu­ca­tion cri­sis per­pet­u­at­ed by the city's so-called reform agen­da, which shut­ters pub­lic schools in favor of pri­vate­ly run char­ter schools. In recent years, four area pub­lic schools have closed, and cur­rent­ly, May­or Rahm Emanuel and the Chica­go Pub­lic School sys­tem are con­sid­er­ing clos­ing up to 12 of the ward's remain­ing 21 schools.
$1.3 mil­lion isn't going to do much toward ame­lio­rat­ing the ward's most press­ing prob­lems. But in a city not inclined to involve the pub­lic in deci­sion-mak­ing — May­or Eman­u­al has attacked both the idea of hav­ing an elect­ed school board and a bud­get over­sight com­mit­tee — the democ­ra­ti­za­tion of ward menu mon­ey is a small step, but a sig­nif­i­cant one. As Pat Wilcox­en, a mem­ber of the 5th Ward's lead­er­ship and trans­porta­tion com­mit­tees, puts in, ​"Any­thing that adds more trans­paren­cy and involve­ment of the cit­i­zen­ry is a good idea."
Bumps in the road
On Valentine's Day, when the trans­porta­tion com­mit­tee held its next meet­ing, it received bad news: All 23 of the committee's ideas had been des­ig­nat­ed as ​"ser­vice requests," which means they fall under the respon­si­bil­i­ty of oth­er city agen­cies. Alder­man Hair­ston says she doesn't want the 5th Ward to spend its lim­it­ed menu mon­ey to fund the work of oth­er agen­cies. So effec­tive­ly, the trans­porta­tion com­mit­tee now over­sees zero projects.
Wilcox­en was dis­cour­aged by the devel­op­ment. ​"I think we owe it to all those peo­ple that came out to the com­mu­ni­ty meet­ings — if you want those peo­ple to get back to us again, you have to show them some­thing, because why would they believe all this rhetoric if noth­ing comes of it?"
Wilcoxen's con­cern points to a larg­er truth about the par­tic­i­pa­to­ry bud­get­ing exper­i­ment: There's more at stake in this project than the $1.3 mil­lion in menu mon­ey. If the process is seen as a fail­ure, it could fur­ther alien­ate Chica­go cit­i­zens, many of whom are already wary of local pol­i­tics. But if it's suc­cess­ful, it could encour­age fur­ther polit­i­cal engage­ment and a greater sense of what's possible.
Elliot El-Amin, a South Shore res­i­dent and a rep­re­sen­ta­tive on the 5th Ward's Cen­ters and Spaces Com­mit­tee, already sees pos­i­tive devel­op­ments emerg­ing from the process. El-Amin has helped weed out some of the more elab­o­rate and pro­hib­i­tive­ly expen­sive ideas. Though the menu mon­ey won't fund a youth cen­ter or a skat­ing rink, he sees a promis­ing future for his ward in the col­lec­tive dis­cus­sions that have been tak­ing place. ​"We had an idea of a dance and art cen­ter, and of course we couldn't fund it, but that per­son [who came up with the idea] got togeth­er with a group of artists and dancers that nor­mal­ly wouldn't have known each oth­er," El-Amin says. And while res­i­dents may not get to vote to spend the menu mon­ey on bus stop bench­es or the oth­er ideas the trans­porta­tion com­mit­tee dis­cussed, now at least they know what com­mu­ni­ty mem­bers want, and the com­mit­tee plans to fol­low up with city agen­cies to make sure res­i­dents' ser­vice requests are being heard.
Over­all, despite these set­backs, most of the par­tic­i­pat­ing ward res­i­dents so far seem hap­py with the process. ​"Before, the alder­man might get input from peo­ple who might want things done on their blocks," says Robert Daniels, from the trans­porta­tion com­mit­tee. ​"And now this gets peo­ple more involved." El-Amin sees par­tic­i­pa­to­ry bud­get­ing as a small start to a new way of mak­ing deci­sions. ​"There's an alarm­ing trend nowa­days where you have a lot of influ­ence from folks that are up top — but once we real­ly look at what the com­mu­ni­ty needs, you see that the best way to find that out is to go to the com­mu­ni­ty and ask them."
This arti­cle is the first in ​"Direct Democ­ra­cy in Chicago's 5th Ward," a 5‑part series that will fol­low the par­tic­i­pa­to­ry vot­ing process in the 5th Ward. This series is sup­port­ed by a grant from the Local Report­ing Ini­tia­tive of the Chica­go Com­mu­ni­ty Trust.
Joel Han­d­ley
, a for­mer assis­tant edi­tor at In These Times, is a Chica­go-based inde­pen­dent jour­nal­ist and free­lance editor.