President's Bus Tour Suggests Broken Moral Compass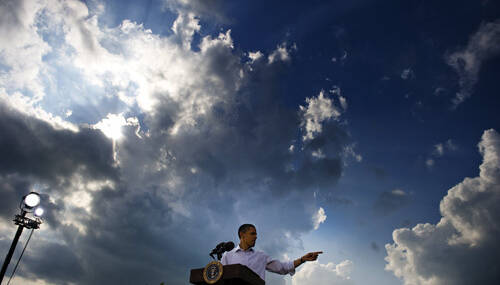 Why does Oba­ma sup­port trade deals that would kill U.S. jobs, help North Korea and pro­tect an off­shore tax haven?
Pres­i­dent Obama's three-day bus tour of small Mid­west­ern (and vir­tu­al­ly all-white) towns this week was designed to show his under­stand­ing of ordi­nary Amer­i­cans' plight. The country's job­less rate is above 9 per­cent and recov­ery seems more remote than ever.
Oba­ma aims to express con­fi­dence in America's capac­i­ty for renew­al and pro­vide the out­lines of a broad­er eco­nom­ic plan to be rolled out after Labor Day. Unfor­tu­nate­ly, Obama's remarks thus far on that plan have been high­ly dis­ap­point­ing, apart from his advo­ca­cy of a nation­al infra­struc­ture bank to fund much-need­ed pub­lic projects to put Amer­i­cans back to work.
The tour looks like yet one more lost oppor­tu­ni­ty for Oba­ma to move pub­lic opin­ion toward defin­ing the jobs cri­sis as America's most com­pelling eco­nom­ic and moral imper­a­tive. Com­pared with FDR's speech­es dur­ing the Great Depres­sion, Oba­ma seems tone-deaf to the despair felt over the nation's ris­ing inequal­i­ty and dis­tant to his base — espe­cial­ly labor activists in Wis­con­sin and else­where — that he must count on now to be re-elect­ed next year. The tour reflects numer­ous prob­lems that con­tin­ue to dis­cour­age Obama's (for­mer?) base:
STIFF-ARM­ING HIS BASE: While tour­ing the region where fierce bat­tles are tak­ing place between right-wing Repub­li­can gov­er­nors rav­aging pub­lic work­ers and financ­ing more cor­po­rate tax breaks, Oba­ma passed over any oppor­tu­ni­ty to defend the strug­gle of work­ers in Wis­con­sin despite their two elec­tion vic­to­ries in recall elec­tions this week.
Instead, he used a ques­tion from a union­ized school­teacher to gen­er­al­ly defend the role of unions, but fin­ished off his response with an insult­ing reminder to union­ists that they must sup­port ​"reform." While Joan Walsh in Salon defend­ed Oba­ma as mere­ly dis­play­ing his typ­i­cal ​"on the oth­er hand" syn­drome, the remarks reflect­ed his more basic unwill­ing­ness to sim­ply embrace his base at a vital moment.
DIS­AS­TROUS ASSUMP­TIONS: An admin­is­tra­tion offi­cial expressed the self-crip­pling assump­tions of the Oba­ma admin­is­tra­tion to the New York Times last week:
"It would be polit­i­cal fol­ly to make the argu­ment that gov­ern­ment spend­ing equals jobs." …. "[Key advi­sor] David Plouffe, and his chief of staff, William M. Daley, want [Oba­ma] to main­tain a prag­mat­ic strat­e­gy of appeal­ing to inde­pen­dent vot­ers by advo­cat­ing ideas that can pass Con­gress, even if they may not have much eco­nom­ic impact. These include free trade agree­ments and improved patent pro­tec­tions for inventors.
Even before he got on the bus, Obama's mys­ti­fy­ing bar­gain­ing dur­ing the debt-ceil­ing episode severe­ly lim­it­ed his abil­i­ty to pro­vide any stim­u­lus need­ed to avoid a dou­ble-dip recession.
Hav­ing almost dis­armed them­selves, Oba­ma and his team must resort to ridicu­lous­ly small-scale pro­pos­als like patent reform and down­right dis­as­trous pro­pos­als like the three free-trade agree­ments with South Korea, Pana­ma, and Colombia.
After wit­ness­ing the dev­as­tat­ing effects of NAF­TA on Amer­i­can indus­tri­al and farm­ing com­mu­ni­ties, Amer­i­cans are deeply hos­tile to free-trade agree­ments and hard­ly eager for three more. New dis­clo­sures about the South Korea and Pana­ma deals are only like­ly to deep­en the public's opposition.
BACK­DOOR ENTRANCE FOR GOODS FROM NORTH KOREA
As pre­vi­ous­ly dis­cussed, the U.S.-South Korea deal will like­ly act as a fun­nel for goods pro­duced in Chi­na and NorthKo­rea. Huff­in­g­ton Post's Zach Carter has con­tributed immense­ly to under­stand­ing this angle by reveal­ing how Hyundai, the par­ent of the South Kore­an automak­er, has pur­chased 41,000 square miles in North Korea for a huge indus­tri­al expansion:
The land deal formed the basis for the Kaesong Indus­tri­al Com­plex: a con­glom­er­a­tion of fac­to­ries and res­i­den­cies ded­i­cat­ed to low­er­ing labor costs for South Kore­an cor­po­ra­tions. Over 47,000 North Kore­an labor­ers are cur­rent­ly per­form­ing work for over 120 South Kore­an firms doing busi­ness in the area….
While work­ing in the Kaes­gong estab­lish­ment, they are treat­ed bet­ter than oth­er North Kore­an laborers:
Work­ers offi­cial­ly make a min­i­mum wage of $60.78 per month – 35 cents an hour based on a 40-hour work sched­ule – but South Kore­an com­pa­nies have almost no over­sight capac­i­ty, accord­ing to the CRS. Labor­ers are hired, dis­ci­plined and fired by the North Kore­an gov­ern­ment, and the wages are kept low via intense cit­i­zen repression.
Aston­ish­ing­ly, the pro­posed U.S.-South Korea trade deal would open the flood­gates to goods pro­duced in North Korea, despite a vari­ety of bans on imports from the total­i­tar­i­an state, reports Carter:
The South Korea trade agree­ment cur­rent­ly pend­ing before Congress…would have a new oblig­a­tion to allow access for prod­ucts assem­bled in South Korea that include parts and labor from North Korea.

These goods would obtain access to U.S. mar­kets devoid of any tar­iffs, result­ing in big prof­its for the Kaesong com­plex and the North Kore­an government.
PRO­TECT­ING TAX HAVEN FOR AMERICA'S SUPER-RICH

Mean­while the Pana­ma trade deal would con­sol­i­date that nation's role as one of the world's worst tax havens, and open up addi­tion­al oppor­tunoities for America's super-rich to stash their cash tax-free in Pana­ma, reports Sara Kenigs­berg:
The trade agree­ment with Pana­ma would effec­tive­ly bar the U.S. from crack­ing down on this activ­i­ty. The U.S. would not be allowed to treat Pana­man­ian finan­cial ser­vices trans­ac­tions dif­fer­ent­ly from trans­ac­tions in nations that are not tax havens. It would also be unable to pur­sue some stan­dard anti-mon­ey laun­der­ing tech­niques in Pana­ma. Com­bat­ing tax haven abuse in Pana­ma would be a vio­la­tion of the trade agree­ment, expos­ing the U.S. to fines from inter­na­tion­al authorities.

​

"

It direct­ly under­mines Obama's puta­tive domes­tic agen­da of job cre­ation, crack­ing down on tax havens and col­lect­ing rev­enue from tax-dodg­ing cor­po­ra­tions," said Lori Wal­lach, Direc­tor of Pub­lic Citizen's Glob­al Trade Watch. ​

"

The [free trade agree­ment] would for­bid future use of exist­ing pol­i­cy tools to com­bat finan­cial crime."
The fact that these deals require no bud­getary out­lays that would offend Repub­li­cans has made Oba­ma an ardent advo­cate of all three, accord­ing to Cal­ifro­nia Demo­c­ra­t­ic Rep. Brad Sherman:
As nego­ti­a­tions over rais­ing the fed­er­al debt ceil­ing stalled out in June and July, Oba­ma repeat­ed­ly referred to the trade deals as easy, imme­di­ate ways to cre­ate jobs.
How is this trade deal an ​"easy, imme­di­ate ways to cre­ate jobs," when the Korea deal alone is pro­ject­ed by the Eco­nom­ic Pol­i­cy Insti­tute to cost 159,00 U.S. jobs? If Barack Oba­ma — who cam­paigned in 2008 as a fierce oppo­nent of job-destroy­ing ​"free trade" deals — has come to believe these things, he has tru­ly lost his moral com­pass — not to men­tion any polit­i­cal sense.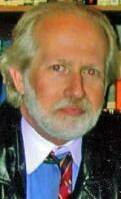 Roger Bybee

is a Mil­wau­kee-based free­lance writer and Uni­ver­si­ty of Illi­nois vis­it­ing pro­fes­sor in Labor Edu­ca­tion.Roger's work has appeared in numer­ous nation­al pub­li­ca­tions, includ­ing

Z

mag­a­zine,

Dol­lars

&

Sense, The Pro­gres­sive, Pro­gres­sive Pop­ulist, Huff­in­g­ton Post, The Amer­i­can Prospect, Yes!

and

For­eign Pol­i­cy in Focus

.More of his work can be found at

zcom​mu​ni​ca​tions​.org/​z​s​p​a​c​e​/​r​o​g​e​r​d​bybee

.