California Drought Leaves Farmworkers Hung Out to Dry (UPDATED)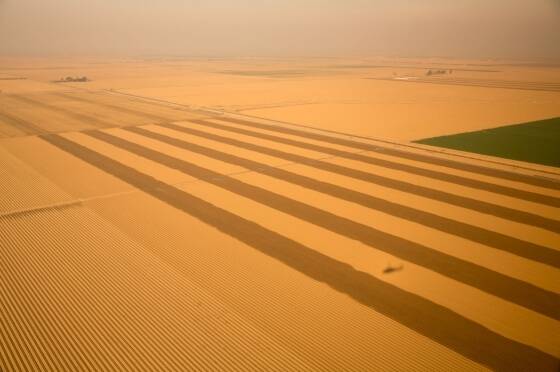 The crops being har­vest­ed in Cal­i­for­nia this sum­mer are small­er than usu­al thanks to the record-set­ting drought that has reached the most extreme lev­els in more than half of the state. While that may be good news to the con­sumers and chefs who enjoy the more con­cen­trat­ed fla­vor of small­er fruits and veg­eta­bles, it's anoth­er blow to California's hun­dreds of thou­sands of farm­work­ers, many of whom are undoc­u­ment­ed immi­grants, that are strug­gling to sur­vive in this third-straight year of drought.
​"When the grow­ers use a lot of water, the oranges are big­ger," says Anto­nio Cortes, an orga­niz­er for the Unit­ed Farm Work­ers, a union rep­re­sent­ing farm­work­ers in Cal­i­for­nia. ​"With less water, the oranges are small­er, and you have to work longer [to fill a buck­et]." Most of the work­ers Cortes rep­re­sents in the Cen­tral Val­ley are paid a piece rate for buck­ets of oranges, toma­toes, mel­ons and oth­er crops.
Dr. Ann López, the Exec­u­tive Direc­tor of the Cen­ter for Farm­work­er Fam­i­lies in Fel­ton, Cal­i­for­nia, hears sim­i­lar com­plaints from the straw­ber­ry pick­ers she works with in near­by San­ta Cruz Coun­ty. ​"The fruit is very small. It's not the same size it's been in the past, and there's not as much fruit," she says. ​"To fill bas­kets, it takes more work — but they're not get­ting paid more."
Indeed, López believes wages have fall­en this year for some farm­work­ers. ​"In the past, they would get $5 per hour and $1 to $1.60 per case. Now that's gone out the win­dow," she says, and employ­ers are only pay­ing work­ers the piece rate.
Farm­work­ers in Cal­i­for­nia earn an aver­age hourly wage of $9.22 and annu­al income of $19,180, accord­ing to the most recent fig­ures from the Bureau of Labor Sta­tis­tics. Most farm­work­ers are immi­grants (prin­ci­pal­ly from Mex­i­co) and many are undoc­u­ment­ed. Accord­ing to López, the aver­age life expectan­cy for a farm­work­er is just 49 years.
Since this win­ter — California's third dry win­ter in a row — farm­ers and farm­work­ers have been antic­i­pat­ing a dis­as­trous sea­son for the state's $42.6 bil­lion agri­cul­tur­al indus­try. But it's only in the past month that researchers have been able to quan­ti­fy the eco­nom­ic impacts of the drought. A new report from the UC Davis Cen­ter for Water­shed Sci­ences has found that the drought will cost Cal­i­for­nia $2.2 bil­lion in rev­enues and result in the loss of 17,100 sea­son­al and part-time jobs.
Accord­ing to Jay Lund, one of the report's five authors and the direc­tor of the UC Davis Cen­ter for Water­shed Sci­ences, near­ly all of rough­ly 7,500 lost jobs from direct agri­cul­tur­al employ­ment are from work­ers in the fields. The oth­er 9,600 lost jobs are from relat­ed indus­tries such as pro­duc­ing fer­til­iz­er, trac­tors, or seed. All told, 88 per­cent of these job loss­es are occur­ring in California's Cen­tral Val­ley. That's because 409,000 of the 428,000 acres of crops lost due to lack of water are locat­ed in the Cen­tral Val­ley, which runs inland down the length of Cal­i­for­nia from Red­ding to Bakersfield.
Cal­i­for­nia is no stranger to droughts, but the cur­rent sit­u­a­tion is sig­nif­i­cant­ly worse than what's been seen in recent years. Accord­ing to the report, the cur­rent job loss­es are more than dou­ble the 7,500 jobs lost in the last major drought of 2009, and the ​"com­bined socioe­co­nom­ic effects of the 2014 drought are up to 50 per­cent more severe than in 2009."
Speak­ing at a Wash­ing­ton, D.C., press brief­ing on the release of the report, lead author Richard Howitt, a pro­fes­sor emer­i­tus of agri­cul­tur­al and resource eco­nom­ics at UC Davis, empha­sized the impor­tance of the job loss­es to California's farm­work­ers. ​"What real­ly hurts is that we're also los­ing 17,000 jobs," he said. "[And] they are from a sec­tor of the pop­u­la­tion who have the least abil­i­ty to roll with the punches."
Help­ing farm­work­ers make it through the hard times is one aspect of Ephraim Camacho's work as a com­mu­ni­ty out­reach work­er with Cal­i­for­nia Rur­al Legal Assis­tance (CRLA) in Fres­no, Cal­i­for­nia. A for­mer farm work­er him­self, Cama­cho has been edu­cat­ing farm­work­ers about their legal rights with CRLA for the last 36 years. His work includes assist­ing farm­work­ers with over­time or wage theft issues, help­ing farm­work­ers con­front issues of work­place vio­lence, and edu­cat­ing farm­work­ers and grow­ers on pre­vent­ing heat ill­ness in the fields.
On July 11, Cama­cho was work­ing at a health resource fair in Men­do­ta, a rur­al farm­ing com­mu­ni­ty west of Fres­no. Of the 100 or so farm­work­ers who attend­ed, Cama­cho says more than half were being affect­ed by the drought. ​"What peo­ple are say­ing is that there's just not the same amount of work that there was pri­or to the drought," Cama­cho says. ​"Peo­ple are out of work. Peo­ple can't pay their bills, their mort­gage. They can't sup­port their families."
Cama­cho says the decrease in work may be depress­ing wages as well. ​"We hear about work­ers ask­ing for wage increas­es and get­ting laid off because there's some­one else will­ing to work for $9 per hour," he says, which is below the mean wage for farm­work­ers in Fres­no Coun­ty, accord­ing to the BLS. ​"Peo­ple should be paid more but there are oth­ers will­ing to work for less."
Cama­cho has also heard about farm­work­ers who are giv­ing up on find­ing work for the sea­son. Work­ers who came up to Fres­no Coun­ty from Coachel­la and El Cen­tro have gone back home, he says, ​"because there's no work."
Cortes, of the UFW, says he is even see­ing farm work­er fam­i­lies leave the area. The UFW has con­tracts with many grow­ers in the area, but Cortes says the farms have all reduced plant­i­ng by 30 to 40 per­cent this year because of the drought. The sea­son start­ed about a month ago, he says, and it will be over in just three to four weeks because of the small­er crop size.
For some grow­ers, reduc­ing the size of this year's crop has not been enough to stave off eco­nom­ic ruin. One UFW-con­tract­ed grow­er hired just 400 farm­work­ers instead of its usu­al 600 to har­vest its toma­to and mel­on crop this year. Despite these cuts, Cortes recent­ly received a let­ter inform­ing him that the grow­er is going out of busi­ness. Now those 400 farm­work­ers will have to find oth­er jobs. (He did not reveal the name of the employ­er because nego­ti­a­tions for pos­si­ble sev­er­ance pay are con­fi­den­tial and ongo­ing.) Accord­ing to Cortes, many of the work­ers are con­sid­er­ing mov­ing to Ore­gon or Wash­ing­ton, where they hope to find stead­ier employment.
As a for­mer farm work­er who has been on staff with the union for six years, Cortes describes a sea­son of hope­less­ness for farm­work­ers around Madera, the coun­ty north of Fres­no where he's based. ​"Farm­work­ers are not get­ting any sup­port from the grow­ers," he says. ​"The grow­ers have sup­port from the gov­er­nor and the fed­er­al gov­ern­ment, but the farm­work­ers get noth­ing." Accord­ing to Cortes, more than 90 per­cent of the farm­work­ers he orga­nizes are undoc­u­ment­ed immi­grants, which lim­its their abil­i­ty to receive gov­ern­ment aid. Accord­ing to the Cal­i­for­nia Eco­nom­ic Devel­op­ment Depart­ment, undoc­u­ment­ed immi­grants are not eli­gi­ble to seek unem­ploy­ment insurance.
​"It's very, very hard for the farm­work­ers," he says. ​"They don't have any hope. They lost hope for immi­gra­tion reform this sum­mer. They have dif­fi­cul­ty with not hav­ing papers. They don't have reg­u­lar driver's licens­es. For any lit­tle issue, the police can stop them and pull them out of their cars. They don't have mon­ey because they don't have work. The prob­lem is very, very serious."
There's lit­tle hope for sig­nif­i­cant relief for farm­work­ers any­time soon. Accord­ing to the UC Davis report, the drought will prob­a­bly extend through 2015 and 2016, although it should be less severe. The report antic­i­pates total job loss­es of 8,495 in 2015 and 8,047 the fol­low­ing year.
Still, there is hope farm­work­ers may not be caught in the drought cycle for­ev­er. One of the UC Davis report's key pol­i­cy rec­om­men­da­tions is that Cal­i­for­nia pass leg­is­la­tion to bet­ter man­age ground­wa­ter . Cur­rent­ly, it is the only West­ern state that does not reg­u­late ground­wa­ter. Two such mea­sures are cur­rent­ly under con­sid­er­a­tion by state law­mak­ers in Sacra­men­to. The author of one of the bills, Assem­bly­man Roger Dick­in­son (D‑Sacramento), told the Wash­ing­ton Post, ​"The old phrase ​'nev­er let a good cri­sis go to waste' applies."
UPDATE: This piece was changed to reflect a com­ment from the Cal­i­for­nia Eco­nom­ic Devel­op­ment Department.
Julia Car­rie Wong is a free­lance jour­nal­ist liv­ing in San Fran­cis­co. You can fol­low her on Twit­ter @juliacarriew or email her at julia.carrie.wong [at] gmail​.com.