Can Illinois Public Employees Win a Fair Pension Deal?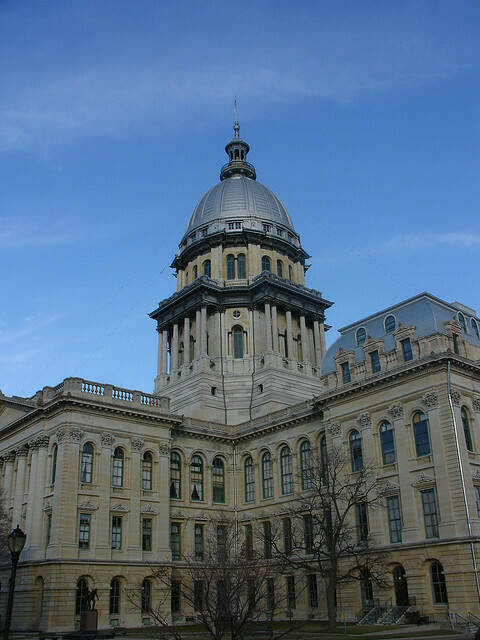 The Illi­nois Gen­er­al Assem­bly end­ed its spring leg­isla­tive ses­sion on Fri­day with­out pass­ing either of two com­pet­ing bills to over­haul the state pub­lic employ­ee pen­sion sys­tem—the most poor­ly fund­ed state work­er retire­ment sys­tem in the coun­try, with $96 bil­lion, or more than half, of future pen­sion oblig­a­tions unfunded.
Polit­i­cal momen­tum behind the pas­sage of a bill appeared strong. House Repub­li­can leader Tom Cross said pen­sion financ­ing is the most press­ing issue the state has faced in 50 years. Gov. Pat Quinn, a Demo­c­rat, said he was ​"put on earth" to solve Illi­nois' pen­sion lia­bil­i­ty. And pub­lic-sec­tor labor unions, which have his­tor­i­cal­ly opposed any pen­sion reform, got on board in May. But despite all this, Illi­nois Speak­er of the House Mike Madi­gan and Illi­nois Sen­ate Pres­i­dent John Culler­ton, both Democ­rats, were unable to agree on a bill.
In the past, Illi­nois labor's knee­jerk reac­tion to any pen­sion bill has been to oppose it as ​"unfair and uncon­sti­tu­tion­al." ​"Unfair" because almost every pen­sion bill pro­pos­es ben­e­fit cuts for pub­lic employ­ees, even after these work­ers loy­al­ly paid into the sys­tem. ​"Uncon­sti­tu­tion­al" because the 1970 Illi­nois Con­sti­tu­tion statesthat no law may ​"dimin­ish or impair" con­trac­tu­al­ly guar­an­teed benefits.
Things changed this May. First, by a vote of 62 – 51, the Illi­nois House passed a pen­sion bill spon­sored by Speak­er Mike Madi­gan, a Chica­go Demo­c­rat and the Demo­c­ra­t­ic House Leader since 1983. The bill angered unions by rais­ing the retire­ment age and con­tri­bu­tions for work­ers while cut­ting their benefits.
Madigan's pro­pos­al to uni­lat­er­al­ly cut the pen­sions of cur­rent work­ers and retirees has become the con­ven­tion­al polit­i­cal wis­dom in Illi­nois, but it is fair­ly extra­or­di­nary nationally.
Only a few states, such as Rhode Island, have under­tak­en such cuts, and teach­ers in Rhode Island, unlike Illi­nois, are part­ly cov­ered by Social Secu­ri­ty retire­ment ben­e­fits. The major­i­ty of states that have recent­ly enact­ed pen­sion laws, includ­ing Illi­nois itself in 2010, have focused on mea­sures that only impact new­ly hired pub­lic employees.
But with the polit­i­cal cho­rus in Illi­nois demand­ing pen­sion reform, unions decid­ed to work with Sen­ate Pres­i­dent John Culler­ton, anoth­er Chica­go Demo­c­rat, on a com­pet­ing Sen­ate bill. Cullerton's pro­pos­al would give employ­ees an unpleas­ant ​"choice" of either los­ing their state-financed retiree health care or los­ing some of their retire­ment ben­e­fits. The mea­sure acknowl­edged that Illi­nois has one of the strongest con­sti­tu­tion­al pro­vi­sions in the coun­try pro­tect­ing con­trac­tu­al pen­sion benefits.
Culler­ton fig­ured with this choice that the bill was con­sti­tu­tion­al enough, as did the We Are One Illi­nois coali­tion — a group of state unions rep­re­sent­ing hun­dreds of thou­sands of state gov­ern­ment work­ers, teach­ers and uni­ver­si­ty employ­ees — which sup­port­ed the bill. ​"SB 2404 offers a fis­cal­ly respon­si­ble and fair solu­tion to the state's pen­sion under­fund­ing prob­lem," said coali­tion exec­u­tive direc­tor Justin Nigro in an e‑mail to Work­ing in These Times.
The Sen­ate appar­ent­ly agreed, pass­ing the bill 40 – 16 on May 9.
​"The unions are being ratio­nal, polit­i­cal actors," says Ralph Mar­tire, exec­u­tive direc­tor of the Chica­go-based Cen­ter for Tax and Bud­get Account­abil­i­ty. ​"They are try­ing to lim­it harm."
There is lit­tle that is ratio­nal, how­ev­er, about Illi­nois pol­i­tics. House Speak­er Madi­gan sim­ply nev­er called SB 2404 for a floor vote before the House adjourned. Sen­ate Pres­i­dent Culler­ton, mean­while, called Madigan's bill, but the Sen­ate vot­ed it down.
No attempts were made pub­licly to rec­on­cile the two bills. Quinn stat­ed his pref­er­ence for the Madi­gan mea­sure, but the governor's clout in pen­sion nego­ti­a­tions is unclear. Kent Red­field, a long­time polit­i­cal sci­ence pro­fes­sor at the Uni­ver­si­ty of Illi­nois-Spring­field argues that Quinn, who has approval rat­ings in the 20s, ​"has been and con­tin­ues to be almost com­plete­ly irrelevant."
In Illi­nois, any leg­is­la­tion con­sid­ered after May 31 must have three-fifths sup­port from the Illi­nois Gen­er­al Assem­bly. Culler­ton spokes­woman Rikee­sha Phelon says that SB2404 is ​"the only bill that could pass the three-fifths threshold."
But Madi­gan, wide­ly con­sid­ered the most pow­er­ful fig­ure in state gov­ern­ment, shows no incli­na­tion toward call­ing the Culler­ton bill to a vote. Madi­gan spokesper­son Steve Brown argues that the Sen­ate bill, ​"offers dra­mat­i­cal­ly less sav­ings than the bill that the House mem­bers vot­ed on."
More­over, the Illi­nois Retired Teach­ers Asso­ci­a­tion, which rep­re­sents 35,000 retirees, has announced that it will sue if SB 2404 becomes law. It con­tends that the choice between dimin­ish­ing ben­e­fits and giv­ing up retiree health­care is akin to coer­cion. It also argues that a court chal­lenge is nec­es­sary ​"to move for­ward," in the words of asso­ci­a­tion exec­u­tive direc­tor Jim Bach­mann, in order to find out what changes to the pen­sion sys­tem the Illi­nois Supreme Court will deem constitutional.
Beyond these two options — push SB 2404 and sue if anoth­er bill pass­es; or sue if any bill pass­es — there are many oth­ers labor could con­sid­er. These include increas­ing the ane­mic tax base by mov­ing from a flat to pro­gres­sive income tax. Anoth­er, less sig­nif­i­cant, rev­enue gen­er­a­tor would be to levy an income tax on pen­sion ben­e­fits. Out of 44 states with an income tax, Illi­nois is one of three that does not tax retire­ment benefits.
But even now — with a gov­er­nor and sen­ate leader who sup­port a grad­u­at­ed income tax plus a Demo­c­ra­t­ic super major­i­ty — these options are not on the table. The polit­i­cal sit­u­a­tion could grow worse for labor in 2014, as Illi­nois Repub­li­cans cam­paign on a ​'do-noth­ing' Demo­c­ra­t­ic gov­er­nor and leg­isla­tive super­ma­jor­i­ty that could not close the deal on pen­sions. (The cam­paigns may also include Madigan's daugh­ter Lisa Madi­gan, the state attor­ney gen­er­al, chal­leng­ing Quinn in the Demo­c­ra­t­ic primary).
Pub­lic-sec­tor unions in Illi­nois have fought the last four years to pre­vent a sig­nif­i­cant uni­lat­er­al cut in their pen­sions. They have thus far suc­ceed­ed, but the bat­tle drags on in the leg­is­la­ture and per­haps in the courts.
Matthew Blake
is a free­lance jour­nal­ist based in Chica­go. He has writ­ten for the
Chica­go Jour­nal, Wash­ing­ton Month­ly, Wash­ing­ton Inde­pen­dent
and
The Nation
, among oth­er publications.