Can Breaking Bad's Comic Relief Sustain a Spin-Off?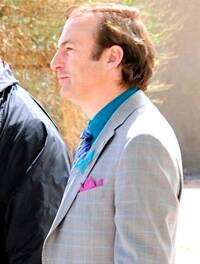 ​"You don't want a criminal lawyer. You want a criminal lawyer," small-time hood Jesse Pinkman explained to his meth cooking partner Walter White in Season 2 of Breaking Bad. That's where the delightfully shameless Saul Goodman, played by Bob Odenkirk, steps into crime show history.
Saul Goodman may get his own spin-off show after Breaking Bad runs its final 8 episodes this summer. Dead​line​.com reports that creator Vince Gilligan and writer-producer Peter Gould are exploring the possibility of a Saul-centered comedy, in either an hour-long or half-hour format.
Gilligan first floated the idea in a 2012 interview: ​"I like the idea of a lawyer show in which the main lawyer will do anything it takes to stay out of a court of law. He'll settle on the courthouse steps, whatever it takes to stay out of the courtroom. That would be fun — I would like that."
As an avid fan of Breaking Bad with a particular soft spot for Saul, I was delighted to hear the rumors. Still, I have misgivings about the project. Saul's the comic relief in Breaking Bad. While he's charming in small doses, his schtick might become grating if Odenkirk had to carry an entire series. Breaking Bad is a drama with moments of dark comedy, it might be jarring to see that world recast in as a comedy.
My boyfriend complained that this rumor is going to sap his enjoyment of the last half-season of Breaking Bad. If Saul's getting his own show, he can't die. I suggested that maybe they'll kill Saul anyway and tell the story as a prequel. Saul in the late ​'80s would be even more entertaining than Saul in the 2000s.
I guess the big question is what Goodman's going to do for an entire series. Presumably, he's not going to be defending Walt and Jesse. Would they give him one case per episode, or would Gilligan try to create the kind of complex season-spanning narrative that he's famous for? On Breaking Bad, Goodman's versatile law practice spans criminal defense, criminal offense and ambulance chasing. Peter Gould adapted Aaron Ross Sorkin's book about the financial crisis into the 2011 TV movie Too Big To Fail. Maybe Saul will make the leap to even more lucrative forms of white-collar crime. Given his aversion to court, and to jail, that might be just the field for him.
Lindsay Beyerstein
is an award-winning investigative journalist and In These Times staff writer who writes the blog Duly Noted. Her stories have appeared in Newsweek, Salon, Slate, The Nation, Ms. Magazine, and other publications. Her photographs have been published in the Wall Street Journal and the New York Times' City Room. She also blogs at The Hillman Blog (http://​www​.hill​man​foun​da​tion​.org/​h​i​l​l​m​a​nblog), a publication of the Sidney Hillman Foundation, a non-profit that honors journalism in the public interest.