New York's 'Carwasheros' Push for Safer, Fairer Workplaces
Car washes are the 'wild, wild West" of workplace regulation. The Car Wash Accountability Act will improve that—if it is ever implemented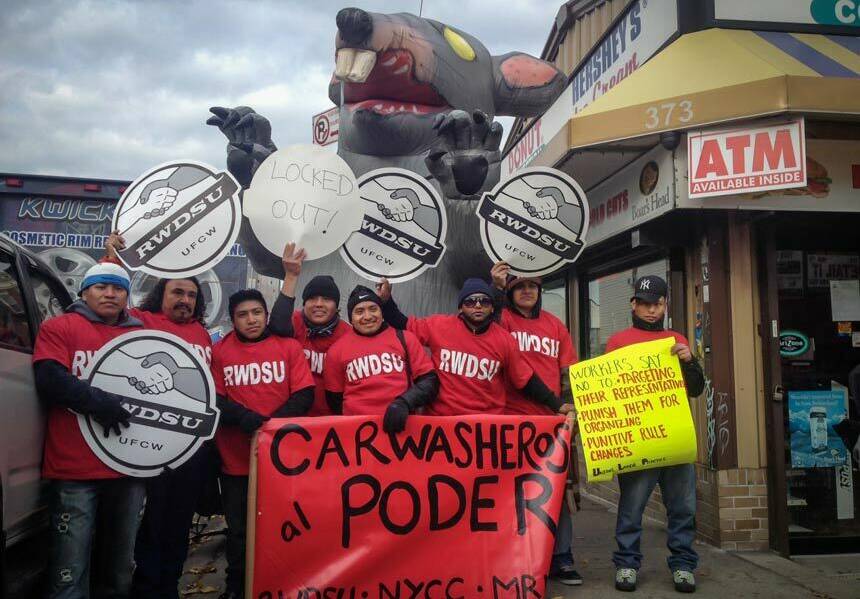 Diego Her­nan­dez, 31, remem­bers what his job as a car­washero was like before he and his cowork­ers union­ized in 2012. He earned rough­ly $300 a week for 80 to 90 hours of work at Sut­phin Car Wash in Queens, New York. He risked being fired if he asked for a day off. And if an anten­na broke or a car was acci­den­tal­ly dam­aged through a rou­tine clean, he could for­get about tak­ing home any tips that day.
In June 2015, car wash workers won a landmark battle to pass a local law regulating New York City's some 200 car washes, one of the most comprehensive of its kind nationwide.
Car wash­es are among the most dan­ger­ous and exploita­tive places to work— employ­ees often deal with haz­ardous chem­i­cals and unguard­ed machin­ery — but orga­niz­ers such as Her­nan­dez have come a long way in their fight to clean them up. In New York City, car­washeros at about 10 shops have won union con­tracts with the Retail, Whole­sale, Depart­ment Store Union (RWD­SU) guar­an­tee­ing them high­er pay and ben­e­fits. Her­nan­dez says he now earns as much as $550 week­ly and receives over­time, vaca­tion and sick days.
In June 2015, car wash work­ers won a land­mark bat­tle to pass a local law reg­u­lat­ing New York City's some 200 car wash­es, one of the most com­pre­hen­sive of its kind nationwide.
The Car Wash Account­abil­i­ty Act was set to take effect the fol­low­ing Decem­ber. Among oth­er pro­vi­sions, the new law requires car wash own­ers to obtain one-year licens­es, for which they must pro­vide proof of worker's com­pen­sa­tion and unem­ploy­ment insur­ance. The city can deny licens­es to own­ers found guilty of wage theft or under­pay­ment, or those who pro­vide false data or infor­ma­tion. Car wash­es must also keep a log of dam­age to cars and prop­er­ly dis­pose of clean­ing chem­i­cals. Orga­niz­ers say that these mea­sures are a win-win-win for work­ers, con­sumers and the environment.
But now the law faces a final hur­dle: a last-ditch law­suit from the Asso­ci­a­tion of Car Wash Own­ers. Car wash own­ers sued the city in Octo­ber, claim­ing that it was cre­at­ing a ​"two-tier" sys­tem that impos­es greater restric­tions on non-union­ized shops, a vio­la­tion of due process and equal pro­tec­tion rights. The law­suit cen­ters on a pro­vi­sion requir­ing own­ers to buy a sure­ty bond to cov­er the costs of any fines or penal­ties it accrues. For non-union­ized shops, the bond cost would range from $150,000 to $300,000. Union­ized shops would pay only $30,000. Car-wash own­ers argue this pro­vi­sion gives ille­gal pref­er­ence to union­ized shops.
The suit has brought imple­men­ta­tion of the new law to a screech­ing halt. As part of nego­ti­a­tions, New York City May­or Bill de Blasio's admin­is­tra­tion agreed to hold off while the city's Depart­ment of Con­sumer Affairs (DCA) pro­duces new rules to gov­ern the indus­try. The con­tent of those rules will like­ly influ­ence car wash own­ers' next moves. But it's not clear how long this process will take: Nick Paoluc­ci, spokesper­son from the New York Law Depart­ment, told In These Times in Jan­u­ary that he could not con­firm the release date of these new regulations.
Orga­niz­ers are dis­heart­ened by this delay. WASH New York, a joint cam­paign of advo­ca­cy orga­ni­za­tions Make the Road New York and New York Com­mu­ni­ties for Change, argues that imple­ment­ing the law is crit­i­cal to stop­ping wide­spread labor vio­la­tions. Car wash work­ers, most of whom are immi­grants, face unpre­dictable hours and are typ­i­cal­ly paid under the table in cash, accord­ing to a June 2015 report by the city's pub­lic advo­cate, Leti­tia James. As such, work­ers are vul­ner­a­ble to wage theft and oth­er ille­gal behav­ior: Of 28 car wash­es exam­ined by the New York Depart­ment of Labor in 2008, more than three-fourths vio­lat­ed state min­i­mum wage and over­time laws.
A 2012 report by WASH New York claimed that New York City car wash­es rou­tine­ly refused to pro­vide gloves, gog­gles and oth­er pro­tec­tive equip­ment to employ­ees using harsh sham­poos and deter­gents. Most said they used exposed elec­tri­cal machines, and few report­ed receiv­ing any health insur­ance or com­pen­sa­tion to cov­er on-the-job injuries.
Pri­or to the pas­sage of the Car Wash Account­abil­i­ty Act, a num­ber of set­tle­ments have drawn atten­tion to such vio­la­tions and won small improve­ments. In 2010, for exam­ple, the New York Depart­ment of Labor set­tled with Broad­way Bridge Car Wash in Man­hat­tan for $1.9 mil­lion for unpaid wages, over­time and tips. The set­tle­ment fol­lowed a DOL inves­ti­ga­tion of the car wash, where work­ers washed cars for 12 hours dai­ly with­out over­time, earn­ing only $3.75 an hour, three dol­lars short of the min­i­mum wage at the time.
But as far as labor reg­u­la­tions go, car wash­es are still ​"the wild wild West," says Deb­o­rah Axt, co-exec­u­tive direc­tor of Make the Road New York. ​"For many employ­ers, it's just cheap­er to break the law and run the minor risk of being caught, than it is to com­ply with the law and pay the legal­ly man­dat­ed wages."
Ernesto Salazar, who immi­grat­ed from El Sal­vador in 2001, says that many car­washeros don't real­ize their rights are being vio­lat­ed. At age 41, Salazar is a 15-year vet­er­an of the indus­try and has worked for three dif­fer­ent loca­tions of WCA/​Rico Pobre Car Wash in the Bronx, earn­ing as lit­tle as $3.50 an hour. He says his super­vi­sors would tell him, ​"If you don't like it, there's the street."
Salazar and his co-work­ers union­ized with RWD­SU in Octo­ber 2013, and now he works with WASH New York to help oth­er work­ers rec­og­nize their rights and organize.
Steve Rotle­vi, Asso­ci­a­tion pres­i­dent, did not respond to inquiries for com­ment for this sto­ry. He told the New York Times in Octo­ber 2015 that the law amount­ed to ​"pure leg­isla­tive extor­tion and spe­cial inter­est pol­i­tics at its worst."
Michael Car­do­zo, an attor­ney rep­re­sent­ing the Asso­ci­a­tion in its suit, also did not respond to inquiries for comment.
Salazar views the suit as mere­ly a stall tac­tic. ​"They are try­ing to con­tin­ue exploit­ing peo­ple that are hard­work­ing and hum­ble," he says through an inter­preter. "[Work­ers] don't know that after 10 and a half hours of work, they're enti­tled to some time off. They don't know that there are laws out there to pro­tect them. Right now, they're in the shadows."
Jean Stevens
is a free­lance jour­nal­ist and attor­ney based in Brook­lyn. Her work has appeared in RHRe​al​i​ty​Check​.org, Guer­ni­ca, Dis­sent, On the Issues and Vitals magazines.