Carbon Credits in the 'Valley of Death'
Uncovering the ugly effects of U.N.-backed 'clean development' in Honduras.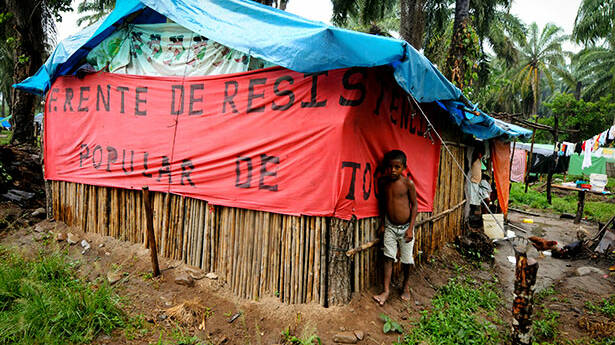 AGUAN VAL­LEY, HON­DURAS – At 3,000 square miles, the Aguan Riv­er Val­ley in north­east­ern Hon­duras is about the same size as California's Death Val­ley. But despite being green and fer­tile, the Aguan basin is becom­ing famous as a ​"val­ley of death." Since Jan­u­ary 2010, at least 45 dis­placed peas­ants have been killed in clash­es over land rights in Aguan, and ​"the actu­al num­ber of killings is prob­a­bly much high­er," accord­ing to Annie Bird, co-direc­tor of the human rights advo­ca­cy group Rights Action (RA), who vis­it­ed Hon­duras in September.
'The situation in Honduras is, of course, of great concern to us,' says Martin Hession, chair of the U.N.'s Clean Development Mechanism board. 'We don't want to be associated with this in any way.'
Bird and oth­er crit­ics say that the vio­lence in Aguan is dri­ven by com­pe­ti­tion over resources between local farm­ers and large-scale, bio­fu­el pro­duc­tion facil­i­ties. The val­ley is home to more than a dozen African palm plan­ta­tions that sup­ply ​"green" ener­gy to Europe and Asia, as well as a pair of bio­gas plants that oper­ate as part of a Unit­ed Nations car­bon-cred­it initiative.
"The agribusi­ness­es are after all the prime farm­land in Aguan," Bird says. ​"That's what's dri­ving the con­flict here."
African palm plan­ta­tions have also been linked to land-based vio­lence in Indone­sia, Africa, and else­where in Latin Amer­i­ca, as world­wide demand for bio­fu­els has soared in recent years. But using arable land for fuels, as opposed to food pro­duc­tion, has caused a spike in glob­al food prices. In Octo­ber 2011, the U.N. Com­mit­tee on Food Secu­ri­ty issued a report cit­ing bio­fu­el pro­duc­tion as one of the lead­ing caus­es of food short­ages worldwide.
Ignor­ing its own committee's report, the U.N. con­tin­ues to endorse the two bio­gas plants attached to African palm plan­ta­tions in the Aguan Val­ley as part of its con­tro­ver­sial Clean Devel­op­ment Mech­a­nism (CDM) pro­gram. A prod­uct of the Kyoto Pro­to­col, CDMs allow gov­ern­ments and com­pa­nies from West­ern coun­tries to trade car­bon cred­its with busi­ness­es in devel­op­ing nations that uti­lize renew­able ener­gy and oth­er car­bon-sav­ing tech­niques. Crit­ics of the CDM pro­gram point to the food-vs-fuel dilem­ma, as well as the issue of ​"addi­tion­al­i­ty" – that is, whether or not a giv­en CDM would exist with­out U.N.-sanctioned invest­ments. But Bird says there is a moral com­po­nent as well.
"By approv­ing invest­ment in these projects, the U.N. has made itself an accom­plice to a human rights cri­sis," Bird says. ​"It's just shameful."
Killings and forced evictions
Both the CDMs in Aguan use the bac­te­ria-rich waste­water left over from palm-oil extrac­tion to pro­duce methane for bio­gas. But the methane cap­ture process is only cost-effec­tive on a large scale – and observers say that gives local com­pa­nies a direct incen­tive to expand operations.
David Cal­ix, spokesman for the Campesino Move­ment of Aguan (MCA), says, ​"With­in the last two years more than 1,500 peas­ant fam­i­lies have lost their homes, schools and com­mu­ni­ties due to force­ful evic­tions," all of which have been linked to African Palm expan­sion efforts in the Aguan valley.
In July, the Inter­na­tion­al Fed­er­a­tion of Human Rights (FIDH) released a report on Aguan alleg­ing evic­tions and armed attacks against local com­mu­ni­ties by ​"plan­ta­tion secu­ri­ty guards and pri­vate mili­tia groups" allowed to act with impuni­ty. The FIDH paper forced a cou­ple of pow­er­ful Euro­pean investors to back out of the Aguan CDM project and caused the Euro­pean Par­lia­ment to order a fact-find­ing mis­sion. So far, how­ev­er, these mea­sures don't seem to have had any impact on the esca­lat­ing violence.
Over just two days in August, skir­mish­es between guards and peas­ants left 11 peo­ple dead. A few days lat­er, two more campesino lead­ers were assas­si­nat­ed – one of them, Pedro Sal­ga­do, was shot down in his home along with his wife. An entire peas­ant vil­lage was burned to the ground. The inter­na­tion­al out­cry became so severe that in ear­ly Sep­tem­ber, the Hon­duran gov­ern­ment dis­patched a force of about 1,000 spe­cial police offi­cers and sol­diers to occu­py the valley.
But Bird says that instead of pro­tect­ing peas­ants' human rights, the occu­pa­tion forces have aid­ed in their per­se­cu­tion. Reports have emerged of police and sol­diers crack­ing down on peas­ant com­mu­ni­ties, and even tak­ing part in evic­tions. ​"Death squad" attacks on peas­ants have con­tin­ued at about the same pace dur­ing the occu­pa­tion, with four assas­si­na­tions in the same week in ear­ly Octo­ber. No arrests have been made in any of the killings, and no sus­pects have been named.
Haz­ardous occupation
"The troops say they have come to bring us secu­ri­ty, but that is a lie," says MCA Pres­i­dent Rodol­fo Cruz. ​"They are here to serve the inter­ests of the rich land own­ers, the same ones who con­trol the politi­cians back in [the Hon­duran cap­i­tal of] Tegu­ci­gal­pa." Cruz is also act­ing may­or of a small peas­ant com­mu­ni­ty called Rig­ores, which he claims has been threat­ened sev­er­al times with evic­tion by both secu­ri­ty guards and law enforcement.
Cruz also reports that cit­i­zens are being searched at ran­dom, and that there have been mass round-ups and arrests as the author­i­ties hunt down lead­ers of the movement.
"They are accus­ing us of hav­ing weapons, of form­ing an insur­gency," says Cruz, whose 16-year-old son, San­tos, was alleged­ly tor­tured for infor­ma­tion while in police cus­tody on Sep­tem­ber 19. Cruz main­tains that the MCA and oth­er orga­ni­za­tions are paci­fist move­ments ded­i­cat­ed to non­vi­o­lent resistance.
Bird, who has researched the case, believes there is no doubt that Cruz' son was tar­get­ed by author­i­ties because his father is a promi­nent spokesman for land reform. ​"It's all part of their pat­tern of intim­i­da­tion," she says. ​"There is no func­tion­al jus­tice sys­tem in Hon­duras." As fur­ther evi­dence of legal dys­func­tion, Bird points out that the busi­ness­man with the most hold­ings in Aguan, Miguel Facusse Bar­jum, was recent­ly revealed by Wik­iLeaks to have strong ties to Colom­bian cocaine traf­fick­ers. ​"The police are evict­ing peas­ants from the prop­er­ty of a known drug lord," she says. ​"That just shows you how rot­ten the sys­tem is."
Although in Sep­tem­ber there were hints in the Hon­duran press that the police have cap­tured cell phones that prove the exis­tence of a rebel army some 300 strong, Hon­duran Police Chief Julio Ben­itez is much more cir­cum­spect. ​"We real­ly don't know what is going on in Aguan," Avi­la says. ​"We know there are armed groups. We know peo­ple are being shot up under mys­te­ri­ous cir­cum­stances. But it is very complicated."
When asked about the charges of police bru­tal­i­ty, Avi­la declined to respond, say­ing only, "[The Hon­duran police] are a pro­fes­sion­al orga­ni­za­tion. We behave in a pro­fes­sion­al man­ner. We are work­ing hard to safe­guard the peas­ants of Aguan and to pro­tect them from vio­lent criminals."
Push for reform
"The sit­u­a­tion in Hon­duras is, of course, of great con­cern to us," CDM board Chair Mar­tin Hes­sion says. ​"We don't want to be asso­ci­at­ed with this type of thing in any way." Hes­sion says that as a result of the vio­lence in Aguan, the CDM Board has ​"increased sur­veil­lance" in regard to approv­ing new projects.
But Eva Filz­moser, pro­gram direc­tor of the Brus­sels-based CDM Watch, believes that's too lit­tle, too late. ​"We are deeply dis­ap­point­ed … that the [Aguan] project was reg­is­tered despite the seri­ous con­cerns about alleged human rights abus­es," Filz­moser wrote in an e‑mail.
Filz­moser charges that Hes­sion and the rest of the board chose to ignore ear­ly reports of vio­lence com­ing out of Hon­duras when they approved the project in July of 2011. Part of the prob­lem is sys­temic, she writes, stem­ming from a lack of stake­hold­er over­sight by the CDM board itself. ​"The [Aguan] project would nev­er have been reg­is­tered if the prop­er rules were in place," Filz­moser wrote.
Bird also sees an inher­ent flaw in the CDM pro­gram. ​"If you're tak­ing away land from poor peo­ple to gen­er­ate bio­fu­els, you're effec­tive­ly con­demn­ing them to death by star­va­tion," she says.
Hes­sion says such things are beyond the purview of the CDM board. ​"We can't be the arbiter of human rights across the world." To which Bird responds: ​"That's the sin­gle, fun­da­men­tal man­date of the U.N. Human rights are what the U.N. was cre­at­ed to pro­mote. And the CDM board is still part of the U.N."
For Cruz, who is also a farmer, the issue at stake is less philo­soph­i­cal than prac­ti­cal: ​"All we want is a place to grow our corn, to grow our beans," he says. ​"All we want is a right to work the land."