Co-op Corruption: The Fight to Restore Democratic Control Begins in New Mexico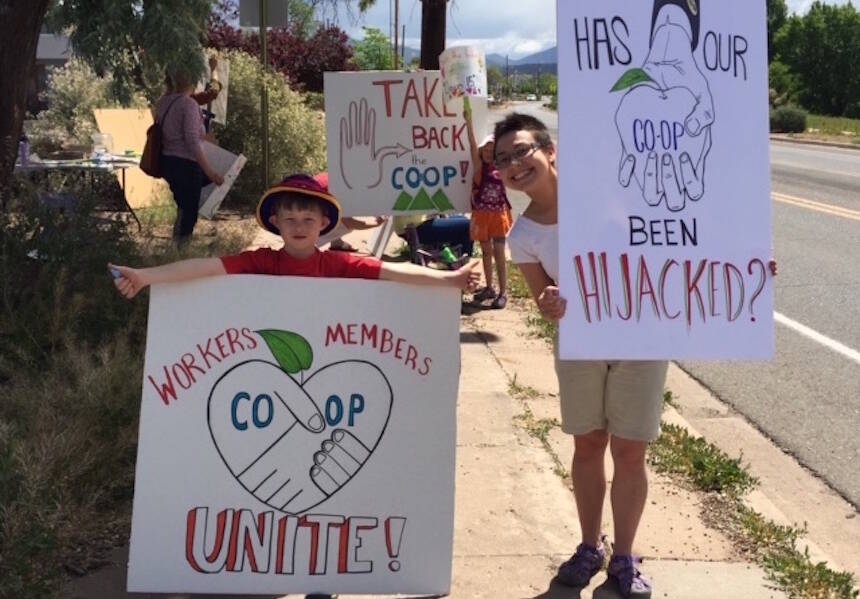 Mem­ber-own­ers of La Mon­tañi­ta coop­er­a­tive in New Mex­i­co have orga­nized a broad coali­tion to ​"Take Back the Co-op!" In the process of try­ing to get their co-op back on track, they have uncov­ered some dis­turb­ing pat­terns in the nation­al co-op land­scape, includ­ing cor­po­rate con­sul­tants reshap­ing the indus­try. These find­ings raise alarm for the future health and integri­ty of local food co-ops all around the country.
The impe­tus for and goals of the coalition
La Mon­tañi­ta is a 40-year-old coop­er­a­tive with six stores in three cities. La Montañita's first store was estab­lished in Albu­querque, New Mexico's biggest city. About 10 years ago the co-op acquired its first store in San­ta Fe, an hour to the north. The co-op also has a store in the small city of Gallup, a cou­ple hours to the west.
The goal of Take Back the Co-op! is straight­for­ward: Return La Mon­tañi­ta to its mis­sion, regain its finan­cial health, re-estab­lish good work­ing con­di­tions for employ­ees and adhere to the eco­log­i­cal val­ues that are its foundation.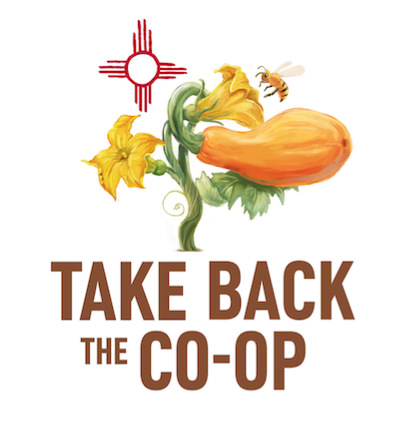 (Image: take​back​the​coop​.com)
Djan­go Zea­man and Dorothy Finni­gan, say they are not activists, but when they saw what was hap­pen­ing to their co-op in San­ta Fe, it hit too close to home for them to ignore. Togeth­er with oth­ers who are con­cerned about the fate of the co-op, they have col­lect­ed the 1,600 sig­na­tures — 10 per­cent of the 16,000 mem­ber-own­ers — required by their co-op's bylaws to secure a spe­cial mem­ber­ship meet­ing. In so doing, they're fol­low­ing the play­book Hon­est Weight mem­bers used to wres­tle back their co-op from a board that was work­ing with the man­age­ment team to strip author­i­ty from the mem­ber­ship, under the guid­ance of cost­ly con­sul­tants and attor­neys. (Found­ed in 1976, Hon­est Weight Food Co-op is a large co-op in Albany, N.Y.)
First inklings; the ​
"

clean fifteen"

Djan­go says that their sus­pi­cion that some­thing had gone awry with the co-op began with ​"a fun­ny email in March." The mes­sage intro­duced La Mon­tañi­ta mem­ber-own­ers to the ​"Clean Fif­teen," a new pro­gram the co-op was insti­tut­ing to bring in fruits and veg­eta­bles grown con­ven­tion­al­ly — with chem­i­cal pes­ti­cides and fer­til­iz­ers. ​"Clean Fif­teen" is a term coined by the Envi­ron­men­tal Work­ing Group and refers to 15 types of pop­u­lar pro­duce that on aver­age con­tain low­er lev­els of pes­ti­cide residue than oth­er test­ed pro­duce. The rank­ings do not account for the pes­ti­cides on the non-edi­ble por­tions of the pro­duce, or the amount of pes­ti­cides used in the fields.

That email so sur­prised Djan­go that he sent back an email, ques­tion­ing whether the co-op real­ly meant what it said. Up until then, La Mon­tañi­ta had almost exclu­sive­ly sold organ­i­cal­ly grown pro­duce. Almost all of its fruits and veg­eta­bles were cer­ti­fied organ­ic, with occa­sion­al offer­ings of non-cer­ti­fied organ­ic pro­duce from local farm­ers. But ear­li­er this year, with­out any mem­ber-own­er knowl­edge or input, the cur­rent man­age­ment end­ed that prac­tice and even changed the Pro­duce Mis­sion State­ment.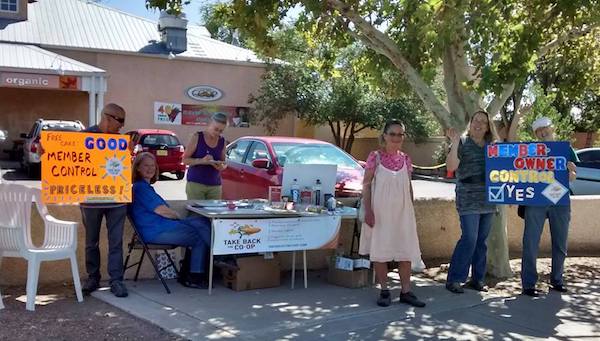 (Pho­to: take​back​the​coop​.com)
Town hall meet­ings held
Evi­dent­ly, many oth­er mem­ber-own­ers pushed back as well, because La Mon­tañi­ta held a series of town hall meet­ings. At the San­ta Fe meet­ing, 90 to 95 per­cent of those who spoke strong­ly opposed ​"Clean Fif­teen," Djan­go says. ​"We were expect­ing that the co-op would scrap its plans," he explains, ​"but that's not what happened."
That town hall meet­ing was the first time Djan­go and Dorothy had seen La Montañita's new gen­er­al man­ag­er, who'd been hired in Decem­ber. He had come to the co-op after work­ing at mul­ti­ple con­ven­tion­al gro­cery chains, includ­ing Sprouts, Safe­way, and Winn Dix­ie. ​"We noticed he was rather decep­tive," Djan­go says. ​"Peo­ple in the audi­ence would call him out on finan­cial infor­ma­tion about our stores and only then would he admit it."
The town halls pro­vid­ed a chance to net­work with oth­er con­cerned mem­ber-own­ers, result­ing in ad hoc groups in San­ta Fe and Albuquerque.
A crit­i­cal third group were the La Mon­tañi­ta work­ers. By late spring, the three groups came togeth­er. In shar­ing infor­ma­tion they began to piece togeth­er a fuller pic­ture of what was going on.
Employ­ee issues troubling
Just as mem­ber-own­ers saw the ​"Clean Fif­teen" pro­gram as con­trary to the eco­log­i­cal val­ues enshrined in La Montañita's mis­sion state­ment, they also were dis­cov­er­ing that man­age­ment was dis­re­spect­ing employ­ees. See­ing that these core val­ues didn't seem to mat­ter any­more opened many mem­ber-own­ers' eyes.
Djan­go says they've been hear­ing from employ­ees about their expe­ri­ence under the new gen­er­al manager's régime. They say he enforces a cul­ture of fear and intim­i­da­tion and demands alle­giance to him, with state­ments like, ​"I want 100 per­cent of you to love me." A num­ber of co-op employ­ees have built careers at La Mon­tañi­ta and now the envi­ron­ment has become inhos­pitable. Some have resigned and a few peo­ple have been fired.
Dorothy says her involve­ment with Take Back the Co-op has been moti­vat­ed by the ​"dis­turb­ing and dis­heart­en­ing" decline in work­ing con­di­tions at La Mon­tañi­ta. ​"As mem­ber-own­ers I feel like we have a respon­si­bil­i­ty to stand up because [the employ­ees] can't."
Attempts at com­mu­ni­ca­tion prove frustrating
From spring into August, the new ad hoc coali­tion tried to open up com­mu­ni­ca­tion with the board to no avail, Djan­go says. At the start of each board meet­ing, 15 to 20 min­utes were set aside for mem­ber com­ments. After that, they could silent­ly observe the reg­u­lar board meet­ing, until the board went into exec­u­tive session.
Djan­go says, ​"We noticed that the gen­er­al man­ag­er did most of the talk­ing." That was inter­est­ing and unset­tling, giv­en the cru­cial role of the board in rep­re­sent­ing mem­ber inter­ests and view­points, super­vis­ing the gen­er­al man­ag­er, and pro­vid­ing fidu­cia­ry over­sight of the organization.
At the June board meet­ing, the gen­er­al man­ag­er spoke about rev­enue, but he didn't say a word about prof­it. The con­cerned mem­ber-own­ers rec­og­nized this as a major flaw in his pre­sen­ta­tion, but board mem­bers said noth­ing. At one of the meet­ings the board pres­i­dent stat­ed that when it comes to busi­ness, they ​"don't know shit from Shinola."
La Montañita's finan­cial sit­u­a­tion telling
Take Back the Co-op sees La Montañita's finan­cial prob­lems as symp­to­matic of its over­all dys­func­tion and stray­ing from the inter­ests of its own­ers and employ­ees. Three years ago, the co-op opened its sixth store. Of the four big stores, the three that do best func­tion like neigh­bor­hood mar­kets. But the newest large one is locat­ed in a big box shop­ping mall, sur­round­ed by chains like Pet­co, Dick's and Bed Bath & Beyond. It has con­sis­tent­ly lost hun­dreds of thou­sands of dol­lars a year.
Though these loss­es are impact­ing the finan­cial well­be­ing of La Mon­tañi­ta as a whole, nei­ther man­age­ment nor the board has seemed will­ing to address the under­ly­ing sit­u­a­tion — that this store is hem­or­rhag­ing mon­ey. Instead, the board and gen­er­al man­ag­er have tried to explain the sit­u­a­tion away by telling mem­ber-own­ers that the finan­cial prob­lems are because of ​"the new nor­mal" of increased com­pe­ti­tion, Djan­go says, but ​"the finan­cial reports show that it's almost entire­ly due to the new store that was opened three years ago."
More com­mu­ni­ca­tion troubles
"We asked for a full mem­ber­ship meet­ing with the board on all the issues. We want­ed them to be trans­par­ent," Djan­go says. The coali­tion pre­sent­ed a let­ter to the board signed by 500 peo­ple. They were demand­ing a meet­ing where mem­ber own­ers could ask ques­tions of the board of direc­tors. It would be a chance to clear the air.
Not only did the board refuse to hold such a meet­ing, they even declined to meet indi­vid­u­al­ly with mem­ber-own­ers. Then ​"a cou­ple of us and a cou­ple board mem­bers were sup­posed to meet, but a few days before the meet­ing, they said the gen­er­al man­ag­er would have to be present," Djan­go says. ​"But we knew he was a large part of the problem."
After that impasse, La Mon­tañi­ta rolled out a plan for its own meet­ings. The gen­er­al man­ag­er and board pres­i­dent would par­tic­i­pate in each meet­ing along with up to 10 mem­ber-own­ers. ​"Peo­ple could talk about issues but they couldn't get answers," says Djan­go. The meet­ings wrapped up with the mes­sage that mem­ber-own­ers need not be con­cerned. He says rel­a­tive­ly few peo­ple attended.
La Mon­tañi­ta has tried to pre­vent con­cerned mem­ber-own­ers from reach­ing out to oth­er mem­ber-own­ers. It wouldn't allow them to table in front of its stores or to con­tact the mem­ber­ship. Mean­while, Djan­go says, the co-op has had employ­ees on the clock sit­ting at a table, giv­ing out a let­ter from the gen­er­al man­ag­er in an attempt to counter the efforts of Take Back the Co-op!
Web­site con­nects the dots and pro­vides a resource
In Sep­tem­ber the coali­tion launched its web­site www​.Take​Back​The​Coop​.com to doc­u­ment the strug­gle under­way at La Mon­tañi­ta. In addi­tion to bring­ing La Mon­tañi­ta mem­ber-own­ers up to speed, the web­site is already pro­vid­ing an essen­tial resource for mem­bers of oth­er co-ops fac­ing sim­i­lar chal­lenges. And Take Back the Co-op has begun hear­ing from peo­ple in oth­er co-ops in dis­tress around the country.
Sev­er­al months back, when peo­ple involved with Take Back the Co-op start­ed doing their own research, Djan­go says, ​"We real­ized some­thing big­ger was going on."
The web­site traces the prob­lems at La Mon­tañi­ta to major play­ers in the nation­al coop­er­a­tive sphere, most notably CDS Con­sult­ing. With 40 con­sul­tants, CDS, which stands for Coop­er­a­tive Devel­op­ment Ser­vices, exer­cis­es a near monop­oly on board train­ing and edu­ca­tion in the food co-op movement.
CDS works hand in hand with two oth­er major play­ers. Unit­ed Nat­ur­al Foods Inc. (UNFI) is a pub­licly trad­ed food dis­trib­u­tor with $8 bil­lion in annu­al rev­enue. The asso­ci­a­tion of food co-ops known as Nation­al Co+op Gro­cers (NCG) is tied to UNFI through the pur­chas­ing con­tract offered to its members.
A cou­ple of per­son­nel changes at La Mon­tañi­ta sug­gest the inter­lock­ing nature of these enti­ties. The co-op's for­mer board pres­i­dent was hired as a CDS con­sul­tant. One of her assign­ments has been con­sult­ing for La Mon­tañi­ta! ​"We paid for the priv­i­lege of her man­ag­ing our stores," Djan­go says. Sim­i­lar­ly, two of La Montañita's gen­er­al man­agers have been pro­mot­ed to posi­tions at Nation­al Co+op Gro­cers (NCG).
Tabling for peti­tion sig­na­tures, and oth­er pub­lic outreach
On the Sat­ur­day in late Sep­tem­ber that we spoke, Take Back the Co-op was hold­ing six dif­fer­ent events to col­lect sig­na­tures on its peti­tion. ​"The side­walk near our stores — that's pub­lic space," Djan­go says. He and Dorothy and numer­ous oth­er mem­ber-own­ers have been tabling week­ly at the pop­u­lar Albu­querque and San­ta Fe farm­ers markets.
"We've been talk­ing with peo­ple who had noticed things were chang­ing, but did­n't under­stand what was behind it. Aware­ness is key," Djan­go said.
Doing pub­lic out­reach has result­ed in some remark­able encoun­ters. David Bacon was tabling at the farm­ers mar­ket when a long-time co-op employ­ee stopped to talk. David says that the employ­ee was so afraid that he act­ed like he had post-trau­mat­ic stress. ​"The employ­ee took us into a cor­ner so no one would see us. His eyes were dart­ing around," he says.
Man­age­ment attempts to silence dissent
Since the Take Back the Co-op web­site launched in ear­ly Sep­tem­ber, man­age­ment has redou­bled its effort to sup­press dis­sent among work­ers. Djan­go says they start­ed scan­ning employ­ees' Face­book pages to see if they had post­ed any­thing about Take Back the Co-op. Some of them have even been rep­ri­mand­ed by the head of human resources for what they post­ed on their per­son­al Face­book page. La Mon­tañi­ta sent its employ­ees a let­ter instruct­ing them not to com­ment if a cus­tomer asked for their opin­ion about Take Back the Co-op and asked them to sign a doc­u­ment agree­ing to abide by this policy.
"These attempts to squelch work­er voic­es and clamp down on folks are only mak­ing peo­ple more impas­sioned," observes Dorothy.
The com­mu­ni­ty has been gal­va­nized by their new­found aware­ness. Though the work is only begin­ning to restore coop­er­a­tion and integri­ty at La Mon­tañi­ta, Djan­go and Dorothy are aware of the big­ger goal on the hori­zon; being of help to mem­ber-own­ers from oth­er co-ops who are seek­ing to under­take the project of tak­ing back their co-ops, too.
("Co-op Mem­ber-Own­ers Orga­nize for Democ­ra­cy and Integri­ty at La Mon­tañi­ta in New Mex­i­co" was orig­i­nal­ly pub­lished online in the Octo­ber 2016 edi­tion of The Co-op Voice, a month­ly newslet­ter by and for mem­bers of the Hon­est Weight Food Co-op in Albany, N.Y., and is repost­ed on Rur­al Amer­i­ca In These Times with per­mis­sion from the author.)
[If you like what you've read, help us spread the word. ​

"

Like" Rur­al Amer­i­ca In These Times on Face­book. Click on the ​

"

Like Page" but­ton below the bear on the upper right of your screen. Also, fol­low RAITT on Twit­ter @RuralAmericaITT]
Tra­cy Frisch
is an inde­pen­dent jour­nal­ist based in upstate New York near the Ver­mont bor­der. In the
1990
s and ear­ly
2000
s, she worked as an advo­cate and orga­niz­er on pes­ti­cide and envi­ron­men­tal health issues. She lat­er pro­mot­ed eco­log­i­cal agri­cul­ture with farm­ers and the local food move­ment. She can be reached at tracy.​frisch@​gmail.​com.