U.S. Chamber of Commerce 'Exposes' Union Backing of Worker Centers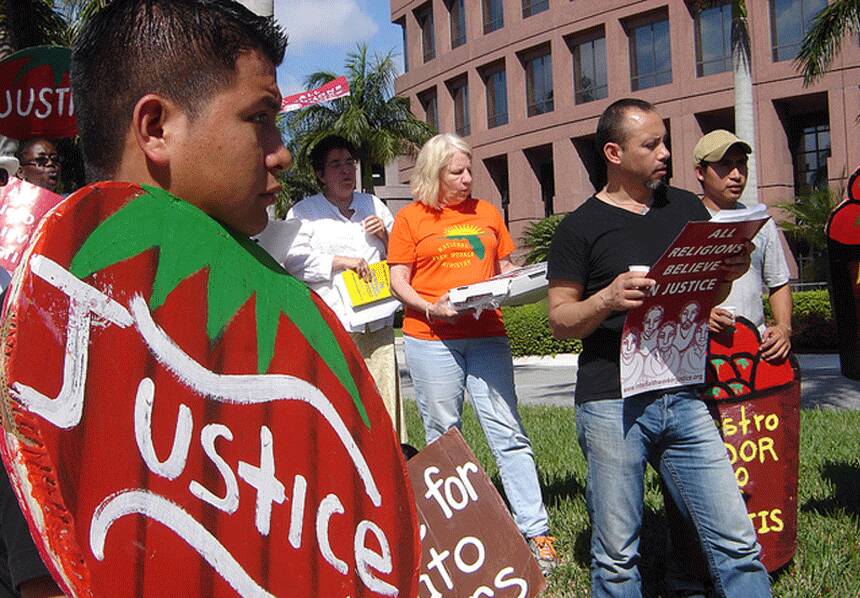 On Tues­day, the U.S. Cham­ber of Com­merce released its sec­ond report in three months on work­er cen­ters. In it, the promi­nent pro-busi­ness lob­by­ing group dou­bles down on its claim that the cen­ters are ​"fronts" for estab­lished labor unions.
Work­er cen­ters often pro­vide ser­vices to low-wage, immi­grant and minor­i­ty work­ers, and his­tor­i­cal­ly are involved in employ­ment sec­tors or parts of the coun­try with lit­tle union pres­ence, accord­ing to Jan­ice Fine, a pro­fes­sor of labor stud­ies and employ­ment rela­tions at Rut­gers Uni­ver­si­ty who has stud­ied work­er cen­ters. The num­ber of such cen­ters nation­al­ly has climbed from a just a few two decades ago to upwards of 200 today, accord­ing to a Wall Street Jour­nal July story.
The Chamber's report charges that work­er cen­ters ​"cre­ate the appear­ance of a grass­roots move­ment" with con­sumer boy­cotts and work­er walk­outs against employ­ers like Wal­mart and Tar­get, when they are real­ly ​"formed and incu­bat­ed by well-estab­lished and well-fund­ed labor unions and foun­da­tions" (the pre­vi­ous Cham­ber study on work­er cen­ters focused on char­i­ta­ble foun­da­tion financing).
But while the Cham­ber shows that some work­er cen­ters have union ties, the report gives no evi­dence that either work­er cen­ters or unions are sup­press­ing this fact.
​"Con­ser­v­a­tive foun­da­tions fund con­ser­v­a­tive orga­ni­za­tions and pro­gres­sive foun­da­tions fund pro­gres­sive orga­ni­za­tions, news at eleven," reads a state­ment in response to the report from the Flori­da-based Coali­tion of Immokalee Work­ers, one of five work­er cen­ters sin­gled out in the Chamber's study.
In addi­tion to the financ­ing issue, the Cham­ber claims work­er cen­ters use orga­nized labor tac­tics, like work stop­pages, while not fac­ing the same finan­cial and legal scruti­ny as unions.
There is truth to this. David Moberg report­ed for In These Times in July that since work­er cen­ters are ​"unbound by decades of legal deci­sions that hem in unions, the low-wage work­ers' asso­ci­a­tions are freer to use more inno­v­a­tive and mil­i­tant tac­tics, such as strikes, which cap­ture atten­tion and enlarge the movement."
In fact, AFL-CIO Pres­i­dent Richard Trum­ka said last March that the union fed­er­a­tion must col­lab­o­rate more with work­er cen­ters (The AFL-CIO declined to com­ment for this sto­ry). So with the union-work­er cen­ter rela­tion­ship already estab­lished — and read­i­ly acknowl­edged by the largest labor fed­er­a­tion in the coun­ty — what is the Cham­ber actu­al­ly say­ing that's new?
The study specif­i­cal­ly looks at five groups: the Cen­tro de Tra­ba­jadores Unidos En Lucha, the, Ware­house Work­ers Unit­ed, Our WAL­MART, New York Com­mu­ni­ties for Change, and Coali­tion of Immokalee Workers.
Minneapolis's Cen­tro de Tra­ba­jadores Unidos en Lucha, or CTUL, part of the Chica­go-based Inter­faith Work­er Jus­tice net­work, is focused on jan­i­tors work­ing for con­trac­tors of large cor­po­ra­tions like Tar­get. The CTUL ​"enjoys the sup­port" of UFCW and SEIU labor unions, accord­ing to the report.
But Kim Bobo, Exec­u­tive Direc­tor of Inter­faith Work­er Jus­tice, says that is no secret. ​"Of course, we are part­ners with unions and foun­da­tions," Bobo says. ​"We are also part­ners and allies with church­es, mosques, and syn­a­gogues — and law firms." Bobo says that unions and char­i­ta­ble foun­da­tions have both helped finance her organization's work and col­lab­o­rat­ed on campaigns.
​"Being a part­ner with some­one means work­ing with them," Bobo says. ​"It's not being a front for them."
Mean­while, in its look at Ware­house Work­ers Unit­ed, the Cham­ber demon­strates explic­it ties between the South­ern Cal­i­for­nia-based group and the Change to Win union coali­tion. With New York Com­mu­ni­ties for Change, or NYCC, the Cham­ber focus­es on the group's affil­i­a­tion with 1199SEIU on the East Coast, a con­nec­tion NYCC has made no dis­cernible attempt to hide.
Per­haps the most curi­ous part of the report is sug­gest­ing that OUR Wal­mart is cre­at­ing the appear­ance of non-involve­ment with the Unit­ed Food and Com­mer­cial Work­ers. The Cham­ber points out that UFCW cre­at­ed the orga­ni­za­tion in 2011 to specif­i­cal­ly advo­cate for Wal­mart employees.
The group has since ini­ti­at­ed sev­er­al dis­rup­tions at Wal­mart stores — such as work stop­pages on Black Fri­day, the post-Thanks­giv­ing shop­ping blitz. In many instances, UFCW employ­ees will help coor­di­nate events as well as appear at protests and ral­lies — some­times wear­ing UFCW apparel.
These ties between work­er cen­ter and estab­lished, nation­al union are unde­ni­able, but no one has ever claimed oth­er­wise. ​"They make it sound like a deep, dark secret that OUR Wal­mart is financed by UFCW, but every­one knows that," Fine says.
Final­ly, the Cham­ber exam­ines the Coali­tion of Immokalee Work­ers, or CIW, per­haps due to their pub­lic promi­nence from tar­get­ing restau­rants and retail­ers that sell food grown by low-wage workers.
But CIW has no estab­lished ties to orga­nized labor, though the Cham­ber plays up affil­i­a­tions with out­side faith-based and legal orga­ni­za­tions since the start of the group's exis­tence. ​"This is just the same report issued by the Cham­ber months ago that announced the ​'find­ing' that low wage work­er orga­ni­za­tions receive sup­port from foun­da­tions," reads the CIW state­ment in response to report. ​"That was­n't news then, and it isn't news now."
As the New York Times exam­ined in Novem­ber, the Cham­ber and oth­er busi­ness lob­by­ists have start­ed to launch anti-work­er cen­ter cam­paigns. The Cham­ber has formed a ​"Work­force Free­dom Ini­tia­tive" arm, part­ly tar­get­ed at work­er cen­ters: The ini­tia­tive is the list­ed author of Tuesday's report.
Accord­ing to Fine, the Chamber's strat­e­gy is to ​"tar work­er cen­ters with the same rhetoric that they've always tarred unions with" – name­ly that they are a spe­cial inter­est work­ing against the country's greater eco­nom­ic good.
The Cham­ber did not return requests for com­ment on this story.
​"The tragedy," Fine says, ​"is that the Cham­ber could be call­ing on its mem­bers to dis­tin­guish them­selves" with bet­ter labor standards.
Matthew Blake
is a free­lance jour­nal­ist based in Chica­go. He has writ­ten for the
Chica­go Jour­nal, Wash­ing­ton Month­ly, Wash­ing­ton Inde­pen­dent
and
The Nation
, among oth­er publications.