Chanting 'Save Our Schools,' Tens of Thousands Rally Across California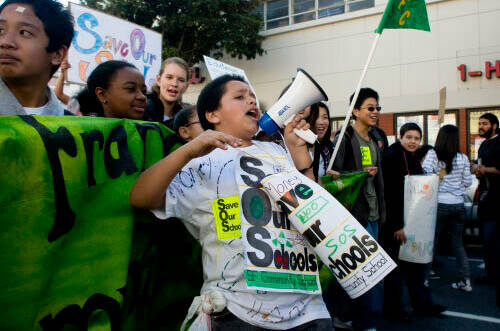 Organizers pleased with turnout to protest layoffs, class cuts, tuition hikes and feared resegregation of school system — video below.

SAN FRANCISCO — Any doubts that the historic statewide education rally held across California yesterday would come up short were wiped out yesterday after tens of thousands of people — students, teachers, administrators, workers, parents — marched and chanted their way across the state, visiting civic centers and plazas and moving through streets.
In San Francisco the mood was largely festive, as students danced and marched. Parents pushed their children in strollers, and dancers on stilts and large puppets bobbed through the throngs of people waving placards and banners as they made their way to the Civic Center from San Francisco's Mission district.
A large group separated from the main rally and headed to the steps of city hall, where the people inside quickly locked the doors. Chanting ​"Save our Schools! Save Our Schools!" the group waved signs and held up banners. In Oakland, a splinter group rushed the 880 freeway for nearly an hour, forcing all lanes to a close and backing up rush-hour traffic for a long while. About 150 people were arrested in that incident.
The Day of Action to Defend Public Education was reminiscent of the huge urban marches of the ​'60s and ​'70s to demand that students of color be allowed into the universities. Now, in 2010, the issue was not race as much as class, as many students can no longer afford college as costs continue to rise.
Next fall, more than 20,000 students will be turned away from community colleges. At CSU this semester, no new students were allowed to enroll. And for many who are accepted, the fees are too high to handle.
As I wrote yesterday, in San Francisco during the next two years, schools will be facing $113 million in budget cuts. The impact has already felt in working-class communities and communities of color.
Patricia Lee of the California Faculty Association, which was involved with 31 of the actions and mobilized all the faculty and students in the state university system, noted that the march was much bigger than they expected.
"This is a sign of how enraged the students and faculty are, that the leaders of the state are not taking care of an essential right that students should have towards education," Lee said. ​"We generate 90,000 degrees a year and these are our main workers in the state including our legislators, so when they cut this, they are cutting the brains of California."
Rose Arrieta
was born and raised in Los Angeles. She has worked in print, broadcast and radio, both mainstream and community oriented — including being a former editor of the Bay Area's independent community bilingual biweekly El Tecolote. She currently lives in San Francisco, where she is a freelance journalist writing for a variety of outlets on social justice issues.