"You're Taking Our Homes": Ben Carson Shouted Down by Angry Chicago Residents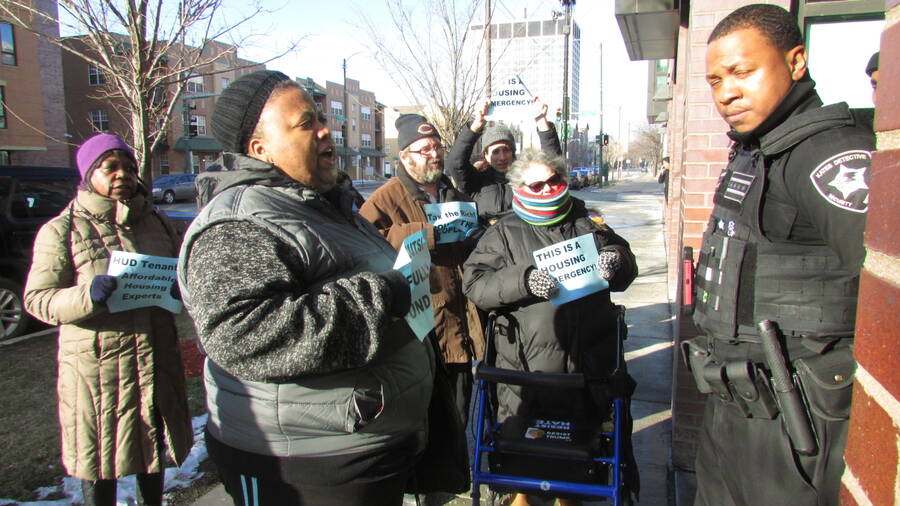 Frus­trat­ed by gov­ern­ment inac­tion in address­ing the nation's grow­ing hous­ing cri­sis, pro­tes­tors inter­rupt­ed Sec­re­tary of Hous­ing and Urban Devel­op­ment (HUD) Ben Carson's vis­it to the department's Chica­go offices on Mon­day. One pro­tes­tor, Debra Miller, inter­rupt­ed Carson's speech dur­ing a morn­ing meet­ing, shout­ing at the sec­re­tary: ​"You're tak­ing homes from peo­ple like me!"
Miller and her hus­band, Jim­my, cur­rent­ly live in Sec­tion 8 hous­ing in Chicago's Edge­wa­ter neigh­bor­hood. Hav­ing been home­less in the past sev­er­al years, the two joined the Jane Addams Senior Cau­cus, a Chica­go-based senior hous­ing advo­ca­cy group, to chal­lenge the government's attacks on hous­ing access. After Car­son refused to talk direct­ly about these issues, Miller rose from her seat, demand­ing to know why the gov­ern­ment con­tin­ues to cut resources for afford­able housing.
"Talk to me about a ful­ly fund­ed HUD, [and] how you're going to help seniors, my friends, get hous­ing," Miller said. ​"I know peo­ple who are home­less. Talk to me about that."
In the Trump administration's 2018 bud­get, HUD fund­ing was slashed by $6.2 bil­lion — shrink­ing the depart­ment by more than 22 per­cent to just under $24 bil­lion, accord­ing to the cal­cu­la­tions of Afford­able Hous­ing Online. Bud­get cuts will shrink fund­ing to a pro­gram that helps more than a mil­lion fam­i­lies with rent sub­si­diza­tion in pub­lic hous­ing — and will entire­ly elim­i­nate the HOME Invest­ment Part­ners Pro­gram, which helps low-income fam­i­lies seek home own­er­ship. As the gov­ern­ment con­tin­ues to shrink its oblig­a­tion to address people's hous­ing needs, a recent study by mort­gage com­pa­ny Fred­die Mac found that the num­ber of afford­able units avail­able on the mar­ket for very low-income fam­i­lies (those mak­ing less than half the area's medi­an income) fell from 11.2 to 4.3 per­cent between 2010 and 2016.
In anoth­er trou­bling action, the Trump admin­is­tra­tion announced last Fri­day that it is freez­ing an Oba­ma-era HUD pol­i­cy that would require cities to sub­mit detailed pro­pos­als to reverse entrenched hous­ing seg­re­ga­tion before receiv­ing fed­er­al fund­ing for hous­ing projects. Although the mea­sure has tech­ni­cal­ly only been sus­pend­ed, left unen­forced until 2020, advo­cates expect that the admin­is­tra­tion will seek fur­ther attacks on the depart­ment. Com­bined with bud­get cuts and increas­ing mar­ket pres­sures, hous­ing advo­cates wor­ry that HUD is fail­ing its his­toric mis­sion to ensure all Amer­i­cans have access to housing.
"We can look in Chica­go, and it's not actu­al­ly that dif­fer­ent in the dis­par­i­ties in hous­ing qual­i­ty and access that peo­ple of col­or have today as fifty years ago," said Leah Levinger, exec­u­tive direc­tor of the Chica­go Hous­ing Ini­tia­tive, a coali­tion of ten Chica­go hous­ing rights orga­ni­za­tions. ​"Essen­tial­ly, what [Friday's] announce­ment did was to tell cities that they have a free pass to stay the deeply divid­ed, deeply unequal juris­dic­tions that they've been over the past sev­er­al decades, and the fed­er­al gov­ern­ment will do noth­ing about it."
HUD was cre­at­ed in 1965 as one of the John­son administration's ​"Great Soci­ety" pro­grams. Estab­lished to fos­ter afford­able hous­ing access and address entrenched hous­ing seg­re­ga­tion, the orga­ni­za­tion has been steadi­ly erod­ed since its incep­tion, fre­quent­ly vic­tim to bud­get cuts that have led to dra­mat­ic ris­es in home­less­ness and hous­ing insta­bil­i­ty. Accord­ing to West­ern Region­al Advo­ca­cy Project, a grass­roots coali­tion of home­less people's advo­ca­cy groups, HUD has faced repeat­ed cuts since the Carter administration.
Car­son has defend­ed a lim­it­ed role for the gov­ern­ment in the past, cit­ing his rise from pover­ty to a posi­tion as one of the world's lead­ing neu­ro­sur­geons as proof of the unim­por­tance of gov­ern­ment assis­tance. Call­ing pover­ty a ​"state of mind," Car­son told a radio pro­gram last May, ​"You take some­body with the wrong mind­set, you can give them every­thing in the world (and) they'll work their way right back down to the bot­tom." Car­son has acknowl­edged the sig­nif­i­cant impact that gov­ern­ment inter­ven­tion can have in the lives of U.S. cit­i­zens, pro­mot­ing a HUD-spon­sored lead abate­ment pro­gram. How­ev­er, he's still insist­ed that ​"entrust­ing the gov­ern­ment to get [hous­ing pol­i­cy] right can prove down­right dangerous."
In spite of the dif­fi­cult cli­mate for hous­ing jus­tice orga­niz­ing, ordi­nary peo­ple aren't rest­ing on the side­lines. After approx­i­mate­ly 20 pro­tes­tors chant­ed out­side Carson's first event, anoth­er group coa­lesced at a HUD resource cen­ter on the city's South Side in the after­noon, where he was sched­uled to host a press con­fer­ence. After gath­er­ing out­side, CHA offi­cials informed the group that the sec­re­tary had can­celled the press con­fer­ence, seem­ing­ly in response to the threat of fur­ther disruption.
One pro­tes­tor present at both events, Hon­ni Har­ris, got involved in neigh­bor­hood orga­ni­za­tion ONE North­side last June. Har­ris has dealt with hous­ing inse­cu­ri­ty her entire life, strug­gling to keep a roof over her head while tak­ing care of her two sons and five nephews. Con­stant­ly liv­ing under the threat of evic­tion, she con­tin­ues to orga­nize, know­ing how sig­nif­i­cant hous­ing issues are in people's dai­ly life.
"My boys were nev­er at the same schools — they trans­ferred so much, because we were nev­er in a place for more than a year," Har­ris said. ​"That's why I'm so pas­sion­ate about it, speak­ing up for those who can't speak up for them­selves and giv­ing peo­ple the tools to speak up. We speak up for such crazi­ness, why can't we speak up for things that real­ly matter?"
Tan­ner Howard
is a free­lance jour­nal­ist and In These Times edi­to­r­i­al intern. He's also a mem­ber of the Demo­c­ra­t­ic Social­ists of Amer­i­ca, orga­niz­ing pri­mar­i­ly around hous­ing and edu­ca­tion justice.