In Response to ICE Raids and Family Separation, Immigrant Communities Are Fighting Back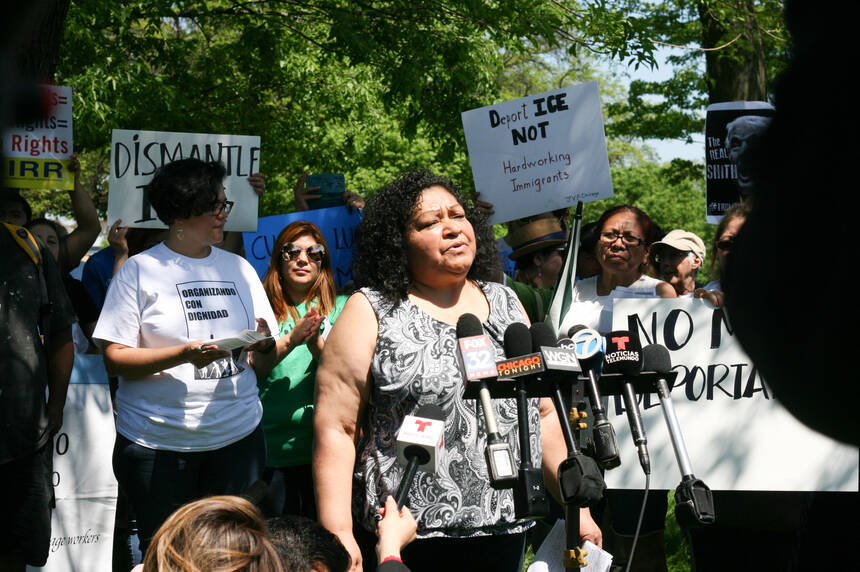 Since May 19, a hot­line ded­i­cat­ed to assist­ing fam­i­lies threat­ened by Immi­gra­tion and Cus­toms Enforce­ment (ICE) has been ring­ing non­stop. That same day is when ICE agents across the Chicagoland area began a wide­spread sweep, includ­ing at a work­site near a Home Depot, where labor­ers go to find work. Accord­ing to immi­grants' rights orga­niz­ers, at least 80 peo­ple have been detained since the sweep began, and like­ly many more.
On Thurs­day, a group of around 75 pro­test­ers gath­ered on Chicago's South­west side at the inter­sec­tion of 45th St. and West­ern Ave., across the street from the work­site. Orga­niz­ers, as well as sev­er­al work­ers who were at the job site when ICE arrived last week­end, spoke to the gath­ered crowd. With ICE threat­en­ing their liveli­hoods and their com­mu­ni­ties, those who spoke gave urgency to the ongo­ing fight to end police intim­i­da­tion and for immi­grants to earn a liv­ing and to live with­out fear.
"What we want is respect, and to keep this as a job site," said Enrique, an undoc­u­ment­ed work­er who with­held his last name for fear of retal­i­a­tion, and who has come to the same work­site for the past 12 years. ​"If you're undoc­u­ment­ed it's not that easy to find work any­where else."
Orga­niz­ers believe that the raid at 45th St. and West­ern Ave. was part of an ongo­ing sting oper­a­tion led by ICE to intim­i­date immi­grant com­mu­ni­ties, tar­get­ing Lati­no neigh­bor­hoods in Chica­go as well as the near­by sub­urbs of Cicero and Joli­et. In addi­tion to work­sites, ICE has also entered fam­i­ly homes with­out war­rants. Accord­ing to orga­niz­ers, one fam­i­ly even had a child's par­ty vio­lent­ly inter­rupt­ed by ICE agents.
In tar­get­ing a day labor site, ICE offi­cials are also threat­en­ing the liveli­hoods of peo­ple who may depend on an undoc­u­ment­ed fam­i­ly mem­ber to find such employ­ment in order to sup­port them. Immi­grant and labor activists have fre­quent­ly ral­lied to pro­tect undoc­u­ment­ed peo­ple's right to work, includ­ing a May Day protest this year that end­ed at an ICE office in down­town Chica­go. Don Vil­lar, the sec­re­tary-trea­sur­er of the Chica­go Fed­er­a­tion of Labor, a union which rep­re­sents over 300 sep­a­rate unions in the Chica­go area, argued that the fight for immi­grant's rights con­tributes direct­ly to the ongo­ing strug­gle for all work­er's rights.
"Through­out the labor move­men­t's his­to­ry, immi­grants have enriched the fab­ric of our city, our neigh­bor­hoods, our work­force and our labor move­ment," said Vil­lar, him­self an immi­grant from the Philip­pines. ​"Many of the fun­da­men­tal rights that immi­grants strug­gle to attain are the same rights the labor move­ment fights to secure for all work­ers every day."
The raid comes on the heels of a larg­er cam­paign being waged by the Trump admin­is­tra­tion against immi­grant rights. On Thurs­day, just before the protest, Pres­i­dent Trump sug­gest­ed in an inter­view that he believes undoc­u­ment­ed immi­grants don't deserve a legal hear­ing on their immi­gra­tion sta­tus — an uncon­sti­tu­tion­al pol­i­cy that's at odds with his own Jus­tice Depart­ment. Attor­ney Gen­er­al Jeff Ses­sions, mean­while, has pro­posed increas­ing the num­ber of immi­gra­tion judges, hop­ing to has­ten the depor­ta­tion of even more undoc­u­ment­ed peo­ple. There are cur­rent­ly more than 700,000 pend­ing immi­gra­tion cas­es in the Unit­ed States, leav­ing count­less peo­ple in lim­bo for years as they await a trial.
In an attempt to speed up depor­ta­tions, Trump has direct­ed the Jus­tice Depart­ment to push immi­gra­tion judges to reach a year­ly quo­ta for depor­ta­tion cas­es. The admin­is­tra­tion also recent­ly announced that it will pre­emp­tive­ly sep­a­rate par­ents from their chil­dren if they're detained while cross­ing into the Unit­ed States, a pol­i­cy that many have con­demned as inhu­mane and unnecessary.
In Chica­go, where May­or Rahm Emanuel's admin­is­tra­tion recent­ly won a court case against the Trump admin­is­tra­tion over threats to with­hold fed­er­al grants to sanc­tu­ary cities, there's still plen­ty of evi­dence that more needs to be done to pro­tect undoc­u­ment­ed com­mu­ni­ties. Orga­niz­ers are par­tic­u­lar­ly wor­ried about the city's gang data­base, which has erro­neous­ly list­ed many Chicagoans as involved in crim­i­nal activ­i­ty. By pro­vid­ing ICE access to the list of more than 128,000 names, crit­ics say the Chica­go Police Depart­ment is direct­ly threat­en­ing the liveli­hoods of undoc­u­ment­ed res­i­dents, and the move has sparked two law­suits against the city
"We have encoun­tered peo­ple who have been put in the data­base as an excuse so CPD can col­lab­o­rate with ICE and take them into cus­tody," said Ana­lia Rodriguez, exec­u­tive direc­tor of the Lati­no Union of Chica­go, which rep­re­sents domes­tic and day labor­ers. ​"We're afraid that because these guys are vul­ner­a­ble work­ers in very pub­lic spaces, they're a very easy tar­get for crim­i­nal­iza­tion and deportation."
Orga­niz­ers believe that ICE's ulti­mate pur­pose is to dis­rupt fam­i­lies and com­mu­ni­ties, mak­ing resis­tance to future raids less pos­si­ble. Clos­ing the gath­er­ing with chants of ​"ICE! Escucha! Esta­mos en la lucha!" ("ICE! Lis­ten! We are in the fight!"), pro­test­ers showed no sign of giv­ing up fight­ing any­time soon, know­ing that the well­be­ing of their com­mu­ni­ties depends on it.
"We need to show ICE and this admin­is­tra­tion that our com­mu­ni­ties are orga­niz­ing," said Rosi Car­ras­co, a vol­un­teer with Orga­nized Com­mu­ni­ties Against Depor­ta­tion, a group of self-orga­nized immi­grants fight­ing depor­ta­tions. ​"ICE is the agency whose only job is to sep­a­rate fam­i­lies, so we have to find a way to pro­tect our rights, to resist, to orga­nize and to fight."
If you or a fam­i­ly or com­mu­ni­ty mem­ber has been tar­get­ed by ICE, or observe ICE activ­i­ty in the Chica­go area, please call 1 – 855-HELP-MY-FAM­I­LY for assistance.
Tan­ner Howard
is a free­lance jour­nal­ist and In These Times edi­to­r­i­al intern. He's also a mem­ber of the Demo­c­ra­t­ic Social­ists of Amer­i­ca, orga­niz­ing pri­mar­i­ly around hous­ing and edu­ca­tion justice.