Homeownership Is Dead. The Future Lies in Public Housing.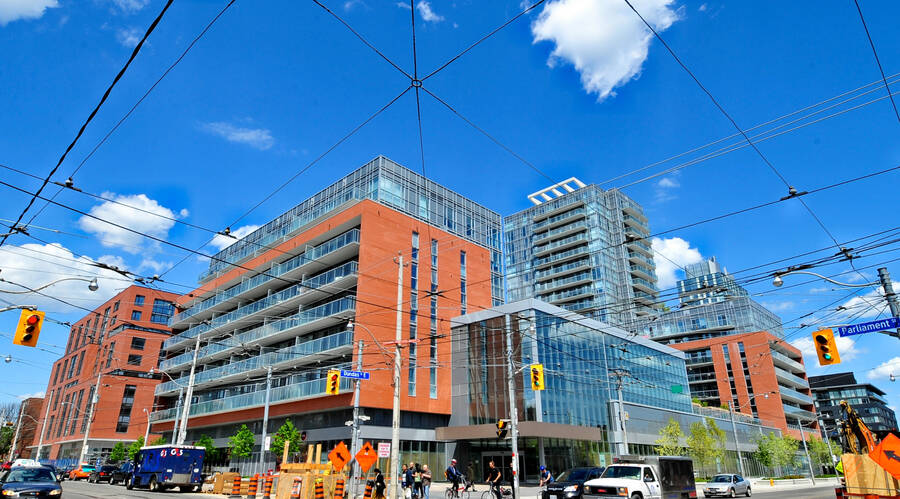 In 1948, as he planned the first Levit­town devel­op­ments in New York, which would pro­vide homes to thou­sands of return­ing white World War II vet­er­ans, real estate devel­op­er William Leav­itt promised U.S. gov­ern­ment offi­cials, who sought to con­test the grow­ing glob­al influ­ence of the Sovi­et Union, that ​"No man who owns his own house and lot can be a Com­mu­nist. He has too much to do."
Leavitt's quote is emblem­at­ic of the peri­od of rapid post­war sub­ur­ban­iza­tion in the Unit­ed States through­out the 1940s and 1950s, dur­ing which the Fed­er­al Hous­ing Admin­is­tra­tion under­wrote mil­lions of low-cost mort­gages for white fam­i­lies. As a result, home own­er­ship became the totemic image of suc­cess in the coun­try, a per­sis­tent mythol­o­gy that's with­stood years of decline.
But today, for many of us, this ver­sion of the Amer­i­can dream is dead, some­thing that's become ever more appar­ent over the last decade. The fore­clo­sure cri­sis that helped fuel the 2008 finan­cial crash pushed more than nine mil­lion fam­i­lies out of their homes between 2006 and 2014, mak­ing hous­ing inse­cu­ri­ty a grow­ing real­i­ty in America.
Last year, more than half a mil­lion peo­ple were home­less for at least one night, and the home­less pop­u­la­tion rose in boom­ing cities like New York where afford­able hous­ing is scarce but demand is high.
The fate of mil­len­ni­als appears sealed for years to come: home­own­er­ship rates for Amer­i­cans under 35 have fall­en by more than 20 per­cent since 2004. Accord­ing to a Pew poll, this group is now more like­ly to be liv­ing with their par­ents than with a part­ner, the first time that's been the case in more than 130 years.
It's an unset­tling ​"new nor­mal" — with near­ly half the rental pop­u­la­tion being rent bur­dened (pay­ing at least 30 per­cent of their income on hous­ing). Still, if the betrayed promis­es of home own­er­ship are no longer mean­ing­ful to many, will we be able to build a new sort of egal­i­tar­i­an Amer­i­can dream from the decay­ing remains of the past?
That's the vision of ​"Social Hous­ing in the Unit­ed States," a new report from the People's Pol­i­cy Project (PPP), an inde­pen­dent think tank head­ed by left-wing econ­o­mist and writer Matt Bru­enig. In the doc­u­ment, authors Peter Gowan and Ryan Coop­er make a com­pelling case for expand­ed pub­lic hous­ing in the Unit­ed States.
While the last sev­er­al decades have seen an increas­ing empha­sis on gov­ern­ment-spon­sored mar­ket-dri­ven solu­tions to the hous­ing cri­sis, as the PPP report explains, now may be the per­fect time to cre­ate some­thing nev­er before seen in the Unit­ed States: robust, well-main­tained, class-diverse pub­lic housing.
The mort­gage crisis
Home­own­er­ship has long been overem­pha­sized in gov­ern­ment hous­ing pol­i­cy. As Derek Thomp­sons argues at the Atlantic, this has direct impacts on the growth of income inequal­i­ty: ​"Fed­er­al hous­ing pol­i­cy trans­fers lots of mon­ey to rich home­own­ers, a bit less to mid­dle-class home­own­ers, and prac­ti­cal­ly noth­ing to poor renters." Each year, the gov­ern­ment for­goes approx­i­mate­ly $71 bil­lion in tax­es to the Mort­gage Inter­est Deduc­tion, allow­ing peo­ple to deduct the inter­est costs on their homes. Near­ly 90 per­cent of that mon­ey goes to fam­i­lies mak­ing $100,000 or more annually.
Mid­dle and low­er-income home own­ing fam­i­lies are far less like­ly to ben­e­fit from these hous­ing poli­cies. The Oba­ma admin­is­tra­tion failed spec­tac­u­lar­ly in pro­tect­ing under­wa­ter mort­gage hold­ers from refi­nanc­ing their homes, even as the admin­is­tra­tion ear­marked $75 bil­lion for the pur­pose. Accord­ing to anoth­er report from PPP, the Home Afford­able Mort­gage Pro­gram, insti­tut­ed under Oba­ma, ulti­mate­ly only helped 558,000 fam­i­lies try­ing to refi­nance their homes, even as mort­gage com­pa­nies were forced to shell out a $26 bil­lion joint set­tle­ment for cre­at­ing fraud­u­lent doc­u­ments meant to ensure fam­i­lies were forced from their homes.
The result? Of the 9.3 mil­lion fore­closed house­holds, less than a third are like­ly to pur­chase a home again. Black and Lati­no house­holds were par­tic­u­lar­ly under­mined by the fail­ures of the Oba­ma admin­is­tra­tion. Black hous­ing equi­ty declined, on aver­age, by $16,700 dur­ing the reces­sion, con­tribut­ing to a mas­sive uptick in racial wealth disparities.
In a Wash­ing­ton Post op-ed on the declin­ing home­own­er­ship rate, Charles Lane observed: ​"If the Great Reces­sion taught any­thing, it was that, despite decades of rhetoric about the ​'Amer­i­can Dream' from real estate lob­by­ists, politi­cians and well-mean­ing low-income-hous­ing advo­cates, home­own­er­ship is not a sure­fire tick­et into the mid­dle class. It can be down­right risky."
Why pub­lic housing?
That's where the fight for pub­lic hous­ing comes in. As Gowan and Coop­er artic­u­late, the mas­sive influx of new renters, and the com­plete lack of gov­ern­ment involve­ment in pro­duc­ing new hous­ing units, has giv­en the mar­ket over­whelm­ing pow­er to squeeze every last dol­lar from Amer­i­cans' pockets.
Cur­rent approach­es to stim­u­lat­ing the devel­op­ment of afford­able units have large­ly been fail­ures. For sev­er­al decades, most afford­able hous­ing has been built using the Low-Income Hous­ing Tax Cred­it (LITHC) pro­gram, a tax break that devel­op­ers sell to investors in exchange for con­struc­tion loans. With lit­tle reg­u­la­to­ry over­sight, the pro­grams has proven dis­as­trous­ly inef­fec­tive: accord­ing to a Frontline/​NPR inves­ti­ga­tion, the pro­gram cur­rent­ly cre­ates 15 per­cent few­er units than it did 20 years ago, while cost­ing tax­pay­ers 66 per­cent more.
How­ev­er, even this bro­ken sys­tem could soon slow down con­sid­er­ably. Because the wealthy need few­er off­sets to shrink their year­ly tax bill thanks to low­er rates for high-income house­holds under the recent GOP tax plan, the LITHC will fund upwards of 200,000 few­er afford­able units over the next decade, accord­ing to hous­ing advocates.
To Coop­er, this mod­el of financ­ing rental hous­ing is woe­ful­ly inad­e­quate. With the mas­sive mon­e­tary sums the gov­ern­ment con­trols, he argues, it should be invest­ing direct­ly in build­ing its own units, instead of chip­ping away at the prob­lem and leav­ing deep­er struc­tur­al prob­lems intact.
"Coax­ing the pri­vate mar­ket is not get­ting the goods, not get­ting the mass hous­ing that we need," Coop­er says. ​"You're talk­ing a cou­ple hun­dred dol­lars per rental house­hold, when what you need is lots and lots of new hous­ing units that are priced rea­son­ably and put some down­ward pres­sure on the hous­ing market."
The report offers sev­er­al mod­els for financ­ing pub­lic hous­ing. Impor­tant­ly, the authors do not believe that pub­lic hous­ing should be reserved only for the low­est-income fam­i­lies, as is typ­i­cal in the Unit­ed States.
Instead, they empha­size the need for a diverse mix­ture of ten­ants, includ­ing some who can afford to pay full price, as a means of ensur­ing that the hous­ing stock does not dete­ri­o­rate over time and can be self-sus­tain­ing. This mod­el is inspired by social hous­ing in Vien­na, where three in five peo­ple live in gov­ern­ment-owned, built or man­aged hous­ing, and more than 80 per­cent of the pop­u­la­tion is eli­gi­ble for social housing.
"The over­all objec­tive should be that you can build so much more of this kind of hous­ing, that you end up with a greater quan­ti­ty of units, even reserved just for poor peo­ple that are scat­tered through the entire sys­tem," Coop­er says.
While mak­ing such a mas­sive invest­ment may seem impos­si­ble, the mon­ey is there: New York alone gave up $1.4 bil­lion in tax income to pri­vate devel­op­ers in 2016, in exchange for a pal­try 6,844 afford­able units.
In lieu of such waste­ful, inef­fec­tive spend­ing, we can look to the mod­el of the British Labour Par­ty: With one in three mil­len­ni­als in the UK unlike­ly to ever own a home, accord­ing to a new report, Labour has called to enact rent con­trol and have the gov­ern­ment build a mil­lion new homes over the next decade, fun­da­men­tal­ly chal­leng­ing the role of the pri­vate hous­ing mar­ket as the only solu­tion to people's hous­ing needs.
"We need more places to live in these desir­able cities," Coop­er says. ​"But if we do social hous­ing that's eco­nom­i­cal­ly inclu­sive, we can hit the point in the mar­ket where need, not prof­its, is greatest."
Chang­ing perceptions
Pub­lic hous­ing has gained a tar­nished rep­u­ta­tion in the Unit­ed States, with the neglect of fed­er­al and local gov­ern­ments mak­ing the whole notion of gov­ern­ment-owned shel­ter seem polit­i­cal­ly unfea­si­ble and moral­ly unde­sir­able. But it wasn't always this way, espe­cial­ly for those whose hous­ing cir­cum­stances were pre­vi­ous­ly far worse.
For hun­dreds of thou­sands of Black fam­i­lies, once crowd­ed into kitch­enettes as they came north dur­ing the Great Migra­tion, the first mas­sive pub­lic hous­ing projects, built in tan­dem with the boom in sub­ur­ban devel­op­ment in the 1940s and 1950s, were a wel­come relief. Clean, well-main­tained, and afford­able, these dwellings offered dig­ni­ty and secu­ri­ty, some­thing in short sup­ply for low-income city residents.
Sus­tain­ing that mem­o­ry is the mis­sion of the Nation­al Pub­lic Hous­ing Muse­um, set to open next year in a for­mer pub­lic hous­ing project on Chicago's West Side. Exec­u­tive direc­tor of the muse­um Lisa Lee hopes that their preser­va­tion efforts can inform the ongo­ing strug­gle for more equi­table hous­ing pol­i­cy, one that refus­es to give up on pub­lic hous­ing as a neces­si­ty in our cities.
"The only thing that's going to save us as a peo­ple is a recla­ma­tion of the idea of the pub­lic and the pub­lic good, and to under­stand that's why our democ­ra­cy was so strong as an idea," Lee says. ​"That's what pub­lic hous­ing has to be, and it's one of the last ves­tiges of it."
In the intro­duc­tion to When Pub­lic Hous­ing Was Par­adise, an oral his­to­ry col­lec­tion gath­ered from Chica­go pub­lic hous­ing res­i­dents, edi­tor J.S. Fuerst argues, ​"In the last two decades of the twen­ti­eth cen­tu­ry, Amer­i­can politi­cians turned away from the idea that gov­ern­ment can play a con­struc­tive role in address­ing social problems."
The rest of the book describes, in pub­lic hous­ing res­i­dents' own words, the mag­i­cal expe­ri­ence of liv­ing in well-built, pub­licly-owned hous­ing, far removed from a pri­vate hous­ing mar­ket intent only on max­i­miz­ing prof­its. ​"I moved into [the Harold Ick­es Homes] in 1956," said Von­sell Ash­ford, a for­mer Chica­go Pub­lic Schools teacher. ​"I thought I was mov­ing to par­adise. The build­ing was new, and they had a beau­ti­ful play­ground for the children."
These mem­o­ries of pub­lic hous­ing sym­bol­ize the core of the Amer­i­can dream: a bet­ter life and a basic sense of dig­ni­ty. It's a promise that's been betrayed in a world of ram­pant inequal­i­ty, and one that has rarely been avail­able to gen­er­a­tions of low-income com­mu­ni­ties that have been left behind by mar­ket-dri­ven hous­ing policies.
But the pos­si­bil­i­ty of a renewed vision of munic­i­pal hous­ing offers a reborn, improved vision of the Amer­i­can Dream, one not root­ed in pick­et-fence sub­ur­bia, but instead in the kind of cities we all deserve: afford­able, neigh­bor­ly, spaces where we can grow and thrive together.
"[Pub­lic hous­ing] sug­gests a future in which peo­ple can have the type of com­mu­ni­ties that make city liv­ing as good as it can be," Coop­er says. ​"I like liv­ing in cities, but one dam­ag­ing social char­ac­ter­is­tic of high-rent cities is that peo­ple move around like crazy. I think peo­ple gen­er­al­ly want a place where you tend to know your neigh­bors, you can ask peo­ple for help, you're actu­al­ly a part of an organ­ic community."


Tan­ner Howard
is a free­lance jour­nal­ist and In These Times edi­to­r­i­al intern. He's also a mem­ber of the Demo­c­ra­t­ic Social­ists of Amer­i­ca, orga­niz­ing pri­mar­i­ly around hous­ing and edu­ca­tion justice.