Chicago Charter School Teachers Demand a Union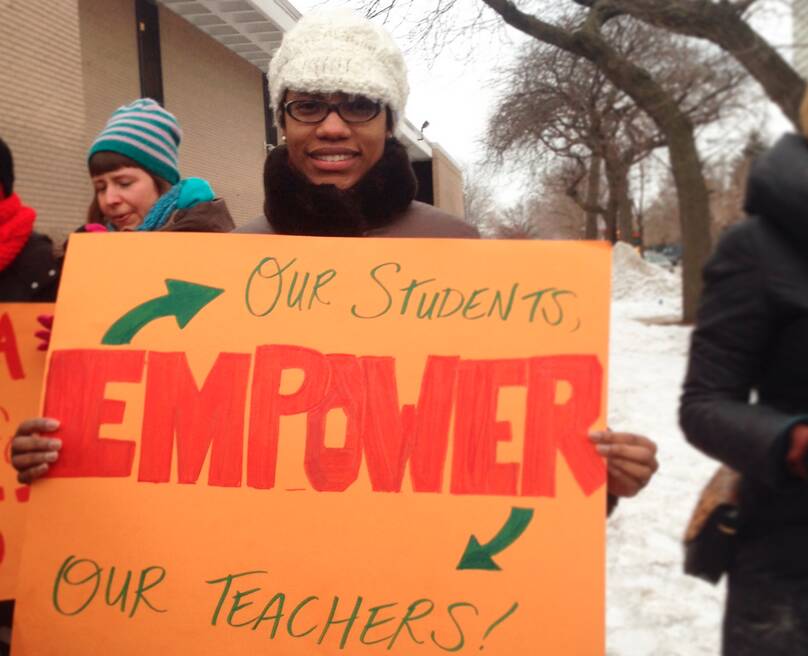 On Fri­day morn­ing at City Hall, Urban Prep and NLCP teach­ers said they want to union­ize and join the Chica­go Alliance of Char­ter Teach­ers and Staff (Chica­go ACTS). Chica­go ACTS is a joint pro­gram of the Chica­go Teach­ers Union (CTU), the Illi­nois Fed­er­a­tion of Teach­ers and the Amer­i­can Fed­er­a­tion of Teach­ers. Accord­ing to the Sun-Times, Chica­go ACTS ​"already rep­re­sents 800 teach­ers and staff at 29 of Chicago's 130 or so char­ter schools."
Lat­er that day, sev­er­al dozen peo­ple ral­lied out­side Urban Prep's Bronzeville cam­pus in 10-degree weath­er. Speak­ers and sup­port­ers includ­ed teach­ers, staff, par­ents, stu­dents and union and com­mu­ni­ty mem­bers, who over­whelm­ing­ly cit­ed con­cern with what they say is fre­quent teacher turnover and a result­ing insta­bil­i­ty for teach­ers and students.
NLCP teacher Kiel Smith said con­stant teacher turnover means spend­ing time and mon­ey on new teacher train­ing rather than on teacher devel­op­ment. ​"I have watched great teacher after great teacher leave," Smith said. ​"Many of these teach­ers didn't just leave NLCP, but they left teach­ing altogether."
Travis Ryan, anoth­er NLCP teacher, said, ​"There is noth­ing sad­der than when we see a stu­dent who has returned home from col­lege who has lived a dream and comes to speak about it. They're so excit­ed to speak with their teach­ers — who are no longer there." Ryan called the turnover cri­sis ​"a ter­ri­ble stain on the char­ter school sys­tem" and believes union­iz­ing can deliv­er bet­ter com­pen­sa­tion, clear­er expec­ta­tions and the secu­ri­ty of due process.
As hos­til­i­ty to teach­ers unions by some edu­ca­tion reform­ers and gov­ern­ment offi­cials has risen in recent years, the num­ber of char­ter schools — schools which are large­ly pub­licly fund­ed but pri­vate­ly run — has seen a dra­mat­ic increase. As the New York Times reports, many char­ter school back­ers see teacher unions as incom­pat­i­ble with char­ters, as they say the schools ​"are more effec­tive because they are free from the reg­u­la­tions and bureau­cra­cies that gov­ern tra­di­tion­al pub­lic schools." Sup­port­ers of char­ter school union­iza­tion say col­lec­tive bar­gain­ing allows teach­ers to secure the resources and con­di­tions that cre­ate qual­i­ty teach­ers and sta­ble schools.
"I get that char­ter schools have great flex­i­bil­i­ty to inno­vate," said union sup­port­er Valerie Leonard of the Lawn­dale Alliance, a com­mu­ni­ty orga­ni­za­tion. ​"How­ev­er, this flex­i­bil­i­ty should not come at the cost of equal pay and decent work conditions."
Accord­ing to Cat­a­lyst Chica­go, if Urban Prep and NLCP's unions are rec­og­nized, ​"it would mean near­ly one in four Chica­go char­ter schools would be union­ized, like­ly the high­est union den­si­ty of char­ter schools in any major school dis­trict in the country."
May­oral can­di­date Jesus ​"Chuy" Gar­cía attend­ed Friday's announce­ment to sup­port the union­iza­tion effort. When teach­ers asked for May­or Rahm Emanuel's sup­port, Emanuel spokesper­son Steve May­ber­ry said in a state­ment, ​"Just as he was sup­port­ive when the teach­ers at UNO and oth­er char­ter schools decid­ed to orga­nize with a union, May­or Emanuel ful­ly believes in the fun­da­men­tal right of work­ers to bar­gain collectively."
Accord­ing to the Sun-Times, Gar­cia said Emanuel's stance is hyp­o­crit­i­cal: ​"To all of the sud­den come out for a vari­ety of mea­sures like increas­ing the min­i­mum wage, like say­ing there ought to be col­lec­tive bar­gain­ing — that they should be free to union­ize — stands in con­trast to his effort to break the Chica­go Teach­ers Union sev­er­al years ago."
The union has cre­at­ed a peti­tion ask­ing the may­or to issue such a sup­port­ive statement.
"May­or Emanuel, you made a state­ment today that you sup­port­ed our efforts," said Urban Prep teacher David Woo. ​"We're ask­ing now that you stand true to that state­ment, that you write a state­ment on our behalf to our exec­u­tives and ask that our exec­u­tives rec­og­nize us now."
Admin­is­tra­tors at both char­ter school net­works say they sup­port their employ­ees' right to orga­nize but would like them to con­duct a secret bal­lot elec­tion. Urban Prep's chief oper­at­ing offi­cer Evan Lewis said, ​"We believe this is a fair and demo­c­ra­t­ic process that allows all teach­ers to have their voice heard, and we do not feel it would be appro­pri­ate to rely on any oth­er process that would deprive our teach­ers of this fun­da­men­tal right."
Secret bal­lot elec­tions are often seen as a union recog­ni­tion process that ben­e­fits boss­es, who are able to use the time between the pub­lic announce­ment of the inten­tion to form a union and the union vote itself to engage in a num­ber of anti-union tac­tics rang­ing from fir­ing union sup­port­ers to one-on-one meet­ings with work­ers encour­ag­ing them to vote no.
"We're not real­ly sat­is­fied with that option. … Right now we're not look­ing for an elec­tion, we're look­ing for recog­ni­tion," said Urban Prep teacher Math­ias Muschal, who explained that a major­i­ty of staff mem­bers at both char­ter net­works have signed onto a union mis­sion state­ment. The schools' man­age­ment could opt for imme­di­ate union recog­ni­tion based on the major­i­ty of teach­ers who have indi­cat­ed sup­port for the union or opt for a ​"card check" agree­ment in which a major­i­ty of teach­ers sim­ply have to fill out a form indi­cat­ing their sup­port of the union.
If the union is rec­og­nized at the two schools and con­tracts are reached, some sup­port­ers say the next step is to fight for Local School Coun­cils (LSC) at char­ter schools. Every tra­di­tion­al Chica­go pub­lic school has an LSC that con­sists of the prin­ci­pal and elect­ed par­ents, teach­ers and com­mu­ni­ty mem­bers. LSCs advise or decide on issues like the school's bud­get, prin­ci­pal hir­ing and school improve­ment pol­i­cy. The union and par­ents say they are a key mech­a­nism of demo­c­ra­t­ic con­trol in pub­lic schools.
"Just like we need more democ­ra­cy in our school dis­trict with an elect­ed school board, we need more democ­ra­cy in the school lev­el with a local school coun­cil," said Shon­e­ice Reynolds, a com­mu­ni­ty leader and Urban Prep parent.
Leonard, of the Lawn­dale Alliance, agreed. ​"Char­ter schools are often run by an out of touch board of direc­tors. We see more ven­ture cap­i­tal­ists, real estate devel­op­ers, nobody who under­stand edu­ca­tion. … We need a com­mu­ni­ty voice, we need a par­ent voice, we need a teacher voice at the table," she said.
Arielle Zionts
was a Spring
2015
In These Times edi­to­r­i­al intern and free­lance reporter. She is now a pro­duc­er at the Inter­faith Voic­es radio show in D.C. She stud­ied anthro­pol­o­gy at Pitzer Col­lege and radio at the Salt Insti­tute for Doc­u­men­tary Stud­ies. Arielle loves to ride her bike and lis­ten to pub­lic radio. She tweets at @ajzionts and her web­site is ariellezionts​.com.