Whose Grid? Our Grid! Chicago's Campaign To Put Electricity Under Public Control
A democratically owned electric utility could fast-track the city's transition to clean energy.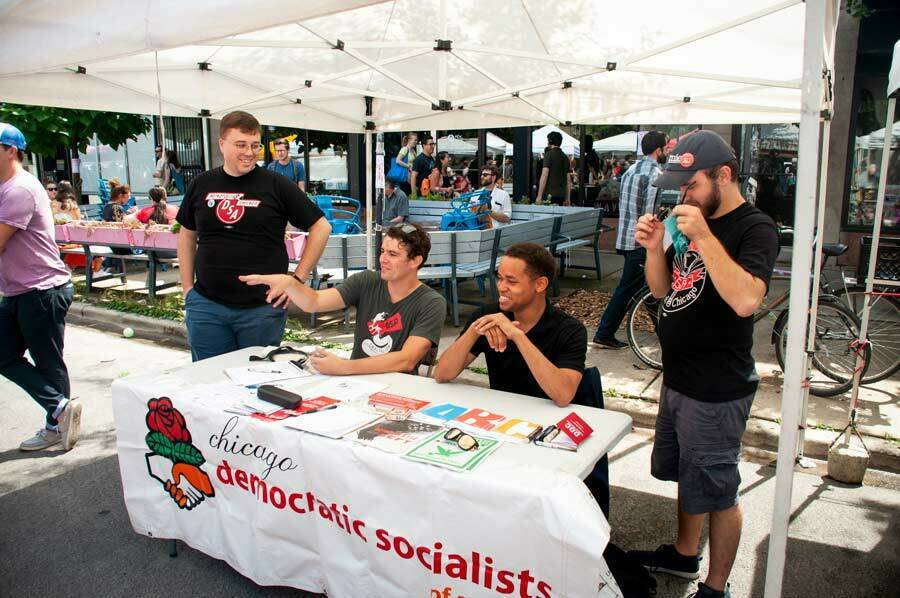 This arti­cle is part of Cov­er­ing Cli­mate Now, a glob­al col­lab­o­ra­tion of more than 250 news out­lets to strength­en cov­er­age of the cli­mate sto­ry.
"You don't want to leave something you need up to the whims of private shareholders, private investors ... things that are not accountable to the public."
CHICA­GO — Among the many ven­dors at the Logan Square Farm­ers Mar­ket on August 18 sat three young peo­ple ped­dling nei­ther organ­ic veg­eta­bles, gourmet cheese nor hand­made crafts. Instead, they offered lib­er­a­tion from capitalism.
Rep­re­sen­ta­tives of the Chica­go Demo­c­ra­t­ic Social­ists of Amer­i­ca (CDSA) engaged mar­ket­go­ers in dis­cus­sions about the cam­paigns they are involved in, from lift­ing the ban on rent con­trol to estab­lish­ing sin­gle-pay­er health­care. But one effort in par­tic­u­lar seemed to catch the most attention.
"We're try­ing to bring ComEd under munic­i­pal con­trol," CDSA mem­ber Matthew Cason told Patrick Petranek, a Logan Square res­i­dent whose eyes lit up at the prospect of Chicago's largest elec­tric­i­ty provider, Com­mon­wealth Edi­son, being tak­en over by the city. Petranek said he sup­ports more trans­paren­cy around fees and signed a peti­tion in sup­port of the campaign.
ComEd's fran­chise agree­ment with Chica­go is up for rene­go­ti­a­tion at the end of 2020. The agree­ment, estab­lished in 1947, allows ComEd to access the city's pub­lic areas to build elec­tric infra­struc­ture — and form a prac­ti­cal monop­oly over Chicago's electricity.
"Elec­tric pow­er is a crit­i­cal func­tion in every­day life, and we can't go with­out it," Cason tells In These Times. ​"Yet, it's con­trolled by a pri­vate monop­oly, and that pri­vate monop­oly is min­i­mal­ly account­able, not trans­par­ent and just is out­side of our pub­lic control."
Cason argues that a demo­c­ra­t­i­cal­ly con­trolled util­i­ty would help Chica­go reach its goal of 100-per­cent clean and renew­able ener­gy by 2035, which City Coun­cil set in April. If the city— not a prof­it-dri­ven cor­po­ra­tion— is respon­si­ble for sourc­ing its own ener­gy, Cason says, it will make deci­sions to sat­is­fy its res­i­dents instead of investors.
CDSA launched its #Democ­ra­tize­ComEd cam­paign in June, part of a wave of munic­i­pal­iza­tion efforts heat­ing up across the coun­try. DSA and oth­er grass­roots orga­ni­za­tions are mount­ing cam­paigns from San Fran­cis­co to Maine. In July, after a heat wave forced two pow­er shut­downs in New York City, May­or Bill de Bla­sio float­ed the idea of tak­ing over ConEd, the city's investor-owned elec­tric utility.
In late July, Chica­go alder­man and CDSA mem­ber Daniel La Spa­ta intro­duced a City Coun­cil order call­ing for a fea­si­bil­i­ty study to exam­ine the poten­tial impacts — envi­ron­men­tal, social and eco­nom­ic — of bring­ing ComEd under pub­lic con­trol. Cason expects the pro­pos­al to eas­i­ly pass through the Com­mit­tee on Envi­ron­men­tal Pro­tec­tion and Ener­gy, after which it would be up for review by the whole Coun­cil. The study, due to come out in Decem­ber if autho­rized, would then out­line paths to municipalization.
Twen­ty-two of Chicago's 50 alder­men have indi­cat­ed sup­port for the study so far. While a plan for Chicago's poten­tial ComEd takeover would be detailed in the study, Cason points out that Illi­nois makes it par­tic­u­lar­ly easy for local gov­ern­ments to munic­i­pal­ize util­i­ties. One way is through a Pub­lic Util­i­ty Cer­tifi­cate, a spe­cial low-inter­est bond that enables cities to pur­chase util­i­ty assets, includ­ing equip­ment and infra­struc­ture, while pay­ing back the loan only with rev­enue gen­er­at­ed from the util­i­ty. ComEd's assets would then be man­aged by a board of elect­ed offi­cials, rather than answer­ing to prof­it-dri­ven shareholders.
Johan­na Bozuwa, co-man­ag­er of the cli­mate and ener­gy pro­gram at The Democ­ra­cy Col­lab­o­ra­tive and an advo­cate for munic­i­pal­iza­tion, allows that ​"pub­licly owned util­i­ties have [not] always been per­fect" — for instance, poor pow­er infra­struc­ture will cause black­outs regard­less of who owns the util­i­ty. But, she adds, democ­ra­tiz­ing util­i­ties cre­ates ​"many more levers in order to enact change in a way that we can't do in a cor­po­rate monop­oly enti­ty." Pub­lic util­i­ties can pri­or­i­tize com­mu­ni­ty over prof­it, she says. ​"We have agency in a way that we may not otherwise."
Burling­ton, Vt., for instance, used its pub­lic pow­er grid to become the first U.S. city to be pow­ered by 100% renew­able ener­gy. Red-state Nebras­ka is cur­rent­ly the only U.S. state with a com­plete­ly pub­licly owned pow­er sys­tem — and has been since the 1940s, when pri­vate util­i­ties thought pow­er­ing rur­al areas was too expen­sive. Today, Nebras­ka res­i­dents pay some of the low­est elec­tric rates in the country.
Chica­go Alder­man Car­los Ramirez-Rosa, also a CDSA mem­ber, made a case for munic­i­pal­iza­tion on the pub­lic TV show Chica­go Tonight in ear­ly July, not­ing there is local prece­dent: In 1947, Chica­go took own­er­ship of the pri­vate train lines that made up its famous ​"L" mass tran­sit sys­tem, democ­ra­tiz­ing pub­lic transit.
"We want to make sure we're push­ing for­ward the social­ist cause," Ramirez-Rosa said. In addi­tion to tabling at the farm­ers mar­ket, CDSA is can­vass­ing neigh­bor­hoods and talk­ing to City Coun­cil mem­bers to gen­er­ate sup­port for munic­i­pal­iza­tion. Cason says talk­ing to Chicagoans about the effort has been sur­pris­ing­ly easy. ​"Every­one knows what ComEd is," Cason says. ​"Every­one knows what elec­tric­i­ty is. Every­one has a pow­er bill."
But what most speaks to peo­ple he can­vass­es, Cason says, is the prin­ci­ple of hav­ing a basic neces­si­ty man­aged by an enti­ty behold­en to Chica­go res­i­dents, rather than profit.
"We believe that crit­i­cal pub­lic and social func­tions should be under pub­lic con­trol," he tells In These Times. ​"You don't want to leave some­thing you need up to the whims of pri­vate share­hold­ers, pri­vate investors … things that are not account­able to the public."