The Democratic Establishment Should Be Very Nervous After Chicago's Primary Results
While progressives didn't win all their races, they did show that the establishment is vulnerable and that left platforms are popular.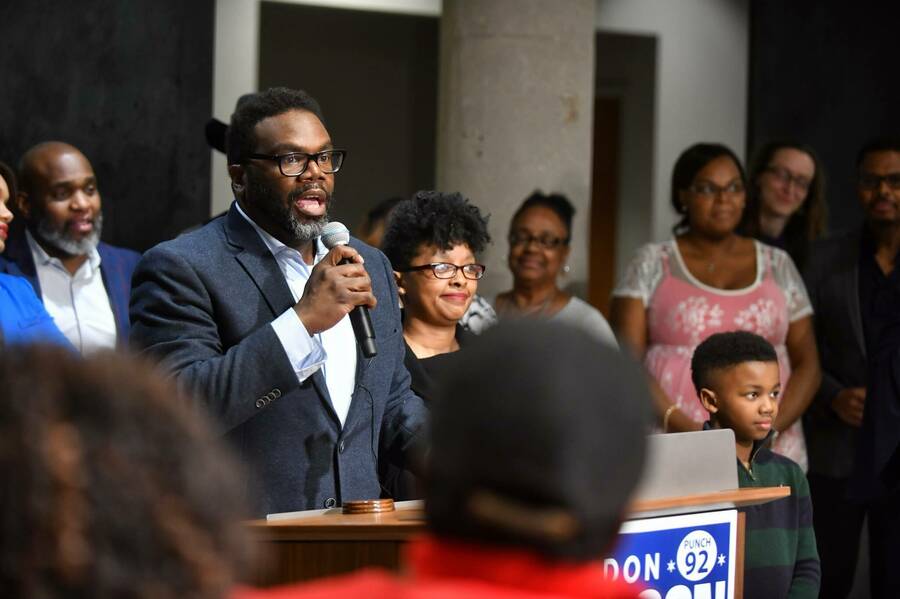 In Tuesday's Illi­nois pri­maries, the Chica­go Demo­c­ra­t­ic Machine was chal­lenged on mul­ti­ple fronts. And if the results are a sign of things to come, pro­gres­sive forces in Chica­go could be on the ascent.
Winning outright is always the goal in a political race, but it isn't special pleading to note that in primaries, especially, a movement wins just by being in the race and shaping the debate.
The 3rd con­gres­sion­al dis­trict pri­ma­ry in Illi­nois cap­tured much about the past two years of our nation­al pol­i­tics. On the Demo­c­ra­t­ic side, an estab­lish­ment, cen­trist Demo­c­rat faced a pro­gres­sive chal­lenger to his left. On the Repub­li­can side, the only can­di­date in the race was a white suprema­cist and Holo­caust denier.
The Demo­c­ra­t­ic race between incum­bent Dan Lip­in­s­ki and insur­gent Marie New­man in Chicago's South West Side and sur­round­ing sub­urbs end­ed in near­ly a draw, with Lip­in­s­ki cling­ing to a nar­row lead. At the New­man elec­tion night par­ty on Tues­day, spokes­peo­ple for the var­i­ous orga­ni­za­tions that had mobi­lized vol­un­teers for the pro­gres­sive chal­lenger gave peri­od­ic pep talks as the night dragged on and precinct report­ing slowed to a crawl. With the results stalled in the low 90s of precincts report­ing, and Lip­in­s­ki main­tain­ing a lead of about two per­cent­age points, the Human Rights Cam­paign (HRC)'s nation­al field direc­tor, Mar­ty Rouse, took the stage to announce that ​"it's time for Dan Lip­in­s­ki to go" and ​"we are going to stay here until every vote is count­ed." New­man said she wasn't ready to con­cede because she ​"would like Mr. Lip­in­s­ki to have a very painful evening."
The last of the votes were still being count­ed Wednes­day morn­ing, with Lip­in­s­ki hold­ing on to a two-point lead. The nar­row loss for New­man comes as a dis­ap­point­ment for pro­gres­sives who were hop­ing to oust a cen­trist Demo­c­rat in one of the most high­est-pro­file House races in the nation. Over the past few weeks, mul­ti­ple media out­lets pub­lished var­i­ous ​"Demo­c­ra­t­ic Par­ty civ­il war" arti­cles, focus­ing on the Lip­in­s­ki-New­man race. A New­man win would have sent a bold mes­sage about the pro­gres­sive movement's elec­toral mus­cle. In addi­tion to NAR­AL and HRC, New­man had the endorse­ment and sup­port of orga­ni­za­tions such as the Pro­gres­sive Change Cam­paign Com­mit­tee, Our Rev­o­lu­tion and Jus­tice Democ­rats — key play­ers in the emerg­ing pro­gres­sive infra­struc­ture around elec­toral politics.
Pro­gres­sives, in oth­er words, were all in on this one. So, what's the take­away from a loss in the 3rd, and from the results in Illi­nois more broadly?
Win­ning out­right is always the goal in a polit­i­cal race, but it isn't spe­cial plead­ing to note that in pri­maries, espe­cial­ly, a move­ment wins just by being in the race and shap­ing the debate. That is what made the Tea Par­ty a pow­er­ful force on the Right in the ear­ly 2010s. It is remem­bered main­ly for being anti-tax and anti big-gov­ern­ment, but, in truth, its pow­er was as much in its anti-immi­gra­tion stances and in its use of pri­maries to force incum­bent Repub­li­cans to reject ​"amnesty" for undoc­u­ment­ed immi­grants. Rel­a­tive­ly few Repub­li­cans got elect­ed by pri­or­i­tiz­ing an anti-immi­grant agen­da. But the work done by the Tea Par­ty in the pri­maries — by field­ing can­di­dates, or just threat­en­ing to — reshaped the debate and made immi­gra­tion, along with tax cuts, the heart of the Repub­li­can plat­form under Don­ald Trump.
The Left has its own game-chang­ing issue in sin­gle-pay­er health­care. Marie New­man ran on a strong com­mit­ment to push Medicare-for-all leg­is­la­tion, along with a $15 min­i­mum wage, immi­grant pro­tec­tions and abor­tion rights. Lip­in­s­ki was vul­ner­a­ble on mul­ti­ple fronts — he's anti-repro­duc­tive choice and anti-LGBT rights, for exam­ple — so his vote in 2010 against the Afford­able Care Act was just one of many ways he proved how pro­found­ly out of step he is with where the Demo­c­ra­t­ic Par­ty is headed.
At her cam­paign event on Tues­day night, New­man acknowl­edged how her plat­form in the race put pres­sure on Lip­in­s­ki to move in a more pro­gres­sive direc­tion: ​"We have moved him on immi­gra­tion, we have moved him on health­care, I scared the crap out of him on $12 ver­sus $15."
Lip­in­s­ki, a sev­en-term incum­bent and Machine Demo­c­rat, came as close to los­ing as he has in his polit­i­cal career, which began in 2004, when he inher­it­ed the seat from his father William, an ally of the old Chica­go May­or Richard J. Daley, who was first elect­ed to Con­gress in 1982. After near­ly being tak­en out by New­man, a polit­i­cal new­com­er, Lipinski's chances of hold­ing on to the seat in 2020 are slim. As The Inter­cept​'s Ryan Grim point­ed out: ​"If Lip­in­s­ki pulls this out, he imme­di­ate­ly becomes a lame duck, since his seat would be Newman's for the tak­ing in a pres­i­den­tial cycle. And the com­po­si­tion of the 2021 Demo­c­ra­t­ic class mat­ters much more for pol­i­cy than the 2019 one."
So if New­man decides to chal­lenge Lip­in­s­ki again in two years, she would almost assured­ly have a bet­ter shot, espe­cial­ly in a year that Don­ald Trump will most like­ly sit at the top of the bal­lot. And by run­ning as a strong pro­gres­sive, she helped shift the dynam­ics of the race, which in turn could inspire oth­er left chal­lengers to do the same in the future.
The case of Mike Quigley in the 5th Dis­trict may be more typ­i­cal of the com­ing bat­tles with­in the par­ty. A five-term incum­bent, Quigley's record is right in the mid­dle of the Demo­c­ra­t­ic pack. Unlike Lip­in­s­ki, he has a sol­id record on repro­duc­tive and LGBT rights. But his record on civ­il rights and leg­is­la­tion that favors cor­po­rate inter­ests earns him a pro­gres­sive score of D, over­all, from the vote-track­ing web­site Pro­gres­sive Punch. Quigley was pri­maried from the left by Sameena Mustafa, a pro­gres­sive endorsed by the Jus­tice Democ­rats, who made Quigley's lack of sup­port for Medicare for all cen­tral to her campaign.
Mustafa got about 24 per­cent of the vote, to Quigley's 63 per­cent, in a four-way race. Is that enough of a chal­lenge to move Quigley to the left on health­care? We'll find out soon enough. But we know, from the recent exam­ple of the Tea Par­ty, that hav­ing can­di­dates in the race like Mustafa, who pri­or­i­tize a gal­va­niz­ing issue like sin­gle-pay­er health­care, does move the nee­dle with­in the par­ty — even when they lose.
Anoth­er take­away from Tuesday's results is that, despite the sting of Newman's loss, the move­ment is build­ing actu­al elec­tion-win­ning pow­er that has impli­ca­tions for 2020 and beyond. Four can­di­dates endorsed by pro­gres­sive orga­ni­za­tion Unit­ed Work­ing Fam­i­lies (UWF), the Illi­nois part­ner of the Work­ing Fam­i­lies Par­ty, won their races, includ­ing Delia Ramirez in Illi­nois' 4th house dis­trict, Bran­don John­son, a Chica­go Teach­ers Union mem­ber, in the Cook Coun­ty Com­mis­sion­er Dis­trict 1 race, Alma Anaya in the Cook Coun­ty Com­mis­sion­er Dis­trict 7 race and Aaron Ortiz, a 26-year-old chal­lenger who took out state Rep. Dan Burke, the Chica­go Machine's can­di­date in the House 1st Dis­trict race on Chicago's South West side.
Respond­ing to the vic­to­ries, UWF Exec­u­tive Direc­tor Emma Tai said: ​"The Unit­ed Work­ing slate was com­prised of young peo­ple of col­or who were first-time can­di­dates. They took on big-mon­ey inter­ests and the Demo­c­ra­t­ic machine and they won. We stand ready to take on the cor­po­rate Democ­rats who have let incar­cer­a­tion, vio­lence, gen­tri­fi­ca­tion and unem­ploy­ment rav­age our com­mu­ni­ties. And tonight's results show that the vot­ers are with us."
And then there is the case of the Cook Coun­ty Assessor's race, which pit­ted long­time incum­bent Joseph Berrios against pro­gres­sive chal­lenger and polit­i­cal new­com­er Fritz Kaegi.
It's the kind of race that typ­i­cal­ly flies under the radar, but it attract­ed the media spot­light in recent weeks after the release of a study that found that the Cook Coun­ty Assessor's office, under Berrios, had sys­tem­at­i­cal­ly under­val­ued expen­sive homes and over­val­ued more mod­est homes. Pro-Pub­li­ca not­ed that the errors ​"amount to a stag­ger­ing trans­fer of wealth" — total­ing about $2.2 bil­lion, from 2011 to 2015 — ​"that ben­e­fit­ed Chicago's most afflu­ent home­own­ers at the expense of peo­ple who own low­er-priced homes."
The sto­ry was about more than just the way the asses­sor spiked inequal­i­ties in Cook Coun­ty. It was a text­book exam­ple of old-school, Chica­go-style cor­rup­tion, specif­i­cal­ly Demo­c­ra­t­ic Par­ty cor­rup­tion, since peo­ple who want to con­test their home val­u­a­tion are steered to lawyers who are often, in turn, big donors to the very Demo­c­ra­t­ic Par­ty machin­ery respon­si­ble for the valuations.
Kae­gi, who had the endorse­ment of Our Rev­o­lu­tion, beat Berrios by about 11 points, 45 to 34 per­cent. It's one small vic­to­ry for much-need­ed house clean­ing with­in the Demo­c­ra­t­ic Par­ty. And — hope­ful­ly — a sign of much more to come.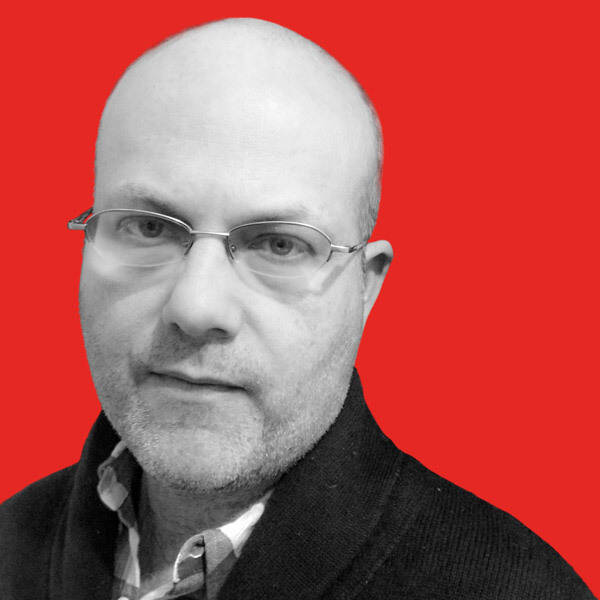 Theo Ander­son
is an In These Times con­tribut­ing writer. He has a Ph.D. in mod­ern U.S. his­to­ry from Yale and writes on the intel­lec­tu­al and reli­gious his­to­ry of con­ser­vatism and pro­gres­sivism in the Unit­ed States. Fol­low him on Twit­ter @Theoanderson
7
.