What To Expect From New York's Black Feminist First Lady
Can we embrace Chirlane McCray without smothering her?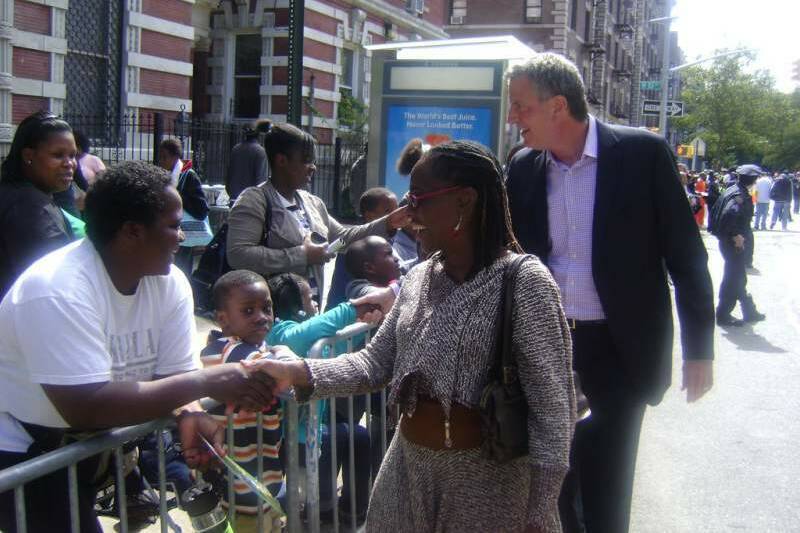 Soon after Bill de Bla­sio won the New York City may­oral race, my friend Johnathan Fields, a recent trans­plant to New York, exclaimed on his Face­book page: ​"My First Ladies are Black!"
Chirlane McCray is acknowledged to be her husband's chief advisor and is commonly credited with shaping the platform that got him elected.
In case you've missed the news clips or the mag­a­zine cov­ers, the new may­or of the famous five bor­oughs is mar­ried to Chirlane McCray, a Black woman with a his­to­ry of pro­gres­sive pol­i­tics. (And Fields and the rest of the Unit­ed States are under the First Lady­ship of Michelle Oba­ma, of course.)
While both Fields and myself may be exult­ing in McCray's new title, not every­one has been thrilled with the Black First Lady we've had for the last six years. While Black women prac­ti­cal­ly cel­e­brat­ed in the streets when Michelle Oba­ma stepped into the role in 2008, some white fem­i­nists met the nation's first Black First Lady with con­found­ing silence. As I wrote in a 2008 arti­cle for the blog Michelle Oba­ma Watch:
Michelle Oba­ma is get­ting short shrift … from the main­stream white fem­i­nists who were scream­ing and scream­ing about Hillary Clin­ton. …There's still a sense of silence. … Peo­ple are shuf­fling their feet.
Then, when the FLO­TUS claimed the man­tle of ​"Mom-in-Chief," the silence became a cho­rus of indig­na­tion—an espe­cial­ly per­plex­ing response in light of the frag­ile dénoue­ment of the years-long, media-fueled ​"Mom­my Wars," which end­ed with most fem­i­nists agree­ing not to judge each other's mar­i­tal, parental and career choic­es. As blog­ger Trudy wrote at Gra­di­ent Lair about the ​"Mom-in-Chief" con­tro­ver­sy:
If [White women ] can­not under­stand the his­to­ry, let alone the emo­tion, involved in Black women being able to be MOTH­ERS to THEIR OWN CHIL­DREN with the care and love that for CEN­TURIES was often only allot­ted to WHITE CHIL­DREN (though this myth of the lov­ing mam­my has back­fired at times on White women whose racial­ly and emo­tion­al­ly imma­ture views of par­ent­hood meant that their chil­dren end­ed up hurt or dead because they couldn't even con­ceive of any­one not wor­ship­ping their White chil­dren [as they is not kind, smart or impor­tant] so they ignored clear as day signs from the today nan­ny or yes­ter­day mam­my that she her­self was hurt­ing or not well and a risk to those kids) then they don't see us. If they can­not under­stand the POW­ER in Obama's unapolo­getic love for his Black wife and Black daugh­ters, com­ment­ing on their intel­li­gence, char­ac­ter and yes, beau­ty, in a world where for cen­turies up until this very moment and future moments, Black women aren't allowed to be any­thing but mam­mies, Sap­phires and Jezebels and if we're lucky ​"strong" at best, they don't see us.

If it wasn't so sad it would be fun­ny watch­ing White fem­i­nists, many of whom are class priv­i­leged and don't even tru­ly raise their own chil­dren, bash Michelle for her pride in moth­er­hood (as if some­how this eras­es her résumé — which seems to be their focus, as if she can't have a pletho­ra of roles) yet have no prob­lem with their Black and Lati­na nannies.
Then Michelle Cot­tle, a white woman writ­ing at Politi­co, added fuel to the fire by call­ing FLO­TUS Oba­ma a ​"fem­i­nist night­mare" because Oba­ma uses her Mom-in-Chief pul­pit to urge healthy eat­ing and to encour­age young peo­ple of col­or to go to col­lege. Cot­tle charged that the FLO­TUS should have been ​"more aggres­sive" by tak­ing on ​"edgi­er" issues such as ​"the myr­i­ad prob­lems eat­ing away at minor­i­ty com­mu­ni­ties" — as though diet-relat­ed ill­ness­es and lack of col­le­giate train­ing in a knowl­edge-based econ­o­my aren't prob­lems for poor com­mu­ni­ties of coor. It was most­ly Black fem­i­nists, like Dr. Brit­tney Coop­er, who had to tell these fem­i­nist fear­mon­gers to ​"lean back" from such asser­tions. Pro­fes­sor and MSNBC host Dr. Melis­sa Har­ris-Per­ry explained to Cot­tle that for quite a few Black women, Michelle Oba­ma is a fem­i­nist dream:
You mis­un­der­stand the place that Michelle Oba­ma occu­pies as the first African Amer­i­can First Lady. You seem to think she's try­ing to steer clear of the Angry Black Woman stereo­type. But when she calls her­self ​"Mom-In-Chief," she's reject­ing anoth­er stereo­type: the role of Mam­my. She's say­ing that her daugh­ters — her vul­ner­a­ble, bril­liant, beau­ti­ful Black daugh­ters — are the most impor­tant things to her. The First Lady is say­ing, ​"You, Miss Ann, are going to have to clean your own house, because I will be car­ing for my own." And instead of agree­ing that the pub­lic sphere is nec­es­sar­i­ly more impor­tant than Sasha and Malia, she has buried Mam­my and embraced being a mom on her own terms. So you can call that your ​"fem­i­nist night­mare," but for many of us, it's our Black moth­er­hood dream.
And, fur­ther­more, Har­ris-Per­ry sug­gest­ed Cot­tle read up on some Black fem­i­nist lit­er­a­ture to grasp the con­cept.
It's true that Michelle Oba­ma nev­er self-iden­ti­fied as a fem­i­nist, leav­ing her defend­ers to make gen­er­ous inter­pre­ta­tions of her activism and by exten­sion, her pol­i­tics. As some of her sup­port­ers may say, she's doing the work, even if she doesn't say as such.
So should First Lady Chirlane McCray expect the same dubi­ous recep­tion from white fem­i­nists? Prob­a­bly not at first. One key dif­fer­ence between the two First Ladies is that New York­ers have elect­ed a may­or whose wife has actu­al­ly called her­self a fem­i­nist. McCray has the bona fides of being a part of the leg­endary Com­ba­hee Riv­er Col­lec­tive (CRC) of 1974 to 1980, whose foun­da­tion­al state­ment has shaped Black fem­i­nism to this day — includ­ing almost every idea in those books Dr. Har­ris-Per­ry sug­gest­ed to Oba­ma-crit­ic Cottle.
And in many ways, First Lady McCray is a liv­ing exam­ple of the mat­u­ra­tion of the CRC's ideas. Sev­er­al com­men­ta­tors note that McCray's expe­ri­ence as a les­bian who went on to mar­ry a man of anoth­er race reflects the real­i­ties of sex­u­al flu­id­i­ty and fam­i­ly com­po­si­tion in con­tem­po­rary U.S. soci­ety. (Writer Liz Dwyer went so far as to thank New York­ers for send­ing a fam­i­ly that looks like hers to the may­oral man­sion.) As much as some of us on the Left love feet-in-the-streets action and call­ing out the polit­i­cal sta­tus quo, it's also a thrill to have a Com­ba­hee Riv­er Col­lec­tive mem­ber — some­one from ​"our" team — make it to the high­est floors of local pow­er, even if she got there because she's mar­ried to the man elect­ed mayor.
Nor was McCray inci­den­tal to de Blasio's vic­to­ry. She's acknowl­edged to be his chief advi­sor and is com­mon­ly cred­it­ed with shap­ing the plat­form that got him elect­ed: oppo­si­tion to the last 20 years of admin­is­tra­tions that were over­ly friend­ly to busi­ness and vicious toward work­ing-class and poor peo­ple. It's clear McCray is one-half of a polit­i­cal team (which I'll affec­tion­ate­ly call ​"Bil­lane").
Left­ies are hope­ful McCray and her hus­band will inscribe ​"our" mes­sage of des­per­ate­ly need­ed racial, gen­der and eco­nom­ic equi­ty into city pol­i­cy. As the Com­ba­hee Riv­er Col­lec­tive state­ment famous­ly not­ed, these issues not only inter­sect, they're interlocked:
We … often find it dif­fi­cult to sep­a­rate race from class from sex oppres­sion because in our lives they are most often expe­ri­enced simul­ta­ne­ous­ly. … We real­ize that the lib­er­a­tion of all oppressed peo­ples neces­si­tates the destruc­tion of the polit­i­cal-eco­nom­ic sys­tems of cap­i­tal­ism and impe­ri­al­ism as well as patriarchy.
And indeed, many of de Blasio's cam­paign promis­es — such as ame­lio­rat­ing ​"stop-and-frisk" polic­ing, guar­an­tee­ing a liv­ing wage and quelling the afford­able hous­ing cri­sis—would com­bat all three forms of oppres­sion. Black peo­ple and Lati­nos are dis­pro­por­tion­ate­ly affect­ed by stop-and-frisk, dis­pro­por­tion­ate­ly rep­re­sent­ed in the low-wage work­force—which has swelled dur­ing the eco­nom­ic melt­down—and dis­pro­por­tion­ate­ly forced out of New York City because they can't afford to stay here. And gen­der fac­tors into these prob­lems as well, both in overt ways — women make up 60 per­cent of low-wage work­ers — and more sub­tle ones: When Black women are part of the stop-and-frisk drag­net, they report expe­ri­enc­ing sex­u­al harass­ment from police who some­times mis­gen­der them under the guise of look­ing for a black male rapist.
So as the new admin­is­tra­tion seeks to make good on its promis­es, it's more than like­ly that we will wit­ness how a pro­gres­sive per­son — and a pro­gres­sive Black woman, no less — can take the Com­ba­hee state­ment and apply it in real time and in liv­ing col­or to the noto­ri­ous­ly com­plex estab­lish­ment that is New York City Hall.
Yet even this will not nec­es­sar­i­ly shield McCray from detrac­tors. She will still have to deal with the unspo­ken-yet-social­ly-enforced duty of the First Lady to be a paragon of fem­i­nin­i­ty — risk­ing main­stream crit­i­cism if she per­forms the role inad­e­quate­ly and fem­i­nist crit­i­cism if she per­forms it too well. Like Michelle Oba­ma, she will have the dif­fi­cult task of mod­el­ing a lov­ing moth­er­hood that's still denied to Black women, no thanks to stereo­types like Daniel Moynihan's ​"Black Matri­arch" and Reagan's ​"Wel­fare Queen," which cast Black women as inher­ent­ly inca­pable of rear­ing their own chil­dren. Like Michelle Oba­ma, she risks being cas­ti­gat­ed by some white fem­i­nists for doing so.
It's not easy to have one's pri­vate life sub­ject to pub­lic scruti­ny, but it's even hard­er when that pri­vate life is under strain. Both Michelle Oba­ma and McCray nav­i­gate mar­riages made more dif­fi­cult by the vicis­si­tudes of pub­lic ser­vice and pol­i­tics. A lit­tle-acknowl­edged real­i­ty of Michelle Obama's Mom-In-Chief man­tle is that it's a break for a woman who for years earned more than her hus­band, main­tained a home and reared two daugh­ters, all while her hus­band pur­sued a polit­i­cal career. As Barack Oba­ma con­fess­es in his mem­oir, Dreams of My Father, he was con­front­ed with the real­i­ty of how his long absences affect­ed his mar­riage and fam­i­ly when Michelle told him that she refused to be, as a friend calls it, ​"a sin­gle par­ent with a ring on her fin­ger." For their part, ​"Bil­lane" got a taste of how pol­i­tics can com­pro­mise fam­i­ly life when they faced the choice of whether to inter­rupt their son's edu­ca­tion in order to move to the may­oral man­sion. (In the end, they decid­ed to). Both the McCray-de Bla­sios and the Oba­mas have made a set of agree­ments that help their bonds sur­vive as they strap their mar­riages into the wild roller­coast­er of pol­i­tics. And the rest of us need to take a les­son from both truths, name­ly that both are per­fect­ly fine mar­i­tal, par­ent­ing and polit­i­cal arrangements.
But even as we embrace First Lady McCray's non­tra­di­tion­al mar­riage, includ­ing her part­ner­ship in her husband's career, I hope we fem­i­nists and oth­er pro­gres­sives — the Collective's philo­soph­i­cal ben­e­fi­cia­ries — don't buck­le her to our roman­tic ideas of ​"shoulds and woulds." In this, we can take an exam­ple from McCray her­self, who has refrained from using her fem­i­nist cre­den­tials to cast asper­sions on or cud­gel Michelle Oba­ma for her expres­sions of her Black wom­an­hood as First Lady. In our efforts to hold May­or de Bla­sio account­able to his cam­paign-trail promis­es, we should not sub­ject McCray to our own self-con­struct­ed ​"puri­ty tests" of what it means to be a ​"good feminist."
I hope, real­ly, that we let First Lady McCray live, both per­son­al­ly and polit­i­cal­ly. Pos­ing for a gor­geous mag­a­zine pho­to, for exam­ple, doesn't nul­li­fy her fem­i­nist back­ground and polit­i­cal smarts. More impor­tant­ly, we may need to let her dis­ap­point us with some deci­sions made by her hus­band — and by her, if what is said about her being a part of his hir­ing deci­sions is true. Already, there's been pro­gres­sive back­lash over the new admin­is­tra­tion's deci­sion to place the respon­si­bil­i­ty of turn­ing around the city's hous­ing cri­sis and cre­at­ing liv­ing-wage jobs in the hands of Ali­cia Glen, a for­mer Gold­man Sachs exec­u­tive who served as liai­son with the Bloomberg admin­is­tra­tion, and its deci­sion to swear in stop-and-frisk's archi­tect, Bill Brat­ton, as the new NYPD Com­mis­sion­er. But instead of trash­ing McCray's fem­i­nist cred, we need to chal­lenge the hir­ings them­selves. These sore-thumb appoint­ments to de Blasio's staff force the Left to look at the con­tra­dic­tions that arise when apply­ing one's pro­gres­sive pol­i­tics in real life.

As the CRC's state­ment says, ​"To be rec­og­nized as human, lev­el­ly human, is enough." We can extend that cour­tesy to both of our Black First Ladies.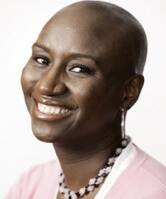 Named one of Ebony.com's ​
"
8
Dynam­ic Black Women Edi­tors in New Media,"
Andrea Plaid
serves as a con­tribut­ing edi­tor at
The Fem­i­nist Wire
and a crit­ic for Kirkus Review. She was the asso­ciate pro­duc­er of renowned web series
Black Folk Don't
. Her com­men­tary has appeared on MSNBC's Melis­sa Har­ris-Per­ry, Huff­in­g­ton Post Live, the
Chica­go Tri­bune
, and the
Wash­ing­ton Post
. Plaid served as an asso­ciate edi­tor of the award-win­ning race-and-pop-cul­ture blog Racia­li­cious, and her work on race, gen­der, sex, and sex­u­al­i­ty has appeared, among oth­er places, at
On The Issues
, Bitch​.com, and RH Real­i­ty Check.