For Gaza, 'The Norm' Is Devastating
With its latest offensive, Israel's objective is simple: to return to the status quo.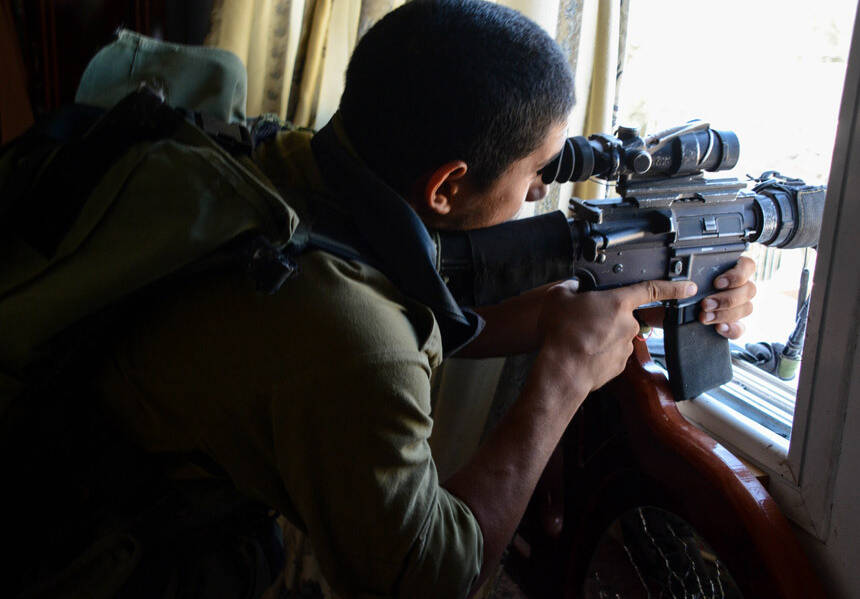 Amid all the hor­rors unfold­ing in the lat­est Israeli offen­sive in Gaza, Israel's goal is sim­ple: qui­et-for-qui­et, a return to the norm.
'We have no dignity, no pride; we are just soft targets, and we are very cheap. Either this situation really improves or it is better to just die.'
For the West Bank, the norm is that Israel con­tin­ues its ille­gal con­struc­tion of set­tle­ments and infra­struc­ture so that it can inte­grate into Israel what­ev­er might be of val­ue, mean­while con­sign­ing Pales­tini­ans to unvi­able can­tons and sub­ject­ing them to repres­sion and violence.
For Gaza, the norm is a mis­er­able exis­tence under a cru­el and destruc­tive siege that Israel admin­is­ters to per­mit bare sur­vival but noth­ing more.
The lat­est Israeli ram­page was set off by the bru­tal mur­der of three Israeli boys from a set­tler com­mu­ni­ty in the occu­pied West Bank. A month before, two Pales­tin­ian boys were shot dead in the West Bank city of Ramal­lah. That elicit­ed lit­tle atten­tion, which is under­stand­able, since it is routine.
​"The insti­tu­tion­al­ized dis­re­gard for Pales­tin­ian life in the West helps explain not only why Pales­tini­ans resort to vio­lence," Mid­dle East ana­lyst Mouin Rab­bani reports, ​"but also Israel's lat­est assault on the Gaza Strip."
In an inter­view, human rights lawyer Raji Sourani, who has remained in Gaza through years of Israeli bru­tal­i­ty and ter­ror, said, ​"The most com­mon sen­tence I heard when peo­ple began to talk about cease-fire: Every­body says it's bet­ter for all of us to die and not go back to the sit­u­a­tion we used to have before this war. We don't want that again. We have no dig­ni­ty, no pride; we are just soft tar­gets, and we are very cheap. Either this sit­u­a­tion real­ly improves or it is bet­ter to just die. I am talk­ing about intel­lec­tu­als, aca­d­e­mics, ordi­nary peo­ple: Every­body is say­ing that."
In Jan­u­ary 2006, Pales­tini­ans com­mit­ted a major crime: They vot­ed the wrong way in a care­ful­ly mon­i­tored free elec­tion, hand­ing con­trol of Par­lia­ment to Hamas.
The media con­stant­ly intone that Hamas is ded­i­cat­ed to the destruc­tion of Israel. In real­i­ty, Hamas lead­ers have repeat­ed­ly made it clear that Hamas would accept a two-state set­tle­ment in accord with the inter­na­tion­al con­sen­sus that has been blocked by the U.S. and Israel for 40 years.
In con­trast, Israel is ded­i­cat­ed to the destruc­tion of Pales­tine, apart from some occa­sion­al mean­ing­less words, and is imple­ment­ing that commitment.
The crime of the Pales­tini­ans in Jan­u­ary 2006 was pun­ished at once. The U.S. and Israel, with Europe shame­ful­ly trail­ing behind, imposed harsh sanc­tions on the errant pop­u­la­tion and Israel stepped up its violence.
The U.S. and Israel quick­ly ini­ti­at­ed plans for a mil­i­tary coup to over­throw the elect­ed gov­ern­ment. When Hamas had the effron­tery to foil the plans, the Israeli assaults and the siege became far more severe.
There should be no need to review again the dis­mal record since. The relent­less siege and sav­age attacks are punc­tu­at­ed by episodes of ​"mow­ing the lawn," to bor­row Israel's cheery expres­sion for its peri­od­ic exer­cis­es in shoot­ing fish in a pond as part of what it calls a ​"war of defense."
Once the lawn is mowed and the des­per­ate pop­u­la­tion seeks to rebuild some­how from the dev­as­ta­tion and the mur­ders, there is a cease-fire agree­ment. The most recent cease-fire was estab­lished after Israel's Octo­ber 2012 assault, called Oper­a­tion Pil­lar of Defense.
Though Israel main­tained its siege, Hamas observed the cease-fire, as Israel con­cedes. Mat­ters changed in April of this year when Fatah and Hamas forged a uni­ty agree­ment that estab­lished a new gov­ern­ment of tech­nocrats unaf­fil­i­at­ed with either party.
Israel was nat­u­ral­ly furi­ous, all the more so when even the Oba­ma admin­is­tra­tion joined the West in sig­nal­ing approval. The uni­ty agree­ment not only under­cuts Israel's claim that it can­not nego­ti­ate with a divid­ed Pales­tine but also threat­ens the long-term goal of divid­ing Gaza from the West Bank and pur­su­ing its destruc­tive poli­cies in both regions.
Some­thing had to be done, and an occa­sion arose on June 12, when the three Israeli boys were mur­dered in the West Bank. Ear­ly on, the Netanyahu gov­ern­ment knew that they were dead, but pre­tend­ed oth­er­wise, which pro­vid­ed the oppor­tu­ni­ty to launch a ram­page in the West Bank, tar­get­ing Hamas.
Prime Min­is­ter Ben­jamin Netanyahu claimed to have cer­tain knowl­edge that Hamas was respon­si­ble. That too was a lie.
One of Israel's lead­ing author­i­ties on Hamas, Shlo­mi Eldar, report­ed almost at once that the killers very like­ly came from a dis­si­dent clan in Hebron that has long been a thorn in the side of Hamas. Eldar added that ​"I'm sure they did­n't get any green light from the lead­er­ship of Hamas, they just thought it was the right time to act."
The 18-day ram­page after the kid­nap­ping, how­ev­er, suc­ceed­ed in under­min­ing the feared uni­ty gov­ern­ment, and sharply increas­ing Israeli repres­sion. Israel also con­duct­ed dozens of attacks in Gaza, killing five Hamas mem­bers on July 7.
Hamas final­ly react­ed with its first rock­ets in 19 months, pro­vid­ing Israel with the pre­text for Oper­a­tion Pro­tec­tive Edge on July 8.
By July 31, around 1,400 Pales­tini­ans had been killed, most­ly civil­ians, includ­ing hun­dreds of women and chil­dren. And three Israeli civil­ians. Large areas of Gaza had been turned into rub­ble. Four hos­pi­tals had been attacked, each anoth­er war crime.
Israeli offi­cials laud the human­i­ty of what it calls ​"the most moral army in the world," which informs res­i­dents that their homes will be bombed. The prac­tice is ​"sadism, sanc­ti­mo­nious­ly dis­guis­ing itself as mer­cy," in the words of Israeli jour­nal­ist Ami­ra Hass: ​"A record­ed mes­sage demand­ing hun­dreds of thou­sands of peo­ple leave their already tar­get­ed homes, for anoth­er place, equal­ly dan­ger­ous, 10 kilo­me­ters away."
In fact, there is no place in the prison of Gaza safe from Israeli sadism, which may even exceed the ter­ri­ble crimes of Oper­a­tion Cast Lead in 2008 to 2009.
The hideous rev­e­la­tions elicit­ed the usu­al reac­tion from the most moral pres­i­dent in the world, Barack Oba­ma: great sym­pa­thy for Israelis, bit­ter con­dem­na­tion of Hamas and calls for mod­er­a­tion on both sides.
When the cur­rent attacks are called off, Israel hopes to be free to pur­sue its crim­i­nal poli­cies in the occu­pied ter­ri­to­ries with­out inter­fer­ence, and with the U.S. sup­port it has enjoyed in the past.
Gazans will be free to return to the norm in their Israeli-run prison, while in the West Bank, Pales­tini­ans can watch in peace as Israel dis­man­tles what remains of their possessions.
That is the like­ly out­come if the U.S. main­tains its deci­sive and vir­tu­al­ly uni­lat­er­al sup­port for Israeli crimes and its rejec­tion of the long-stand­ing inter­na­tion­al con­sen­sus on diplo­mat­ic set­tle­ment. But the future will be quite dif­fer­ent if the U.S. with­draws that support.
In that case it would be pos­si­ble to move toward the ​"endur­ing solu­tion" in Gaza that U.S. Sec­re­tary of State John Ker­ry called for, elic­it­ing hys­ter­i­cal con­dem­na­tion in Israel because the phrase could be inter­pret­ed as call­ing for an end to Israel's siege and reg­u­lar attacks. And — hor­ror of hor­rors — the phrase might even be inter­pret­ed as call­ing for imple­men­ta­tion of inter­na­tion­al law in the rest of the occu­pied territories.
Forty years ago Israel made the fate­ful deci­sion to choose expan­sion over secu­ri­ty, reject­ing a full peace treaty offered by Egypt in return for evac­u­a­tion from the occu­pied Egypt­ian Sinai, where Israel was ini­ti­at­ing exten­sive set­tle­ment and devel­op­ment projects. Israel has adhered to that pol­i­cy ever since.
If the U.S. decid­ed to join the world, the impact would be great. Over and over, Israel has aban­doned cher­ished plans when Wash­ing­ton has so demand­ed. Such are the rela­tions of pow­er between them.
Fur­ther­more, Israel by now has lit­tle recourse, after hav­ing adopt­ed poli­cies that turned it from a coun­try that was great­ly admired to one that is feared and despised, poli­cies it is pur­su­ing with blind deter­mi­na­tion today in its march toward moral dete­ri­o­ra­tion and pos­si­ble ulti­mate destruction.
Could U.S. pol­i­cy change? It's not impos­si­ble. Pub­lic opin­ion has shift­ed con­sid­er­ably in recent years, par­tic­u­lar­ly among the young, and it can­not be com­plete­ly ignored.
For some years there has been a good basis for pub­lic demands that Wash­ing­ton observe its own laws and cut off mil­i­tary aid to Israel. U.S. law requires that ​"no secu­ri­ty assis­tance may be pro­vid­ed to any coun­try the gov­ern­ment of which engages in a con­sis­tent pat­tern of gross vio­la­tions of inter­na­tion­al­ly rec­og­nized human rights."
Israel most cer­tain­ly is guilty of this con­sis­tent pat­tern, and has been for many years.
Sen. Patrick Leahy of Ver­mont, author of this pro­vi­sion of the law, has brought up its poten­tial applic­a­bil­i­ty to Israel in spe­cif­ic cas­es, and with a well-con­duct­ed edu­ca­tion­al, orga­ni­za­tion­al and activist effort such ini­tia­tives could be pur­sued successively.
That could have a very sig­nif­i­cant impact in itself, while also pro­vid­ing a spring­board for fur­ther actions to com­pel Wash­ing­ton to become part of ​"the inter­na­tion­al com­mu­ni­ty" and to observe inter­na­tion­al law and norms.
Noth­ing could be more sig­nif­i­cant for the trag­ic Pales­tin­ian vic­tims of many years of vio­lence and repression.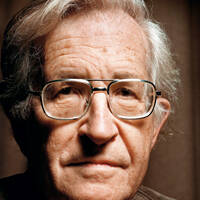 Noam Chom­sky
is Insti­tute Pro­fes­sor and Pro­fes­sor of Lin­guis­tics (Emer­i­tus) at the Mass­a­chu­setts Insti­tute of Tech­nol­o­gy, and the author of dozens of books on U.S. for­eign pol­i­cy. His most recent book is
Who Rules the World?
from Met­ro­pol­i­tan Books.