Is Chris Christie's Bromance With Cowboys Owner Jerry Jones Violating Ethics Laws?
The only thing more awkward than the New Jersey governor and presidential hopeful's hug with the widely despised billionaire owner: Christie may have been breaking the law while doing it.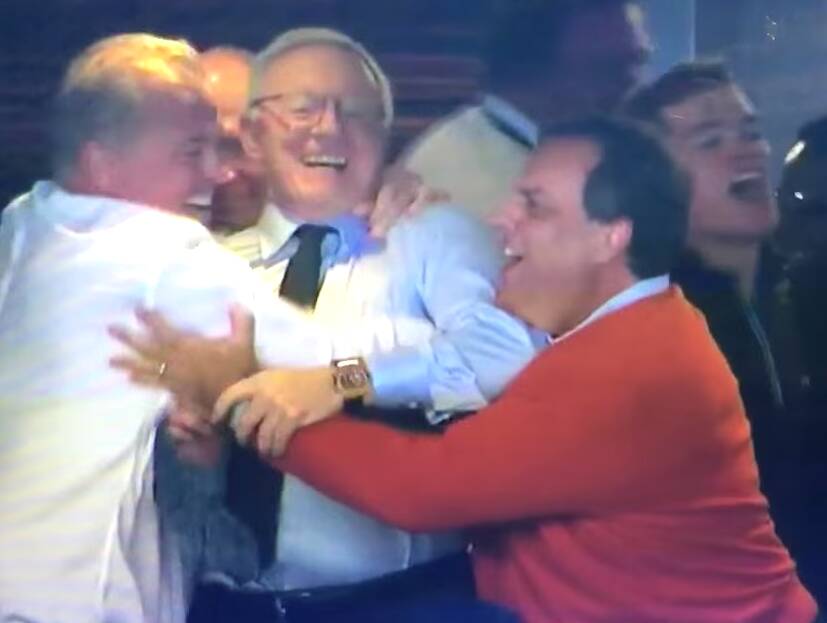 Gov. Chris Christie's appear­ances at pro­fes­sion­al foot­ball games to cheer on his beloved Dal­las Cow­boys have led to ques­tions about why his favorite team isn't a New Jer­sey local like the Jets, Giants or Eagles. But Christie's bro­mance with Dal­las Cow­boys own­er Jer­ry Jones rais­es an even thornier ques­tion: When Christie received free own­ers' box seats for recent Cow­boys games, was he com­ply­ing with New Jersey's tough ethics rules ban­ning gifts and favors to pub­lic officials?
Despite his state's business with Jones, Christie nonetheless accepted free travel and game tickets from the Cowboys owner. The governor claims that an executive order he signed allows him to accept gifts from "personal friends."
New Jersey's exec­u­tive branch ethics rules warn state offi­cials that there's ​"a zero tol­er­ance pol­i­cy for accep­tance of gifts offered to you … that are relat­ed in any way to your offi­cial duties." The ethics rules specif­i­cal­ly pro­hib­it pub­lic offi­cials from accept­ing access to enter­tain­ment events from any per­son or enti­ty that pub­lic offi­cials ​"deal with, con­tact, or reg­u­late in the course of offi­cial busi­ness." The rules define one form of restrict­ed gift as ​"admis­sion to an event for which a mem­ber of the gen­er­al pub­lic would be charged."
In his role as gov­er­nor, Christie has had myr­i­ad high-pro­file deal­ings with the Nation­al Foot­ball League and with Jones.
Under Christie's watch, New Jer­sey offi­cials deliv­ered almost $18 mil­lion of tax­pay­er mon­ey to the league to off­set costs asso­ci­at­ed with the 2014 Super Bowl. That includ­ed $8 mil­lion worth of sales tax breaks, plus mil­lions more in secu­ri­ty costs the state picked up for the league. All that was on top of New Jer­sey prop­er­ty tax breaks that ben­e­fit the league. It was also in addi­tion to Christie push­ing to give a Port Author­i­ty con­tract to a firm that is part­ly owned by Jones.
Christie has already said he's inter­est­ed in hav­ing New Jer­sey host anoth­er Super Bowl. The league has a deep inter­est in the state's pol­i­cy gov­ern­ing sports gam­bling. Mean­while, with Christie poten­tial­ly run­ning for the White House in 2016, the NFL also has an inter­est in shap­ing the next president's think­ing on its antitrust exemp­tions and tax-exempt status.
Despite his state's busi­ness with Jones, Christie nonethe­less accept­ed free trav­el and game tick­ets from the Cow­boys own­er. The gov­er­nor claims that an exec­u­tive order he signed allows him to accept gifts from ​"per­son­al friends."
Craig Hol­man of the watch­dog group Pub­lic Cit­i­zen says the sit­u­a­tion ​"smacks of the Jack Abramoff-style of gift" — a ref­er­ence to the con­vict­ed lob­by­ist whose influ­ence-ped­dling oper­a­tion involved giv­ing law­mak­ers access to his FedEx Field sky­box for pro­fes­sion­al foot­ball games.
"We have seen a shift since the Abramoff scan­dal, as many high-pro­file law­mak­ers are now far more cau­tious about accept­ing gifts like tick­ets," Hol­man said. ​"But when you are talk­ing about a sit­ting gov­er­nor who is poten­tial­ly run­ning for pres­i­dent, this is some­thing unusu­al. If these seats were giv­en to him by the NFL or any­one else who is try­ing to influ­ence his poli­cies, that would con­sti­tute a gift and would clear­ly be in vio­la­tion of his state's ethics code."
In 2010, Christie cit­ed the New Jer­sey ethics code in revok­ing pub­lic offi­cials' spe­cial access to tick­ets at the are­nas owned by New Jer­sey. How­ev­er, he retained the perk for him­self. A year lat­er, under polit­i­cal pres­sure, Christie reversed him­self and reim­bursed the state for costs asso­ci­at­ed with using a state heli­copter to attend his son's base­ball games.
New Jer­sey law­mak­ers have announced they are con­sid­er­ing launch­ing a gov­ern­ment inves­ti­ga­tion into the gifts. The ques­tion now for Christie is whether he will reim­burse Jones for all the costs of going to the games. If he doesn't, he is set­ting a prece­dent sug­gest­ing pub­lic offi­cials can deem any­one a ​"per­son­al friend" and then ignore the most basic anti-cor­rup­tion rules that remain on the books.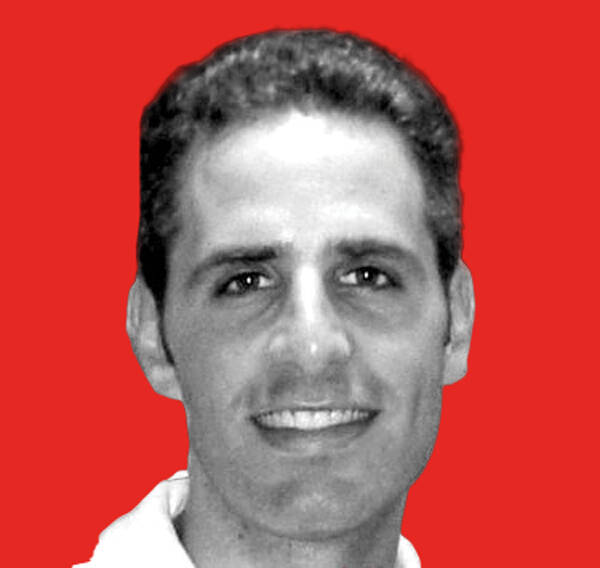 David Siro­ta
is an award­win­ning inves­tiga­tive jour­nal­ist and an
In These Times
senior edi­tor. He served as speech writer for Bernie Sanders'
2020
cam­paign. Fol­low him on Twit­ter @davidsirota.