Climate Change Refugees
As large areas of the planet become unsuitable for human life, the sad stream of climate refugees will become a torrent
It has already start­ed. The first rip­ples from ris­ing seas are inun­dat­ing low-lying areas, threat­en­ing coasts and islands. Cli­mate refugees around the world are flee­ing regions beset by vio­lent storms, extreme tem­per­a­tures, melt­ing glac­i­ers, spread­ing deserts, swelling oceans and oth­er esca­lat­ing effects of glob­al warming.
Bil­lions of peo­ple are at risk and the num­ber is grow­ing. Envi­ron­men­tal stress forced more than 25 mil­lion to migrate in 1998, accord­ing to a Red Cross and Red Cres­cent study – rough­ly the same num­ber that fled armed conflict.
Even though spe­cif­ic events often can­not be pinned to glob­al warm­ing, the sci­en­tif­ic evi­dence that cli­mate change is rad­i­cal­ly remap­ping our plan­et forms a cumu­la­tive, con­sis­tent and alarm­ing pat­tern. Every­one but the head-in-the-sand dolt and the hand-in-the-indus­try-pock­et hack under­stands that as large areas of the plan­et become unsuit­able for human life, the sad stream of cli­mate refugees will become a torrent.
As a res­i­dent of the small South Pacif­ic island of Tuvalu recent­ly told NPR's ​"Liv­ing on Earth," a man needs only two skills: how to climb a coconut tree and how to catch a fish. On this remote atoll, halfway between Hawaii and Aus­tralia, where the land crests a few meters above the sea, the shore­line is vis­i­bly reced­ing. Salt from ris­ing tides is poi­son­ing the palms; bleached and dying coral reefs no longer sup­port the fish that sup­port the people.
New Zealand, one of the few coun­tries to acknowl­edge and plan for the com­ing flood of cli­mate immi­grants, has agreed to accept all 11,000 Tuval­u­ans, start­ing with a lim­it­ed num­ber each year. Many Tuval­u­ans live in Auck­land, lone­ly and lost, with­out the sup­port of com­mu­ni­ty and cul­ture, or the skills to sur­vive an urban life based on money.
In much of South Asia, the irony of cli­mate change is that it cre­ates too lit­tle water in some places and too much in oth­ers. The sum­mer runoff from moun­tain glac­i­ers that now pro­vides most of the drink­ing water to 40 per­cent of the world's pop­u­la­tion is rapid­ly dis­ap­pear­ing. And so are myr­i­ad inhab­i­tants, forced to leave land their fam­i­lies tilled for generations.
In Bangladesh, refugees who can no longer farm on drown­ing coastal land are falling inward to cities already crammed with job­less and des­per­ate mass­es. Small­er than Illi­nois, Bangladesh has 140 mil­lion peo­ple, almost half the U.S. pop­u­la­tion. Imag­ine what it will be like in 50 years, when the Bay of Ben­gal is pre­dict­ed to cov­er 11 per­cent of Bangladesh's land.
And then there is New Orleans. At a time when warm­ing oceans fuel stronger storms, this below sea-lev­el city in a hur­ri­cane-prone delta sits on sink­ing lands near a silt-clogged sea.
While the French Quar­ter par­ties once again, low-lying areas – which housed most­ly African Amer­i­cans and the poor – lie aban­doned. Two years after Kat­ri­na, the rich­est coun­try in the world leaves thou­sands of its cli­mate refugees to live in poi­soned trail­ers or camp in the kitchens of rel­a­tives far from their for­mer homes.
Local and fed­er­al gov­ern­ments around the world seem par­a­lyzed by cal­lous­ness or a refusal to make hard choic­es. Should they spend bil­lions to pro­tect unsus­tain­able, some­times tox­ic land, with ever-stronger lev­ees or pipe in water across hun­dreds of miles? Can they afford to per­ma­nent­ly relo­cate endan­gered pop­u­la­tions to afford­able hous­ing on less vul­ner­a­ble, more valu­able land?
And what about the self-indul­gent fools soci­ety con­tin­ues to sub­si­dize – with insur­ance pre­mi­ums, tax­es or extra­or­di­nary and repeat­ed res­cues – who insist on build­ing beach hous­es on erod­ing sand, man­sions in fire-prone hills and sprawl­ing ranch­es in the bone-dry desert?
Most offi­cials have tal­lied the polit­i­cal and eco­nom­ic price of act­ing and have cho­sen to wring their hands and tread water.
In the days after the storm, some of Katrina's exiles took umbrage at the label ​"refugee." But they share much with dis­placed Bangladeshi and Tuval­u­ans half a globe away: pover­ty, pow­er­less­ness, and the mis­for­tune of liv­ing under gov­ern­ments that are ill-equipped or dis­in­clined to make hard choic­es. Dri­ven from home, his­to­ry and cul­ture by a warm­ing plan­et, they also share unof­fi­cial sta­tus as cli­mate refugees – a cat­e­go­ry that no inter­na­tion­al treaties rec­og­nize or protect.
Indi­vid­ual coun­tries and the Unit­ed Nations need to devel­op poli­cies to define and aid the casu­al­ties of dread­ful ener­gy poli­cies and reck­less con­sump­tion; they must expand treaties that pro­tect polit­i­cal refugees to include those who flee the per­se­cu­tion of a dead­ly cli­mate. And the indus­tri­al­ized coun­tries that con­tributed most to the prob­lem must con­tribute most to accept­ing and reset­tling cli­mate refugees.
No one knows the win­ner in the race between the rav­ages of cli­mate change and the mea­ger but grow­ing mea­sures to mit­i­gate it. But we already know who the losers are. From coral wreathed atolls in the South Pacif­ic to the coast of Alas­ka, from sink­ing Bangladesh bear­ing the weight of impov­er­ished mil­lions, to the drown­ing city of New Orleans, the new cli­mate refugees are flow­ing like tears.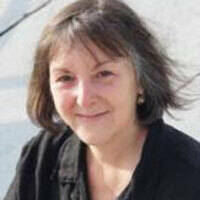 Ter­ry J. Allen
is a vet­er­an inves­tiga­tive reporter/​editor who has cov­ered local and inter­na­tion­al pol­i­tics and health and sci­ence issues. Her work has appeared in the
Guardian, Boston Globe, Times Argus, Harper's
, the Nation​.com, Salon​.com, and
New Sci­en­tist
. She has been an edi­tor at Amnesty Inter­na­tion­al,
In These Times
, and Cor​p​watch​.com. She is also a pho­tog­ra­ph­er. Her por­traits of peo­ple sit­ting in some of the
1900
cars lined up out­side a New­port, Vt., food drop can be seen on www​.flickr​.com/​p​h​o​t​o​s​/​t​e​r​r​y​a​l​l​e​n​/​a​lbums. Ter­ry can be con­tact­ed at tallen@​igc.​org or through www​.ter​ry​jallen​.com.