EXCLUSIVE: Documents Show Comcast Ghostwrote Pro-TWC Merger Letters of Support for Hawaii Governor
New records reveal that the cable giant wrote a lobbying letter signed by the Aloha State's head.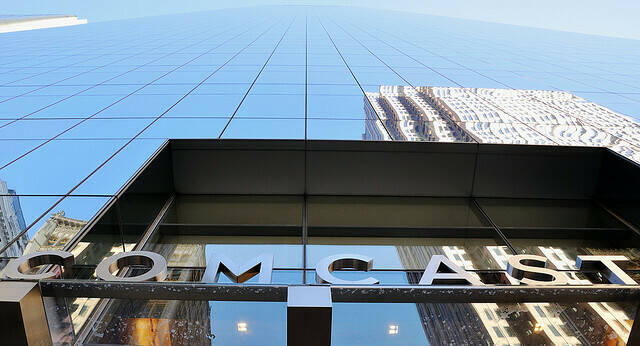 On August 22, Neil Aber­crom­bie, then Hawaii's gov­er­nor, sent a let­ter to Wash­ing­ton, D.C., urg­ing the Fed­er­al Com­mu­ni­ca­tions Com­mis­sion to approve Comcast's con­tro­ver­sial pro­pos­al to merge with Time Warn­er Cable. In explain­ing the impor­tance of what Com­cast could bring to Hawaii's future, the governor's let­ter invoked the country's recent reces­sion and the state's high num­ber of fam­i­lies with­out Inter­net access.
Records obtained by In These Times through a public records request reveal that, in its effort to persuade the FCC to approve its proposed mega-merger, Comcast drafted letters all the way up the state political food chain to the governorship.
"I have been impressed with Com­cast and what it can offer the State, espe­cial­ly its Inter­net Essen­tials pro­gram, which offers dis­count Inter­net ser­vice to low income fam­i­lies," the Demo­c­ra­t­ic Governor's let­ter assert­ed. ​"Your approval of this trans­ac­tion should bring this need­ed ser­vice from the main­land to our shores."
Yet the state of Hawaii did not give cred­it to one pri­ma­ry author of the let­ter: Com­cast itself.
The first draft of the mis­sive was sent from the Exec­u­tive Direc­tor of Gov­ern­ment Affairs at Com­cast Cable. After receiv­ing the orig­i­nal draft, the governor's office — with help from a state reg­u­la­to­ry agency — made most­ly cos­met­ic changes to the Com­cast PR doc­u­ment, added some lan­guage about a spe­cif­ic trans­ac­tion involv­ing Comcast's pro­posed merg­er in the state, and sent it to Wash­ing­ton stamped with the state of Hawaii's offi­cial seal.
Records obtained by In These Times through a pub­lic records request reveal that, in its effort to per­suade the FCC to approve its pro­posed mega-merg­er, Com­cast draft­ed let­ters all the way up the state polit­i­cal food chain to the governorship.
Last week, I report­ed in The Verge that Com­cast had ghost­writ­ten FCC let­ters for a spec­trum of pub­lic ser­vants — from a town coun­cil­man in Jupiter, Flori­da, to Oregon's sec­re­tary of state — who had sent let­ters to Wash­ing­ton sup­port­ing the merg­er. In the case of Ore­gon, Sec­re­tary of State Kate Brown had received near­ly $10,000 from Com­cast in cam­paign dona­tions in the years lead­ing up to her FCC let­ter. Like­wise, records show that just over a year before Neil Aber­crom­bie sub­mit­ted his let­ter to the FCC sup­port­ing the pro­posed merg­er, Com­cast gave the gov­er­nor a $6,000 cam­paign dona­tion, the max­i­mum year­ly dona­tion allowed in Hawaii for statewide candidates.
Oth­er promi­nent offi­cials who wrote let­ters to the FCC express­ing sup­port for the Comcast/​Time Warn­er merg­er include Chica­go May­or Rahm Emanuel and the gov­er­nors of Penn­syl­va­nia, North Car­oli­na, Ver­mont, Mary­land, and Col­orado. Like those of Brown and Aber­crom­bie, each one of these let­ters cites Comcast's Inter­net Essen­tials pro­gram by name.
These let­ters of sup­port could play a key role in one of the most impor­tant anti-trust pro­ceed­ings in recent mem­o­ry. Crit­ics argue that, if approved, the pro­posed merg­er will cre­ate a monop­oly that would give Com­cast the sort of mar­ket pow­er that could harm con­sumers on a vari­ety of fronts includ­ing prices, cus­tomer ser­vice and the kinds of pro­gram­ming the com­pa­ny will allow peo­ple to access. Com­cast argues that the merg­er will enable it to reduce its costs and give it a greater lev­el of effi­cien­cy to make infra­struc­ture investments.
"We reached out to pol­i­cy mak­ers, com­mu­ni­ty lead­ers, busi­ness groups and oth­ers across the coun­try to detail the pub­lic inter­est ben­e­fits of our trans­ac­tion with Time Warn­er Cable," said Com­cast spokesper­son Sena Fitz­mau­rice in an emailed state­ment. ​"When such lead­ers indi­cate they'd like to sup­port our trans­ac­tion in pub­lic fil­ings, we've pro­vid­ed them with infor­ma­tion on the trans­ac­tion, in many cas­es at their request. All fil­ings are ulti­mate­ly decid­ed upon by the fil­ers, not Comcast."
The new­ly obtained records from Hawaii give a view into both col­lab­o­ra­tion and some appar­ent ten­sion between the governor's office and the reg­u­la­to­ry agency charged with over­see­ing the state's cable indus­try. In one email, a con­sumer affairs reg­u­la­tor at the Depart­ment of Com­merce and Con­sumer Affairs (DCCA) pleads with the gov­er­nor to ​"hold off" on send­ing his let­ter of sup­port for Comcast's merg­er to the FCC until after the state agency deter­mines if and how the par­tic­u­lar­i­ties of the pro­posed merg­er would play out there.
"A let­ter from the gov­er­nor to the FCC at this time, would poten­tial­ly under­mine our nego­ti­a­tions with Com­cast," a DCCA offi­cial wrote to the governor's deputy chief of staff on July 30.
But then just weeks lat­er on August 22 — well over a month before the DCCA made its own deter­mi­na­tion on the merg­er — the same reg­u­la­tor helped to edit Comcast's draft let­ter that Gov­er­nor Aber­crom­bie would send to the FCC. The final let­ter the gov­er­nor sent lat­er that day large­ly kept intact Comcast's glow­ing pre­dic­tions about the poten­tial of what the com­pa­ny might bring to Hawaii. (In August, Aber­crom­bie also lost his bid for reelec­tion to Demo­c­ra­t­ic pri­ma­ry chal­lenger David Ige.)
"The department's Cable Tele­vi­sion Divi­sion had ini­tial con­cerns regard­ing the let­ter to the FCC," the DCCA told In These Times in an emailed state­ment. ​"How­ev­er, the depart­ment was able to pro­vide feed­back to the gov­er­nor before the let­ter was issued."
On Sep­tem­ber 12, a vet­er­an lob­by­ist named Robert Toy­ofuku emailed the governor's deputy chief of staff. Com­cast was com­ing to town and the lob­by­ist was try­ing to wran­gle a max­i­mal­ly pri­vate meet­ing area at Honolulu's swanky Plaza Club for the Gov­er­nor and Com­cast offi­cials to meet. Oth­er than that Com­cast want­ed to ​"see the Gov and thank him for the let­ter," the records do not make clear what the meet­ing regard­ed or why the lob­by­ist was involved.
Less than a month lat­er, Hawaii's state reg­u­la­tor gave its bless­ing, pend­ing final approval from the FCC and Depart­ment of Jus­tice, for the trans­fer of cable lines owned by Time Warn­er to Comcast.
Spencer Wood­man
is a jour­nal­ist based in New York. He has writ­ten on labor for
The Nation
and
The Guardian
.You can fol­low him on Twit­ter at
@spencerwoodman
and reach him via email at Contactspencerwoodman@​gmail.​com.