Remember How Jeb Bush Dismantled Florida's Department of Labor?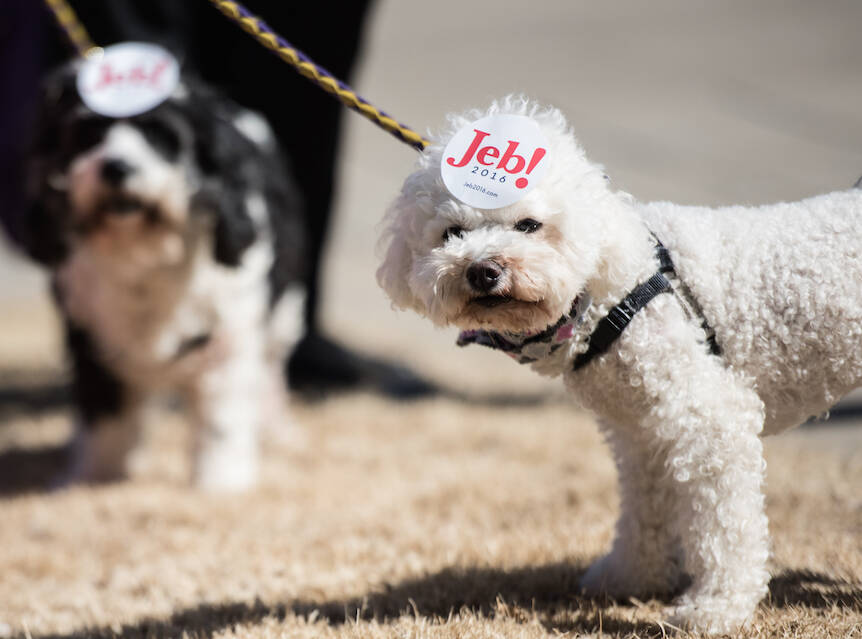 In the spring of 2000, Jeb Bush, then gov­er­nor of Flori­da, launched a cam­paign unprece­dent­ed in a state of that size: He set out to dis­man­tle the state's depart­ment of labor.
Like those across the coun­try, Florida's labor depart­ment car­ried out a range of duties, such as track­ing work­force sta­tis­tics, pre­sent­ing annu­al awards to safe­ty-con­scious busi­ness­es, and run­ning a hot­line for work­ers to learn more about their rights. As of 1999, the depart­ment report­ed­ly employed some 20 com­pli­ance inves­ti­ga­tors, whose duties includ­ing polic­ing child labor, over­see­ing low-wage indus­tries like fast food and agri­cul­ture, and field­ing com­plaints of min­i­mum wage violations.
By the end of his first term, Bush had large­ly succeeded.
He pushed through a plan to dis­solve the depart­ment and scat­ter its func­tions among a num­ber of state offices, includ­ing a semi-pri­va­tized agency called Work­force Flori­da Inc. By the end of his tenure as gov­er­nor, the state of Flori­da employed not a sin­gle offi­cial ded­i­cat­ed to enforc­ing its wage and hour laws, accord­ing to Cyn­thia Her­nan­dez, who stud­ied wage theft in Flori­da for near­ly a decade as a researcher at Flori­da Inter­na­tion­al University.
Dur­ing his quest for the Repub­li­can pres­i­den­tial nom­i­na­tion, Jeb Bush's record as Florida's gov­er­nor has been vig­or­ous­ly picked apart. Yet his aggres­sive approach to Florida's labor depart­ment has gone almost whol­ly unmen­tioned. While Repub­li­can gov­er­nors have had their share of spats with state work­force agen­cies, Bush is the only one in recent mem­o­ry to have sim­ply dis­solved a labor department.
Although Bush almost nev­er men­tions this chap­ter of his polit­i­cal his­to­ry, it marks him as some­thing of a trail­blaz­er in states' weak­en­ing of labor depart­ments over the ensu­ing years. And his elim­i­na­tion of the agency car­ries a lega­cy that Florid­i­ans still live with. Despite hav­ing the country's fourth-largest work­force, the state of Flori­da has not brought a sin­gle wage-and-hour enforce­ment action against an employ­er since 2011. Flori­da is the largest of five states in the coun­try that do not enforce wage-and-hour laws, accord­ing to a 2011 sur­vey of state-lev­el enforce­ment. The sec­ond largest, Geor­gia, has half Florida's population.
Labor advo­cates point to Flori­da as exem­pli­fy­ing a nation­wide trend of wage-and-hour enforce­ment being weak­ened to the point that some indus­tries face lit­tle com­pul­sion to fol­low the law.
"This is the wild, wild West for employ­ers," says Cyn­thia Her­nan­dez, who is now the exec­u­tive direc­tor of the South Flori­da AFL-CIO. ​"What has hap­pened since the dis­man­tling of the depart­ment of labor is egre­gious to say the least."
Hernandez's research has found that, in the years fol­low­ing Bush's actions, wage-and-hour vio­la­tions have pro­lif­er­at­ed. Florid­i­an work­ers who sus­pect their wages are being stolen can file com­plaints with the fed­er­al Depart­ment of Labor, although the agency is already stretched thin and often lacks juris­dic­tion over state wage claims. Her­nan­dez ana­lyzed these com­plaints and found that employ­ees in Flori­da are los­ing of mil­lions of dol­lars in pay each year with lit­tle recourse.
Bush's dis­so­lu­tion of Florida's labor depart­ment pre­saged a nation­al trend. More than a dozen states have since defund­ed their labor depart­ments, sig­nif­i­cant­ly weak­en­ing enforce­ment. Both Demo­c­ra­t­ic and Repub­li­can law­mak­ers have backed these efforts, which have also received sup­port from busi­ness lob­bies that have sought to reframe labor-law enforce­ment as an anti-busi­ness activ­i­ty that shouldn't receive tax­pay­er funding.
In 2012, for instance, Virginia's leg­is­la­ture qui­et­ly elim­i­nat­ed that state's entire wage-and-hour enforce­ment divi­sion. The effects were quick­ly felt by work­ers in the state. As I report­ed in 2013, one Vir­ginia work­er told In These Times he had to resort to a form of vig­i­lan­tism after a con­struc­tion con­trac­tor alleged­ly refused to pay him more than a thou­sand dol­lars in wages. When the work­er, Antho­ny van Buren, called the state depart­ment of labor to com­plain, he found, to his dis­be­lief, that the enforce­ment agency had been dis­solved. He was told to hire an attor­ney to bring a civ­il suit against his employ­er. On the cusp of evic­tion and unable to afford a lawyer, van Buren drove more than one hun­dred miles to find and con­front his for­mer boss and demand his back pay. (Van Buren ulti­mate­ly received a por­tion of what he was owed,)
Wage-and-hour inves­ti­ga­tors in states with defund­ed depart­ments spoke of crack­ing under the pres­sure of exces­sive case­loads and mount­ing back­logs. Bob­by Myers, who worked as a wage-and-hour inves­ti­ga­tor in Vir­ginia said that, after a round of defund­ing, he would ​"just file ​'no' " on hard-to-inves­ti­gate wage theft com­plaints, even when they seemed legitimate.
"Our pow­ers were just real­ly weak. We were con­stant­ly bluff­ing," Myers said. ​"Some repeat offend­ers even­tu­al­ly learned to call our bluff, and then there was very lit­tle we could do."
After hear­ing tes­ti­mo­ny from work­ers in the state who had been cheat­ed out of their wages with no agency to turn to, Virginia's leg­is­la­ture vot­ed in 2013 to restore the enforce­ment divi­sion's funding.
In the case of Flori­da, the absence of a state enforce­ment agency for wage-and-hour claims has caused the state's thou­sands of wage theft cas­es to fall pri­mar­i­ly on the shoul­ders of the U.S. Depart­ment of Labor. But, as of 2010, accord­ing to research by Her­nan­dez, the fed­er­al agency had only six inves­ti­ga­tors assigned to the entire state, each one respon­si­ble for some 1.2 mil­lion workers.
Since the Flori­da Depart­ment of Labor's dis­so­lu­tion, the Flori­da Depart­ment of Busi­ness & Pro­fes­sion­al Reg­u­la­tion has main­tained a com­pli­ance staff ded­i­cat­ed to enforc­ing laws that apply to farm work and child labor.
Florida's Repub­li­can attor­ney gen­er­al, Pam Bon­di, can pur­sue wage theft com­plaints. A spokesper­son for Bondi­Bo office assert­ed that the agency does enforce the state min­i­mum wage, but, in a fol­low-up email, added that the office had not con­duct­ed a for­mal enforce­ment activ­i­ty since 2011.
"I have dealt with the AG's office since 2006," José Javier Rodriguez, a Demo­c­rat in the Flori­da House of Rep­re­sen­ta­tives, wrote in an email to In These Times. ​"They do very lit­tle oth­er than field calls in cas­es where there is mis­in­for­ma­tion or con­fu­sion about the min­i­mum wage, like how it applies to tipped work­ers, but no enforcement."
In 2011, Flori­da formed the Depart­ment of Eco­nom­ic Oppor­tu­ni­ty, which admin­is­ters unem­ploy­ment ben­e­fits and job train­ing pro­grams. A spokesper­son for the agency told me that, apart from seek­ing help from the U.S. Depart­ment of Labor, the only oth­er option for a work­er seek­ing with­held wages is to file a civ­il suit.
To do so, work­ers must not only be pre­pared to face steep attorney's fees, but also a drawn-out process in the state's back­logged court sys­tem. And this speaks to anoth­er of Hernandez's crit­i­cisms of Bush's axing of the labor depart­ment: the inef­fi­cien­cies of shift­ing respon­si­bil­i­ty from a state agency to insti­tu­tions that should often be treat­ed as avenues of last resort.
"This puts the bur­den on the fed­er­al offices and it puts more pres­sure on the court sys­tem," Her­nan­dez said, adding that, in the mean­time, ​"we've been see­ing that cas­es of wage theft have con­tin­ued to increase."
Spencer Wood­man
is a jour­nal­ist based in New York. He has writ­ten on labor for
The Nation
and
The Guardian
.You can fol­low him on Twit­ter at
@spencerwoodman
and reach him via email at Contactspencerwoodman@​gmail.​com.